Tierrasanta Homes For Sale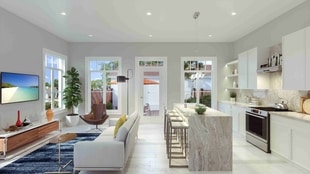 Research real estate market trends and find Tierrasanta homes for sale in the 92124 zip code. Search for new homes, open houses, recently sold homes, and recent price reductions in Tierrasanta San Diego. To change how the search is displayed, click the gray button next to "Sort" to display houses in Tierrasanta by price, number of bedrooms, or days on the market.
*Be sure to register for a free account so that you can receive email updates whenever new Tierrasanta properties come on the market and if you're in the market for a home today, reach out for our exclusive off MLS pocket listings!
Available Homes In Tierrasanta
Tierrasanta Real Estate
September 30, 2023
$1,150,000
Med. List Price
Having thoughts of SELLING?
Nearby Tierrasanta Communities
How's The Market In Tierrasanta?
We have (updated weekly) market data for 92124!

Tierrasanta Real Estate Agents
Having thoughts of buying or selling in Tierrasanta? When you're buying a home or selling a home, the right team can make or break a deal, especially in a market as complex and competitive as Tierrasanta California. Through aggressive advocacy and proven competency, our local Tierrasanta real estate agents are committed to guiding you through the entire real estate process from start to finish. We are a team of highly strategic Tierrasanta selling experts, skilled negotiators, seasoned marketers, and loyal confidantes. Reach out now to the LUXURYSOCALREALTY team to learn more about buyer and seller representation in Tierrasanta and to receive our San Diego real estate market reports.
If you're considering SELLING...
Tierrasanta California: The Best Place to Live
See here why Tierrasanta California is the best place to live. From the weather to restaurants and sports we have it all, check out this ultimate guide.


You can use this guide to discover the facts about living in Tierrasanta, California.
Tierrasanta was one of the first planned communities located in San Diego. By 1982, roughly half of the private residential area had been developed and called Tierrasanta Norte. Today, this quiet community on the edge of Mission Trails Regional Park offers some of the best places to eat, hike, and explore.
Keep reading to learn more about this amazing place worth spending the rest of your days. This ultimate guide covers the weather to delectable restaurants and sports available locally. The following is why Tierrasanta, California, is the best place to live.
All About Tierrasanta
Tierrasanta means "holy land" or "holy ground" in Spanish, but the community's referred to as "The Island in the Hills" by locals. The symbol of this pleasant community's an encircled Conquistador cross, like the one on top of Montserrat near Barcelona. There are only four roads that lead to Tierrasanta, and that's where all these roads end.
Tierrasanta History (Early Days)
Tierrasanta originated as part of the Mission San Diego de Alcalá ranch active in the late 1800s and 1900s. The U.S. military purchased the land in 1941 for a Marine Corps training facility, which became Camp Elliott. In 1944. the Marines transferred the land to the Navy.
Tierrasanta and Mission Trails were both part of the artillery range. The ranch was deactivated in 1946, and by 1961 the government sold the area to the City of San Diego. The Elliott Community Plan was issued as a roadmap for development, and Tierrasanta was founded in 1971.
You may come across warning signs regarding possible unexploded ordnances. The military's swept over the area since it was decommissioned to remove leftover explosives, but the risk remains. If you find suspicious metal objects, you should leave a marker, record the exact location, and call 911.
Tierrasanta Community & Schools
Living in Tierrasanta, California puts your students in the San Diego Unified School District. This top-rated district includes several of the highest-ranked K-12 schools. You'll also have access to local colleges and universities.
Old Town Academy is the best K-8 charter school in the area. Barnard Elementary is the top elementary school. The O'Farrell is the best K-12 charter school near this growing community.
The Helix Charter High School is the best high school in San Diego, with an A+ rating on Niche. The Grossmont Middle College High School provides 11-12th grade students the opportunity to enroll in high school and college courses. The University of California and the University of San Diego are the top local colleges, which also have incredible sports teams.
Tierrasanta Parks & Recreation
Tierrasanta's recreation center offers online registrations for classes and a variety of activities. You can enjoy crafts, dance classes, fitness, and art classes for all ages and skill levels. Their facility includes a gymnasium, meeting room, activity rooms, children's play area, picnic facilities, a dance room, tennis courts, and swimming pool.
The little ones will love playing at the Villa Monserate Park, hidden in the hills; it has a picturesque view. The Tierrasanta Community Park and Recreation Center have a cute park worth stopping and playing for the day. You can take your furry family members to the Orleck Heights Dog Park to run and play with friends.
Those who are more comfortable on wheels will love to hang out at the Tierrasanta Damato Skatepark. If you travel a little further, you'll find more skate parks and even some community gardens. You'll discover that living in Tierrasanta allows you to explore all that San Diego has to offer.
Tierrasanta Arts, Music, and Entertainment
Life in Tierrasanta is beautiful enough to frame and place on the wall. That's why you'll find art galleries close enough to spend an evening on a date or by yourself. The Journey's West Gallery and San Diego Art Gallery are two of the top choices worth visiting and purchasing a masterpiece for your home.
If you're interested in music, you can enjoy music in the park or go to a concert nearby. Just last month, the Tierrasanta celebrated its 50th anniversary with an outdoor social event that included music, food, drinks, and competitions. The event was family-friendly and allowed attendees to groove along to a Tom Petty tribute band.
Tierrasanta boasts events like concerts in the park, parades, and local leagues. You'll also have access to different entertainment companies and pop-up events within driving distance. Living in a San Diego community, you'll find various events to attend with your friends or family.
Tierrasanta Dining
You don't need to travel far to find something worth taking a bite of. San Diego's known for having something for everyone, including vegans treats and perfectly cooked meat. The following Tierrasanta restaurants are worth checking out:
J.P.'s Pub
Gaetano's
Fifty9Fifty
Kaki Sushi
Tasty Donuts
Turmeric Kitchen
The Pizza Standard
Homestyle Hawaiian Pub and Eatery
You can travel a little further to expand your tastebuds and menu options. No matter where you decide to eat, you'll find something that hits the spot. Remember to check ahead of time for reservation details and hours to avoid hitting long lines.
Tierrasanta Transportation
Traveling in and around San Diego can be simple when you take advantage of Tierrasanta public transportation. This includes bus routes, bike lanes, shuttles, carpools, and more. You can even hire private drivers and ride in style with a limo or car service.
If you're looking to get out of town and go on a trip somewhere else in southern California, you'll enjoy the local Amtrak. Pacific Surfliner offers daily round-trip services between San Diego and Los Angeles or Santa Barbara and San Diego. Additional connecting opportunities to other destinations can review the Southern California Passenger Rail Timetable.
When in California, you can always grab a longboard or roller skates to travel around the city. There are boat tours, cruises, paddle boarding, and other charters you can take advantage of on the Pacific Ocean. If you have a sailboat, you'll love sailing at one of the many available marinas.
Tierrasanta Traffic
This quiet and ideally located community is near major highways for easier traveling. The San Diego commute is less than the California average of 24 minutes versus 28 minutes. This is also shorter than the average U.S. time of 26 minutes.
When you live in Tierrasanta, California, you'll be near everything San Diego has to offer, and it won't take long to get there. You can get to the beach, work, and restaurants with only a short drive. Drive your car, walk on the many sidewalks, carpool, or take advantage of one of the many public transportation options.
Tierrasanta Weather
Tierrasanta weather can be described as pleasant all year long. The hottest monthly average temperature is typically recorded at 71.1 degrees in August. You'll be able to visit one of the nearby beaches and enjoy a day of fun under the sun any day in the last month of summer.
The lowest monthly average temperature is recorded in December at 57.5 degrees, making it never too cold to enjoy a nice stroll in the neighborhood. While you may not see many snowy holidays, you will get the most monthly precipitation in December with 2.2 inches. If you want to play in the snow, there are mountains within a couple of hours' drive worth exploring.
The rest of the year ranges between the two averages, creating a perfect climate to settle down for life. You'll have access to local trails and beaches to enjoy anytime you feel like it. Not only that, but you won't have to worry about excessive heat or ice storms while you're on the road.
Working In Tierrasanta (Major Corporations)
Working in the Tierrasanta San Diego area comes with major benefits and corporations. Tech has been blowing up in southern California, providing more opportunities for computer software and hardware professionals. Some of the top companies located in Tierrasanta include the following:
Google
Cisco Systems
Apple
Qualcomm
NVIDIA
SAP
Intuit
Microsoft
Adobe
Other top companies include LinkedIn, UC Davis, Stanford University, U.C. San Diego, Facebook, among others. Many companies have also chosen to keep their employees working remotely. The San Diego Entrepreneur's Exchange (SDEE) is run by local entrepreneurs to help others who are interested in biotech, life sciences, mobile healthcare, cleantech, and alternative energy.
Cost of Living in Tierrasanta
More good news is the cost of living in Tierrasanta is cheaper than San Diego's average. Living in San Diego can have a rank of 151 for the cost of living. However, living in Tierrasanta is lower by four points, at 147.
The major difference comes down to the cost of housing in this peaceful and safe community, where it ranks fourteen points less than the rest of the city. As for groceries, healthcare, and everything else, the cost evens out to the rest of San Diego. This is good for people who want to have the amenities of the city they love without having to pay as much for real estate.
Although you're paying more in this area than some of the other places in California, you're going to feel safer walking at night and sending your students to school. Tierrasanta is known for being safer than 92% of the cities in California, and crime rates are 60% lower than the national average. For the price you pay, you'll experience a violent crime rate that is 74% lower than the national average, making it one of the best places to live in the U.S.
Tierrasanta Outdoor Recreation
When you're a resident, you get to enjoy the outdoor recreation all year with significantly less fear than living in other cities. Not only are there plenty of nearby parks and recreation, but there are also trail and outdoor fitness opportunities. Shepard Canyon trail is easy and runs in three sections behind a Tierrasanta neighborhood.
The Greenbelt Hiking Trail runs East to West through Tierrasanta and offers different side trails too. Be prepared; the terrain varies from flat to steep, smooth to rocky. Around the halfway mark on the regular trail, you'll discover a small pond known as Dishwasher Pond.
When the South Rueda Canyon Trail is open, it's a canyon trail in the middle of Tierrasanta where you can hike with on-leash dogs. The trail is easy to hike, but you should expect some of it to be overgrown. There are some creeks and ditches you'll need to cross over, but the small bridges available are sturdy enough for hikers and pets.
Tierrasanta Shopping
You won't have to travel into San Diego to get your shopping done unless you want to. Tierrasanta has its shopping centers, grocery stores, hardware stores, farmer's markets, and more. Sharing the same average grocery cost as the rest of the city, you won't have to worry about paying extra for staying local.
Tierrasanta Town Center is the dominant shopping center in this community in the hills. The major stores here include Rite Aid, Ace Hardware, Smart and Financial, Hallmark Card, and Auto Zone. In addition, this center has professional services, a collection of cafes, coffee shops, and fast food to create a combination of retail and food.
There are more shopping and smaller businesses you can support in Tierrasanta. Alan's Market is a grocery store with a sandwich shop and deli worth checking out while you're living in this community. The Tierrasanta Barbershop has great reviews and services that keep the customers coming back, even after they've moved away.
Tierrasanta Sports
Sports in San Diego include professional leagues, minor league teams, semi-pro, college athletics, and amateur teams. The San Diego Padres of Major League Baseball is the most popular professional choice in the city. The San Diego State Aztecs, which play in NCAA Division I, are the top choice for college athletics.
For those who want to see ice sports, the San Diego Gulls are the local hockey team that plays at the Pechanga Area. The University of San Diego has the Toreros football team that plays at their local stadium for college football fans and students. The U.C. San Diego Women's Volleyball team, Tritons, is known to play at the Rimac Arena.
Other sporting events include horse racing, rugby, surfing, and other competitive sports. You can attend cheer and dance competitions without having to leave San Diego. Those who are more interested in playing rather than only watching can join one of the many local amateurs or minor league sports teams.
Tierrasanta Social and Membership Clubs
There are multiple social, membership, golf, tennis, women, youth, and country clubs all around the community of Tierrasanta San Diego. The Tierra Santa Golf Club offers memberships, a challenging course, and friendly staff to ensure members enjoy their time. Guests are welcome to bring guests out for a drink after playing a round of golf.
The Tierra Junior Women's Club (TJWC) was founded in 1975 as a social and philanthropic organization for women living or working in the local community. This club is an independent, self-governed club committed to raising funds to give back to the community. Funds raised go to scholarships and other donations for individuals and various charities throughout San Diego.
The Tierrasanta Village of San Diego (TVSD) is a membership organization developed by and for adults who are 50 and older. TVSD is a self-governing, grassroots model in a global community of thriving villages. This organization helps members age in place with the help of caring neighbors who help one another.
Tierrasanta Real Estate
The Villa Portofino neighborhood is centrally located in a friendly neighborhood. You'll have access to a community pool, club house, kids play area, sports courts, and other top amenities. Homes here are only a short walk to great schools, Starbucks, a grocery store, and dining.
The Copperleaf neighborhood features the first limited edition detached homes in Tierrasanta. These two-level homes overlook local trails and mountains for pristine views. You'll only be minutes away from downtown San Diego and walking distance to recreational amenities, hiking, and biking trails.
Centrally located in Tierrasanta, the Montierra development has a small town feel. These homes are close to shops, restaurants, freeways, great schools, parks, and the local rec center. You're only a short drive away from Mission Trails, beaches, and downtown San Diego.
Tierrasanta Estates and Homes
Tierrasanta homes for sale can range from below $500K to over $1 million, depending on the lot size and square footage. There are condos and townhomes available for purchase, as well as single-family homes with private backyards. The subdivisions include Monteloma, Tierrasanta Highlands, Montierra, Villa Vista, Copperleaf, Villa Portofino, and more.
The homes were built starting in the 1970s and forward, boasting character and luxury for homebuyers interested in the area. You'll enjoy fabulous sunset views, nearby trails, conveniently central locations, and quiet neighborhoods. Many of the listings have been remodeled to provide the best upgrades and hardwood flooring.
You can get a four-bedroom, two and a half bath home with over 2k square feet, no neighbors, panoramic views, updated with top upgrades for the price of $1.2 million. For $615K, you can enjoy residing in a two-bedroom, two-and-a-half-bath resort-style community hidden in a highly desirable neighborhood.
Notable Tierrasanta Residents (Past and Present)
Tierrasanta has had its fair share of notable residents from the beginning of development until now. One of the top celebrities is Sara Elena Ramírez, Grey's Anatomy Mexican-American actor, singer, and activist. They moved to this small community in the 80s when they were only eight years old and went on to attend the San Diego School of Creative and Performing Arts, where they were discovered at an audition for their singing talent.
Easily one of the most famous professional skateboarders, Tony Hawk, was born in San Diego and raised in Tierrasanta, California. He lived in a two-story home on a corner beside a cemented alleyway. The first time he rode a skateboard was by his childhood home in this very alley.
Before it became home to notable people, it was home to marines training at Camp Elliott. The history lives on in the hills, historical landmarks, and signs. As it continues to evolve, there will likely be more notability recorded in this community.
Tierrasanta Fun Facts
Tierrasanta is a historical place that can have WW2 bombs unearthed after heavy rains or flooding. When the community was first developed, families and children found ordnances while hiking on nearby trails. By the 1980s, the military began a thorough sweep and ended up removing 26K pounds of this scrap.
Even still, residents tend to stay here to become what they call "Old Timers." Some moved from home to home while others kept their original homes in the family, becoming "Pioneer Families." One of the publicized names from the 1972 community was Carolyn Lee, who wrote in the Tierrasanta Good Times about local and nearby neighborhoods.
Tierrasanta author, James Stewart, has released a new book, Mystery at the Blue Sea Cottage, that is meant to unravel the mysterious death of the famous woman known as Fritzie Mann. She was a beautiful dancer, playboy star, and a debonair doctor during the Jazz Age of San Diego. Unfortunately, in January of 1923, Mann left her home for the last time to meet a man whose identity would never be revealed or uncovered by authorities.
Unlock the Door to Your Dream Life
Now that you know all about this amazing place worth spending the rest of your days in, you can finally unlock the door to your dream life. This ultimate guide provides the information you need to know about the year-round average weather reports to the local restaurants and available sports. You're almost ready to unpack your bags and enjoying living in the best place, Tierrasanta, California.
We feature the top real estate in southern California on our website. No matter whether you're buying or selling, our professional staff can assist you in completing the next phase of your journey. Contact us to learn more about how our agents can help you achieve a better lifestyle.