Partner With Trusted Talent
Finding The Right Buyer - Not Just Any Buyer
We believe it is our responsibility to help everyone maximize their home's value because we know how much of your lives, dreams, and financial security are tied up in one sale. We understand parting with one of your greatest investments is always a bitter-sweet experience and know the importance of finding not just any buyer, but the right buyer.
Through aggressive advocacy and proven competency, we are committed to maximizing your return on investment while finding a buyer who will cherish and care for your home as you once did. We are a team of highly strategic selling experts, skilled negotiators, seasoned marketers, and loyal confidantes routinely responsible for some of San Diego's record-breaking sales. Click here to see our most recent significant sales.
Experience the LUXURYSOCALREALTY - Compass Difference
When it comes to strategies for selling your home for the highest value in the quickest amount of time, a great marketing strategy is essential.
It's key, it's everything!
Our platform and proprietary tools are huge marketing differentiators. With our data-driven market insights platform, we can view live market activity allowing us to target advertising efforts to the buyers that are engaging the most with your listing. Our digital ad campaigns are designed to maximize exposure of your listing evolving over time based on performance data.
We can advise you on how best to take advantage of Compass Private Exclusives which allows us to hold the property off of the MLS and connect with potentially interested buyers of Compass agents. Premarketing your property as a Private Exclusive prior to it hitting the broader market gives us the flexibility to test the market, allowing us to adjust our pricing and marketing strategy while prioritizing your privacy during the process.
While leveraging our technology I can spot geo-trends in engagement with your listing that allows us to connect with people who are more likely to show interest in your property. Our integrated mapping technology allows us to see where views are coming from, and we can adjust our strategy based on that data.
Compass has raised $1.5 billion dollars in the capital which means that the company has the unique advantage of investing in technology, ensuring your marketing is optimized and effective. Compass is currently ranked as the country's #1 largest independently owned brokerage according to Real Trends. With our capital edge and the scale of our reach, we have the support to go above and beyond to assist our clients.

Having thoughts of SELLING?
Remodel Before You Sell | Compass Concierge Compass Concierge
The heart of what we do each day at Compass lies within our mission: to help everyone find their place in the world. #CompassConcierge Home Improvement Services are the perfect program to drive impact! When we can help our clients maximize their home's value with no upfront costs, then we can make the experience of finding – and funding – their next place more seamless.
Compass Concierge
Compass Concierge provides our sellers access to interest-free capital to front the costs of home preparation. Compass Concierge has helped thousands of sellers nationwide since its launch and the results speak for themselves.
80% of Concierge listings that listed in March 2021 sold within 3 months of listing, versus 61% for non Concierge MLS listings
Concierge listings sold for 11% above their ask price in June 2021, versus 3% above for non Concierge MLS listings
Compass Concierge listings have consistently outperformed regardless of broader market conditions.
New Master Suite/Owner's Suite: 50% of value recovered from the project
Kitchen Upgrade: 52% of value recovered from the project
Bathroom Renovation: 70% of value recovered from the project
New Roofing: 107% of value recovered from the project
The NAR 2019 Remodeling Impact Report States (National Association of REALTORS®)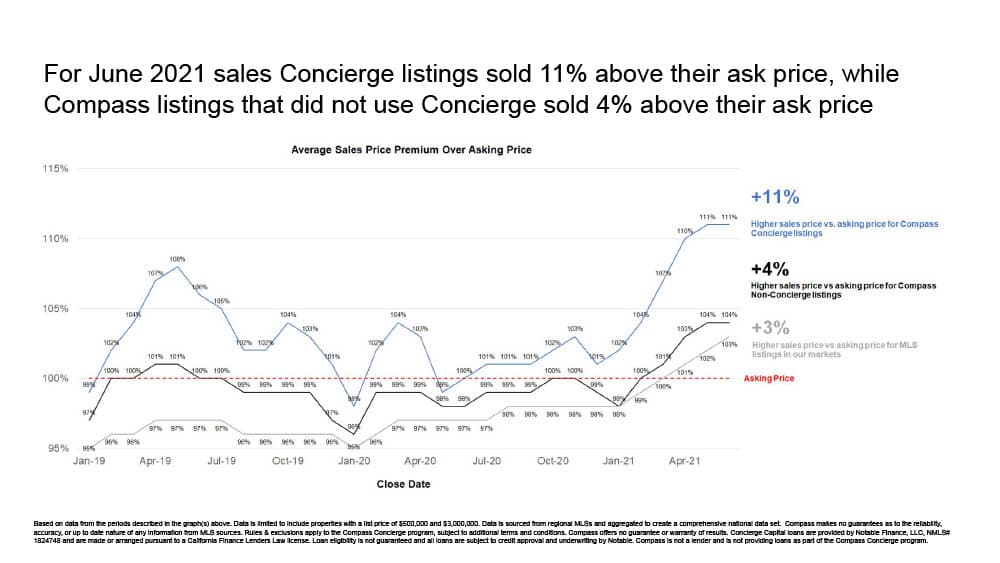 How Does Compass Concierge Work
By partnering with a local Compass Realtor® to sell your home you can access Compass Concierge - a hassle free way to sell your San Diego property faster and for more money. Your Compass team will help you identify which home preparation services will have the greatest return on investment. Once the scope of work is identified, vendors will provide bids, and you'll apply for funding. You pay back the money with zero percent interest and zero fees with whichever acceleration event occurs first: when your property sells, terminate your listing contract with Compass, or 12 months from your project start date.
Compass Concierge Services
Services allowed under Compass Concierge can include:

Floor repair or replacement, tile/carpet deep cleaning, or replacement

Staging and cosmetic renovations

Deep cleaning, depersonalizing, and decluttering

Painting

Landscaping and fencing

Roof, HVAC, electrical, and plumbing repairs

Moving and storage

Seller pre-listing home inspections - can include sewer and septic

Pool, tennis court, home theater repairs

Kitchen and bathroom improvements
Compass Concierge Program Details
Property must be residential only

Property must be owned by an individual, corporations, LLC's, partnerships, and other legal entities are not allowed to participate.

The maximum listing price is under $3M

Scope of work cannot exceed 5% of the list price or up to $75,000

Seller must have 2x equity of the budget amount requested (after closing costs)

You can use any licensed insured vendor that you want.

Compass has partnered with Notable as an independent lender to provide 0% APR loans

A soft credit inquiry is required

Lending decisions are typically made within 3 business days
Review our team's Compass concierge case study
Luxury Is An Experience, Not A Price Point
At Compass we have a dedicated luxury division focused on curating powerful marketing plans that are customized to meet your needs and find the right potential buyers. We have hired the top marketing talent from the world's most beloved luxury brands including Conde Nast, Bloomberg, Pixar, L'Oreal, the Moma, Tiffany's, and Ralph Lauren. These data analysts, graphic designers, PR veterans, digital marketing strategists, and luxury advisors have the advanced skill sets to help us curate a one-of-a-kind marketing campaign for your property. Together we are dedicated to crafting the strategy and narrative behind making sure your marketing plan is unparalleled.
With a highly experienced local marketing team, we have access to unique curated press opportunities to help maximize your San Diego listing's exposure. Our team carefully develops press packages that are strategic, far-reaching, and data driven. No matter the scale of our media plan, it will be efficient and customized to fit your needs.
LUXURYSOCALREALTY at Compass has a global reach. Identifying the local agents who represent a global audience is the key to success. Since many international buyers are likely to be already represented, we'll curate a marketing strategy that targets those brokers. As most high-net-worth individuals own multiple residential properties in different markets, real estate has become a global asset class. We are the San Diego partner for the Private Client Network at Compass, an unrivaled network of top real estate brokerage professionals that operate in every luxury real estate market in the country, selling over $1.5B annually. Our Network Partners are leading brokers in their respective markets – so our combined knowledge, influence, and overall real estate brokerage prowess is unequaled. Effectively, we have connected the luxury real estate markets in a way that has never been done, giving the properties that we represent ultimate reach.
If you're considering SELLING...
Listing Lifestyle Video, TV Promo, & Events
Contact Us Now To Get Started Selling Your Home