San Diego Homes For Sale
Research real estate market trends and find homes for sale San Diego. Search for newly listed homes, open houses, recently sold homes, and recent price reductions in San Diego County. To change how the search is displayed, click the gray button next to "Sort" to display houses by price, number of bedrooms, or days on the market.
*Be sure to register for a free account so that you can receive email updates whenever new San Diego properties come on the market and if you're in the market for a home today, reach out for our exclusive off MLS pocket listings!
Available Homes In San Diego County
San Diego Real Estate
June 7, 2023
$1,146.53
Avg. $ / Sq.Ft.
$2,688,944
Med. List Price
Having thoughts of SELLING?
San Diego Homes By Lifestyle
How's The Market?
We have (updated weekly) market data for every community in San Diego

San Diego Real Estate Agents
Having thoughts of buying or selling property in San Diego? When you're buying a home or selling a home, the right team can make or break a deal, especially in a market as complex and competitive as San Diego County. Through aggressive advocacy and proven competency, our local San Diego real estate agents are committed to guiding you through the entire real estate process from start to finish. We are a team of highly strategic San Diego selling experts, skilled negotiators, seasoned marketers, and loyal confidantes. Reach out now to the LUXURYSOCALREALTY team to learn more about multifamily buyer and seller representation in San Diego and to receive our real estate market reports.
If you're considering SELLING...
Why San Diego, CA Is the Best Place to Live
If you are looking at places to move to for a high quality of life, San Diego may be the answer. Here is why San Diego, CA is the best place to live.
Are you interested in moving to San Diego? You are making a great choice. They call San Diego, CA, 'America's finest city' for a reason.
Living in San Diego offers more than California's year-round sunshine. The city often ranks in the top ten big cities to live in the US. After all, there is something for everyone, with a range of activities, homes, and dining to suit all tastes.
If you are interested in moving to San Diego, look no further than this post. We cover everything you need to know about why San Diego, CA, is the best place to live.
History of San Diego, CA
The history of the Native Americans in the San Diego area stretches back nearly 10,000 years ago, way before California became a part of the United States! The Kumeyaay people lived along the San Diego River for thousands of years.
The city of San Diego was established in 1769 by Father Junipero Serra and Spanish soldiers. San Diego Old Town then witnessed Mexico's independence from Spain and Mexican rule. Then at the end of the Mexican War in 1850, California became part of the United States.
San Diego, CA, was the first unofficial city in California and San Diego County was one of the original 27 counties. Over the years, it withstood hurricanes, smallpox outbreaks, floods, earthquakes, and the Great Drought.
Some parts of San Diego, such as Downtown and Balboa Park, were established in the 1800s. By 1932 Anza Borrego State Park was created, which remains the largest in the continental United States.
After becoming a strategic military base in World War 2, San Diego changed into a bustling metropolis. And it has not looked back since.
San Diego Community and Schools
Now San Diego has over 1.4 million residents, so there are lots of schools and a multicultural community.
Many schools are in the neighborhoods where children live, so they can walk or bike to school if you enroll them locally. If your child does qualify for the school bus, there is usually a fee. There are exceptions, such as for children with disabilities.
Schools offer a variety of coastal sports, such as volleyball and surfing. You can look at a breakdown of schools on the San Diego Unified School District website. There are also private schools that rank highly, and there is a Waldorf school.
There are also highly-acclaimed colleges and universities in San Diego. This includes the University of California-San Diego, University of San Diego, San Diego State University, and Alliant International University.
San Diego's community is diverse and welcoming, no matter your political party, ethnicity, or sexual orientation. It holds a large Pride festival to celebrate the LGBTQ community in San Diego each year.
There are also different neighborhoods with a range of different cultures. For example, you can visit 'Little Italy' in downtown San Diego. There is also a large community of Mexican Americans in Barrio Logan.
Parks and Recreation
If you like the outdoors, you will like living in San Diego. There are plenty of outdoor spaces to enjoy. San Diego has you covered whether you want to go hiking, kayaking, camping, horseback riding, or just relax outdoors.
Parks in San Diego
There are many day-parks, camping areas, and reserves to explore, such as Torrey Pines State National Reserve.
Balboa Park is one of the largest urban cultural parks in the US. Its 1,200 acres is full of hiking trails, playgrounds, and museums to discover.
Visit sea lions and seals at Ellen Browning Scripps Park or Kate Sessions and Cabrillo National monument for some of the best views of San Diego, CA. For more of San Diego's history, visit the Old Town San Diego State Historical Park, where it all began.
Other parks to check out include Waterfront Park, which is perfect for kids and shows movies here during summertime. Mission Bay Park also has plenty of facilities, water sports, and wildlife preserves for birdwatchers.
Recreation
There is also a solid recreational scene in San Diego, CA. You can also visit one of the many sports parks and recreation centers with ball fields, gymnasiums, and sports courts. There are also skate parks and swimming pools.
Throughout the city, there are AgeWell services that are for the recreational and social needs of seniors. There are also therapeutic recreational services for residents with physical, mental, and emotional disabilities.
Arts, Music, and Entertainment
San Diego, CA, also has a thriving music and entertainment scene. Events are happening all year, and many permanent fixtures to enjoy for families, retirees, and young professionals.
Arts
Moving to San Diego also offers you a great arts scene. There are different art museums, such as the popular San Diego Art Museum and Museum of Photographic Arts (MOPA). And there are smaller galleries too.
There is public and street art in places such as Barrio Logan, North Park, and Waterfront Park. ARTS DISTRICT Liberty Station is another hub for the San Diego art scene. If you want to get hands-on, you can visit Athenaeum Arts Center, in the experimental art space of Bread & Salt, or visit the New Children's museum.
Dance lovers will also find a well-established dance scene, and there is a civic dance arts program.
Museums and Animals
Families and museum-lovers will be happy living in San Diego. Start in Balboa Park for seventeen museums! Popular museums and animal parks include:
The USS Midway Museum
San Diego Natural History Museum
Old Town San Diego State Historic Park
Maritime Museum of San Diego
Birch Aquarium at Scripps
San Diego Air and Space Museum
Heritage of the Americas Museum
San Diego Zoo
For children, museums such as the Fleet Science Centre, Children's Discovery Museum, and San Diego Railroad museum are perfect, with hands-on options and focus on child-friendly exhibits. The art museums are also great options for all the family.
Craft Beer
Moving to San Diego also means you are moving to a craft beer capital. There is a thriving craft beer scene with over 150 breweries in San Diego. You can explore local and well-established craft breweries or enjoy craft beer week to get a taste of the scene.
Amusement Parks
For family entertainment (and adults too), you can try one of the amusement parks. For example, Belmont Park is a beach-side amusement park with classic rides, such as a giant dipper rollercoaster. It is also free admission, so you pay per ride.
Festivals
There are many festivals throughout the year, including film, music, visual art, and seasonal celebrations. A popular event is the San Diego County Fair in Del Mar, which has a different theme each year. There is also a week to celebrate San Diego restaurants and a craft beer week for culinary lovers.
Theater
You can enjoy the West Coast's West End, also known as Broadway-West, at one of San Diego's many theaters. Many shows have been sent to Broadway from here. Some of the most famous theaters include La Jolla Playhouse and Civic theater, which have performances throughout the year.
You can enjoy Shakespeare plays at the Old Globe Theater in Balboa Park during summertime, reflecting the Globe theater in London. It also hosts modern comedy performances too.
Music
Whatever your taste in music, there is a way to enjoy it in San Diego. There are large stadiums that host well-known acts and smaller venues such as Music Box.
The San Diego Symphony is based at the Copley Symphony Hall. And the Gaslamp neighborhood has plenty of live music, including at the House of Blues San Diego.
Or you can try one of the many nightclubs, such as Casbah, which regularly hosts up-and-coming artists. Humphrey's Back Stage Music Club has an outdoor music area and music club. Hear a range of music, including salsa, soul, jazz, and rock.
Other Entertainment in San Diego
If you like comedy, try the National Comedy Theatre or the Comedy Store in the downtown La Jolla area, which often has popular comedians perform. There is also a popular Comic-Con International. Other entertainment includes a range of casinos, bars, and movie theatres.
San Diego Restaurants
San Diego often ranks in the top ten cities in the US for dining. San Diego restaurants cover it all. There is an array of fine dining, street food, family restaurants, vegan, and burritos.
Liberty Public Market in Point Loma, is a great place to start with a whole range of food vendors. Try La Clochette Du Coin for delectable pastries, other baked goods, and light bites. To up your burger game, visit the wagyu beef burger Swagyu Chop Shop & Burger and Truluck's Finest Seafood and Crab to sample some of San Diego's seafood.
There are plenty of American-style cafes for all-day breakfast, coffee shops, food trucks, healthy food, and a whole range of multicultural food. Visit areas such as Little Italy, Barrio Logan, North County, Kearny Mesa, Barrio Logan, and La Jolla for more food discoveries.
Transportation in San Diego, CA
It is easy to use public transport when living in San Diego. There are bus and trolley routes that serve most of the county. The trolley route runs three different lines and covers some of the most popular areas of San Diego.
The Metropolitan Transit System has different fares and passes.
The Coaster is a rail commuter system from downtown to coastal communities, including Oceanside and Solana Beach. There is also the Sprinter light rail system. You can use the Pacific Surfliner to visit further afield coastal destinations such as Los Angeles and Santa Barbara.
You can also use Pedicabs, which is an eco-friendly way to travel around downtown. Taxis and different app-based firms also work in San Diego, so you have plenty of transportation options!
Traffic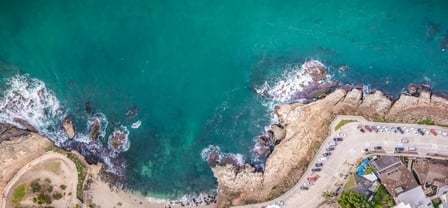 Do you need another reason why San Diego, CA, is the best place to live? There are fewer traffic problems, so you spend a lot less time in the car. A study found San Diego was last out of 15 of the biggest metro areas in the US for traffic congestion.
The busiest freeway times are during rush hour. There is parking available, and it is often free, such as around Balboa park and the beach. Always stick to parking rules, and there are parking enforcement officers.
San Diego Weather
One of the main reasons people are moving to San Diego is because of the climate. There is an average of 146 days of sunshine per year and around 40 days of rain. Temperatures are pleasant year-round.
Summers are clear and warm, and winters are mild and partly cloudy. Here, the Pacific Ocean is cooler than some parts of the US, with the hottest ocean temperature recorded in August, at around 68° F.
Working in San Diego
There are different work opportunities in San Diego, with local companies and major cooperations. Some of the major corporations in San Diego include:
Illumina
Sony Electronics
Qualcomm
BAE Systems
General Atomics
Intuit
Scripps Research
Teradata
Zovio
Pulse Electronics
Sanyo
Cubic Corporation
EAG Laboratories
There are also many employment opportunities within the education sector at one of the many colleges and universities. Other industries include the military, tourism, and international trade. There are also many smaller businesses.
Cost of Living in San Diego
Coastal California is known to have a higher cost of living, and there is no exception with San Diego. Overall, the cost of living in San Diego is higher than the US average, but it is less than other Californian cities such as Los Angeles and San Francisco.
Gas, house prices, rent, utility bills, and transportation rank above average. However, the average salary is also higher. And, of course, living in San Diego offers a lot of benefits.
Outdoor Activities in San Diego
Along with the many parks, there are many outdoor activities in San Diego, thanks to the 166 hiking trails, 520 parks, and miles of coastline. Despite all the beer being brewed, San Diego is blessed with an abundance of water, so there are a lot of water activities.
One of the best outdoor activities is to enjoy one of the many beaches. La Jolla Shores, South Mission Beach, and Windansea are all popular beaches.
Go kayaking at La Jolla sea caves, take a boat or sail along San Diego Bay, or try surfing. There are plenty of spots for beginners and more advanced surfers. Other water activities include paddle boarding, jet-skiing, wakeboarding, scuba diving, and even jetpacking!
Biking is another popular activity, especially along the coast. Or go above the city and try paragliding.
With the many reserves and parks, horse riding, camping, and hiking are popular outdoor activities. Go hiking in the beautiful Torres Pines State National Reserve and other parks such as Mission Trails.
You can also check out Agua Caliente for a desert camping escape and natural pools. Camp at Lake Morena or William Heise, which lies in 900 acres of mountain forest. For equestrians, there is also Sweetwater Summit.
Shopping
Living in San Diego gives you access to great shopping, which is usually open-air. There are many high-end malls, such as Fashion Valley in Mission Valley, which has over 200 stores and over 30 eateries. The Headquarters at Seaport Village is a shopping plaza that is set in an old police headquarters.
You can also visit downtown for independent designers and boutiques. Or browse the many beachside shops. Bazaar del Mundo shopping mall has various stores with specialty gifts from Latin America.
Professional Sports
There are two professional soccer teams in San Diego, San Diego Loyal SC, and San Diego 1904 FC. And there is even more good news, as in 2022, women's professional soccer will come to San Diego.
San Diego also has a baseball team called the San Diego Padres of Major League Baseball. There are two NBA teams; the San Diego Rockets and the San Diego Clippers.
The Gulls are the hockey team, and there is also the Del Mar Racetrack for horse racing.
Social and Membership Clubs
There are over 200 social and country clubs in the San Diego area. If you are interested in golf clubs, the Grand Del Mar and Rancho Santa Fe are popular choices. The University Club Atop Symphony Towers is a popular club for business networking, and Hotel Del Coronado is a suitable family choice.
There are also many other sports, beach, and social clubs. Most clubs offer fantastic facilities without the crowds.
San Diego Real Estate
San Diego real estate continues to increase in value across the board due to increased demand and low-interest rates. The current median list price for San Diego, Ca is $995,000. Construction continues, especially for condos, apartments, and single-family homes.
Late spring tends to be when most homes are on the market in San Diego, but throughout the year, there are options. The total market time for August averaged 29 days.
If you are thinking of moving to San Diego, then you should look at the different homes on offer. San Diego has a variety of homes on offer. Typical housing architecture in San Diego includes townhomes, modern, Mediterranean, Victorian, and ranch styles.
San Diego Estates and Homes
There is a variety of different high-quality homes and neighborhoods. You can find gated communities, beachfront, and penthouse options in different parts of San Diego. Some notable neighborhoods to live in include:
Rancho Santa Fe
Rancho Santa Fe is a community that began in the 1920s. It is one of the most desirable neighborhoods to live in San Diego and has a strong community. There are golf and gated communities, along with a variety of amenities.
Solana Beach
Solana Beach is a walkable area that has the benefits of the beach but is also within thirty minutes. Despite the relaxed atmosphere, there are lots of real estate options. There are condo communities, gated estates, and beach homes.
Del Mar
Del Mar is home to many high-profile residents. It is close enough to San Diego city but also has a beach and golf course. It is also full of amenities despite being a small community.
Oceanside
Oceanside has excellent transport links to the city center but maintains a beach town atmosphere. There are many events thanks to the arts and culture scene. It also offers old and new homes in family-friendly neighborhoods.
Notable San Diego Residents
The fact that San Diego, CA is the best place to live was also realized by the notable residents, past and present. Some of the high-profile residents who realized moving to San Diego was a great idea include:
Dr. Seuss
Alicia Keys
Bill Gates
Deepak Chopra
Phil Mickelson
Tony Hawk
Bill Murray
Shaun White
Steve Perry
Frank Zappa
Nick Cannon
Dr. Jonas Salk
There have been many notable residents over the years. Some still live in properties, while others spent a majority of their lives in San Diego. And there continues to be exceptional talent coming out of San Diego in sports, arts, and academics.
Fun Facts About San Diego
If you still need some persuading that San Diego, Ca, is the best place to live, check out these fun facts for some persuasion.
San Diego produces the most avocados in the US
There are over 7000 small farms
The famous Californian Burrito originates from San Diego
It is one of two places where the rare Torrey Pines tree grows
Jack In The Box started as a hamburger stand here
San Diego built the plane used for the first transatlantic flight
There is a Tony Hawk Day, to celebrate the famous skater
Harbor seals have been hanging out here since the 1990s
And the list goes on. San Diego is full of surprises and fun facts, making it an exciting place to live. You have the chance for a high-quality life, which is also full of fun.
San Diego, CA Is the Best Place to Live
Now you know why San Diego, CA is the best place to live in the US. Living in San Diego offers the perfect climate and location alongside the pacific ocean. You have a city full of life, dining, culture, and entertainment, but also the outdoors right on your doorstep.
Are you ready to move to San Diego? LuxurySoCalRealty can help as San Diego's premium real estate agency. Contact us today to learn more.