The Best Neighborhoods in San Diego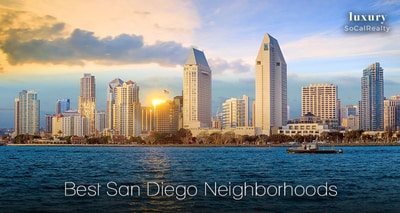 Widely known as "America's Finest City," San Diego is famous for its miles of white-sand beaches, incredible climate, and many attractions. San Diego is the 8th largest city in the United States, and San Diego County is home to over 3.5 million people. In this article, we'll be exploring some of the best neighborhoods in San Diego County and what makes them such a great place to live.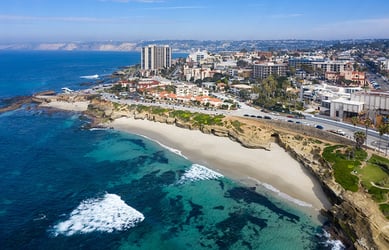 La Jolla
Summary: Luxurious living combined with a vibrant arts and cultural scene in a stunning natural setting.
Located a mere 12 miles north of Downtown San Diego, La Jolla is a luxurious enclave that's home to some of the most expensive real estate in the area. La Jolla translates to "the jewel" and is an apt name for this breathtaking city. There are over seven miles of stunning coastline here, which gives way to steep canyons and hillsides, all providing spectacular views. Add in the almost perfect Mediterranean climate, and it's no wonder La Jolla is one of the most desirable places to live in San Diego County.
La Jolla was originally a 19th-century resort, replete with a collection of tiny beach cottages. Today, the cottages have been replaced by mansions and luxury hotels, but there's still a laid-back beach town vibe here. The wide, sandy beach is simply wonderful, and locals take full advantage of the warm temperatures to enjoy surfing, diving, or just relaxing on the beach. There are also miles of trails that snake through the canyons, and hiking is another popular activity.
La Jolla attracts wealthy residents from all over the world, and there's plenty of upscale shopping and dining to satisfy locals' desires. Prospect Street is lined with designer boutiques and incredible restaurants, as well as luxury car dealerships, and locals enjoy strolling this walkable area and enjoying the relaxed atmosphere.
There's a thriving arts and culture scene in La Jolla, best exemplified by the incredible Murals of La Jolla, which commissions huge murals for the walls of downtown buildings. La Jolla is also home to beloved institutions such as the Museum of Contemporary Art San Diego and the Tony Award-winning La Jolla Playhouse.
La Jolla Is home to an impressive collection of some of the region's most coveted real estate. Prices rise with proximity to the coastline, and many homes have amazing views. Architectural styles range from beautiful Spanish-style mansions to modern homes.
Rancho Santa Fe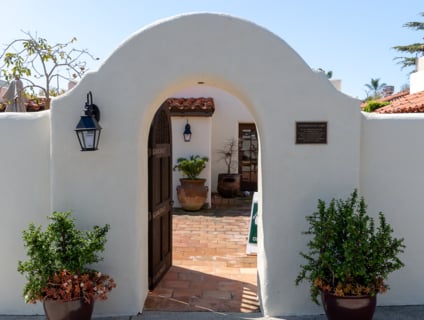 Summary: Upscale living and luxury amenities in a quiet and convenient location.
Rancho Santa Fe is an affluent census-designated community in North County San Diego. Home to just a few thousand residents, Rancho Santa Fe dates back to the 1920s when the original master-planned community was begun. Today, the original community is known as The Covenant and is one of the most desirable neighborhoods in what is one of the most expensive zip codes in the entire country.
Located just minutes from beaches, golf courses, equestrian centers, and more, Rancho Santa Fe offers residents a peaceful refuge that's within easy commuting distance of Downtown San Diego. Life is relaxed and slow-paced in Santa Fe, and locals enjoy golfing, horseback riding, and hiking on the weekends.
The Village of Rancho Santa Fe lies at the heart of the community, and it's here that locals gather to socialize at one of several upscale or casual restaurants. There's also a variety of unique boutiques in the Village, as well as a library and various other services. The Village has a vibrant, friendly atmosphere, and it's a pleasure to wander the pedestrian-friendly streets while enjoying the picturesque Spanish-style architecture.
Real estate in Rancho Santa Fe comprises large single-family homes in gated communities or golfing communities. The centrally located Covenant allows residents walking access to shopping and dining, and there's also a highly rated public K-8 school. Other popular neighborhoods include Fairbanks Ranch and The Crosby, both of which feature gated security and wide, quiet streets.
Solana Beach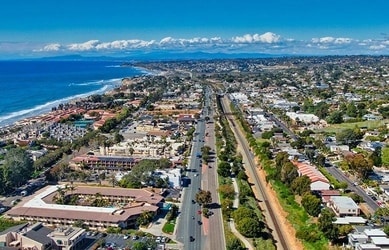 Summary: A laid-back beach town with world-class shopping and dining and a welcoming atmosphere.
Located along San Diego's northern coast, nestled between Del Mar to the south and Encinitas to the north, Solana Beach is a charming city with a laid-back, small-town vibe. Although Downtown San Diego can be reached in under half an hour, the hustle and bustle of the big city don't encroach on life here. Residents refer to the "Solana Bubble" when they talk about the mellow, family-friendly atmosphere in their city.
A big part of what makes Solana Beach such a great place to live is its walkability. This is a small city, and locals can walk to pretty much everywhere they need to go, including shops, restaurants, and schools. Residents of Solana Beach love to spend time outdoors, and there's plenty of natural beauty to enjoy. The coastline here is simply stunning, and beaches such as Fletcher Cove and Tide Beach Park are popular places to run, walk, and play.
In the heart of Solana Beach, the Cedros Design District has become one of the most popular shopping and dining areas in the region. Locals and visitors alike come here to browse the independent boutiques, galleries, and antique stores that line Cedros Avenue before stopping into a favorite restaurant or bar. There's also an amazing live music venue here, which has been drawing big-name artists to Solana Beach since 1974.
There are many real estate options in Solana Beach, with most of the more expensive properties located west of I-5. Here you'll find gated luxury estates with ocean views, upscale condo communities, and unique beach homes. East of the interstate, you'll find single-family homes, condos, and country club villas in planned developments.
Del Mar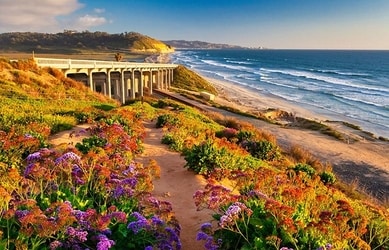 Summary: Upscale living for those who seek an amenity-rich lifestyle in a coastal village.
Since Hollywood's Golden Age, the small city of Del Mar has attracted movie stars, high-flyers, and celebrities, all of whom are drawn to the city's beautiful beaches, top-notch entertainment, and wonderful climate. Located just 20 miles north of San Diego, Del Mar is an extraordinary coastal gem that's home to some of the most desirable and expensive real estate in the country.
Del Mar is home to only a few thousand residents and feels more like a laid-back village than a city. Thanks to Del Mar's intelligent and thoughtful design, residents don't need a car to get around town, and the streets are always full of walkers, joggers, and cyclists. Del Mar locals enjoy what they call a "Surf and Turf" lifestyle, meaning they can enjoy relaxing weekend days on the beach, enjoying the California sunshine, or head to the golf course and practice their swing.
When it comes to shopping, dining, and entertainment, Del Mar residents are spoiled for choice. For such a small community, there are an incredible amount of amenities. Located between 9th and 15th Streets, Del Mar Village offers specialty boutiques and patio dining with a charming, old-world atmosphere. Featuring an elegant atmosphere with stunning ocean views, upscale Del Mar Plaza is another favorite local destination for shopping and dining.
Real estate in Del Mar is highly coveted, and this is reflected in its prices. You'll find a mix of charming beach villas and luxury estates perched atop scenic hills that overlook the ocean. Del Mar's luxury real estate rivals that found in other world-renowned oceanfront communities like Malibu and Miami Beach.
Coronado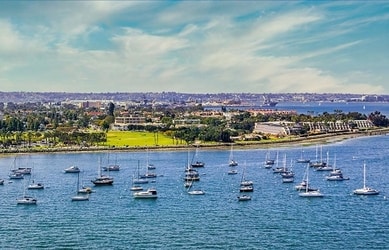 Summary: Strong community spirit and beachfront living just a stone's throw from downtown.
Located just across the bay from Downtown San Diego, Coronado is a charming, vibrant island city with a small-town feel. For those who seek a friendly, welcoming place to live with plenty of outdoor recreation and amazing year-round weather, Coronado might tick all the boxes.
Coronado's beach is consistently rated among the best in the US by Dr. Beach, and much of daily life here revolves around this wide stretch of pristine sand. The gentle surf is ideal for swimming, and locals love to sail, kayak, and paddleboard all year long. The adjacent Coronado Beach Boardwalk attracts local walkers, joggers, and cyclists, all of whom enjoy staying active under the California sun.
Away from the beach, there are plenty of opportunities to wander local shopping areas. Orange Avenue is Coronado's main drag and is lined with shops, galleries, and fantastic local eateries. At the other end of the island, Coronado Ferry Landing offers boutique shopping, galleries, and restaurants, as well as stunning views of the San Diego skyline.
Although Coronado is a popular tourist destination, there's a powerful sense of community among locals, and residents are passionate about staying informed about what's happening in their city. Summer events and festivals like Art Walk and a summer concert series provide locals with the opportunity to come together as a community and celebrate their city.
Real estate options in Coronado range from modest single-family homes to luxury condos in beachfront high-rises. There are dozens of architectural styles represented here, including Craftsman homes, bungalows, and even Tudor-style properties.
Carlsbad
Summary: A charming village that's ideal for those who seek luxury living by the ocean.
Hugging the scenic coastline of northern San Diego County, Carlsbad has long been known as a luxury enclave. Residents of this quaint and picturesque city enjoy being surrounded by natural beauty, a wide array of high-end amenities, and a friendly, active community.
Affectionately referred to as "The Village by the Sea" by locals, Carlsbad is a warm and welcoming place with gorgeous sandy beaches, three unique lagoons, and protected natural areas. Locals are rightly proud of Carlsbad's natural beauty and take advantage of the wonderful California climate to spend as much time outdoors as possible. Locals enjoy spending time at the beach, of course, but there are also miles of hiking trails to explore in Lake Calavera Nature Preserve. Golf is a big deal around here, too, and there are several world-class courses to choose from.
Carlsbad is a very walkable city. Locals enjoy strolling around centrally located Carlsbad Village, popping in and out of galleries and antique stores, and stopping for lunch at one of the various cafes and restaurants. There's a wonderful Farmer's Market here on Wednesdays, offering locally grown produce, crafts, and live music.
There's always plenty to do in Carlsbad, with family-friendly favorites, including the Legoland resort and Sealife aquarium. Events and festivals are held throughout the year, giving locals the chance to come together as a community. By far, the largest event is the Carlsbad Village Faire, which is held twice annually.
Real estate options range from 1950s cottages and impressive mansions in Old Carlsbad to single-family homes on large lots in the city's northeastern section. Elsewhere, you'll find large homes in exclusive planned communities with extensive amenities.
Encinitas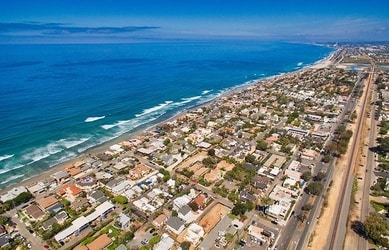 Summary: Sunshine, surfer culture, and natural beauty in a vibrant, eclectic city.
Encinitas is a bustling and vibrant coastal town with a population of around 60,000. Located roughly 25 miles north of San Diego, Encinitas has been named one of the best surf towns globally by National Geographic, and the surfing culture informs the laid-back vibes in this eclectic city.
There are over six miles of gorgeous, rugged coastline here, and the beaches are coveted as hidden gems by locals. Moonlight Beach and Swami's Overlook are both popular surfing beaches, but they also draw locals who want to spend a weekend day relaxing on the sand. Encinitas is also home to the 37-acre San Diego Botanical Gardens, a true jewel in the city's crown. Locals and visitors alike enjoy strolling through the gardens, and the California sunshine seldom fails to deliver.
Encinitas is home to a wonderful historic downtown that residents and business owners have fought hard to preserve. The downtown area is home to surf shops, sidewalk cafes, restaurants, and record stores and acts as the center of life in Encinitas. There's a thriving arts and culture scene in Encinitas, and the downtown La Paloma Theatre is where much of the action takes place. Whether it's a movie, theatrical performance, or a live band, La Paloma is the place to be.
In Encinitas, real estate options run from homes in golf course communities to those tucked away in a more rural setting. New Encinitas has a suburban feel, with many newer single-family homes on large lots. Older properties can be found close to galleries and shops, along the tree-lined streets of the Leucadia neighborhood.
Cardiff-by-the-Sea
Summary: A tight-knit beachfront community that has something for everyone.
Although it's actually a neighborhood within Encinitas, Cardiff-by-the-Sea has its own zip code and possesses a unique character and vibe distinct from the rest of Encinitas. Known locally as just "Cardiff," this neighborhood features wide, sandy beaches, dramatic cliffs, and an atmosphere that's friendly, welcoming, and relaxed.
Cardiff-by-the-Sea extends from San Elijo State Beach in the south, all the way north to Swami's Point, and the neighborhood beaches are super-popular among local surfers. At low tide, local families enjoy exploring the tide pools created as the Pacific Ocean recedes, and the glorious Southern California weather is ideal for relaxing with a picnic. There are plenty of fantastic parks in Cardiff, too, with San Elijo Lagoon Ecological Reserve among the most popular with local dog walkers and bird watchers.
Although Cardiff-by-the-Sea has a small population of around 10,000, there's a strong sense of community here, and locals love to come together at festivals such as Taste of Cardiff and Dog Days of Summer. Locals support their community by shopping and dining locally, too. Located across from the beach on Highway 101, Restaurant Row offers an eclectic mix of eateries, while Cardiff Towne Center acts as the neighborhood's downtown, offering boutiques, salons, and fitness centers.
Real estate options in Cardiff-by-the-Sea range from modest single-family homes to incredible mansions with ocean views. There's also a good selection of condos here, and most properties are within easy reach of the beaches.
San Marcos
Summary: A beautiful city, full of parks, that's ideal for those who enjoy an active outdoor lifestyle.
San Marcos is a city in northeastern San Diego County with a population of over 80,000. San Marcos is close enough to San Diego that many residents make the daily commute to the big city. Although the drive can take as little as half an hour, rush hour traffic can be quite heavy, so many locals take advantage of the awesome Sprinter commuter trains.
Given its proximity to San Diego, this pleasant city is surprisingly different. San Marcos retains its own special character, defined by a friendly, welcoming vibe and a strong community spirit. San Marcos is blessed with incredible weather. Average temperatures hover around 72 degrees Fahrenheit, and most of the rainfall occurs during the winter. This enviable climate is ideal for spending time outdoors, and San Marcos residents are an active bunch.
Affectionately known as "San Parkos" by locals, this city is full of green spaces, and residents can often be found playing team sports, walking, or cycling. Hiking is a popular pursuit, too, and the steep trails at Double Peak Park reward hikers with amazing views from the summit.
There's an incredible dining scene in San Marcos, and some of the region's most highly-rated restaurants can be found at Old California Restaurant Row, a Spanish-style plaza in the downtown area. There's unique shopping here, as well, and locals love visiting the dozens of vendors at Antiques Village.
San Marcos attracts a diverse range of residents, including families drawn to the San Marcos Unified School District's highly-rated schools. Real estate options include everything from modest bungalows and ranch-style single-family homes to large, modern residences and condos.
Oceanside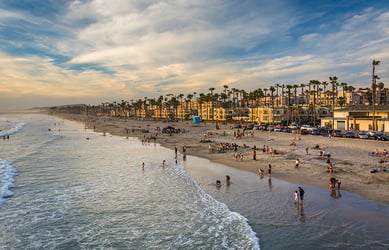 Summary: The archetypal Southern California beach town that offers something for everyone.
The third-largest city in San Diego County, Oceanside is a bustling, vibrant coastal community with a population of over 175,000. Oceanside's fantastic location marks it ideal for those who seek a laid-back, family-friendly atmosphere that's within easy reach of the big city. San Diego is an easy 40-minute drive south, and many Oceanside residents make the daily commute. For those who'd rather not drive, there are several public transit options, including excellent commuter trains and buses.
Featuring over three miles of beautiful coastline, Oceanside - affectionately referred to as O'side by locals - offers residents that classic Southern California beach town experience. The beaches here are wide, sandy, and lined with picturesque palm trees that sway gently in the breeze.
Locals enjoy an active outdoor lifestyle, and there's always plenty to do. Surfing is really popular here, as well as beach sports like volleyball and soccer. Oceanside is an extremely pedestrian-friendly city, and locals enjoy walking and biking around town, stopping to browse the eclectic collection of boutiques that lines Highway 101, or meeting with friends in one of the many excellent cafes, restaurants, and bakeries.
Oceanside is home to one of the longest wooden piers in the country, and fishing is a favorite pastime. Nearby, Oceanside Harbor Village is home to many local sailboats as well as an awesome collection of restaurants and shops. There's a thriving arts and culture scene in Oceanside, as well as dozens of weekly and annual events, including art walks, farmers' markets, and sporting events.
Real estate options in Oceanside range from older single-family homes to newer construction in gated communities away from the coastline. You'll also find a variety of condos, as well as larger single-family homes in quiet, established neighborhoods.
Summary: An exciting, walkable urban neighborhood that's ideal for those who want access to independent businesses.
South Park is an urban neighborhood located to the east of Downtown San Diego. Atmospheric and steeped in history, South Park is one of the most walkable and welcoming neighborhoods in the city. Locals absolutely love living in South Park, citing the neighborhood's diversity, friendliness, and close-knit community as the reasons why they'd never live elsewhere.
South Park is a neighborhood of local, independent businesses, and there's a strong community spirit here. Cafes, unique boutiques, bars, and a fantastic array of restaurants all jostle for attention in South Park, and friendly greetings and conversation are the norm. This is a pet-friendly neighborhood, too, and local four-legged friends are welcomed in most businesses.
Events throughout the year bring the community together as locals and visitors alike celebrate South Park. Quarterly Walkabouts - with live music, local vendors, and food - are especially popular, as is the wonderful Taste of South Park Festival.
South Park is known for its low crime rate and superb amenities. Local schools such as the Albert Einstein Academy Charter School are consistently highly rated. Real estate options include beautiful old Victorian, Craftsman, and Spanish revival homes and more modern townhomes and low-rise condo developments.
North Park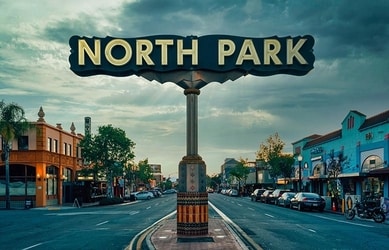 Summary: A vibrant, eclectic urban enclave that's full of life and things to do.
Named by Forbes as one of the country's hippest locales, North Park is a super-popular urban neighborhood brimming with youthful energy. North Park is an eclectic and diverse neighborhood that's undergone somewhat of a renaissance in recent years. The area has a distinct character, thanks to the numerous historic gems that are dotted throughout, and there's a strong community spirit running through the local population. Established in 1984, the North Park Community Association works to maintain this community feel by organizing events and concerts.
North Park buzzes with creative energy and life, and locals love to celebrate the local arts scene. Art walks are held monthly, and the annual Festival of the Arts is always eagerly anticipated. The intersection of 30th Street and University Avenue is the heart of the neighborhood, and it's here that locals gather to enjoy craft beer and cocktails, cutting-edge dining, and boutique shopping.
North Park is a super-walkable neighborhood, and many residents get by without a vehicle, preferring to run daily errands on foot or bicycle. The amazing Balboa Park lies adjacent to North Park, and locals love to spend downtime here, exploring the gardens, picnicking under shady trees, or jogging through the gorgeous landscaping.
There are plenty of real estate options in North Park, including historic properties, single-family homes, condos, and townhomes. Although this is a hip, urban neighborhood, many families call North Park's residential streets home.
Chula Vista
Summary: A family-friendly and diverse city that's got something for everyone.
Located just a few miles south of San Diego, Chula Vista has a population of over 280,000, making it the second-largest city in the San Diego area. Chula Vista is an eclectic and diverse city with a strong Hispanic heritage, reflected in the city's architecture and many Hispanic businesses. Chula Vista is a dynamic and growing city that offers a family-friendly atmosphere and real estate options for every budget.
There are over 560 acres of parkland in Chula Vista and many other green spaces throughout the city. Locals enjoy spending time outdoors, enjoying the beautiful surroundings and the warm California sunshine. The jewel in Chula Vista's crown is Otay Valley Regional Park, referred to as the "Emerald Necklace" by residents. This incredible park features miles of hiking trails and several picturesque ponds and is a favorite weekend spot among locals.
Family-oriented events and festivals are held throughout the year in Chula Vista, and there's always something to do. Favorite events include Ciclavista, when city streets are closed to cars, and the popular Community Fun Run. Chula Vista's historic district is the place to go for some of the best Mexican food there is, and the Third Avenue Village is home to an assortment of eclectic shops and craft breweries.
Real estate options in Chula Vista include everything from condos and apartments to single-family homes. The historic center is home to beautiful old properties and there are also planned communities further east. The city's established central neighborhoods feature quiet, tree-lined streets within walking distance of schools and downtown.
Carmel Valley
Summary: A forward-thinking community with a location that's second-to-none.
Located to the northeast of San Diego, Carmel Valley is a high-end residential community rich in amenities and surrounded by stunning natural beauty. This master-planned community is one of San Diego's newer neighborhoods, but it retains a distinct character all its own.
One of Carmel Valley's most attractive features is its superb location. The neighborhood's proximity to major highways means that local commuters can easily reach work in San Diego or nearby communities such as the biotech hub of Sorrento Valley.
Carmel Valley was an extremely well-thought-out community, and its design - with development limited to upland mesas - means that locals enjoy endless recreation opportunities in the unspoiled canyons. There are miles of hiking trails and plentiful local parks and open spaces. Thanks to the fantastic year-round climate, locals are able to get out and enjoy these parks and nearby beaches whenever they please.
Families are drawn to Carmel Valley for its highly-rated schools and the high concentration of luxury single-family homes. Most of the homes here were built after 1980, and most have at least four bedrooms.
Conclusion
As you might be able to tell, our team is incredibly enthusiastic and knowledgeable about San Diego's truly remarkable communities. If you're looking to buy a home in the San Diego area but need some guidance on which neighborhood is right for you - we'd love to help! We're a team of full-service local real estate agents who are intimately knowledgeable about the San Diego real estate market. Give us a ring at 858-752-8730 or reach out using our contact form.