San Diego Neighborhoods
We help you discover the best neighborhoods in San Diego with homes curated by lifestyle. Learn the things to know before moving to San Diego. We believe finding your place means finding where you belong. Use the links below to search San Diego neighborhoods & homes for sale by specific neighborhoods or communities. You can also search here for San Diego by map.
If you already know which San Diego communities you like, it would be our advice to sign up for our daily digest of new listings as soon as they hit the market.
6 Best Neighborhoods In San Diego
The Best Neighborhoods in San Diego
San Diego is that rare jewel of a city for families and singles alike. Explore the best neighborhoods in San Diego to call home.
Lounge on a recliner with a beverage in hand any time of year. Then go to the beach for some color and take a dip in the Pacific Ocean. Some say the water is cold, but others swim in the waters of coastal San Diego at any temperature.
In the evening, the neighborhoods offer plenty to do with spectacular venues and activities for visitors and locals. Looking for a place to hang your hat and sun visor in this amazing destination?
Then you need to know the best neighborhoods in San Diego. In this post, you'll discover the greatest neighborhoods San Diego has to offer and learn what makes each one special and unique.
The Schools
Before we discuss each neighborhood, let's talk a bit about schools. As a parent, you want to relocate to a neighborhood that possesses an excellent school system.
As part of our criteria, we based our decisions on the areas that are home to some of the most exceptional schools. These schools have a rating of 10, the highest achievable rating. You can read more about specific San Diego schools here.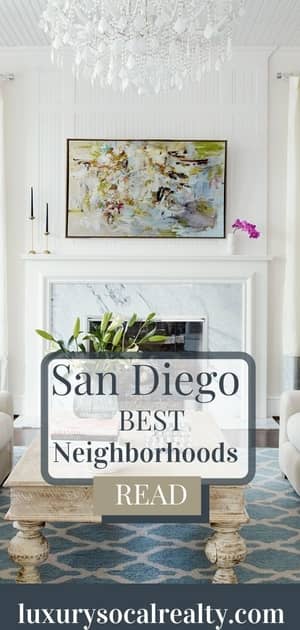 1. Solana Beach
Solana Beach sits at the top as one of the best San Diego neighborhoods. With a population of 133,362, Solana Beach attracts residents looking for an upscale community.
The area is a top surfing spot. Prepare to spend over $1.5 million for a home in Solana Beach or pay around $3,000 a month for a rental. However, rentals can be hard to come by since most residents own their homes.
Although much of San Diego tends to attract liberals, Solano Beach is the exception. It is home to a community with more conservative political views. The area has excellent schools, making it a nice place to raise a family.
Things to Do in Solana Beach
Try for a birdie at Lomas Santa Fe Country Club's Golf Course then go swimming at Fletcher Cove or try the tide pools at Tide Park Beach. The Cedros Design District provides abundant dining, shopping, and recreational opportunities.
2. Del Mar
Del Mar, a small suburb of around 4,338 residents, is a highly desired area to live in. However, with its small population comes a high cost of living.
Del Mar is heralded as one of the best neighborhoods in San Diego. It's also one of the most luxurious places for families.
It's number one feature: its coastal location. Lined by a beautiful coastline, Del Mar provides its residents with endless opportunities to enjoy the beach. Unlike other areas, it also features a lot of open green space.
The median price for homes is around $2 million. Most residents own their homes and this community, like Solano Beach, draws a conservative-leaning population.
Del Mar is close to venues and shopping. One of the favorite activities is beachside dining.
Things to Do in Del Mar
Try your luck at the Del Mar Fairgrounds Racetrack. Catch the surf at Torry Pines State Beach. Visit Del Mar Plaza for an array of shopping and dining venues.
3. Coronado
Residents not ready to make a home purchase in San Diego may want to rent an apartment, house or condo for a little over $2,000 on average. This is another upscale community and a great spot for sports fishing!
Coronado attracts a diverse population made up of young professionals and retirees. What makes this community magical: it's situated on a peninsula right on the Pacific Ocean. A safe place to live, with great schools, Coronado makes a great neighborhood to raise kids.
Other than its amazing views of the Pacific, what makes Coronado special is its convenience. It's located a short distance to downtown venues.
Things to Do in Coronado
History buffs love the National Historic Landmark Hotel Del Coronado and the U.S. Naval Air Station on North Island. Try your swing at the Coronado Golf Club. Go sailing or surf on Silver Strand State Beach, a community favorite.
4. Carlsbad
Are you looking for geographical diversity? Then Carlsbad is the place to be. It's a great spot for beach-lovers, but its mountains provide a plethora of activities for hikers and mountain climbers.
Known for its natural beauty and open space, Carlsbad makes a nice place for families to settle, snowbirds to buy a second home, or sun-worshippers to visit on a vacation.
The area makes a good place for growing families with good schools. Most residents in the community own their homes. Vacationers and locals love its proximity to and its 35-mile drive to downtown.
Things to Do in Carlsbad
Try for a birdie at La Costa Gold Medal Golf Resort and Spa. Take the kids to the aquarium. Tour the Village, Old Carlsbad, and the Barrio before you hop on the highway to experience the downtown nightlife.
4. Encinitas
A populated suburb in San Diego, Encinitas is home to a mix of mostly young professionals and families. It also is home to a small population of senior citizens. Most residents lean toward conservative views.
The area has exceptional schools and offers horseback riding in many of Encinitas's inland areas. Don't be surprised if you see someone tethering their horse at a fence in front of a nearby restaurant or hear the sound of galloping.
The majority of residents own their homes. The median home price is less than a million. The average rent one can expect to pay is around $2,000 or a few hundred less in some areas.
Things to Do in Encinitas
Take the kids to Moonlight State Beach for an afternoon. Explore the verdant flora at San Diego Botanical Garden. Go camping at the popular Sa Elijo State Beach.
6. Cardiff By the Sea
Few destinations are graced with the raw, natural beauty found in Cardiff By the Sea. Although not part of San Diego proper, it's a short distance away in North County.
At Cardiff, you'll discover two wonder reefs and teeming sea life situated along nearly three miles of walkable sands. On your journey, you'll see tide pools, joggers, bikers, or anglers reeling in their catch.
Situated between Solano Beach to the South and Encinitas to the north, Cardiff makes a convenient and stunning locale to own a home. It's also an enchanting place for a vacation.
Things to Do in Cardiff By The Sea
Ride the breaks on Cardiff State Beach. Take the family camping to San Elijo for the weekend. Head to "Restaurant Row" when you get hungry. It's right on Hwy. 101 above the beach.
The Best Neighborhoods in San Diego Revisited
Now you're privy to the best neighborhoods in San Diego. They provide abundant luxury, great schools, and a wealth of activities, excitement, and relaxation for all.
Looking to buy a home in the San Diego area? Contact a San Diego neighborhood real estate specialist today.