Rancho Santa Fe Homes For Sale
Research market trends and find Rancho Santa Fe homes for sale. Rancho Santa Fe is part of the luxury ranch and coast group of communities inclusive of La Jolla, Del Mar, and Solana Beach. Search for newly listed homes, open houses, recently sold homes, and recent price reductions. To change how the search is displayed, click the gray button next to "Sort" to display houses by price, number of bedrooms, or days on the market.
*Be sure to register for a free account so that you can receive email updates whenever new Rancho Santa Fe properties come on the market and if you're in the market for a home today, reach out now for our exclusive off MLS pocket listings!
Available Homes In Rancho Santa Fe
Rancho Santa Fe Homes
December 11, 2023
$1,215.83
Avg. $ / Sq.Ft.
$5,544,000
Med. List Price
Having thoughts of SELLING?
Rancho Santa Fe Neighborhoods
Nearby Rancho Santa Fe Communities
How's The Market In Rancho Santa Fe?
Check out current (updated weekly) market data for 92067!

Rancho Santa Fe Real Estate Agents
Having thoughts of buying or selling in Rancho Santa Fe? When you're buying a home or selling a home, the right team can make or break a deal, especially in a market as complex and competitive as Rancho Santa Fe California. Through aggressive advocacy and proven competency, our local Rancho Santa Fe real estate agents are committed to guide you through the entire real estate process from start to finish. We are a team of highly strategic Rancho Santa Fe selling experts, skilled negotiators, seasoned marketers, and loyal confidantes. Reach out now to the LUXURYSOCALREALTY team to learn more about buyer and seller representation in Rancho Santa Fe and to receive our 92067 real estate market reports.
If you're considering SELLING...
Rancho Santa Fe California The Best Place To Live
Are you considering moving to Rancho Santa Fe? Let's go through why it could be a great choice for so many different reasons.
Rancho Santa Fe, California is an affluent, pastoral community set amidst rolling hills peppered with eucalyptus trees and acres of citrus and avocado orchards. It is a safe haven for the most elite residents of San Diego.
If your search for a place to call home has led you to Rancho Santa Fe, you're in luck. This semi-rural master-planned community has the best of all worlds.
Keep reading to find out what Rancho Santa Fe has to offer.
History of Rancho Santa Fe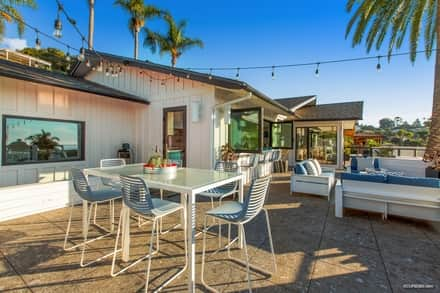 The picturesque canyonlands that now house the Rancho Santa Fe community were originally home to the Kumeyaay Tribe of Native Americans.
Over the past two centuries, this area has existed under the control of Spain, Mexico, and the United States.
The land then known as Rancho San Dieguito came under the ownership of the Osuna family in 1836 and remained in theirs until 1875. The remaining members of the family sold the last parcel of land in 1906.
It was in 1906 that the Santa Fe Railway gained control of all of the lands that made up the original San Dieguito land grant. The railway intended to use the land to grow lumber to construct railroad ties.
Unfortunately, the company decided to plant eucalyptus trees, which turned out to lack the structural capacity to serve as ties to underlay the train rails.
Fortunately for the current residents, the 3,000 eucalyptus trees still stand and add exceptional beauty to the area.
The Santa Fe Railway
The Santa Fe Railway failed less than ten years after it purchased the Osuna family land. It is possible that if the company had not gone bankrupt, the community of Rancho Santa Fe would not exist today.
The railroad company was positioned to give up and walk away from the failure. They would have if it weren't for Colonel Ed Fletcher, one of San Diego's most successful land and water developers.
Fletcher assured the company that the land still help promise and potential. He thought they could profit off of the land by planting citrus and avocado orchards. It was the beginning of a new project.
By 1921, the company had created a map of subdivisions and land parcels for what they called "the Village" with the help of road engineer Leon Sinnard.
The map outlined residential land parcels that spiraled out from a central core containing a food market, garages, a schoolhouse, rowhouses, and a guest house that later came to be the Inn at Rancho Santa Fe.
At the same time, the company decided to retire the name Rancho San Dieguito and call the community Rancho Santa Fe.
The construction of homes, estates, orchards, and roads began soon after. The Santa Fe Company hired respected architects Requa Jackson and Lilian Rice to plan and design the homes and estates.
They also hired a landscape architect and an agronomist. Soon they had constructed a stunning, community designed with the character of the region's traditions in mind and all the conveniences of modern living.
The recording of the Rancho Santa Fe Covenant took place in 1928. That effectively formed the Rancho Santa Fe Association and Art Jury. These organizations ensured the organized development of the community.
In 1989, the Rancho Santa Fe community was officially designated as a national landmark.
Rancho Santa Fe Community & Schools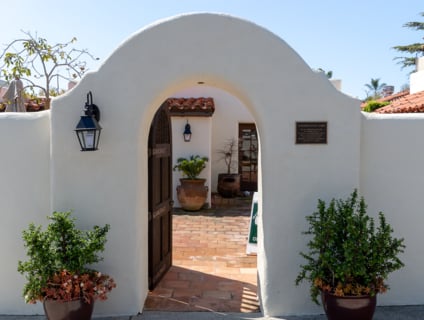 The suburb of Rancho Santa Fe, San Diego, resides in the city's North County. The inland community is unique despite the way it may seem at first glance.
Looking around the community, you'll see beautifully manicured horse stables, avocado and citrus orchards, and gorgeous sprawling estates.
This quaint village of 5,000 residents is tucked away from the chaos of modern life. Yet, it's only a seven-mile drive to the ocean. It is the perfect place to live an elite lifestyle once only accessible to the rich and famous.
Community
When you hear the phrase "upscale planned community", you might envision a neighborhood populated with wealthy snobs. Rancho Santa Fe couldn't be further from that.
Yes, Rancho Santa Fe is home to a multitude of millionaires, but you wouldn't know it when you experience the attitude of this town. Many residents describe the atmosphere as kind, laid back, and relaxed.
The type of people who gravitate toward Rancho Santa Fe is those who seek a comfortable, quiet lifestyle of casual opulence set amidst gorgeous natural scenery.
Schools
Rancho Santa Fe contains three public schools and serves 971 students. The Rancho Santa Fe community boasts one of the highest concentrations of highly-ranked public schools in the state.
The best-ranked public school options for students in Rancho Santa Fe include R. Roger Rowe Elementary School, R. Roger Rowe Middle School, and Solana Santa Fe Elementary School.
The public high school for residents of the Covenant of Rancho Santa Fe is Torrey Pines High School. It is part of the well-ranked San Dieguito District.
Students from Rancho Santa Fe are also able to attend Canyon Crest Academy in Carmel Valley or San Dieguito Academy in Encinitas.
Rancho Santa Fe also contains four private schools serving 721 students with an average acceptance rate of 30%. The best-ranked private schools are High Bluff Academy, The Nativity School, and Horizon Preparatory.
Other private schools in the area include La Jolla Country Day School, Bishops School, Cathedral Catholic High School, and the Grauer School.
Parks & Recreation
The 125-acre San Dieguito County Park is located nearby Rancho Santa Fe on the border of the Solana Beach and Del Mar communities. It is a popular spot for barbecues, picnics, weddings, and group gatherings.
When it comes to community sports, you can't beat Rancho Santa Fe Field and Richardson Field. These parks each features baseball diamonds and frequently host little league games.
The Rancho Santa Fe Community Center has been serving the community for 45 years. It is considered the heart of Rancho Santa Fe.
The community center aims to enhance the community by offering enriching programs, community events, recreation, and outreach for all ages.
The Covenant, Rancho Santa Fe's original planned community, boasts an expansive network of private trails and 60 miles of equestrian/pedestrian trails exclusively reserved for Covenant residents and their guests.
The trails provide varied terrain ranging from forested canopies to creekside trails and others with views of the ocean. Most trails are wide enough for horseback riders to ride side by side and are suited for all skill levels.
Arts, Music, and Entertainment
If you're concerned that this primarily residential community will be lacking in things to do, think again. Rancho Santa Fe may be quiet and serene, but there is plenty to do for those in search of culture and entertainment.
Art
Art is a high priority for the Rancho Santa Fe community. The Rancho Santa Fe Art Guild is one of the most valued fixtures of the community.
Formed in 1998, the Rancho Santa Fe Art Guild is dedicated to supporting and encouraging visual arts in both the Rancho Santa Fe community and North County.
The Guild also funds art education and outreach efforts through school programs, art programs, and educating the public on the benefits of art education and art collecting.
The Guild often hosts art talks and sponsors field trips to view various art collections and studios around the county.
In addition to the Guild, Rancho Santa Fe is just minutes from the Lux Art Institute in neighboring Encinitas.
At Lux, you'll encounter the museum experience redefined. This art institute makes art accessible and personally meaningful.
You won't just see the finished artwork, you'll see the process of creating the art firsthand. That's because the Lux Art Institute is a working studio environment featuring internationally recognized artists.
Finally, if you're really an art fan, you won't want to miss the annual Rancho Santa Fe Art Festival.
Music
There may not be a focus on music events in Rancho Santa Fe, but rest assured the music scene in the greater San Diego area is thriving. Check out what events the city has scheduled this year.
Despite the lack of major concert venues, Rancho Santa Fe has several restaurants that offer regular live music experiences.
For example, the restaurant Morada at the Inn at Rancho Santa Fe hosts a live music series on Fridays and Saturdays from 6 pm to 9 pm.
If Morada isn't your scene, don't worry. There are many other opportunities to see live music at restaurants like Nick & G's Restaurant, The Pony Room, and Dolce.
Entertainment
Horseback riding may very well be the obvious and most beloved activity in Rancho Santa Fe. Equestrians of all levels will love traversing over 40 miles of trails throughout the community.
Besides horseback riding, the favorite activity among the residents of Rancho Santa Fe is golfing. If you're a golfer, you'll enjoy access to some of the country's most prestigious golf and country clubs in Rancho Santa Fe.
Another beloved pastime in Rancho Santa Fe takes place at the Del Mar Race Track, just a few miles away. The race track features horse racing from mid-July through Labor Day.
The track also hosts concerts, trade shows, and the annual San Diego County Fair.
Dining in Rancho Santa Fe
There are many upscale dining options available in Rancho Santa Fe. The Inn at Rancho Santa Fe is a community favorite. Here is a list of the rest of the best restaurants in the area.
Mille Fleurs Incorporated is a Michelin-rated restaurant many residents consider the best in Rancho Santa Fe. It offers the ultimate in Frech Californian cuisine like the maple leaf duck breast à l'orange.
Veladora is another stylish spot for Californian fare in Rancho Santa Fe. The restaurant features an extensive wine list and beautiful canyon views in a captivating, candlelit modern hacienda setting.
The Pony Room is another excellent dining option. A favorite among locals and resort guests alike, it serves 100 variations of craft tequilas, cocktails, and rustic American cuisine.
Transportation & Traffic
It's important to know that Rancho Santa Fe is a stop-light-free community. Stop signs control traffic, keeping speeds slow within the community. This contributes to the overall sense of safety, peace, and calm.
While Rancho Santa Fe residents rely mostly on personal vehicles to get them around town, the San Diego area does offer convenient and accessible public transportation options.
The San Diego Trolley is the city's light rail system. It reaches many different regions of the city, and serves 53 different stations. The trolley system is expected to expand later this year, adding nine more trolley stations.
The MTS Bus system conveniently shares many of the trolley stations. This makes it quite convenient to transfer from trolley to bus in order to reach your destination.
Traffic in San Diego and the surrounding areas certainly gets pretty dense during rush hour and in certain areas on the weekends. But San Diego traffic is not nearly as congested as it is in cities like LA.
Weather
If you're looking for a life of endless sunny days and utterly perfect, temperate weather, Rancho Santa Fe is the place for you.
With an average rainfall of less than a dozen inches and absolutely no snow, you will fall in love with SoCal weather and never want to leave.
Working in Rancho Santa Fe
The most common industries in Rancho Santa Fe include real estate, health care, finance, and education. Rancho Santa Fe is home to the headquarters of many major corporations, including:

Qualcomm
UC San Diego
Illumina
U.S. Marine Corps
U.S Navy
General Atomics
Google
Intuit
ServiceNow
Sony Electronics
The majority of Rancho Santa Fe residents are top executives, physicians, surgeons, and financial specialists. Other residents work in sales, retail, and manufacturing.
Cost of Living
Ask anyone and they'll tell you, Rancho Santa Fe is one of the best places to live in California. Because of that distinction (and because it's California!) the cost of living is much higher than the national average.
Rancho Santa Fe may very well be heaven on earth, and you will have to pay for it. At the end of the day, watching the sunset over the ocean from your fecund estate terrace, you're going to feel that it's worth every penny.
To get into the numbers, the cost of living in Rancho Santa Fe is 179 percent higher than the national average. The average salary needed to maintain that standard of living is around $78,000.
Housing expenses are about 665 percent higher than the national average. However, utility prices are only about 15 percent higher and transportation and gas prices are only 29 percent higher than average.
Outdoor Recreation
The San Elijo Lagoon Ecological Reserve and Nature Center is only fifteen minutes from Rancho Santa Fe. The reserve offers 979 acres of wetlands and a shallow-water estuary where Escondido Creek meets the ocean.
The reserve is open from sunrise to sunset. Check out Annie's Canyon Trail. It's 7 miles of easy and moderate trails connecting wetland habitats, coastal sands, and salt marshes.
For a different style of outdoor recreation, grab a round of tennis at the Rancho Valencia Resort and Spa. This tennis resort has ranked number 1 in Tennis Magazine every year since 2008.
Tennis lovers will enjoy the 14 championship courts, two red clay courts, and four pickleball courts. It is truly a world-class tennis-playing experience.
Whether you're a pro or just learning the sport, enjoy a friendly match or take lessons with one of the club's experienced tennis pros.
Shopping
Because it is primarily a residential community, there isn't an abundance of shopping options in Rancho Santa Fe.
However, the town was designed as an intentional community, so you can find the essentials and more at the town center. There you'll find upscale shopping, fine dining, and art galleries.
The nearest major shopping centers to Ranch Santa Fe are One Paseo and the Flower Hill Promenade. One Paseo is located in San Diego and the Flower Hill collection of shops and restaurants is in nearby Del Mar.
Professional Sports
The most popular sports team in San Diego is the Major League Baseball team, the Padres. Sports fans also enjoy college teams like the San Diego State Aztecs, who play NCAA Division I football.
Residents of Rancho Santa Fe are also big supporters of the San Diego Polo Club and the Del Mar Thoroughbred Club.
Social and Membership Clubs
If you're looking for exclusive social clubs, you've come to the right place. Rancho Santa Fe is literally brimming with golf clubs, social clubs, and spas for residents to enjoy.
Both residents and tourists love the 5-star Rancho Valencia Resort and Spa. Check-in, enjoy a few spa treatments, grab a game of tennis, and dine at one of the resort's restaurants. You can truly make a day of it.
There's a reason why this resort was named one of the best Five-Star Resorts and Spas in the world by Forbes Magazine. Become a member and find out why.
For the avid golfer, there is an array of exceptional private golf clubs to choose from. Check out the Rancho Santa Fe Golf Club, Morgan Run, Fairbanks Ranch, The Bridges, Del Mar Country Club, The Farms, or The Crosby.
Rancho Santa Fe Real Estate
Rancho Santa Fe offers a stunning variety of luxury homes, private estates, and exclusive gated communities. It is also home to a multitude of world-class private golf courses.
Rancho Santa Fe offers a less pretentious version of sophisticated high-class living than you'll find in the equally wealthy Los Angeles neighborhoods of Beverly Hills and Malibu.
You won't find a shortage of luxury real estate in Rancho Santa Fe. According to Forbes Magazine, the city is the 13th most expensive zip code in the country.
You better love a Spanish-Mediterranean-style home, because that is the majority of what you will find in this intentionally designed community. The majority of homes are over 5,000 square feet set on properties with acreage.
Many residents of Rancho Santa Fe have other homes around the world and live in the community part-time.
All of the detached homes in Rancho Santa Fe have price tags of over a million dollars. You would be hard-pressed to even find a teardown for less than a million. There are many homes priced in excess of $10 million as well.
An attached home in Rancho Santa Fe, such as a townhome or condo, will cost an average of $800,000. There aren't many of this type of property in the community.
Notable Rancho Santa Fe Estates and Homes
Naturally, the most coveted neighborhood in Rancho Santa Fe is the original planned community, The Covenant. This exceptional community features a private golf club and houses the town center.
The Covenant was planned and designed by Lillian Rie, a well-known architect responsible for the look and style of many of the buildings and homes that populate Rancho Santa Fe.
Fairbanks Ranch is another large and highly-coveted neighborhood in Rancho Santa Fe. It consists of the North and South gated communities.
Other highly rated exclusive gated communities include:
The Bridges
The Rivers Estates
Del Mar Country Club
The Farms
The Crosby
Rancho Del Lago
The Groves
Morgan Run
Spyglass
Wherever you choose to live in Rancho Santa Fe, you can be assured you'll enjoy the idyllic countryside and occasional ocean views.
Notable Rancho Santa Fe Residents
Rancho Santa Fe has provided a sweet escape for many Hollywood celebrities and many other varieties of celebrities over the decades.
Notable residents of Rancho Santa Fe have included Bill Gates of Microsoft, music sensation Janet Jackson, and Oscar-winning actor and crooner Bing Crosby.
Bing truly left his mark on the Rancho Santa Fe community. He created the Bing Crosby Clambake golf tournament.
This tournament took place at the Rancho Santa Fe Country Club for years until it moved to a location closer to San Francisco.
If you are a fan of the Misty of Chincoteague book series, you'll be happy to learn that the author of the books, Marguerite Henry, spent the majority of her adult life in Rancho Santa Fe.
Milburn Stone, a vaudeville actor in the 1930s who played the role of Doc Brown in Gunsmoke, also called Rancho Santa Fe his home for many years.
In addition, Rancho Santa Fe welcomed prominent citizens Robert Young of Father Knows Best and 1940s film noir actor, Victor Mature.
Fun Facts About Rancho Santa Fe
Rancho Santa Fe is known locally as "The Ranch" or "RSF."
The city is home to one of California's oldest adobe homes. The nearly 200-year-old adobe was once home to the rancho's early owners, the Osuna family.
Fans of true crime and cult lore will be interested to learn that the 1997 Heaven's Gate mass suicide took place in a rented mansion in Rancho Santa Fe. A little creepy, but that's pretty much par for the course for California.
Rest assured, the mansion has since been demolished and the street it was on was renamed.
Rancho Santa Fe California: The Best Place To Live
Rancho Santa Fe truly has it all: supreme real estate, an abundance of social clubs, a thriving art scene, excellent job prospects, and high-quality schools.
Situated just 20 minutes from downtown San Deigo and 15 minutes from the ocean, you won't find a more convenient yet secluded community.
Ready to look at homes? Contact LUXURYSOCALREALTY today!