La Jolla Condos For Sale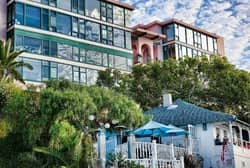 Research La Jolla real estate market trends and find La Jolla condos for sale! La Jolla high rise communities are 939 Coast overlooking the La Jolla Cove, Shore Tower in La Jolla Shores, and The Seville in La Jolla Village.
We are condo and La Jolla townhome experts and can help you navigate the nuances of the La Jolla condo market. Whether buying or selling your pied-à-terre in the village, second residence on the water, or your rental property by the beach we are your personal real estate concierges.
*Be sure to register for a free account so that you can receive email updates whenever new La Jolla condos come on the market and if you're in the market for a home today, reach out now for our exclusive off MLS pocket listings!
Available Condos In La Jolla
La Jolla Condos
September 26, 2023
$1,278.69
Avg. $ / Sq.Ft.
$2,395,000
Med. List Price
Bird Rock La Jolla Condos
How's The Market In La Jolla?
We have (updated weekly) market data for 92037!

La Jolla Condo Real Estate Agents
Having thoughts of buying or selling a condo in La Jolla? When you're buying a home or selling a home, the right team can make or break a deal, especially in a market as complex and competitive as La Jolla California. Through aggressive advocacy and proven competency, our local La Jolla real estate agents are committed to guide you through the entire real estate process from start to finish. We are a team of highly strategic La Jolla condo selling experts, skilled negotiators, seasoned marketers, and loyal confidantes. Reach out now to the LUXURYSOCALREALTY team to learn more about condo buyer and seller representation in La Jolla and to receive our 92037 real estate market reports.
If you're considering SELLING...
Condos In La Jolla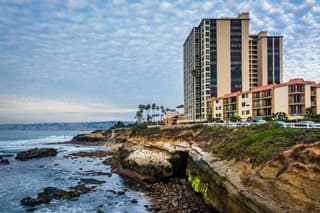 Want to know why you should invest in La Jolla condos? If so, we can help you out. Click here to learn about La Jolla condos today!


The popularity of La Jolla condos has grown over recent years. The area is synonymous with luxury overlooking the picturesque Pacific Ocean. Also, it's become a well-liked destination with its scenic beaches, fine dining, shopping, and more.
Read on for an insider's look into La Jolla.
Welcome to La Jolla condos and townhomes!
La Jolla's sunshine and beauty have inspired artists, travelers, and locals for decades. In La Jolla, you'll find everything from crashing waves to award-winning culinary fare. It's an elegant seaside village and a great place to consider buying a condo.
La Jolla's an overwhelmingly charming region. The area glitters with attractions and sites. Moreover, it basks in casual luxury.
Welcome to one of the most coveted regions in the country. Let's have a closer look at what it's like in La Jolla.
Living in La Jolla Condos
La Jolla has qualities and attractions that you won't see anywhere else. A La Jolla condo is an excellent base for new couples and families.
Before you start exploring La Jolla, it's helpful to know how to pronounce it. The correct pronunciation is La-HOY-a.
Some natives stand firm that La Jolla means "The Jewel" in Spanish. This explanation of the naming of the area is entirely appropriate, as it's surrounded by a clear ocean and sparkling blue water. Furthermore, this explanation of the area's name is the most accepted among area residents.
Now that we've pondered the origin of this beautiful area's name let's have a look at the neighborhoods in and around La Jolla.
La Jolla is a special community due to its reputation as a tourist destination, according to the California Coastal Act. Also, globally recognized institutions, like UC San Diego and the Salk Institute, call La Jolla home.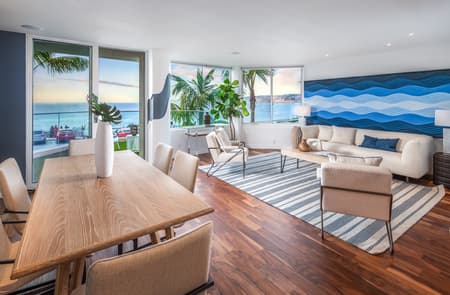 La Jolla lies only three hours south of Beverly Hills. The area is world-famous for its natural beauty.
The La Jolla region has a resort atmosphere. It's also stacked with homes overlooking the ocean. Our first stop in our tour of La Jolla is the La Jolla Shores community.
La Jolla Shores
La Jolla Shores is a distinctive community if you're looking for condos in northern La Jolla. It's lined by a gorgeous beach.
The neighborhood also has a fantastic kids' park. It also features plenty of aquatic activities and eateries.
You'll find that aquatic life abounds in La Jolla Shores. The Scripps Institute of Oceanography has made its base here for this reason. Meanwhile, kayakers, scuba divers, stand-up paddle boarders, and snorkelers all take advantage of the area's maritime features.
La Jolla Village
You may want to find a condo for sale with the serenity of La Jolla but the convenience of faster-paced city life. If so, the La Jolla Village District gives you access to all that downtown La Jolla has to offer.
For example, a walk through the beautiful greenery and foliage of Ellen Scripps Park offers world-class views overlooking the sea. If you're lucky, you'll also catch a glimpse of entertaining wildlife. Steps away, you can sip cocktails on the Ocean Terrace of world-famous George's at the Cove.
Alternatively, you can take a few more steps and enjoy breathtaking rooftop dining at the Plaza La Jolla. If rooftop dining sounds appealing, you may also appreciate Le Petite Bistrot. It's a classic French restaurant that offers delectable cuisine and impeccable wine pairings.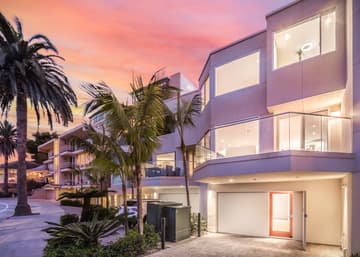 Windansea Beach/ Beach Barber Tract
Our next stop in La Jolla is the Barber Beach Tract. The area is one of the best-kept secrets in La Jolla. It rests just north of Bird rock, which we'll review in a moment.
Beach Barber Tract is another beautiful seaside neighborhood. In fact, it's considered one of the most desirable neighborhoods around by some.
The area is ideal for families, with its proximity to both La Jolla High School and the beach. There, you'll also have a fantastic view of the area's exquisite beachside luxury homes.
Bird Rock
Bird Rock is another La Jolla gem. It lies just south of downtown La Jolla.
The neighborhood is quirky but laid-back. It's known for its cozy restaurants, superb ocean views, and fanciful privately-owned boutiques.
The naming of Bird Rock is equally as fascinating as the naming of La Jolla itself. It's rumored that planners named the neighborhood after a rock that was once shaped like a bird.
Today, the rock has corroded to the point of collapse. At one time, however, historians believe that the bird-shaped rock made its home under an ornate archway located at the end of Bird Rock Avenue.
Today, Bird Rock is a fun neighborhood to explore. You can enjoy the beautiful area easily via the typically uncrowded Bird Rock Bike Path. Also, whether you prefer pizza and beer or gourmet coffee, there's plenty of casual food and beverage selections to satiate your palate.
La Jolla Alta
Next, you'll find La Jolla Alta on the southern slope of Mount Soledad. The area offers a phenomenal view of the Pacific Ocean and Mission Bay, as well as the San Diego nighttime skyline. It's just minutes away from La Jolla Village.
The area is full of neatly planned residential developments. However, they're not your average planned neighborhoods.
La Jolla Alta is full of million-dollar luxury townhomes with incredible views and tennis courts. There are also plenty of state-of-the-art gyms and clubhouses in La Jolla Alta.
La Jolla UTC
La Jolla University Town Center (UTC) lies between the residential complexes and office parks of University City. It's a growing stable of hip restaurants and shops.
There, you can enjoy trendy cuisines like nitrate-free Applewood-smoked bacon and house-candied Fresno chilis at Mendocino Farms.
While visiting Mendocino Farms, you can start your meal with the eatery's superfood salad and end it with a gelato sundae. The area also boasts natural attractions, such as Rose Canyon Open Space Park.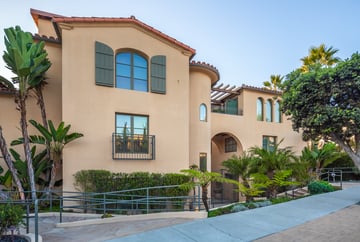 La Jolla: Home to the Stars
Life in La Jolla can prove quite satisfying. As a result, many celebrities have decided to call the area home.
Over time, La Jolla has consistently attracted society's elite. Of course, they do their best to blend in.
For instance, writer Theodore Giesel, renowned Dr. Seuss author, lived in the area for years. La Jolla is also the home of Utah Senator Mitt Romney. Former astronaut Sally Ride also made La Jolla her home for some time.
Alicia Keys also lives in La Jolla, residing in the stunning Razor House. If you move to La Jolla, you could also bump into former NFL quarterback Doug Flutie.
It's understandable why even the stars want to call La Jolla home. There's an extensive list of things to do in the area. La Jolla beaches are famous for their white sand, surf, and tide pools.
You can also watch the sea lions lying on the rocks here. People commonly visit La Jolla to watch seals and sea lions bask in the sun.
Area Attractions
Furthermore, there are plenty of attractions and landmarks in La Jolla. A few La Jolla attractions include:
• Birch Aquarium at Scripps
• La Jolla Cove
• La Jolla Playhouse
• Mount Soledad Veteran's Memorial
• San Diego La Jolla Underwater Park
• Torrey Pines Golf Course
• Torrey Pines State Natural Reserve
• University of California San Diego
Also, there are plenty of free family activities for the kids.
Enjoying Your Days in La Jolla Condos
Even among San Diego natives, La Jolla is a popular destination for day trips. Available activities in La Jolla vary depending on the time of year and your interests.
For example, you can spend the day taking in the beach or exploring the ocean while snorkeling. Alternatively, there's plenty to do on dry land.
Again, you could enjoy the fare and views at George's at the Cove. Afterward, you could explore La Jolla's many interesting boutiques.
In La Jolla, you have a range of itinerary choices. You'll never run out of things to do and see.
Where's the Best Beach in La Jolla?
Of course, you haven't fully experienced La Jolla until you've spent time at one of the area's pristine beaches. Every beach is different from the next.
If you want the quintessential beast experience, for instance, you'll want to head for La Jolla Shores beach. This seaside area features calm waves and clear water.
There's also plenty of places to lay out your towel. If you're up for a bit more activity, however, there are snorkeling and kayak tours available at the nearby La Jolla Underwater Park & Ecological Reserve.
Unfortunately, there are too many things to love about La Jolla to cover here. You'll just have to move to the area and take it all in over the years!
Ready for Adventure in La Jolla?
La Jolla delivers the best of what life has to offer. From food to fun, everything's at your fingertips.
If you want to stay informed about La Jolla condos for sale, we can help. Sign up for our exclusive LuxurySoCalRealty newsletter for insider updates on La Jolla condo availability.
La Jolla Condos
La Jolla oceanfront condos are located in the Windansea Beach neighborhood at One Neptune and Altair. There are oceanfront condos in La Jolla Village at Muse, 939 Coast, 220 Coast, and 240 Coast Blvd. Condos and townhomes for sale in La Jolla are located in the neighborhoods near the water in the La Jolla Shores, La Jolla Village, Windansea Beach Barber Tract, and Bird Rock neighborhoods.
Condos In La Jolla Shores:
Clubdominiums, Windigo, the Shore Tower, Casa Del Grande, Villa Del Lido, Sandpiper, and the La Jolla Racquet Club. La Jolla Shores townhomes: El Paseo Grande, Ziani, Del Charro Woods, St. Tropez, and La Jolla Shores Heights, & Azure Coast.
La Jolla Racquet Club
Designed by Frank Lloyd Wright's protégé Loch Crane, the La Jolla Racquet Club is a mid century modern three story sixty four unit condominium complex located off of Torrey Pines Road.
Del Charro Woods
Del Charro Woods located off of Caminito Del Cid is a fifty unit townhome development in La Jolla Shores. There is a community pool and tennis court.
La Jolla Shores Clubdominiums
Built in 1971, the La Jolla Shores Clubdominiums is a four story one hundred six unit complex located at 8110 El Paseo Grande. Located two blocks from the La Jolla Shores beach, the Clubdominiums has a heated pool, spa, tennis court, and clubhouse. The LJ Shores Clubdominiums have a thirty day minimum rental policy if considering vacation rentals.
St Tropez
Located at 2838 Torrey Pines Road in the La Jolla Shores community, St. Tropez is a three story twenty nine unit condominium gated community with pool. St Tropez residents enjoy easy access to UCSD & Scripps.
Sandpiper
Sandpiper is a twenty four unit condominium complex located at 2420 Torrey Pines Rd in La Jolla Shores. Sandpiper was built in 1976. There is a community pool and underground secure parking.
La Jolla Shore Tower
La Jolla Shore Tower is a twelve story high rise with sixty condominium units located at 2500 Torrey Pines Road. The Shore Tower has a community pool, clubhouse, tennis courts, and exercise room. Buyers are not permitted to lease their unit during the first year of ownership and all leases have to be a one year minimum. One pet up to twenty five pounds is permitted.
Villa Del Lido
Located off of Torrey Pines Road and built in 1959, Villa Del Lido is a forty nine unit condominium complex seven blocks to La Jolla Shores Beach. Villa Del Lido has a community pool.
Windigo
Windigo is a condominium complex located in the La Jolla Shores at 2120 Vallecitos Ave. There is an elevator and underground secured parking.
Ziani
Ziani by Lennar is a twenty seven unit townhome community in La Jolla Shores located off of Torrey Pines Road with it's own stoplight for easier access. Each Ziani residence is three stories with a two car attached garage, stainless steel Viking appliances, granite countertops, maple cabinets, Central A/C, and tankless water heaters.
Condos In La Jolla Village:
939 Coast, Miramare, SIX by Sebastian Mariscal, Seville, 464 Prospect, Cliffs, Coast South, Prospect Point Villas, 220-240 Coast, Lighthaus, 229-231 Coast, La Jolla Coast, 202 Coast, 302 Prospect, 457 Coast, Edgewater, 745 S Coast, 245 Coast, Montefaro, Village Point, 100 Coast, Prospect Seaview Villas, 302 Prospect, 303 Coast, 848 Prospect, Seacoast, La Jolla Village, Venezia, Coast Regency, 265 Coast, Park Prospect, Ivanhoe Court, Village Walk, Cove Towers, Shorepoint, Villager, Devonshire, Prospect Terrace, 1039 Coast, Prospect Manor, Villaggio, 7560 Eads, La Jolla Park, 333 Coast, Montrachet, Chiara, Villa Italia, Pacific Villas, Chateau Girard, Clinton Manor, La Jolla Market Place, La Flor de La Jolla, La Residencia De La Jolla, Positano, Bella Capri, 230 Prospect, Cove Towers, the Seville, and La Jolla Lofts.
Muse Condos
Muse is the newest luxury residential development in the Village of La Jolla located at 1020 Prospect Street, which is the corner of Prospect and Girard. The 50 year old former Prospect Center was home to law offices, Madison gallery, and financial services offices, and is currently being rebuilt into ultra luxury residences with extraordinary appointments. Jeff Woerner, an adviser for developer, Hammer Ventures, states, "The big selling point for the units are it's protected views of the ocean because new laws since the four story building's construction, limit surrounding buildings to a 30 foot height limit" (Molnar, Phillip (2017, May 18).
Each unit in Muse features 10 to 12 foot ceilings, large window walls for the utmost indoor/outdoor living experience, and panoramic views of the ocean, Mount Solead, the Village, Prospect Street, and Girard Avenue. The interior was a collaboration of design by Matrix Design Studio and AVRP the same architects that designed Sapphire Tower downtown San Diego. Finishes include Pininfarina cabinetry, "bookmatched" Taj Mahal granite full height kitchen walls, quartz kitchen countertops and island, Gessi designer fixtures, Miele appliances, and smart appliances. The residences have open floor plans with an entry foyer, temperature controlled wine rooms and bar, and gallery walls. Signature granite and quartz countertops highlight the finest craftsmanship. Of the 16 luxury residences, there are only 4 penthouses with exclusive use private rooftop decks. All units have an enclosed 3 car garage within the parking structure. Each unit has a butler access door for 24 hour concierge services. The first floor will be reserved for retail and commercial leases.
464 Prospect
464 Prospect is one of La Jolla's premiere luxury condominium developments. In 2003, 464 Prospect was voted Best Renovated/Restored Project and Attached Residential Project of the Year. Originally the Scripps Hospital, a portion of 464 Prospect is a Historic Designation protected by the Mills Act Program. The monthly association fee includes gas, water, cable/tv service, and high speed T1 internet service as well as numerous amenities. 464 Prospect amenities include concierge, valet, Wine Cava & Wine Storage, secured underground parking, guest parking, rooftop panoramic ocean view sun deck with part room and BBQ area, indoor lap pool with sauna and changing rooms, and fitness center which features state of the art equipment.
939 Coast Blvd
939 Coast Blvd is an exclusive twenty one story high rise condominium development in La Jolla Village. There are one hundred sixty two units, and eighteen floors of residences. The north side has more views of the Pacific Ocean while the south side has views that include the village and cove. Residents of 939 Coast enjoy 939 Coast is highly amenitized with valet parking, doorman, 24 hour concierge, fitness center, library, clubhouse, conference room, billiard room, pool, spa, & BBQ area.
220-240 Coast Blvd Condos
The 220 Coast and 240 Coast Complex is also referred to as the Dolphin Buildings. Recently remodeled in 2003, 220 and 240 Coast Blvd is a gated complex along the shoreline providing private Horseshoe beach access and community patio with deck in a contemporary sophisticated style. The monthly HOA fee includes all utilities cable, gas, water, and electricity. The HOA allows 30 day vacation rentals.
333 Coast Blvd
Located in the La Jolla Village, 333 Coast Boulevard is a gated 24 unit oceanfront luxury condominium complex. 333 Coast has a clubhouse, spa, and underground parking.
100 Coast Blvd
Enjoy the ultimate lock-and-leave condo lifestyle from this pristine unit in La Jolla's iconic 100 Coast Blvd is a four story thirty one unit beachfront gated complex. There is a community pool and spa rare for La Jolla Village.
Aveline
Aveline is the newest luxury La Jolla Village new home development currently under construction on the corner of Silver Street and Draper Street. This European enclave will have three interior design selections Classic Coastal , Euro Traditional, and Urban Contemporary. Each of the eighteen residences will have private elevators, two car attached private garages, roof top decks, Control 4 home automation, security system, and smart light switches. Aveline kitchens will have Miele stainless steel appliances, Quartz countertops, and designer tile. Bathrooms will have Phylrich and Toto fixtures, natural stone, and designer tile accents. LEED Gold Certified energy efficiency will include solar panels, tankless water heater, Nest temperature control, and LED lights. Townhomes will range in size from 2 bed/2.5 bath 1,917 square feet to 4 bed/4 bath 2,430 square feet. The convenient in town walkability and beach close location. There will be an outdoor community dining and patio area.
Montefaro
Built in 2004, Montefaro is a Tuscan three story forty eight unit townhome development on Genter Street in the La Jolla Village. Montefaro modern amenities include a large pool, sauna, fitness center, BBQ, outdoor fireplace, and conference center. 2 minute walk to the La Jolla Farmers Market every Sunday.
Bella Capri
Located at 7509 Draper, Bella Capri is a three story twenty unit condominium building in the village of La Jolla within walking distance to the best La Jolla has to offer. Bella Capri is one of La Jolla's newer developments built in 2005. The monthly HOA fee does include water usage.
Draper Villas
Draper Villas is a luxury 12 unit townhouse development located in the La Jolla Village built in 2007. There is paid solar, low HOA's, garages, and outdoor space.
Devonshire
The Devonshire on the corner of Prospect St and Eads Ave in the La Jolla Village, is a five story fifty unit condominium complex. There is secured underground parking and a community laundry facility. The building had brand new water pipes replaced in 2012 and has been freshly repainted, corridor carpets replaced, and exterior light fixtures updated.
Montrachet
Montrachet is a luxury Mediterranean Spanish three story sixteen unit condominium complex located at 7575 Eads Ave in the Village of La Jolla. Montrachet was built in 1980 and completely gutted to the studs in 2006.
Villagio
Villagio is located at 7635 Eads Avenue in the La Jolla Village. Built in 1985 The Villagio has three stories and twenty four condominium units.
Venezia
Venezia Condominiums located at 7555 Eads Ave in the La Jolla Village, are a blend of contemporary elegance and Old World Charm of Venice Italy. Venezia has eighteen units with underground pool, BBQ, elevator, and underground parking.
Paseo La Jolla
Paseo La Jolla is a new luxury development of twenty four townhouses in the Village of La Jolla with 2 and 3 bedroom floorplans. Units offer rooftop decks, 2 car private garage, top of the line high end finishes.
The Seville
The La Jolla Seville is luxury twelve story highrise with one hundred fourteen units. The Seville located at 1001 Genter Street has a 24 hour doorman, on site management and maintenance, heated pool, spa, exercise room, and library.
Park Prospect
Park Prospect located at 800 Prospect is a five story thirty unit Russell Forester inspired condominium building with the Mills Act Historical Designation, creating huge tax advantages.
Cove Towers
Cove Towers in the La Jolla Village is a four story six unit complex located at 1219 Coast Blvd. The HOA allows vacation rentals with a thirty day minimum.
Shorepoint
Located in the heart of La Jolla Village 1040 Coast Blvd, Shorepoint is a four story twenty four unit condominium complex. There is an ocean view community terrace overlooking Scripps Park.
457 Coast
Located in the La Jolla Village, 457 Coast Blvd is a five story twelve unit condominium building. 457 Coast is the only building in La Jolla village that allows weekly vacation rentals.
La Flor De La Jolla
La Flor De La Jolla is a gated three story twenty two unit condominium complex in La Jolla Village.
SIX by Sebastian Mariscal
SIX by Sebastian Mariscal is a six unit luxury townhome community located in La Jolla Village on Ravina Street.
1250 Cave
1250 Cave Street in La Jolla is a five story steel and concrete ten unit condo complex in the village of La Jolla designed by architect Bob Jones. The west facing units have ocean views.
202 Coast Blvd
202 Coast Blvd is a four story thirteen unit Nicholsons Addition oceanfront condominium complex on the sand with direct beach access. 202 Coast has an oceanfront patio for owners use and is within a quick walk to the La Jolla village area shops and dining.
245 Coast Blvd
Designed by Thomas Shepherd, 245 Coast Blvd is a three story twelve unit condominium building in the La Jolla Village neighborhood. The 245 complex includes secure entry, gated garage with two spaces, garage storage with room for bicycles or kayak, laundry room and common BBQ area.
457 Coast
Located in the La Jolla Village, 457 Coast Blvd is a five story twelve unit condominium building. 457 Coast is the only building in La Jolla village that allows weekly vacation rentals.
Chateau Girard
Located in La Jolla Village at 935 Genter Street, Chateau Girard is a four story mid rise condominium complex with thirty four units in the building.
Positano
Built in 1990, the La Jolla Positano is a four story twenty two unit complex located at 7411 Herschel Ave in the La Jolla Village.
Bonair Place
Bonair Place is an eleven unit complex located east of La Jolla Blvd in the Beach-Barber Tract just a few feet to the bike trail, and a few blocks to La Jolla schools, the cove shops, and the ocean!
Clinton Manor
Located at 7550 Eads Ave in La Jolla Village, Clinton Manor is a gated four story forty unit condominium complex. Clinton Manor has an Exercise Room, Sauna, and Spa/Hot Tub.
Chiara
Chiara is a three story eight unit complex located at 410 Pearl Street in the La Jolla Village. The entire building was gutted and remodeled in 2003-2004. The building has underground gated parking and secure gated entrance.
Coast Regency
Coast Regency located at 909 Coast Blvd is a three story, twenty eight unit building in the La Jolla Village. The HOA minimum rental requirement is 30 days. 909 Coast is no longer a land lease.
Condos In Windansea Beach:
Windansea Beach Beach Barber Tract condo complexes: One Neptune, Altair, El Pueblo Ribera, Neptune Terrace, 401-407 Bonair Street, 377-383 Bonair Street, Playa Blanca, Oceancrest, Chateau D'Mer, Villa Milano, Wind 'n Sea Homes, Bonair Place, and Villa La Jolla.
One Neptune
One Neptune is an eighteen unit luxury oceanfront condominium community directly across from La Jolla's Windansea Beach. One Neptune is located at 6767 Neptune Place. Each luxury residence has infinity views, private balconies, secure garage parking, solar, and elegant appointments.
Villa Milano
Villa Milano is a twelve unit gated complex a two block stroll to Marine Street Beach. In 2004 the complex as completely remodeled with cherry wood cabinetry, granite countertops, and travertine flooring. Villa Milano units have in unit stackable washer and dryers.
Villa La Jolla
Located at 6333 La Jolla Blvd and 6455 La Jolla Blvd, Villa La Jolla is a three story condominium complex 2 blocks from Windansea Beach in the Windansea Beach Barber Tract neighborhood. Villa La Jolla is gated, has 2 pools, community room, clubhouse, and exercise room. The monthly HOA includes water.
Neptune Terrace
Neptune Terrace is a five unit two story condominium complex across from the sand in the Windansea Beach neighborhood of La Jolla on the corner of Rosemount and Neptune Place.
Condos In La Jolla Bird Rock:
Seahaus, La Jolla Chelsea, La Jolla Place, Bird Rock Village, La Jolla Promenade, Capri Aire, and 10 West.
Seahaus
10 West Bird Rock
Bird Rock La Jolla is a brand new Contemporary Coastal condominium community developed by Colrich located at 5702 La Jolla Blvd. Each residence is one to two bedrooms with 977-1,261 square feet with designer flooring, Moen fixtures, in unit laundry, Quartz countertops, gas ranges, and air conditioning. 10 West has a community ocean view roof top deck with fire pit and barbecue. Each unit will have outdoor space and two gated tandem parking spaces.
La Jolla Place
Built in 1974, La Jolla Place is a three story thirty six unit condo community in Birdrock located at 5366 La Jolla Blvd.