Homes For Sale Fallbrook CA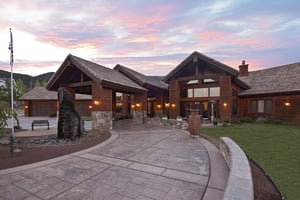 Founded in 1885 Fallbrook is one of San Diego County's oldest communities. In 1882 the California Southern Railroad was constructed through Santa Margarita Canyon and established a rail station in what is now downtown Fallbrook. Research real estate market trends and find homes for sale Fallbrook CA 92128. Search for newly listed homes, open houses, recently sold homes, and recent price reductions. To change how the search is displayed, click the gray button next to "Sort" to display houses by price, number of bedrooms, or days on the market.
*Be sure to register for a free account so that you can receive email updates whenever new Fallbrook properties come on the market and if you're in the market for a home today, reach out now for our exclusive off MLS pocket listings!
Available Homes In Fallbrook
Fallbrook Real Estate
December 9, 2023
$1,149,500
Med. List Price
Fallbrook Real Estate by Price
Having thoughts of SELLING?
Nearby Fallbrook Neighborhoods
How's The Market In Fallbrook?
We have (updated weekly) market data for 92028!

Fallbrook Real Estate Agents
Having thoughts of buying or selling in Fallbrook? When you're buying a home or selling a home, the right team can make or break a deal, especially in a market as complex and competitive as Fallbrook California. Through aggressive advocacy and proven competency, our local Fallbrook real estate agents are committed to guide you through the entire real estate process from start to finish. We are a team of highly strategic Fallbrook selling experts, skilled negotiators, seasoned marketers, and loyal confidantes. Reach out now to the LUXURYSOCALREALTY team to learn more about buyer and seller representation in Fallbrook and to receive our 92028 real estate market reports.
If you're considering SELLING...
Fallbrook California: The Best Place to Live
Fallbrook, California, is a great place to live. Are you considering buying real estate? Read on to find out why Fallbrook may be a good choice.
Fallbrook, California is one of San Diego's best-kept secrets. This gorgeous, pastoral town is less than an hour from the heart of downtown San Deigo.
Fallbrook is home to rolling hills, winding rivers, and traditional Southern California weather. The landscape is dominated by lush vineyards of avocado and citrus trees.
This artsy little town is perfect for anyone looking to escape from the fast-paced of urban life while still having access to Southern California's two most popular cities.
Fallbrook is an incredible place to live. If you're considering buying real estate in Southern California, this may just be the town for you. Read on to find out everything that you need to know about life in Fallbrook, California.
Fallbrook California
The community of Fallbrook is located east of Camp Pendleton and south of Riverside County. It consists of about 36,000 acres and neighbors the communities of Bonsall, Pala, and Rainbow.
Fallbrook is a gorgeous rural area defined by its rolling hills covered in citrus and avocado orchards. The Santa Margarita river winds through rugged terrain in the north and the San Luis Rey River runs along the southern boundary. The eastern portion of the town is dominated by steep hills and features easy access to Interstate 15.
Downtown Fallbrook is bustling and vibrant with dozens of local shops, eateries, and museums to check out. There is an effort going on now to revitalize the town's unique historical district.
It's known as the avocado capital of the world, so it's no surprise that Fallbrook hosts the annual Avocado Festival every spring. This festival showcases the town's rich agricultural heritage.
All About Fallbrook History
The area known today as Fallbrook was originally occupied by tribes of Luiseño people. Luiseño is the name that Spanish colonizers gave to these people because of their proximity to the San Luis Rey mission.
In the Luiseño language, these people are known as Payómkawichum, also spelled Payómkowishum, which translates to People of the West. They refer to themselves as Ata'axam or the People.
The Ata'axam have occupied the San Luis Rey Valley for countless generations. Their knowledge of stewardship and cultivation has been passed down through songs, dances, and stories.
Fallbrook and surrounding areas were also occupied by Cupeño people. Their name in their language is Kuupangaxwichem, which translates to people who slept here. These people traditionally lived in the mountains in the San Jose Valley at the headwaters of the San Luis Rey River.
Today, the Pala Band of Mission Indians live 25 minutes outside of Fallbrook on a 12,273-acre reservation that is home to a majority of the 918 enrolled members. The tribe is comprised of both Cupeño and Luiseño Indians, who consider themselves to be one proud people, Pala.
According to the Fallbrook Chamber of Commerce, the Vital Reche family settled in the area in 1869 on land that now functions as the Live Oak County Park. They named the new community Fall Brook after their former homestead in Pennsylvania.
In 1885, the present townsite was plotted. The original Fallbrook School was used until 1939, though it still serves the community today as the Reche Clubhouse.
The forests around Fallbrook were comprised primarily of oak trees. In the 1920s, olives became a major crop that dominated the landscape through World War II.
Eventually, olives were phased out as a cash crop in favor of avocados. The abundant avocado harvests are what Fallbrook is known for today.
Fallbrook Community & Schools
The Fallbrook community is a vibrant and active one. There is something for everyone in this peaceful town, which makes it easy to get out there and meet people while doing something that you love.
The Fallbrook Chamber of Commerce is a great resource for new residents. Their community calendar details events that cater to every kind of taste and preference. The weekend farmer's market is a hugely popular event and a great place to meet community members.
Fallbrook is an amazing destination for arts and outdoor activities. It is also packed with golf courses, galleries, shops, casinos, and more, so there are always new things to do in Fallbrook.
Fallbrook has a total of twelve public schools and three private schools. They are all given a grade of B or higher according to Niche, which is relatively high. Fallbrook schools spend an average of $10,263 per student and have an average of 27 pupils for every one teacher.
Fallbrook schools offer a wide variety of sports and extracurricular activities for their students. There's something for every student to get involved with and enjoy.
Fallbrook Parks & Recreation
Fallbrook is an amazing place to get outside and explore. The town is home to tons of parks and recreation areas that blend gorgeous scenery and education.
Here are the top five parks and nature preserves in Fallbrook.
Live Oak Park
Live Oak Park is the site of the first recorded permanent settlement in Fallbrook. Today it features 27 acres of ancient oak tree forests. These trees create a gorgeous canopy of oak trees above peaceful winding streams.
The park features easy hiking trails that are great for family strolls. It also has six picnic areas available to reserve, the perfect activity for a gorgeous southern California weekend.
Live Oak Park also features two playgrounds, a volleyball court, a basketball court, three softball fields, soccer fields, a dance pavilion, and an amphitheater. For a fun day outside, it's the perfect destination.
Los Jilgueros Preserve
Los Jilgueros Preserve is a 46-acre nature preserve that protects beautiful groves of trees, ponds, wildflowers, and wetlands. The area used to be a farm and an orchard, and old farming equipment can be spotted at points throughout the preserve.
Los Jilgueros Preserve features two miles of trails that wind through wetlands, fields, and riparian forests. It's an excellent destination for joggers, walkers, bikers, and bird watchers.
Santa Margarita River Preserve
The Santa Margarita River Preserve is a gorgeous river valley that consists of 221 acres of preserved land. The winding river and rolling hills epitomize the natural landscape of Fallbrook. Trails in the preserve are accessible to hikers, mountain bikers, and equestrians alike.
The Santa Margarita river attracts all kinds of wildlife. Visitors can observe deer, bears, raptors, and other animals.
The preserve also features horse corrals and an equestrian staging area for those looking to get out and about on their horses. There are two miles of non-motorized multipurpose trails available to anyone who wants to spend a day outside in the gorgeous Fallbrook weather.
Railroad Heritage Park
Railroad Heritage Park is dedicated to showcasing the railway industry's history in Fallbrook. It details how the rail line played a major part in World War II, shipping munitions to the coast from the Naval Weapon Station.
The park features a replica waiting station that details Fallbrook's train history and a train mural. In 2018, the park purchased an authentic caboose as an addition to the park to bring awareness to residents and visitors about Fallbrook's important railroad history.
Myrtle Creek Botanical Gardens and Nursery
The Myrtle Creek Botanical Gardens and Nursery features a sprawling property of lush gardens, oak trees, shrubs, and flowers. It also houses a butterfly garden and wild bird sanctuary.
The nursery is a peaceful, agrarian place that is perfect for a family outing. It has a small petting farm, a carriage house, a cafe, and several historical buildings. There is a gorgeous historic barn made of old-style wood planking that was built in 1895 and a gift shop that was built in 1899.
The nursery's pond, water wheel, and garden water come from hand-dug water wells that are over 130 feet deep. It's a gorgeous sanctuary in Fallbrook and the perfect place to pass an afternoon among the flowers.
Fallbrook Arts, Music, and Entertainment
Fallbrook has a ton to offer when it comes to arts, music, and entertainment.
The Fallbrook Art Center is a distinguished visual arts center located in downtown Fallbrook. They are committed to being accessible and welcoming to all visitors.
The art center features a wide variety of rotating exhibitions. These exhibitions feature works by both internationally and regionally recognized artists.
The Fallbrook Art Center also heads the Art In Public Places program. This program serves visitors and the community by sponsoring murals and sculpture projects that are displayed throughout Fallbrook. You can take a walking tour of all the APP exhibits.
Fallbrook School of the Arts offers year-round art classes for adults and children of any background and experience level. They offer classes in ceramics, printmaking, drawing, painting, book arts, jewelry, warm glass, and more.
The Green Art House is an art school and artist retreat in Fallbrook. They offer painting, drawing, and sculpting lessons for people of alleges and abilities. They also offer specialty workshops from local and regional master instructors.
The Fallbrook Music Society is a nonprofit that is dedicated to bringing music and music education to the community. They host spectacular musical acts at the Mission Theatre that are free to attend.
They also partner with Rally for Children and the Fallbrook Union Elementary School District to present Artists in the Park. This outdoor concert series is tailored for children of all ages to enjoy.
Speaking of the Mission Theater, this 300 seat venue located in the heart of downtown Fallbrook is a community hub. They have both a full-size movie screen and a full-size stage that houses many different acts throughout the year. The theater also hosts parties during the holidays.
Fallbrook Dining
Fallbrook has no shortage of incredible dining options.
The Estate d'Iacobelli Winery and Myrtle Creek Vineyards are two locally renowned wineries. These family-owned businesses are staples of the community and the perfect places to go for a glass of wine after a long day.
Rainbow Oaks Restaurant is another community staple that offers fine, yet affordable dining. They serve traditional American cuisine and are open for breakfast, lunch, and dinner.
The Veranda at the Grand Tradition is the absolute best destination for fine dining. The Veranda offers fresh cuisine served with breathtaking views of Grand Tradition's lake and gardens.
They offer both indoor and outdoor patio dining and feature the best service in Fallbrook. Reservations are highly recommended.
The Pala Mesa Resort is another great option for fine dining. Their Aquaterra Restaurant and Bar features incredible seafood and home-cooked favorites.
Their outdoor dining options offer incredible panoramic views of the surrounding hills and the resort's lush golf course. The restaurant also hosts special events, theme nights, and live entertainment.
For a more casual fare, Main Street Cafe is the best destination for breakfast, lunch, and brunch. It's a great casual eatery for grabbing a bite early in the day.
If you're in the mood for burgers, community staple Nessy Burgers is the way to go. This compact burger joint located just off I-15 has become legendary in SoCal for its original burger recipe that hasn't changed since 1989. It's the perfect destination for quick, casual outdoor dining and a burger that can't be beat.
Fallbrook Transportation
Fallbrook is a very car-dependent town. Most errands and daily activities require the use of a car to be able to get around.
Fallbrook has a walk score of 38 out of 100 and a bike score of 7 out of 10. There are plenty of bike lanes in downtown areas, but the further out you get the fewer bike lanes you see.
Fallbrook also has limited public transit. There are a few bus lines that run through town, but be prepared to plan your route ahead of time if you want to take the bus.
Fallbrook is a great choice for people who don't mind using a car to get around. It's also just an hour away from San Diego, so taking a day trip down to the city is a breeze. It's also only an hour and a half away from Los Angeles.
This easy access to city amenities makes Fallbrook an amazing place if you want to live in a small town with access to the two major Southern California cities.
Fallbrook Traffic
Within Fallbrook itself, traffic is often mild and manageable. There is a standard morning rush between 7 am and 9 am, concentrated primarily around schools as parents drop their children off.
There is another rush between 3 pm and 4 pm as kids get picked up from school. This rush is again concentrated on specific areas. So if you're out and about during those hours, try to avoid school zones when you can.
There is a final rush between 5 pm and 7 pm as people head home after the workday. Many Fallbrook residents commute to San Diego for work, so the traffic tends to hit a little bit later in the day.
The most traffic-heavy area of Fallbrook is Interstate 15. You can expect serious morning and evening rushes on the interstate from commuters. Live traffic updates and navigation apps can help you route yourself around heavy traffic.
In general, Fallbrook is a relatively safe place to drive. In 2020, it had fewer accidents than many other San Diego counties. Just be aware of traffic patterns and try to avoid heavy rush hours whenever possible.
Fallbrook Weather
The weather in Fallbrook is much the same as it is in the rest of Southern California. That is to say, absolutely gorgeous.
Fallbrook summers are warm, arid, and mostly clear. winters are long, cool, and partly cloudy.
The temperature varies between 41°F to 85°F throughout the year. Rarely does it drop below 33°F or rise above 92°F.
The average day in Fallbrook is warm, clear, and breezy. This makes it the perfect location for getting outdoors and enjoying the town's many parks and recreation areas.
Fallbrook is also only 30 to 45 minutes from the beach. Southern California beaches are warm and windy, but the ocean can be cold even in the summer. If you plan on swimming or surfing, bring a wetsuit just in case.
It's extremely rare to see snow in Fallbrook, and the seasonal change is understated compared to other locations in the US. But the year-round sun and mild temperatures more than make up for it.
Fallbrook Working
Fallbrook's economy is primarily agriculture-based. Nursery plants, avocados, and citrus fruits are the town's main exports. Because of this, there is no shortage of jobs for those who want to work in the agriculture industry.
Color Spot Holdings is a major corporation in Fallbrook that owns and operates nurseries through its subsidiaries. It is a key player in the manufacturing industry with 3,000 employees and annual revenue of $4.9 billion. It's rated as one of the best companies to work for in Fallbrook.
Pala Mesa Resort is another excellent place to work if you're in the tourism and hospitality industry. It is a small company with around 60 employees and annual revenue of $8.5 million.
If you're into the tech industry, Pocket Points is another great place to work. Developed in 2014, this mobile app gives students rewards for not using their phones during class. It's a small company with around 30 employees and annual revenue of $1.6 million.
Grand Tradition Estate and Gardens is an established hospitality company in Fallbrook. They manage a 30-acre property with two wedding venues, three ceremony sites, seven waterfalls 18 acres of thematic gardens, and a heart-shaped lake. This is a small hospitality company with around 30 employees and annual revenue of $1.6 million.
There are plenty of other businesses in and around Fallbrook. If you're looking to work for a major corporation, the good news is that Fallbrook is only an hour away from downtown San Diego. That means you can maintain a job in the city and still enjoy your countryside getaway.
Fallbrook Cost of Living
The cost of living in Fallbrook is higher than the California average. The overall cost is about half as high as the average cost of living in the United States.
Groceries, housing, and utilities are higher than the California average. On the other hand, health and transportation costs are lower than the California average.
The median home cost in Fallbrook is $722,200. 61% of residents own their homes, while the other 39% rent.
The housing market in Fallbrook favors buyers right now, so it's possible to get a good deal on the house of your dreams. But to truly enjoy everything this town has to offer, you need to be making a considerable amount of money. For the affluent individual, it's the perfect place to live.
Fallbrook Shopping
Fallbrook is home to a host of excellent shopping options that cater to many different tastes. Downtown boutiques like 100 Main and Honey Boutique are great destinations for women's clothes and accessories.
The Hiden Treasures Thrift Store is a must-go for anyone who loves thrifting. The Vintage Soul Flea Market is another great shop for thrifters and vintage-hunters alike. Vintage Retail Therapy is the perfect stop to round out your day of thrifting.
The Spoiled Avocado is the go-to place in Fallbrook for avocado-themed merchandise and food. They have locally produced merchandise, foods, sauces, and even avocado fudge.
Fallbrook Real Estate
Fallbrook real estate is home to some truly outstanding properties. From ranch-style palaces to cozy family homes, the options are endless.
Before you jump into the Fallbrook real estate scene, make sure you do your research so that you understand the entire process of buying or selling a house.
Right now, the median list price for a home in Fallbrook is $897,000. The average price per square foot is $425.81. It's a buyer's market in Fallbrook, but the price tags can be steep.
As you shop for houses, do some research on the different Fallbrook neighborhoods. Life in Morro Hills is going to be different than life in Fallbrook Greens.
Think about what you want the environment around your house to be like as you're shopping for neighborhoods. Do you want plenty of family houses around so your kids always have someone to play with? Or do you want a sprawling property where you can grow a big garden? Vista, Escondido, and Valley Center are also considerations when looking at moving to Fallbrook.
Take these preferences into account and search for neighborhoods that meet your criteria.
Fallbrook California: The Best Place To Live
Fallbrook is the perfect location for real estate buyers who want a small-town community with big city access. This artsy town is home to incredible vineyards, fun outdoor activities, and dining options for every palate.
If this sounds like the place for you, take a look at our luxury home listings in Fallbrook today.