Homes For Sale El Cajon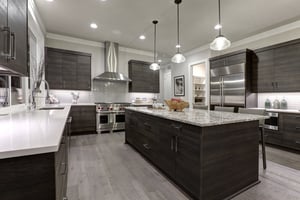 Located a mere 17 miles from downtown San Diego, El Cajon, California is a quiet little gem nestled within a mountain-girt valley east of the metropolis in the 92019, 92020, and 92021. Research real estate market trends and find homes for sale El Cajon. Search for new El Cajon homes, open houses, recently sold homes, and recent price reductions in San Diego. To change how the search is displayed, click the gray button next to "Sort" to display houses in El Cajon by price, number of bedrooms, or days on the market.
*Be sure to register for a free account so that you can receive email updates whenever new El Cajon listings come on the market and if you're in the market for a home today, reach out now for our exclusive off MLS pocket listings!
Available Homes In El Cajon
El Cajon Real Estate
September 26, 2023
$1,424,000
Med. List Price
El Cajon Real Estate by Price
Having thoughts of SELLING?
Nearby East County Neighborhoods
How's The Market In El Cajon?
We have (updated weekly) market data for El Cajon!

El Cajon Real Estate Agents
Having thoughts of buying or selling in El Cajon? When you're buying a home or selling a home, the right team can make or break a deal, especially in a market as complex and competitive as El Cajon California. Through aggressive advocacy and proven competency, our local El Cajon real estate agents are committed to guide you through the entire real estate process from start to finish. We are a team of highly strategic El Cajon selling experts, skilled negotiators, seasoned marketers, and loyal confidantes. Reach out now to the LUXURYSOCALREALTY team to learn more about buyer and seller representation in El Cajon and to receive our San Diego real estate market reports.
If you're considering SELLING...
El Cajon, California: The Best Place to Live
El Cajon, California is one of the best places to live, with rich culture, great dining, and transportation. Learn all the city has to offer here.
El Cajon, California is quickly becoming a popular residential area for families and couples. But if you're not a local, you might be wondering what all this town has to offer. The scenery definitely speaks for itself but what about the cost of living, schools, and the housing market?
These are all factors to consider before making a big move. So if you want to learn more about this beautiful town, then keep reading!
History of El Cajon
The history of El Cajon is so unique. For starters, many cities in California hold a lot of Spanish heritage because of the Spanish Rule during the 1700s to 1800s. Back then, they were called "ranchos" or "ranch" because of the vast grassy lands.
Now towns like El Cajon are home to a variety of people which truly encapsulates the American way. El Cajon was founded in 1912 and would become a major moneymaker for grape and tomato farmers. El Cajon was also the communication center of San Diego County.
Over time, El Cajon began to shift from a small farming town to a larger city with an increase in population. Now El Cajon is a lively town but it still preserves its historical value!
Why El Cajon California Is the Best Place To Live
The big question for many potential movers is what's it like living in El Cajon. And there are many different layers to this question. So down below we've listed everything from nightlife to even traffic hours!
El Cajon Cost of Living
El Cajon is very affordable when compared to other areas in California. However, when looking at the national average, El Cajon is 44.9% more expensive!
But take into account that this area is considered to be a luxurious area with affluent homes and schools. We will discuss the cost of buying a home later in this article.
When talking about the cost of living it's also important that you factor in everyday costs like gas, groceries, and child care. For starters, the gas prices in El Cajon averaged about $15.79 per thousand cubic feet. For reference, the national average is about $9.74 per thousand cubic feet.
The cost of childcare is more than the national average with prices ranging anywhere from $150 to $300 a week. Lastly, the cost of grocery shopping per week, in El Cajon is about $107.9 with the California average of about $105.1.
El Cajon Job Market
The median household income in El Cajon was about $63,236 in 2019. Since then, the area has seen a steady increase. And they can thank big companies like Ford and the Sycuan Casino Resort for this increase.
Not to mention, there are ample job opportunities in the academic sector. For example, El Cajon has many private schools and daycares which all offer great paying jobs. There are also neighboring cities that have big tech companies.
For example, San Diego has many new tech companies like Sony and Pulse which are not too fat from El Cajon!
Here is a list of other popular companies around the county:
Overall, there are many opportunities in El Cajon! Therefore, you'll be sure to find a great company after moving.
Rating and Crime Statistics
El Cajon is considered a safe area when compared to other cities in California. In fact, El Cajon crime has decreased by 6%.
The area is safer than 19% of other cities in the United States. And the chances of being a victim of a violent crime are 1 in 40 people.
When you look at other cities, like Anaheim, with a 1 and 14 chances of being a victim, this is considered very low. Overall, the area has no known links to drug traffickers or gang members.
El Cajon Transportation and Traffic
Traffic times in El Cajon are very low when compared to other cities. For starters, the average one-way commute for El Cajon drivers is about 26 minutes. While the regional average is about 28 minutes.
Most residents take their own vehicles to work and about 4.0% of residents use public transport. Lastly, the infrastructure of the city is very organized with improved roads and signs!
El Cajon Outdoor Activities
El Cajon has so many beautiful trees and hills. There are also some notable state parks and mountains near the area. For starters, Helix mountain is about 10 minutes away from El Cajon.
The mountain is great for beginner hikers as the terrains and elevation are not too bad. And if you're an experienced hiker, Goat Peak is another great area for hiking.
You can also drive 30 minutes and camp at Torrey Pines State National Reserve. This area has some beautiful wildlife and scenic views!
Or you can take a 20-minute drive to San Diego and enjoy some horseback riding, kayaking, and hiking! However, if you want to stay in town there are some great local parks in the area. Overall, when you move to El Cajon, you'll always have something to do.
El Cajon Foodie Festival
El Cajon has one major festival every year in October-- and it's called Foodie Fest! The festival happens in downtown El Cajon and many people attend every year. The purpose behind Foodie Fest is to help showcase amazing cuisines and cultures.
The event has around 40 different restaurants in attendance and also food trucks! The festival also has live performances by some great singers. For example, Gary Puckett at the Union Gap performed last year!
El Cajon Museums and Animals
El Cajon also has some great museums in and around the area. For starters, the Olaf Wieghorst Museum still holds some of Olaf Wieghorst's famous paintings.
This museum resides near El Cajons downtown area and tickets are available for purchase all year round. And if you don't mind a commute the Maritime Museum of San Diego is also a great place to visit.
This museum has a mix of contemporary sculptures and paintings. And if you want to see some crazy sea life, visit the Birch Aquarium at Scripps-- which is only about 30 minutes away from El Cajon.
You can also visit the San Diego Zoo if you want to see a mix of wildlife. And if you have small children, the Fleet Science Centre is a wonderful place for them to explore and learn about science!
El Cajon Dining and Nightlife Experience
El Cajon is a lively town with many dining options and bars. For starets, we have resident favorite the Fleming's Prime Steakhouse & Wine Bar. This restaurant is technically a San Diego native.
However, it's located only 17 miles from El Cajon so we thought we'd mention it. This exquisite dining experience offers an array of quality wine, seafood, and of course, house-cut stakes! Next, we have Mamma Rosa Italian Restraint which sits right in the heart of El Cajon.
The restaurant offers specialty homemade pizzas and pasta dishes. Many of the residents say it's like going on a trip to Italy in your own backyard. And when you're done with dinner, go to El Cajon's most exclusive club, The Grand.
This club offers fun entertainment like karaoke and live music.
But if you're looking for something a little more "underground" the Booty Bassment is a great place to dance the night away. They also have an array of specialty drinks and handcrafted beers!
El Cajon Daylife and Shopping Areas
El Cajon has amazing nightlife but they also have some great shopping areas! For starters, Parkway Plaza has an arrangement of luxury stores where you can find the latest trends.
The Townsquare also has some great historical sites and boutique shipping areas. And if you're a fan of brunch, head on over to Black Bear Diner. They have some of the best breakfast plates and mimosas!
Weather in El Cajon
Living in El Cajon, you will experience both Mediterranean and semi-arid climates. Temperatures do vary depending on where you are in El Cajon. For example, the further east you go in El Cajon, the climate does get drier.
However, there is still some moisture that comes from the mountains.
This area doesn't experience extreme temperates during the summer or winter. In fact, the hottest month of the year is August and the temperatures don't go above 95 degrees.
During the night, temperatures can drop as low as 60 degrees. And throughout the coldest month of the year which is December, the coldest it gets is about 40 degrees. Overall, the temperate in El Cajon is not too intense so you can still enjoy outdoor activities throughout the year!
El Cajon Private Schools
El Cajon offers private education for pre-school all the way through 12th grade. Many residents rave about Christian Junior/Senior High School. In fact, this school came in 9th place for the best school in the San Diego area.
And the tuition for this school starts at about 12,000 per year.
For younger children, Our Lady Grace Elementary School offers K through 8th grade. This school is rated highly because of the smaller classroom sizes and advancement opportunities.
Lastly, we have the Children's Creative & Performance Arts Academy. This school teaches an exceptional curriculum with a performative arts environment. Therefore, your child will thrive in their formal education and their hobby!
El Cajon Atmosphere and People
The residents of El Cajon CA are some of the nicest people you will ever meet. This town believes in the power of community and helping one another!
In fact, many of the tourists fall in love with the atmosphere and the people so they decide to live their full-time. And chances are you also love the area once visit and get to what the town is all about. Overall, this area is a quiet yet busy town, filled with amazing neighbors.
El Cajon Private Membership Clubs
If you like golfing, bourbon, and good dining then you'll love El Cajon. This area is home to a lot of private membership clubs! For example, the Cottonwood Golf Club is an exclusive club located on Willow Glen Dr.
The club offers private golfing courses to its members. They also offer a private dining experience. And have an array of fine wines and bourbon!
But if you're not a golfer, don't worry.
El Cajon also has a private tennis club, the Sycuan Tennis Resort. This resort has numerous indoor and outdoor tennis courts.
And you don't have to be a professional tennis player to enjoy this club as all kinds of tennis lovers enjoy coming here. However, if you do want to step up your game, you can sign up for private tennis lessons with some of the best tennis coaches!
El Cajon Notable Residents
El Cajon is a perfect place to live because it rights in the middle of all the major cities like San Diego and Los Angeles. This is why some famous people have chosen to make El Cajon their forever home
For example, Frank Zappa, who was a very famous musician, lived in El Cajon for several years, before passing away. The Olympic diver, Greg Louganis also resided in El Cajon for some time before moving to another city!
And a lot of notable people were also born in this area. For starters, Glen Morgan, a famous TV producer was born in El Cajon. Jimmie Johnson, a famous racecar driver was also born here.
Lastly, Bret Boone, a famous baseball player was born in El Cajon as well. Overall, this town breeds a lot of talented people. So don't get surprised if you see some famous figures walking around town!
El Cajon Sports
Although El Cajon doesn't have any major league games, they still offer a lot of little league clubs for soccer and baseball. And if you don't mind driving to San Diego, you can go watch the San Diego Loyal or the San Diego FC soccer team.
Or if you're a baseball fan, the San Diego Padres play near El Cajon during the season. You'll also be very close to the San Diego Rockets and the San Diego Clippers!
So now that you know everything about El Cajon, you're probably ready to start looking for homes! Luckily, this next part of our guide with showing you a list of the top 10 notable estates in El Cajon!
El Cajon Real Estate
Because of the unique home designs, El Cajon homes are 125% more expensive than the national average. However, the housing market in El Cajon is still very competitive. In fact, homes are being sold within ten days of the listing date.
The average cost of a home in El Cajon is about $600,000. And the price per square foot is about $352. But amidst the Covid-19 pandemic, home prices have actually declined.
Nonetheless, it's expected for home prices to rise again in the next few years. So right now is the best time to invest in property! And currently, there are thousands of listings of great homes.
Not to mention, the sales-to-list ratio is one to one. This means homes are selling for the original listing price. It's also important to talk about the days to close median.
And for El Cajon, this median is about 44 days. And for month-over-month, the days to close reduced by 2 days, meaning that homes are selling incredibly fast in El Cajon.
Overall, El Cajon is very competitive. However, the prices for these luxury homes are unbeatable when you think about the area, scenery, and square footage. So start looking for the best real estate agents before it's too late!
The Best Neighborhoods in El Cajon
Down below is a list of some great neighborhoods around El Cajon. These neighborhoods all have the lowest crime rates, beautiful estates, and good schools nearby!
Fletcher Hills
This residential area is in the middle of El Cajon and La Mesa. This area is very popular because of the beautiful homes, amazing neighbors, and overall safety. If you have your eye set on this neighborhood, act fast because these homes are selling out fast!
Blossom Valley
Blossom Valley is located in north El Cajon. This area has the most amazing luxury real estate opportunities. And it's near the neighboring cities of La Mesa and Santee.
This area also has scenic views that make it hard to leave. So if you enjoy beautiful trees and skies, then Blossom Valley will be your next home.
Granite Hills
Granite Hills falls south of El Cajon, California. This area is great for young families because of the safe streets and quiet atmosphere. Granite Hills can be very competitive. So act fast if you're interested!
Notable El Cajon Homes
El Cajon has sold some amazing properties over the past few years. So we thought we'd show you some of them, so you can get an idea of what to look for!
The Monarch Ridge Mansion
This 5 bedroom and 3.5 bathroom home sold for $980,000 earlier this year. The home sits in Rancho San Diego, which is the neighborhood we talked about earlier.
The style of the home is very elegant and modern. The house has 2,941 sq feet of beautiful rooms and large windows.
The best part is, it sits on nearly a fourth acre of land so the owners have ample privacy and tranquility. Luckily, many of El Cajon's homes are built away from the city and other neighbors. So if you'll be sure to find a home similar to this one!
The Circo Del Cielo Mansion
This stunning home is located near Horizon Hills, a wealthy area with amazing views. The home is a single-level construction and sold for $1,057,000 earlier this year.
The 2,648 square foot home has high ceilings, large common areas, a beautiful fireplace, and has a fully remodeled kitchen.
The master bedroom is located on one side of the home for added privacy. And it has ample closet space, to say the least. The home also has 2 other large bedrooms located on the west wing of the home.
Lastly, this home has a covered patio with ceiling fans. So if you enjoy hosting parties, then this area will come in handy.
The Carob Tree Mansion
This ranch-style home is one of the most expensive listings we've seen. The home sold for 1,800,000 in 2021. This estate has 4 bedrooms and 4 bathrooms. And it also has a guest home with 1 bedroom and 1 bath. The total square footage of the estate is 5,355!
The home has plenty of amenities like a spa, pool, and cabana area. The main bedroom is located on the west wing of the home. While the remaining bedrooms are on the north wing of the home.
Lastly, this home also has its very own barn that comes with a bathroom. The home is said to be great for planting vegetables and gardens because of the ample space and rich soil.
Fun Facts About El Cajon
El Cajon is very diverse and unique but here are some cool facts about the area-- just in case you're not yet convinced.
There are many different types of ethnicities and races
The main languages spoken are English and Spanish
El Cajon was mainly a dirt town with dirt and gravel roads.
El Cajon also has some great community colleges like Cuyamaca College and Grossmont Community College.
They were an agricultural town during early developments
Downtown still has some of the original buildings from early to late settlements
El Cajon was a battleground for many battles during the early establishment of California
The high school football teams are very popular and they have won a few championships
Hopefully, these fun facts have painted a better picture of what El Cajon is all about! But of course, reading about El Cajon is not the same as living and experiencing it.
Move to El Cajon Today
Hopefully, this article has excited you to move to El Cajon. Overall, this area is a great place to raise a family all while having an active lifestyle. There aren't many towns like El Cajon, so choose wisely.
If you have more questions about moving to El Cajon, contact us today!