Del Mar Homes For Sale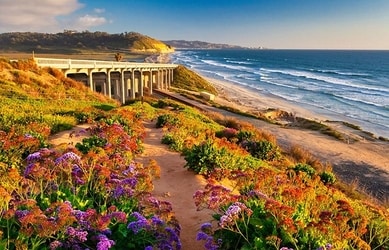 Research real estate market trends and find Del Mar homes for sale and Del Mar condos. Del Mar in the 92014 zip code, is a seaside destination famous for the Del Mar Thoroughbred Club "Where The Surf Meets The Turf." Luxury homes are along the beach colony, bluff, and hillside with ocean views. Nearby communities La Jolla, Coronado, Solana Beach, and Rancho Santa Fe are other upscale second home destinations. Search for newly listed homes, open houses, recently sold homes, and recent price reductions. To change how the search is displayed, click the gray button next to "Sort" to display houses by price, number of bedrooms, or days on the market.
*Be sure to register for a free account so that you can receive email updates whenever new Del Mar properties come on the market and if you're in the market for a home today, reach out now for our exclusive off MLS pocket listings!
Available Homes In Del Mar
Del Mar Real Estate
December 11, 2023
$1,596.14
Avg. $ / Sq.Ft.
$4,825,000
Med. List Price
Del Mar Homes By Lifestyle
Nearby Del Mar Neighborhoods
How's The Market In Del Mar?
We have (updated weekly) market data for 92014!

Del Mar Real Estate Agents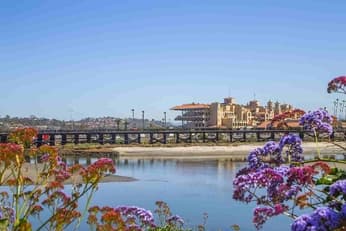 Having thoughts of buying or selling in Del Mar? When you're buying a home or selling a home, the right team can make or break a deal, especially in a market as complex and competitive as Del Mar California. Through aggressive advocacy and proven competency, our local Del Mar CA real estate agents are committed to guide you through the entire real estate process from start to finish. We are a team of highly strategic Del Mar selling experts, skilled negotiators, seasoned marketers, and loyal confidantes. Reach out now to the LUXURYSOCALREALTY team to learn more about buyer and seller representation in Del Mar and to receive our 92014 real estate market reports.
If you're considering SELLING...
Del Mar, California: A Cultural Paradise
Are you looking to buy a home in a wonderful, beautiful, and cultural area? Then Del Mar, CA is the place for you. Read this guide to find out more.


Do you want to live in a reputable seaside community within reach of San Diego? Throw in some glamour of the Hollywood golden age, great waves, and European charm, and you get Del Mar, CA. It could be the perfect place for you to live.
Del Mar roughly translates to the sea or by the sea. It is also known as 'where the turf meets the surf.' And it certainly is in a prime location on the Pacific coast.
Living in Del Mar gives you a small-town atmosphere, with a strong community and all the amenities you could wish for. However, if you live in Del Mar, you are also only twenty miles north of San Diego. So you have the best of both worlds; city and town.
If you want to move to Del Mar, keep reading. Here is the ultimate guide to the Del Mar, CA area and what it has on offer.
All About Del Mar's History
Del Mar was first created in the 1880s when a California Southern Railroad contractor and engineer discovered 'the most attractive place on the entire coast.' His name was Theodore M. Loop, and he set up a tent city on the beach of Del Mar.
The name Del Mar was inspired by the poem The Fight of Paso del Mar by Bayard Taylor. Soon after, Colonel Jacob Taylor suggested they build a town resort for the rich and famous. Casa Del Mar was the main resort attraction, along with bathing pools, dancing pavilions, and more.
However, the original resort burned down in 1889. In the early 1990s, South Coast Land Company hired architect John C. Austin to create a new hotel, the Hotel Del Mar. It became a popular location for silent film Hollywood stars.
Del Mar continued to grow after this, with attractions such as a pier and golf course. Then, in 1936 the Del Mar fair opened, and in 1937 the race track. These attractions brought Del Mar into the limelight, and it thrived.
During the Second World War, the racetrack became a bomber tail assembly facility. After the War, the University of California in San Diego began to influence the area. Many politically active community leaders protected the Del Mar area and open spaces such as Seagrove park.
Del Mar city was incorporated in 1959. However, the history of the Native Americans in the San Diego area stretches back thousands of years before California joined the US. The Kumeyaay people lived around the San Diego River and surrounding areas.
Del Mar Community
If you live in Del Mar, you are guaranteed a community feel. There is a population of around 4,200 residents, and the village is around 2.2 miles. It is also designed so you can walk around easily, which is a great perk to living in Del Mar.
However, despite its small size, it has a mighty reputation. The community attracts around 2 million tourists every year from around the world.
The community is active, and there are many events you can participate in, such as recycling events and council meetings. There is even a Del Mar TV!
Other notable community features include the Del Mar Community Connections' Neighborhood Emergency Support Team (NEST). And there is the Powerhouse community center, which is available for rental throughout the year.
Del Mar Schools
Del Mar has its own Del Mar Union School District. There are eight schools in the district. Some of the top schools include:
Del Mar Heights Elementary School
Del Mar Hills Elementary School
The Del Mar Heights school has recently undergone reconstruction too. The average testing ranking is 10/10 for the union, making the public schools in the top percentages in California. You do not have to worry about your children not having access to top education facilities.
There are also private schools such as the Del Mar Pines school and the special education school of Winston School of San Diego.
Also, there are plenty of colleges nearby, such as the University of California San Diego, in nearby La Jolla.
Del Mar Parks & Recreation
If you move to Del Mar, you also have access to some beautiful parks and recreation activities. For example, there are two coastal parks on your doorstep.
Enjoy Seagrove Park, which offers ocean views and plenty of palm tree shade. There is a nice walking trail and many spots to enjoy a picnic. It is also available as a wedding and event venue.
Adjoining is Powerhouse Park, which also offers great ocean and beach views. The park has a colorful history. The Powerhouse originally offered hot water to the city, then became a nightclub, then a desalination plant!
In 1983 it became Powerhouse Park, and the old powerhouse is the community center. It is a small park, but there is plenty of events on, such as summer concerts. There is also a dog-free area where children can play, called the Tot Lot.
There is also San Dieguito Park, which is between Del Mar and Solana Beach. It is 125-acres, with miles of walking trails, lookout platforms, suspension bridges, a basketball court, and playgrounds. There are also picnic and BBQ spaces.
Children can complete one of the trails for children. There are also fun activities, such as scavenger hunts, Animal Athletes, or a sensory challenge.
There is a Del Mar Parks and Recreation Committee that develops the recreational spaces. For example, you can enjoy the River path Del Mar and the tennis courts.
Del Mar Arts, Music, and Entertainment
There are plenty of events on to keep you entertained if you live in Del Mar. For example, there are free live music sessions at Del Mar Plaza on Thursdays, Fridays, and Saturdays from 5-7 pm. Some of the bars also host live music nights.
You can visit the Del Mar library for storytime and other events such as music classes for children. Close to the library is a Dinosaur Gallery, which is a shop but also is like a museum! There are also children's art and yoga classes.
Del Mar also embraces public art. For example, there is currently a temporary outdoor sculpture program with an art walk map.
The city also has a public art policy and an art advisory committee. There are sometimes painting exhibitions, and art shows to embrace the arts in Del Mar.
There are other forms of entertainment too. There are plenty of events, especially during the racing season at the Del Mar race track, which draws huge crowds. It is called the Del Mar Thoroughbred Club.
The Del Mar Fairgrounds also hosts various events, such as concerts, car shows, and the annual Del Mar county fair. There is also a Kids Expo and Fair each year, full of fun activities and ways to connect to kids clubs or services.
The San Diego County Fair has many activities, from food and shopping to live entertainment and kids activities. There are over 200 vendors and many food options, with the focus being on community growth.
Del Mar Dining
Del Mar has everything from family restaurants and delis to award-winning cuisine. Part of the reason many tourists visit Del Mar is because of its delicious cuisine. The Del Mar Plaza is also full of options.
If you like craft beer, you can also enjoy a yearly craft beer festival and try some local breweries, such as Viewpoint Brewing Co. There are also great coffee options, such as Bird Rock Coffee Roasters and Darshan Bakery.
There are also different foods to taste, thanks to San Diego being a multicultural city. For example, you can check out Cafe Secret for contemporary South American fusion food or Chin's Szechwan for Chinese food.
Some popular upscale dining spots include:
Addison
You can visit Addison to visit a AAA Five Diamond and Mobil Five Star rated restaurant in San Diego. It is located in the beautiful Fairmont Grand Del Mar, with set menus and an extensive wine list. San Diego native chef William Bradley creates seasonal dishes that encapsulate Californian gastronomy at its finest.
Jake's Del Mar
Another popular spot is Jake's Del Mar. It has won many awards, including:
San Diego's most romantic restaurant
Wine Spectator's Awards of Excellence
In the top 100 most scenic restaurants in the US
So definitely at Jake's Del Mar to your list. It serves up coastal fare and cocktails right by the ocean. And the brunch is exceptional.
Pacifica Del Mar
If you like to drink vodka, here is the place. This upscale dining option has over 200 to choose from. It also serves cuisine such as seafood, steak, and pasta, with ocean views.
Market Restaurant
The Market Restaurant has been voted in the top 100 restaurants in America previously. There is also an award-winning wine list, craft cocktails, and seasonal ingredients. There is also a bar sushi menu to try.
Del Mar Transportation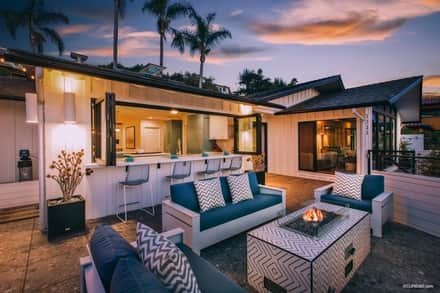 Despite its small size, Del Mar has good transport links. The NCTD Breeze buses connect other San Diego County region locations, such as San Clemente, Escondido, and Fallbrook. The buses also have good connections with San Diego's coaster and sprinter trains.
You can access the NCTD coaster by traveling one mile north to Solana Beach. There are over twenty different trains in the week and ten on the weekend, which connects the north county with San Diego. They can hold over 1,000 passengers per train at full capacity.
You can also easily connect to the AMTRAK Pacific Surfliner from Solana Beach. It goes to San Diego and beyond, as far as Santa Barbara.
There are also offer strategies that Del Mar offers to reduce transport emissions. For example, they are improving bike lanes, and you can use iCommute for different types of rideshares.
Del Mar is also just off the I-5 freeway, which makes it easy to drive into San Diego and access other cities on the west coast.
Del Mar Traffic
Del Mar has little traffic, thanks to its small size and design. Most of the downtown village area is now pedestrian-centric. The design stops Del Mar from being a through town, and roads have been improved to increase flow.
However, when the races are on, expect more traffic, especially on the I-5.
Thanks to the active community, road conditions are also monitored to improve conditions, such as road resurfacing. Del Mar also continues to improve cycle tracks, which helps keep cyclists safe.
There are also hundreds of free parking spots in Del Mar, but you need to get to beach spots early during summer. Many people park at the Del Mar Civic Center when visiting downtown Del Mar.
The good news is that San Diego is also a city without a lot of congestion. A study ranked it last for traffic congestion out of 15 large metro areas in the US. So, you also do not have to worry about spending a lot of time in traffic to access San Diego.
Del Mar Weather
Living in Del Mar lets you enjoy the southern California coastal weather in the perfect setting. Temperatures remain pleasant year-round, with little rainfall.
Rainfall is below the national average at under 12 inches per year, whereas the US average is around 38 inches per year. Temperatures average between 68°F to 77°F. July is usually the sunniest month, and August the hottest.
February receives the most precipitation, and December is usually the coldest month at around 66°F. However, usually, there is no winter weather such as snow. There are usually more tourists from March to November.
Just like San Diego, Del Mar has many days of sunshine. It can average anywhere from 146 days to over 240 days.
Working In Del Mar
Wages continue to increase in Del Mar. There are several companies based around Del Mar, including AMN Healthcare. However, one of the largest employment industries is tourism.
Del Mar city employs full-time and seasonal workers. Also, resorts such as L'Auberge Del Mar offer job oppotunities. And there are job opportunities in the education sector.
Many people who work for major corporations will commute to surrounding areas such as central San Diego. There are many corporations in San Diego, including Sony Electronics, Qualcomm, and Illumina.
Cost of Living In Del Mar
The cost of living in Del Mar is more expensive than the national average. For example, housing is over 600% higher than the national average, and transportation expenses are around 29% higher. However, Del Mar's cost of living is worth it for many people.
It is definitely an upscale location offering a great quality of life. If you want a small and safe community with exceptional education options in a beautiful location, you should move to Del Mar.
Del Mar Recreation
Living in Del Mar also gives you access to many outdoor activities. Along with the parks in Del Mar, you can visit Free Flight. Free Flight is an exotic bird sanctuary for parrots.
There are also several beaches to visit in Del Mar. For example, there is the Del Mar Dog-Friendly Beach and the Powerhouse Beach adjacent to the most prime Del Mar beach houses. The beaches in and around Del Mar are exceptional, and you will not get bored exploring them.
Del Mar is called when the turf meets the surf for a reason. Also, enjoy water activities such as surfing in Del Mar. If you want to see Del Mar from above, there is also a hot air balloon ride company nearby, with year-round balloon tours of Del Mar.
There are also great golf courses, such as the nearby Torrey Pines Golf Course. For amateurs, there is also a mini-golf center called Pelly's mini-golf.
If you like hiking, then living in Del Mar is perfect. You have access to many nearby reserves with trails, including the Torrey Pines State Reserve. The reserve was created to protect America's rarest pine tree, the Torrey Pine.
Also, visit the Los Peñasquitos Canyon Preserve, which has around 4,000 acres to explore.
Del Mar Shopping
Del Mar offers a variety of shopping options for all tastes. A popular spot is the farmers and artisan market that happens each Saturday in Del Mar. It offers a delicious range of farmer's market fare.
There is also the Del Mar Plaza above Olde Del Mar, which is full of a variety of shops. There are also many surf shops, boutiques, and other specialty shops such as Frustrated Cowboy and the Dinosaur Gallery. Also, check out the Village of Del Mar and Highlands Town Center.
Del Mar Sports
The main professional sport in Del Mar is horse racing. There are also local college sports, amateur leagues, and watersports events that happen around the area. For most professional sports such as basketball or soccer, you will visit San Diego.
Del Mar Social and Membership Clubs
The nearby Fairmont Grand Del Mar is one of the top-ranked hotels in the world. It also offers golf memberships, with other benefits such as discounted spa treatments and access to the fitness center.
Another nearby popular membership club is the Del Mar country club. It is also a golf membership club.
Del Mar Real Estate
Del Mar real estate follows similar trends to the rest of the San Diego area. Homes are selling fast, and although the market experienced a decrease, prices will continue to rise over the long term.
Del Mar real estate is one of the most expensive in all of San Diego with the Del Mar Beach Colony arguably the highest. Due to the renowned location, luxurious homes on offer, and demand, whether you want a gated community, beachside home, condo, or townhouse, Del Mar has it.
Notable Del Mar Homes
There is a beautiful selection of Del Mar homes on offer. All of them are notable in their own way! There are different neighborhoods to explore, which will help you find your dream home.
For example, the Fairbanks Polo Club is a gated community with luxury homes of high value. The Beach Colony area has a range of homes, including apartments, condos, and some of the most expensive Del Mar real estate. Enjoy ocean-front properties in one of the most desirable locations of Del Mar.
Notable Del Mar Residents
San Diego has always been a place that attracts famous residents due to its real estate, location, and privacy. Del Mar is no exception and is one of the top spots for notable residents. Especially during Hollywood's Golden Age, you were likely to spot notable public figures around.
Some past and current residents in Del Mar include Superbowl Champion Quarterbacks Drew Brees and Aaron Rogers.
Blink 182's Tom DeLonge and Journey's Steve Perry are other notable Del Mar residents. Bill Gates also is a Del Mar resident!
Del Mar Fun Facts
If you want to move to Del Mar, you also need to know its fun facts:
Bill Crosby founded the Del Mar Racetrack
The Del Mar Thoroughbred Club is the only US seaside racetrack
The San Diego County Fair is the city's oldest event
It is one of two places in the US to see the Torrey Pine tree
You can explore Del Mar village without a car
Santa by the Sea is a popular event in December
It is home to San Diego's scariest Halloween attraction; the Scream Zone
Del Mar is full of surprises. If you live in Del Mar, you are likely to discover more fun facts. The whole area of San Diego County has plenty of interesting facts to learn about, and you will not be short on avocados, as San Diego produces the most in the US!
Move to Del Mar California
Del Mar, CA, is a beautiful location to make your home. Living in Del Mar gives you the best of everything.
You have access to great schooling, activities, restaurants, and beaches. Plus, Del Mar real estate offers a lot of variety and exceptional properties. However, it is still easy to access San Diego along the I-5 or by public transport.
Do you want to move to Del Mar or another part of San Diego? LuxurySoCalRealty can help you find your perfect home. Contact us to learn more.