Coronado Homes For Sale
Research real estate market trends and find Coronado homes for sale. Coronado Island is one of San Diego's premier coastal second home destinations along with Del Mar and La Jolla. Search for newly listed homes, open houses, recently sold homes, and recent price reductions. To change how the search is displayed, click the gray button next to "Sort" to display houses by price, number of bedrooms, or days on the market.
*Be sure to register for a free account so that you can receive email updates whenever new Coronado properties come on the market and if you're in the market for a home today, reach out now for our exclusive off MLS pocket listings!
Available Homes In Coronado
Coronado Real Estate
September 30, 2023
$1,753.74
Avg. $ / Sq.Ft.
$3,769,500
Med. List Price
Coronado Real Estate by Price
Having thoughts of SELLING?
Coronado Homes By Lifestyle
Nearby Coronado Neighborhoods
How's The Market In Coronado CA?
We have (updated weekly) market data for 92118!

Coronado Real Estate Agents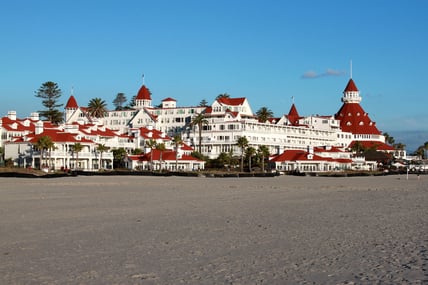 Having thoughts of buying or selling on Coronado Island? When you're buying a home or selling a home, the right team can make or break a deal, especially in a market as complex and competitive as Coronado California. Through aggressive advocacy and proven competency, our local Coronado real estate agents are committed to guide you through the entire real estate process from start to finish. We are a team of highly strategic Coronado selling experts, skilled negotiators, seasoned marketers, and loyal confidantes. Reach out now to the LUXURYSOCALREALTY team to learn more about buyer and seller representation in Coronado and to receive our 92118 real estate market reports.
If you're considering SELLING...
Coronado Island California The Best Place To Live
Are you thinking about moving to Coronado, CA, but want to know more about the area first? Keep reading and learn more here.


If living in California means living a beach-friendly lifestyle, then Coronado might just be where you should call home. Consistently ranked on the 10 best beaches list, Coronado lives and breathes the California beach lifestyle.
You might know of Coronado for its famous Hotel Coronado or even know a tidbit of its rich history. But you might not know Coronado to be a family-friendly, charming place that gives off the small-town vibes in spades.
From glorious beaches, art, culture, and winning schools. If you're considering moving to California, Coronado might need to be at the top of your list. If you only thought of this place as a tourist spot, you might be surprised to learn all Coronado has to offer its residents too.
Read on to learn more about Coronado and why you should consider making this California dream spot your next home.
All About Coronado History
Coronado has a long history before it developed into the popular enclave it is today.
A group of islands off the mainland of what is now southern California was first spotted by Spanish explorer Sebastian Vizcaino and his crew as far back as the 17th century. While the Spanish explored these lands around San Diego, they didn't stay to use them and the land remained unused for another 20 years.
In the early 19th century the islands became a safe harbor for the whalers after they were out to sea. When Mexico gained its independence, the land was used for grand rancheros and haciendas that were common during that time. In 1846, Don Pedro Carrillo purchased the peninsula of San Diego.
There were several owners over the next years, until eventually Elisha S. Babcock, Jr., Hampton L. Story, and Jacob Gruendike purchased the land in 1885. With a few more investors, they formed and organized what is now known as the Coronado Beach Company.
The investors leaked news of a big resort being built on the water to raise excitement in the area. They hired workers from far and wide and hired James and Watson Reid as their architects, in 1888 the Hotel del Coronado was opened for business.
Around the same time, Tent City was developed and was used by the Navy. The Navy's presence in the area continued to increase as time went by. The hotel used North Island so its visitors could hunt.
The area became synonymous with the Navy and the spectacular resort hotel.
Coronado Community & Schools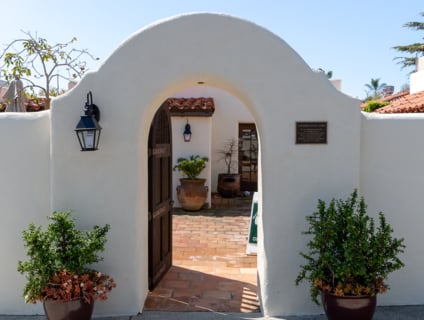 While many have come to Coronado as vacationers and resort guests, over time the area became a small and thriving community to live in too. Now, Coronado is home to 22,647 people with a median age of 38.1. Residents live in homes, condominiums, and beachfront cottages.
Many are surprised knowing how many tourists love Coronado that it's a very family-focused and friendly town. In fact, many try to move to Coronado to take advantage of the Coronado Unified Schools. Schools include:
Silver Strand Elementary School
Village Elementary School
Coronado School of the Arts
Coronado Middle School
Coronado High School
The school district also offers parents a preschool program. Coronado High School students have a graduation rate of 95.4%. They test at 84% proficient or higher in reading and 62% or higher were proficient in math.
The district spends $13,358 per student each year.
There are also two private Christian schools available for students at the elementary level.
Coronado Parks & Recreation
The southern California weather and lifestyle lends itself to outdoor recreation and Coronado comes in strong with things to do outside.
If you like spending time at the park, Coronado won't disappoint.
You might opt for a day of exercise, walking, or fishing at the Coronado Tidelands Park. Located right on San Diego Bay, this park offers panoramic views of the iconic Coronado Bridge.
Another quaint and historic park is Coronado State Park. It's located about a block from the ocean and offers plenty of space to gather with benches and lovely gardens.
If you want a park with spectacular sunset and skyline views of San Diego, then Centennial Park fits the bill. Other parks include:
Coronado Beach & Dog Park
Bayview Park
Glorietta Bay Park
Spreckels Park
Sunset Park
Mathewson Park
Coronado life is all about outdoor living. Try spending the afternoon at Coronado Beach with its mile and half of golden beaches. Coronado Central Beach located in front of the Hotel Del Coronado actually sparkles because of the mica in the sand. It's also perfect for families as it only gets soft waves because of its protection from Point Loma.
Consider spending some time tide pooling at low tide also in front of Hotel Del Coronado. While walking in the pools created from the tide going out you're bound to spot sea anemones, hermit crabs, and small fish galore.
Want to be out on the water looking back at Coronado, every water sport you can dream up will be at your disposal. Consider renting a kayak or paddleboard to head out on the water. Want a motor to make you go? Consider a jet ski or larger powerboat.You could also spend the day sailing.
Coronado Arts, Music, and Entertainment
Don't be surprised when much of the entertainment on Coronado still involves outdoor activities.
Coronado couldn't be more bike-friendly, probably it's easier to get around on a bike than a car. You can rent your own beach cruiser to move around the island. Is the whole family looking to be entertained? Consider renting a surrey that holds up to 6 people and you can have the whole group around the island.
If you enjoy iconic local theatre, then you need to take in a show at the Lamb's Players Theatre. In addition to productions that celebrate communities' traditions, question contemporary culture, commend diversity, they also work with youth throughout the county.
Summertime brings music to Spreckels Park with their weekly concert series. You can also visit Spreckels Park on the first and third Sunday of each month year-round for Coronado's Art in the Park event.
You have to appreciate any town that sees the value in a beach fire. Coronado beaches feature free, first come, first serve fire pits that allow you to build a campfire on the beach. Don't forget your marshmallows.
Take advantage of the plentiful farms of the region every Tuesday at the Coronado Farmers Market. The market features fresh produce (much of it organic), local wares, and deliciously prepared food options.
Consider really taking in the sights of Coronado and San Diego too by taking a ride on the Old Town Trolley. In addition to taking in Coronado, you can go into San Diego to see the San Diego Zoo, Old Town San Diego, and Little Italy, along with parts of downtown.
Coronado Dining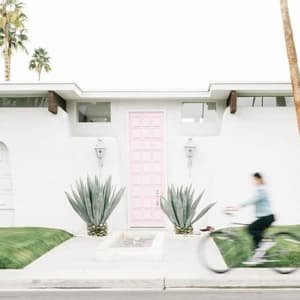 In some places, you might find that a location with many tourists means chain restaurants or ones that are so busy you don't get any decent food. That's not the case with Coronado restaurants. There are many high-quality choices and if you love seafood, well, you'll be happy.
Consider the Bluewater Boathouse Seafood Grill for its waterfront ambiance. This dog-friendly location has patio seating and boat docking available. Expect great fish and seafood options along with fun cocktails options too.
Are you crazy about lobster? Then consider partaking in a lobster roll from Lobster West Coronado. This casual option offers sandwiches, and a full menu of beer and wine, along with a lobster bisque that will have you coming back over and over.
While it is a chain, you won't be disappointed with the Mexican food from Miguel's Cocina. Try their queso and a fresh juice margarita too.
Appreciate the value of a really great steak, then Stake Chophouse & Bar will become a favorite for you. High-quality steaks, a full bar, and some seafood options make this a Coronado favorite.
If you prefer a more casual option, consider the Coronado Brewing Company. With a good range of their in-house beer and a full bar, you can also get quality bar food, steaks, and seafood.
Coronado Transportation
How can you get around on Coronado Island? This is a walker and biker-friendly location. Coronado is only 10 miles from San Diego International Airport and Amtrak's Santa Fe Train Depot with the drive taking about 20 minutes.
As a point of reference, Los Angeles is 2 hours to the north but can take much longer in heavy traffic. The US Mexico border is only about 20 minutes to the south.
You enter Coronado from the Coronado Bridge from Highway 75. This provides you quite a greeting to home as you travel across the 2-mile long bridge with spectacular views of boats bobbing in the distance and the nearby Hotel Del Coronado. Leaving the island across the bridge will provide you with equally lovely views of the San Diego skyline.
There is bus transportation on and off the island. MTS Bus Route 904 travels along Orange Ave to the Community Center, City Hall on Glorietta Bay, and the Bayfront and Ferry Landing. To leave the island, pick up MTS route 901 back into downtown San Diego.
Remember, you can also move around the island and back and forth into San Diego using the Old Town Trolley system too. You might also enjoy the Coronado Ferry, one of the most scenic ways to access Coronado. You can also take it to San Diego to explore the Gaslight District.
Once on Coronado, you'll find you rarely need a car and can easily move about the island by foot or on a bike.
Coronado Traffic
You may find, especially during peak tourist times, that getting on and off the island takes a little longer because of increased traffic.
Highway 75 will take you back and forth across the Coronado Bridge and onto the island.
Expect island movement to go at a more relaxed pace, as the entire island has a speed limit of 25 mph. You can expect consistent traffic along Orange Avenue, the main thru fair on Coronado. With many shopping and restaurant options here, it's a draw for many people.
Coronado Weather
If ever there was a reason to move here, it's for the Coronado, Ca weather.
First, there is no snow in Coronado, which surely beats the national average of 28 inches of snow a year. There is also only about 12 inches of rain per year, while the national average is 38 inches per year.
If you like sunshine, Coronado will make you happy. With an average of 266 days of sunshine per year, the national average is only 205 days a year. You'll only see precipitation on about 38 days of the year in Coronado.
The real story is that it's beautiful sunny weather much of the time. The Mediterranean climate means warm summers and very temperate winter months.
Coronado Working
While Coronado is relatively small there are some businesses that work from the island. Many of these were influenced by the US military presence nearby.
Some of the companies working from Coronado include:
Qualcomm
UC San Diego
Illumina
US Marine Corps
US Navy
General Atomics
Google
Intuit
ServiceNow
Sony Electronics
With San Diego and the many nearby cities surrounding it, there's an abundance of opportunities for work when you live in Coronado.
Cost of Living In Coronado
While there are many features of Coronado that make it desirable, it will also cost you more to live there. The cost of living for Coronado is 310.2% higher than the national average.
Housing is the most costly thing in Coronado, at roughly 770.3% of the national average. You might wonder if it's worth it until you take in oceanfront views and enjoy the sunshine and warmth year-round. The median price of a real estate in Coronado is $2,181,400 compared to the national median price of a home at $291,700.
Groceries and transportation costs are slightly above the national average Yet, healthcare costs and utilities fall slightly below the national average.
Outdoor Recreation
The opportunity for outdoor recreation is, again, where Coronado is likely to shine. The temperate beautiful climate makes it easy to be outside all the time. With the proximity to the water and ample beaches, opportunities for outdoor recreation abound. Remember, too, that life in Coronado doesn't require a car to get around. Living here, you'll find yourself walking and biking to many places.
If you live in Coronado, in fact, you'll want to make sure you have bikes to go to and from the beach and even dinner too.
If you want a round of spectacular golf, check out Coronado Golf Club, the premier public course on Coronado. A round of golf will challenge you with this elite course and leave you awestruck with views of the bay.
You might decide as a Coronado resident to take up paddleboarding or surfing. Check out the Coronado Surfing Academy to get started. Coronado's location on the bay and its gentle waves are the perfect location to get started on your surfing life.
Living in a beach town means plenty of time for sandcastle building. Why not build up your castle-making skills with the semi-famous Sandcastle Man who is known for making wow-worthy creations on Hotel Del Coronado beaches. He also gives lessons to spread his craft.
Coroando Shopping
You might not plan on using the Coronado Ferry, yet don't miss out on a visit to the Coronado Ferry Landing. There are shops and activities galore, not to mention there are spectacular views of the San Diego skyline. Be sure you visit Village Pizzeria and Coronado Cupcakery.
If you want the real flavor of shopping in Coronado, then you want to spend some time browsing in and out of the shops on Orange Avenue. You'll find unique one-of-a-kind shops and jewelry makers all along the avenue. Coronado takes pride in supporting small businesses and you'll see them really showcased here.
Does shopping include buying ice cream? Well, it should, and you should visit Coronado's beloved Moo Time Creamery for this purchase.
Coronado Sports
The focus on sports on Coronado will take you outside to enjoy the landscape. Whether you're a runner, a walker, a biker, or a golfer, you can enjoy Coronado's landscape.
Many sports enthusiasts take to the water to enjoy sailing, boating, surfing, and fishing.
Want to be a sports spectator? Just a short trip into San Diego will give you an array of sports options. The San Diego Padres can provide you with a day of baseball fun.
Other professional sports teams include the San Diego Seals for lacrosse, the San Diego Sockers for indoor soccer, and the San Diego Legion for rugby.
The San Diego Yacht Club also famously competes in America's Cup sailing competition.
Coronado Social and Membership Clubs
There are several private club options available to residents on Coronado. If you live in Coronado, you probably won't stay at the Hotel Del Coronado, but you could become a member of their private club called the Club at the Del.
You might also consider joining the Coronado Country Club, a family-friendly club with a variety of membership options. From golf to recreation. to social memberships. There are many options for joining.
You might also enjoy the boating life and want to join one of the area yacht clubs. You could choose from the Coronado Yacht Club or the Coronado Cays Yacht Club. Both have several membership options, including social memberships.
The Coronado Shores Beach Club offers members dining, a full bar, patio seating, and weekly activities for its members, in addition to beach privileges.
Coronado CA Real Estate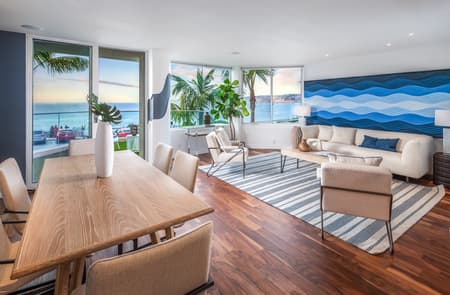 As already mentioned Coronado real estate is both spectacular and pricey. But living the Coronado lifestyle is worth the price of admission. The median list price for a Coronado home is $2,545,000 making it $1,340.77 on average a square foot of real estate.
While houses move fast on Coronado, there is a decent supply of options available on the market. While it might be costly to buy on Coronado, it's not a decision you'll regret or lose money on if and when you decide to sell. This is prime real estate, close to the water, the beach, and San Diego. It will retain its high demand and value.
Consider a beach house or condominium with spectacular views of the bay of San Diego skyline. There are also many family-friendly single-family homes available on Coronado, which is surprising to some knowing its location and lure for vacationers.
Coronado neighborhoods include Coronado Shores (condo towers), Coronado Cays, and the Coronado Village.
Notable Coronado Estates and Homes
Does a sunken treasure ship count as notable? It does on Coronado and it's a good day when you can spot the SS Monte Carlo that sank in a storm in 1937. The story goes that the ship was famous for gambling and prostitution. When the storm came, it crashed it to shore.
Since those activities were illegal onshore, nobody would claim the boat. Now the ruins can be seen at certain tides about a quarter-mile south of Hotel Del Coronado.
You can't talk about notable estates on Coronado without talking about Hotel Del Coronado, which might be one of the most iconic buildings in all of California. It's famous for celebrities and dignitaries walking its halls. You can be a guest at the hotel, take a tour, or just rent a cabana from their beach and enjoy some cocktails from there while you're at it.
The Coronado Historical Association offers several walking tours to look at some of the many historic registered homes on the island.
Notable Coronado Residents (Past and Present): Fun Facts
Coronado has been home to many celebrities and famous folks who also relished the lifestyle. Charlie Chaplin, Dick Van Dyke, silent film star Anita Page all made their home in Coronado.
Like popcorn? So did Orville Redenbacher or popcorn fame who lived on Coronado.
Lesser-known famous residents included Merian C. Cooper who one night had a dream about a giant ape attacking New York City. He wrote down his dreams and later created the first King Kong movie.
Actress Emma Stone is quoted as remembering her many summers spent on Coronado, crossing the bridge and hanging out on Hotel Del Coronado beach.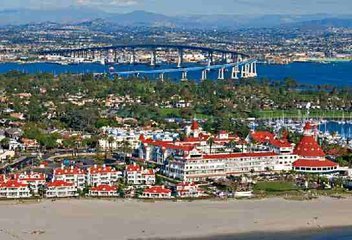 Living the Coronado, CA Life
Coronado is a lifestyle on its own. It offers the many benefits of proximity to San Diego, yet retains its small-town beachy charm. If you're lucky enough to live in Coronado, you'll surely appreciate all it offers in recreation, amenities, and lifestyle.
If you're looking for a home and want to consider Coronado, we can help. Contact us today to learn more about our available listings.