13 Vacation Home Decorating Ideas
Posted by Robert & Joy Aumann on Monday, August 27, 2018 at 8:31 AM
By Robert & Joy Aumann / August 27, 2018
Comment
Vacation Home Decorating Ideas
Do you want to spruce up your second home? Make your brand new vacation home feel just like your own with these creative home decor ideas.
You've finally found the second home of your dreams, and you can't wait to take your family and friends on vacation in it.
The only problem?
It's not yet furnished and decorated -- or if it is, the style and decor don't exactly match up with your tastes.
The wonderful thing about vacation home decor is that it gives you the perfect opportunity to take a few design risks, or to try out trends you normally might be too afraid of.
Looking for advice about how to decorate your second home?
Keep on reading this post to access some of our favorite home decorating ideas.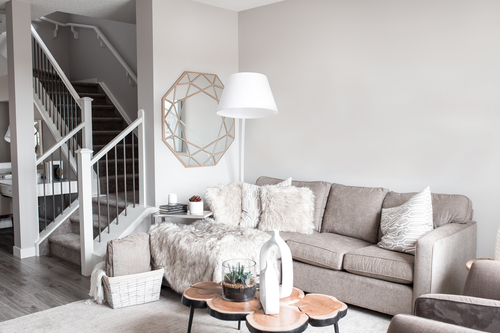 1. Try Removable Wallpaper
One of the best home decorating ideas to make your second home look perfect?
Removable or temporary wallpaper is especially popular among those who love to follow design trends, and who want to be able to switch up their interior design at a moment's notice without having to spend hours getting off old wallpaper (not to mention, potentially thousands of dollars.)
Usually, the removable wallpaper comes with adhesive already applied to the back of each strip. All you need to do is dampen the adhesive with a sponge and a spray bottle, and apply it to the walls using a wallpaper smoother.
The process is incredibly simple, and you'll be surprised at how much less time it takes to apply than traditional wallpaper.
We know that you'll also love the countless pattern options. To match with your vacation home decor, we suggest going for palm fronds, a minimalist Scandinavian look, or even an Egyptian Revival print for those who want a serious dose of glamour.
2. Embrace Air Plants
We know that, by the time you get to your second home, you're likely already plenty relaxed.
However, sometimes, vacations can be stressful -- especially if you have a large family to take care of!
If you're on the hunt for home decorating ideas that will help to keep you relaxed, add a pop of green to any room, and even improve your overall air quality, then invest in some air plants.
Because they require so little care, you won't need to worry about them dying when you're not in your vacation home for a few weeks.
Additionally, you'll have tons of options when it comes to how to display your air plants. Pick up a few transparent glass orbs and hang them from the ceiling. Buy a wooden footstool and place a few plants on top, the perfect accent for the bathroom.
Or simply pick up some colorful pots and vases to match the decor in the room where you choose to hang the plants.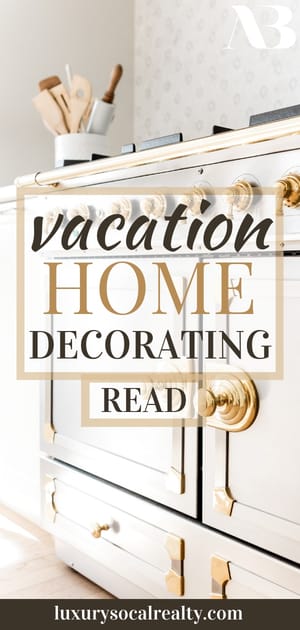 3. Use a Bar Cart
When you're browsing through design magazines to collect ideas for home decor, you've probably spotted one of the most popular pieces of second home furniture: the bar cart.
Whether you choose to go for a Hollywood Regency look with brass hardware and mirrored surfaces, or if you'd prefer a wooden, Mid Century Modern design, there are more uses for bar carts than just liquor storage.
We love the idea of using the cart to display your family photos, or even as an upgrade on traditional bathroom organizers. You can use bar carts as plant stands, or as a place to store extra glassware and plates.
Of course, we know that, especially when it comes to your second home, you can never have too much gin or vodka. To make storing your liquor look a little more elegant, pick up a few crystal decanters and transfer your favorite spirits out of the bottle and into them.
4. Select the Right Materials
While the majority of home decor is certainly focused on finding pieces and patterns that appeal to your aesthetic, you also need to think practically.
This means that, when you're considering redoing the countertops or the flooring in your second home, you need to think about the wear and tear you can expect it to receive.
For example, if you need a countertop material that can take a lot of heat and is resistant to scratches, invest in some granite.
However, if your kitchen is more for looks than actual use (thank you, takeout) then you can select a more delicate material, like mosaic or ceramic tile.
When you're trying to choose the right materials for your walls, floors, and countertops, be realistic about the kind of abuse they'll need to be able to take.
If you have a family of five and a dog that loves to track dirt into your home?
Then white carpeting really isn't the way to go. You'll be better off with a more durable hardwood or tile instead.
5. Create an Accent Wall
So, you want to change up the look of a room in your second home, but you don't want to have to spend a ton of time and money on it.
The solution is to create an accent wall -- a single side of a four-walled room that's painted, covered in wallpaper, or even texturized in a different way than the rest of the room.
An accent wall is also an excellent way to call attention to a special piece of furniture or highlight a unique painting in your home.
And if you have children that have been begging you to let them paint their room lime green? An accent wall is the perfect compromise -- and one that's easily painted over when your little one's taste becomes a bit more grown up.
6. Go for the Bold
One of our favorite ways to spice up the look of an otherwise drab room in your second home (or cover up a stain or scratch in two seconds)
Invest in a beautiful accent rug in a pattern that speaks to you and compliments the vacation home decor you've already created. Don't be afraid to select a bold option with tons of colors here.
Think a rug with threads of hot pink, deep electric blues, or even beadwork on the ends. Remember that rugs don't always have to belong on your floor.
They're also an incredibly easy way to fill lots of blank wall space.
You can usually find one-of-a-kind, eclectic pieces at your local flea market. Plus, taking your family and friends out for a day of scouring for treasures is the perfect way to spend an easy afternoon.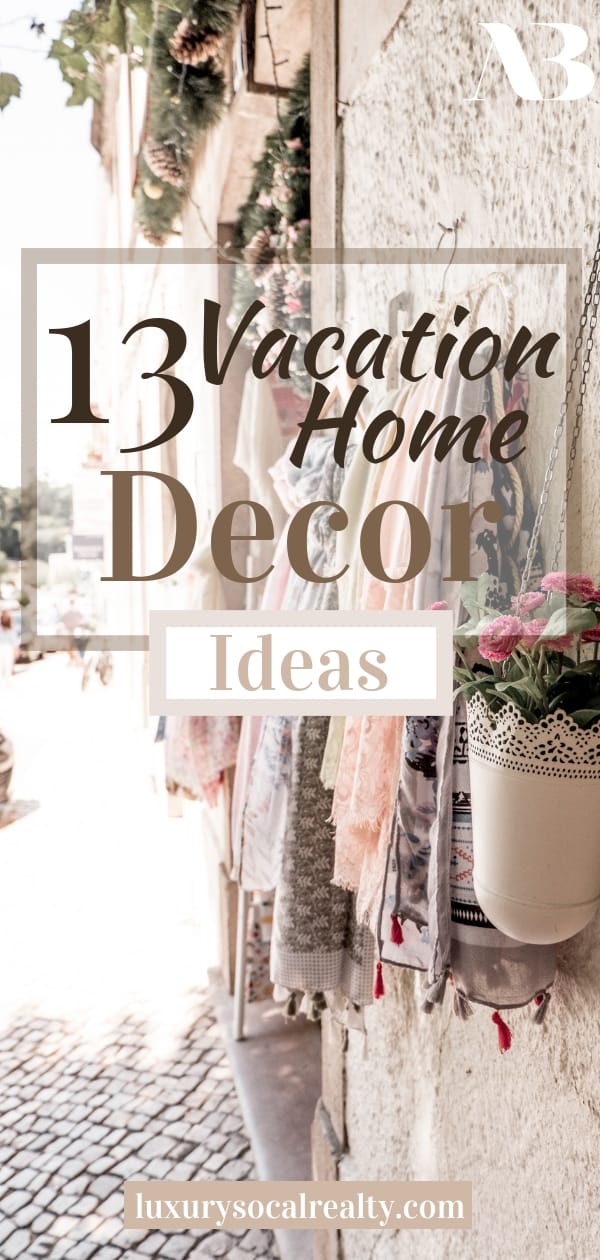 7. Make Something Old New Again
Looking to switch up the look of your second home furniture?
Try reupholstery, the perfect way to make a found object or a dated piece look brand new.
Because fabrics can be easily changed to reflect the design styles of the moment, this is one of the places where it's safe to go with a trend. Once the look becomes less popular, you can reupholster again, making over your room with a single switch.
8. Try a Funky Chandelier
So many people end up focusing on wall art and furniture accent pieces, that they forget all about one of the best ways to change the look of a room: with a chandelier!
This is the perfect way to mix up different design styles without making a room look messy or simply confused.
When you're shopping for a chandelier, remember to scale it to the size of the room it will end up in. After all, an enormous crystal fixture would look fairly ridiculous in your half bathroom.
However, it might be perfect if you hang it above the table in your spacious dining room.
9. Work With a Local Artist
When you're creating a look for your second home, it's important that you reflect the local culture. However, leaning into a tropical theme too heavily can quickly make your place look like a theatre set, and not a home.
When you're looking to strike the right balance, meet with a local artist and commission them to create a painting of your favorite farmer's market, a character at a local bar, or even your secret beach spot.
Plus, working with a local artist ensures that you'll get exactly what you want.
10. Create Multiple Spaces with Screens and Dividers
Even if your second home is incredibly spacious, at some point we're willing to bet that it will start to feel cramped.
Maybe you're planning to expand your family. Maybe you've invited a huge group of your girlfriends to join you for a weekend away.
Maybe you're just interested in sectioning off part of your bedroom and turning it into a nook where you can do some yoga in peace.
This is where room dividers and screens can come in handy.
Not only are they often beautiful works of art (especially if you can find a hand-painted or vintage option) they also let you do a lot with a smaller amount of space.
11. Rely on Natural Lighting
When it comes to vacation home decor, you need to be sure to arrange your second home furniture in a way that will allow as much natural light as possible to creep indoors.
This isn't just a wonderful way to keep your mood high while you're on vacation.
It will also help to open up the look of smaller rooms, actually making them appear larger than they are. Plus, it doesn't exactly hurt that using natural light instead of tons of lamps and overhead lighting will save you some serious cash on your energy bills.
Don't be afraid to play around with colorful indoor shutters and shades in order to manipulate the way the natural light hits a room.
12. Don't Forget the Little Things
When you want to add more color, play around with textures, and update the look of your second home furniture without having to buy a new piece, what should you do?
Before you take that sofa out to the curb, pick up a few new accent pillows and blankets to drape over the back of it.
Instead of going for a predictable pattern or color, don't be afraid to take a risk here. After all, these little details are what can really tie a room together!
Give sequins, skins, furs, or even leather accent pillows a try.
13. Always Evolve
Our final tip for getting your vacation home decor right?
Remember that you're never really "done" with a room or space.
We know that, especially once you've invested in a second home, it can be tempting to want to finish with the interior decoration and design as soon as possible.
However, rushing the process means that you'll likely end up with items that don't really compliment one another -- or pieces that you don't love.
Instead, focus on investing in a few pieces every year. This will also help you to add character to your home, and to ensure that everything in it is a reflection of the owner's aesthetic and personality.
Looking to Find your Dream Second Home?
We hope that this list of some of the top home decorating ideas has left you feeling excited and inspired to start decorating your second home.
Of course, you may still need to find your perfect vacation home!
No matter the lifestyle that you want to embrace while on vacation, your price point, or even the location that you'd love to live in, we want to help you to find the home that's right for you and your family.
Spend some time on our website to learn more about how we can connect you to the luxury vacation home you've always dreamed of owning.
More helpful resources include: Top Kitchen Remodeling Trends 2018, The Importance of Getting Permits For Additions and Improvements, How To Buy a Fixer Upper, 8 Tips for Buying a Luxury Home, Environmental Issues That Can Affect Real Estate, and Condominium Terms You Must Know When Buying A Condo.
When you're ready to view some of our properties or meet with an agent, reach out to us today.