Tiny Homes For Sale San Diego
Posted by Robert & Joy Aumann on Friday, October 19, 2018 at 12:41 PM
By Robert & Joy Aumann / October 19, 2018
Comment
Tiny House For Sale San Diego
Research real estate market trends and find Tiny Homes For Sale San Diego. Search for newly listed homes, open houses, recently sold homes, and recent price reductions. To change how the search is displayed, click the gray button next to "Sort" to display houses by price, number of bedrooms, or days on the market.
*Be sure to register for a free account so that you can receive email updates whenever new tiny house listings come on the market and if you're in the market for a home today, reach out now for our exclusive off MLS pocket listings!
Available Tiny Homes In San Diego
1. It Feels Like A Permanent Vacation
If you've never lived on the beach before, I can tell you firsthand that it's one of the greatest places you can possibly live. There's something about the salt in the air and sound of the ocean that instantly relaxes you. Not to mention the fact that your work schedule will no longer get in the way of the time you want to spend lounging on the beach. When you can walk to the beach, it's easy to find a little bit of daylight during the week to sit on the sand. Each day will feel like you're on vacation and you'll start to wonder why you waited so long to move!
2. You Can Rent It Out For Additional Income
When it comes to finding places to go on vacation, the beach is always the number one spot. Having a tiny beach house will ensure you that you'll always be able to make money from it by renting it out. If it's your vacation home, you can rent the house out when you're not there. If it's your permanent home, you can rent it out while you're on vacation. The best part about buying a house close to the beach is that you'll always be able to get a return on your investment.
3. You Will End Up Spending Less Money On A Tiny House
Whether you build your own tiny beach house or buy one on the market, you'll spend far less than you would on any other vacation home. Using salvaged materials, which is a common practice in the tiny house community, will also help to bring down the construction cost significantly. The average cost of a tiny house for those into DIY projects is just $25,000 to $30,000. That's a great deal compared to what's on the market today. If you're building your tiny house from scratch, junkyards will become your best friend. There you'll find siding, sheet metal, and other items you can repurpose for your tiny house. Here are some examples of items people have salvaged and used during construction:
Storage containers
Old sheds
School buses
Boxcars
Train cabooses
Doors
Metal piping
Windows
Roof shingles
Trailers
Light fixtures
If you're not looking for a project like this one, these days it's fairly easy to find a tiny house for sale or have one built on your beachfront property. A mortgage for a tiny house will leave you with a lot less debt. Either way, you can expect to pay far less than you would for any other kind of vacation house.
4. Tiny Houses Are Cheaper To Maintain
Unlike most home styles, a tiny house is far cheaper to maintain. Simply because your house would be smaller, you'll be saving on heating and air conditioning, electric, and water bills. Not to mention the fact that you won't feel compelled to go shopping when you only have a few hundred square feet to work with. Beach houses tend not to have any grass, but if yours does, it won't need to be trimmed as often. Even major repairs and updating such as roofing or new floors will always be affordable.
5. You'll Always Have A Place To Go For A Weekend
If you spend most of your time during the week in an overcrowded city or residential neighborhood, it's only logical to want to flee to a place of nature on some weekends. For me, heading to the beach forces me to shut off my brain and allow my body to recharge for a bit. When you have a house that is just steps from the ocean, you can leave your cell phone and laptop behind and allow yourself to disconnect for a while. If you close enough to your tiny beach house, every weekend can be a vacation for you.
6. Less Space Makes Clean Up Quick
When you live in a tiny house, everything you own has a designated spot. It could be hanging on a hook on the wall or folded in a basket under the couch. Either way, it is a necessary practice for those in the tiny house community as space is limited enough as it is. This not only makes cleanup a cinch but reduces the build-up of clutter. If you're one to spend your Saturday afternoons cleaning the house, then going tiny will not only save you the headache of this weekly routine, but it'll give you back this time. Suddenly you won't know what to do with yourself come Saturdays!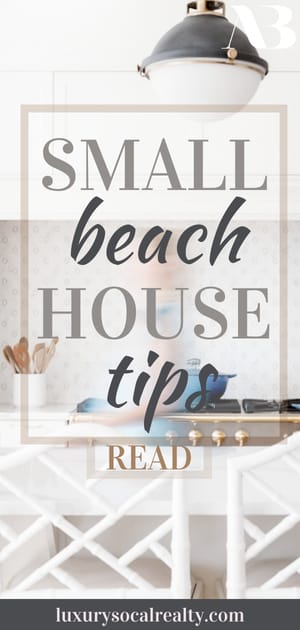 7. It Can Become Your Retirement Home In The Future
You might not be thinking about retirement right now, but many people who purchase vacation homes keep that in the back of their minds. Investing in a tiny beach house now will allow you to enjoy it at times, but rent it out when it's not in use to help you pay it off. Since tiny houses are far cheaper than others, you'll be able to do this in no time which makes it an excellent option for those nearing retirement without a plan. Also, with utilities and maintenance being so cheap for small homes like this, many people are able to retire early or take up a more creative line of work.
8. Tiny Houses Are More Environmentally Friendly
Our homes and apartment buildings are the number one cause of greenhouse gas emissions, which causes climate change. The country may be split on whether or not global warming is real, but for the sake of everyone else who shares this planet as well as our future generations, it wouldn't hurt to be more energy efficient. Due to their sheer size, tiny houses are far more eco-friendly than other homes. They keep in line with this theme by encouraging the use of repurposed and recycled materials during the building process. Here are a few ways tiny houses are better for the environment:
Can be heated using a wood burning stove
Use little or no electricity
Often solar powered or use wind turbines
Built using salvaged or recycled materials
Can be made to use compost toilets
Less construction waste
Less lumber used during building
9. Fewer Possessions Means Less Stress
Most people go through life collecting things. Whether you enjoy buying clothes, shoes, books, musical instruments, or even cars, having a smaller space forces you to downsize quite a bit. While this process can be daunting at first, it is incredibly liberating in the end. It gives you a new perspective on what is truly important to you and encourages you to spend your money on experiences rather than possessions. Studies have shown that clutter often leads to anxiety and stress, and that downsizing to a smaller space with only the bare essentials can significantly help. Licensed Clinical Professional Counselor, Joyce Marter explains saying:
"By purging unneeded items from our homes, it is like deleting files to create disk space on your computer. Suddenly, the whole operating system is more efficient… this decreases stress and increases your effectiveness personally and professionally."
10. Less Decorating
If you're anything like me and have no interest in looking at color swatches of potential paint colors and dozens of carpet samples, then a tiny house is exactly what you need. Tiny house decorating is simple because there's less of it. You simply won't have the room to hang a ton of artwork, for sculptures or indoor plants, and certainly not for that accent chair so many people have these days. When you're working with such a small space, less is more. You'll save time and money on decorating your tiny beach house.
11. Take Your House On The Road
Anyone familiar with the tiny house community knows that one of the perks of building these kinds of structures is having the option of constructing it on wheels. This allows you to tow it around the country without actually leaving home, which is considered a perk for many people. If your beachfront property permits a parked tiny house on wheels, you can have the freedom to hook it up to a truck and hit the road whenever you please. Drive up and down the coast and enjoy dozens of other beaches without ever having to pack a bag.
Buying a San Diego beach house is hardly a small decision, but you can now rest easy knowing the benefits of choosing a tiny beach house over anything else on the market. While tiny living isn't for everyone, it certainly does free up a lot of one's finances so that they have the option to spend their money on other things. Think about all the traveling you'll be able to do and concerts you'll be able to see without having a huge mortgage and utility bills weighing over your head. Take a chance on a tiny beach house and find the ideal location for your permanent vacation now!
-written by Rose Burke with Tiny House Society