Things to Know Before Moving to San Diego
Posted by Robert & Joy Aumann on Tuesday, July 14, 2020 at 7:15 AM
By Robert & Joy Aumann / July 14, 2020
Comment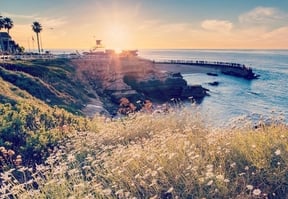 San Diego is the land of golden beaches, gorgeous weather all-year-round, and a thriving culinary scene.
It's a no-brainer why you want to move to "America's Finest City" but is there anything you need to know beforehand?
Don't worry, we've got you covered. Here are the top things to know before moving to San Diego.
1. The Weather Is Actually Perfect
Once you relocate to San Diego, you'll be spoiled weather-wise. The annual average temperature is 64 degrees Fahrenheit, with an average high of 69 and an average low of 57.

Think of it as a cross between a Mediterranean climate and a semi-arid one. Now you can ditch your winter gear, and soak up the famous Californian sun.
2. Industry Hotspot
San Diego is home to many thriving industries such as tech, biotechnology, and healthcare. Because of this, San Diego is attractive for recent graduates who want to thrive in these areas.
And a fabulous result of San Diego's innovative tech industry is the free wi-fi available across the city.
3. Great Public Transport
Most San Diego residents use personal transport as there's an extensive network of highways and freeways.
But the city also has a Metropolitan Transit System with trolleys, light rail, and bus services. Once you move, invest in a Compass Card which is San Diego's smart transit card or you can access ticketing through their app.

Or after relocating to San Diego California, follow the sprawling bicycle route to explore the city for a greener option.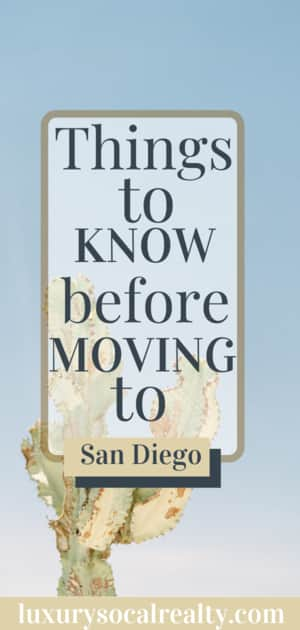 4. Fantastic Neighborhoods
No moving to San Diego's advice is complete without a rundown of the most desirable locations. Including:
La Jolla
Otherwise known as "The Jewel" of the West Coast, La Jolla has some of the most magnificent coastlines in the state, alongside the most luxurious homes.
In La Jolla, you're within walking distance from fashion stores, art galleries, all while drinking in expansive views of the ocean.
Point Loma
On a luscious, hilly peninsula between the San Diego Bay and the Pacific Ocean, is Point Loma. This bayfront community lets you view the shimmering ocean and the lights from Downtown, as it's only five minutes from the city's main attractions.

Despite its fantastic location, Point Loma has a suburban feel which is perfect for those who want to live in a quieter neighborhood. And it is also home to the best Christian universities in the country.
Sunset Cliffs
Slightly further north of Point Loma is Sunset Cliffs, a charming town of homes that date back to 1935.
Sunset Cliffs draws its name from the sharp cliffs that line the neighborhoods and ocean while offering stunning views and great surf.
Carmel Valley
If you're after a more suburban-style neighborhood, consider Carmel Valley. Famous for its hiking, equestrian trails, and community parks, Carmel Valley San Diego 92130 also has an array of wineries and art galleries for locals to enjoy.
Rancho Santa Fe
Often ranking in Forbes' annual list of most expensive places to live in the U.S, you can't deny Rancho Santa Fe's alluring qualities.
Rancho Santa Fe has great schools, gorgeous equestrian trails, and spectacular properties. And even though it's only half an hour away from Downtown, Rancho Santa Fe feels like it's nestled away in the countryside.
5. Brilliant Schools
San Diego has 200 schools including 28 high schools, 45 charter schools, and over 100 elementary schools. The most notable private institutions are The Bishop's School, Pacific Ridge, The Grauer School, and St. Augustine High School, among others.

If you're interested in higher education, there are many reputable establishments such as the University of San Diego, San Diego State University, and Univesity of California San Diego.
6. Embrace the Culture
One of the most exciting things to know about San Diego is the diverse cultural options. Foodies must rejoice at Little Italy for its authentic cuisine and head to the Gaslamp Quarter, famous for its sophisticated nightlife.

You must also visit the city's Museum of Art, Natural History Museum, and the Museum of Photography Art to see the best of local and global talent.

San Diego also has a massive craft beer scene, in fact, there are over 100 microbrewers in the greater San Diego area alone. And if you don't drink, there are plenty of coffee and juice options too.

And there's a no better place to enjoy California's beaches than heading to La Jolla where you can surf, dive, snorkel, and kayak, making it one of the top spots in San Diego.
7. Enjoy the Annual Events
San Diego is home to one of the largest Comic-Cons, attracting both characters and celebrities. You must also stay in San Diego for Halloween and El Día de Los Muertos to celebrate Mexican tradition.

There are plenty of events throughout the year too such as outdoor cinemas, surf championships, and Del Mar Horse Racing.
8. Visit Mexico For the Day
Another perk about living in San Diego is its proximity to Mexico. Head South of the Border for a day to experience the country's food, art, and culture.

You can even feast on authentic Mexican food in San Diego thanks to the sizable Mexican-American population that lives there.
These Are the Things to Know Before Moving to San Diego
Those are the most important things to know before moving to San Diego.

In San Diego, there's a neighborhood to align with every family and their needs. Whether it's a stunning property on La Jolla's coastline to the renowned Rancho Santa Fe, you can enjoy the spectacular scenery while being close to the city's amenities.
Looking for your new home in San Diego? If yes, we'd love to help you. Contact us here for further details.