Small House Decoration (Home Decor Ideas For Small Homes)
Posted by Robert & Joy Aumann on Saturday, September 1, 2018 at 7:37 AM
By Robert & Joy Aumann / September 1, 2018
Comment
Interior Design Ideas For A Small House: Decor Guide for a Tasteful Look
You may live in a tiny house, but this doesn't mean that you can't decorate it to look as luxurious as any celebrity's mansion. You just need to explore as many options as possible until you discover which ones suit your home the best. In order to help you make the right choices and turn you average-looking house into a symbol of sophistication and good taste, we've prepared a special décor guide for tiny houses. Take a look and may the redecoration process begin!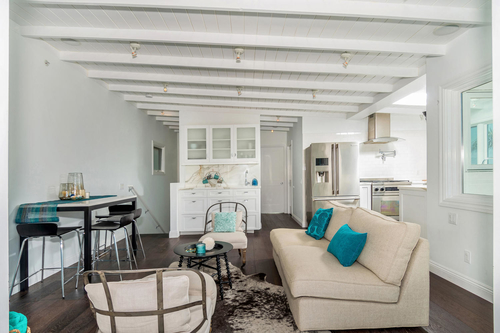 1. Keep it decluttered
First things first, if your home is small, you aren't allowed to be a hoarder. In other words, instead of keeping all those items that you haven't used for more than a year, you should immediately get rid of them. For instance, you can organize a garage sale to sell your old furniture or donate it to a nearby homeless shelter. Only when you manage to clear all the mess and throw out the useless stuff will you realize that your house is much bigger than it seems and that you have a lot of space for improvisation and innovative decor solutions.
2. Add architectural details
The best way to start remodeling your tiny home is from the outside. Just because you have to be careful when dealing with the interior of the house, it doesn't mean that its exterior should be devoid of character. On the contrary, you should think outside the box here and invest in modern architectural details like a decorative roof, gable and dormers. They will make your small house look like any other normal-sized one and improve its curb appeal significantly. After all, your home's exterior is what plays a crucial role in creating an inviting first impression.
3. Make the best of the indoor-outdoor connection
Due to the limited interior square footage, one should make good use of outdoor space and connect it to the inside in the best possible way. For instance, you can install a glass sliding door together with huge glass panels so that it will seem as if your living room was spreading into your yard as well. However, apart from creating an illusion of spaciousness, this arrangement is extremely practical as well since you can easily reach your backyard and even use it as an additional room during the summer. All you need to do is bring out a couple of cozy folding chairs, a coffee table and a few beanbags, or go a step further and build a small mini-bar and a kitchen. We guarantee you that this will add that special feel to your house and make it look absolutely luxurious.
4. Opt for the right colour palette
Colours can have a powerful role in interior design since they help set the general mood of the space. So, if you want your tiny home to look like a real palace, we advise you to take this decision seriously and experiment with as many different options as possible before you decide which colours are the best for your walls. If you don't know where to begin, we would suggest starting with more neutral shades like light grey, beige, eggshell and mint. These colours can be easily combined with colourful furniture pieces and will keep the room bright as opposed to dim ones. This is particularly important to keep in mind since spending a lot of time in small, dark rooms is one of the causes of depression and anxiety due to a constant feeling of claustrophobia and stuffiness. Instead of overwhelming your home with too many strong and vivid tones, you should keep it simple and then introduce them by painting an accent wall or displaying different-coloured home accessories. Don't forget that the simplest solutions are usually the best ones.
5. Invest in efficient storage
Everyone who lives in a small house or an apartment knows how important it is to invest in efficient storage. So, instead of letting your home be constantly messy, try out some creative options. For example, you can try to make good use of every single corner in the house and see every inch as an opportunity to use it for storing your belongings. Just imagine how amazing it would be to install small drawers into your kitchen cabinet toe kicks and thus get more space to store sponges and kitchen towels. In addition to that, installing several hooks on doors may be a smart move since you can use them to hang worn clothes, towels and aprons. Finally, consider this a great opportunity to exercise your DIY skills and build a few shelves on your own. They can be installed in every room without occupying any additional floor space.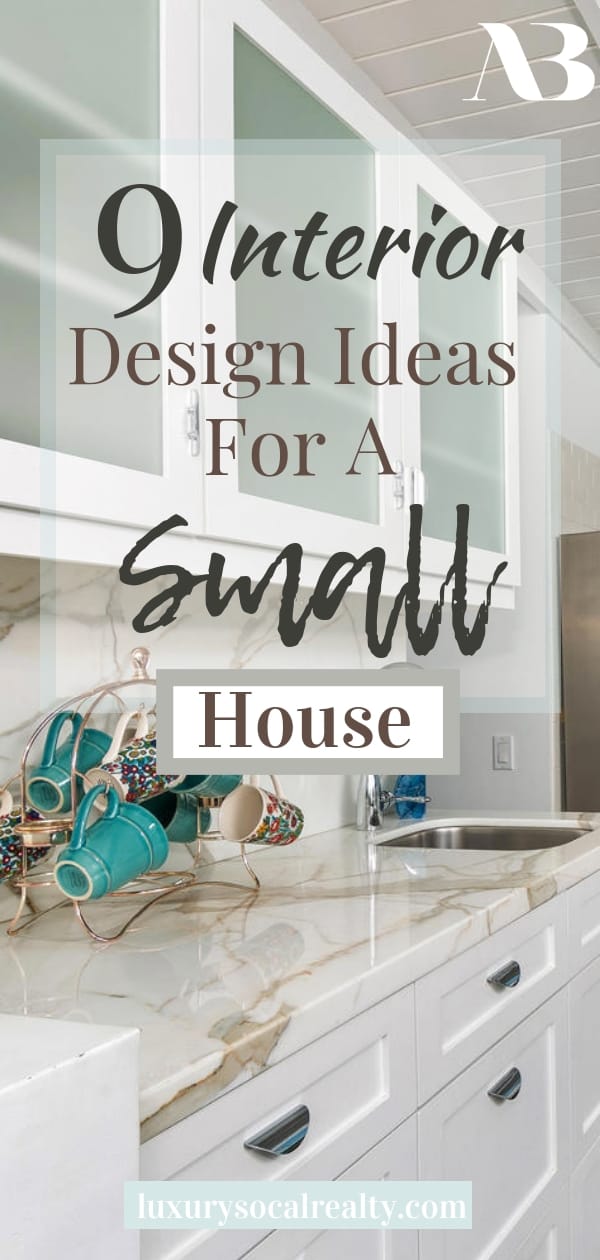 6. Turn your loft into a sleeping area
Just because you live in a tiny house, it doesn't mean that you should give up on having a proper bedroom. On the contrary, you should let your imagination run wild and turn your beautiful little loft into an amazing sleeping area. You can start by searching for quality bedroom furniture online in order to get to know the offer and come up with some new ideas. You should consider getting a bed with drawers in order to provide some extra storage to keep your clothes and socks in. Additionally, when choosing the best lighting options for your bedroom, don't forget to incorporate dimmer switches as well. Owing to them, you'll easily adjust the brightness to your mood and be able to enjoy peaceful evenings tucked in your warm bed. Finally, since there is nothing worse than stepping on the cold floor every morning, don't hesitate to bring in a nice cosy rug. It will make your bedroom look super chic and add that final touch to the luxurious design.
7. Go minimalistic
Minimalism is all about simplicity and avoiding excess, which makes this style the most appropriate one for your tiny home. Instead of overwhelming your walls with too many details which will just produce a counter-effect, you should opt for a more neutral look and choose one bigger art piece. It will become the focal point of the room and break the monotony of monochromatic walls. The same goes for all other home accessories which should be used with caution in order to avoid disrupting the natural flow of the design. For instance, if you want to display your favourite family photos, instead of putting them in kitschy floral frames, go for simple oak ones. They won't attract too much attention and they will definitely speak volumes about your worldly taste. Lastly, you can even be radical and give up on accessories completely. In that case, you can use interesting patterns on your curtains and throw pillows to add a breath of fresh air to the interior and show off your playful side.
8. Let the sunshine in
Hanging a few mirrors here and there is a smart trick to make your house feel bigger. You just need to place them right across the windows so that the light falls directly onto their surface. The same goes for all other shiny elements like aluminum and stainless steel that will bounce the light around and brighten up the entire space. However, if your windows are not big enough to let the sunshine in, all these little tricks and tips will be in vain. Therefore, make sure that your tiny house has as many windows as possible, but be careful not to buy too thick curtains which will block all the daylight and leave your home poorly-lit.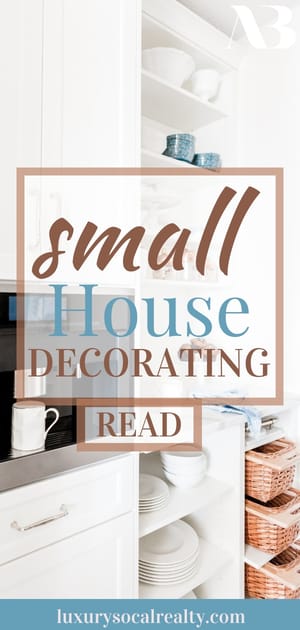 9. Consider your needs
Finally, when deciding on how to design your small home, you must take your needs into account and primarily focus on the most important parts of the house. For instance, if your favourite room is the bathroom, don't be stingy when choosing a nice freestanding bathtub and a beautiful vintage vanity. However, if you're a workaholic and need to have a specially-designed workstation, you can sacrifice your dining area and expand your office even more. This way, you'll have enough space to equip it with a beautiful wooden desk and comfy leather armchairs which will impress even the most demanding clients. On top of that, you can bring in some greenery which has been shown to be very stimulative for the brain and to have a positive influence on one's productivity. Having a huge potted tropical tree next to your desk will bring about some great memories from your summer vacation and inspire you to do your best and work hard in order to meet all the deadlines.
As you can see, the size doesn't matter if you find a way to add a touch of luxury to your small house and make it be absolutely functional and practical. You just need to think rationally, invest in good storage options, buy comfy furniture and choose subtle accessories for the finishing touches. Of course, you should remember that being unique is always welcome, so don't hesitate to show off your creative side and come up with some unexpected solutions. We wish you a lot of luck with your new project and don't forget to enjoy it.
Chloe is a graduated journalist from Adelaide and a regular contributor to Smooth Decorator. She loves everything related to decor, aesthetic and lifestyle topics. She is also passionate about photography. Her biggest dream is to travel the whole world and take some stunning photographs of beautiful places. Beside all this, she enjoys drinking coffee and reading a beautiful book from time to time.