Pros and Cons of Buying a Condo as Your Second Home
Posted by Robert & Joy Aumann on Friday, October 27, 2023 at 4:04:18 PM
By Robert & Joy Aumann / October 27, 2023
Comment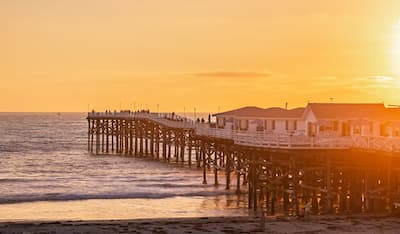 For homeowners looking to purchase a second home, whether as a vacation spot, an investment opportunity, or for the convenience of a pied-à-terre, a condo is often their preferred choice.
Condos are typically more affordable than single-family homes, require less maintenance, and sometimes offer a host of amenities, such as a pool, fitness center, or rooftop deck for socializing. On the other hand, condominiums offer less indoor/outdoor living space, and owners may be limited by rules and regulations.
The pros and cons of buying a condo as a second home are outlined below.
1. Cost
Pro: Affordability
Depending on your location, a median-priced condo often costs less than a single-family home, townhouse, or even renting an apartment — in part, because of its smaller size. When you buy a condo, you're purchasing a unit within a larger building, usually with no land attached to your purchase. You own only the space within your four walls.
Of course, median price and affordability will vary by geography. You can expect to pay more for a condo in a major metro or popular vacation spot that offers culture, entertainment, restaurants, shopping, and nightlife, for example.
A condo's smaller footprint offers a few other advantages, including:
You can typically expect to pay less in property taxes due to a condo's smaller square footage.

Homeowners insurance is generally less expensive for a condo than a single-family home — as you only need to insure the inside of your home.

Smaller living spaces are easier to furnish and maintain.
Con: HOA and maintenance fees
As a condo owner, you'll pay a monthly homeowners association fee (HOA) which pays for things like essential building maintenance and repairs, cleaning and upkeep of common areas, landscaping, and snow and garbage removal, among other services. In some cases, utilities, water, and Wi-Fi service may be included as part of your monthly HOA fee.
HOA fees can vary widely, in some cases adding more than $1,000 to your monthly expenses. Generally speaking, the more amenities your condo complex offers — think indoor or outdoor pools, security services, a fitness center, entertaining spaces like a rooftop deck or party room, and parking — the higher you can expect your HOA fees to run.
Be aware that HOA fees may rise over the years, especially if the building requires a major repair or a special assessment is approved by the condo board. Usually, a portion of monthly HOA fees are set aside in a reserve to fund such future projects, but you'll need to factor the possibility of this fluctuating cost into your budget.
2. Long-term outlook
Pro: Appreciation
Long-term investments like real estate may fluctuate in value from year to year, but historically, properties appreciate in value over time. Generally, condominiums don't tend to appreciate as quickly as single-family homes — but the past year has been an exception.
The National Association of Realtors reported in February that the median price of condos in the U.S. rose by 2.5% from 2022, while the median price of a single-family home dropped by 0.7%. In addition, 41.1% of condos sold above asking price, up from 24.9% the year before, which speaks to current demand.
A condo located in a high-demand area or popular vacation spot is likely to hold its value over time, as long as the demand for homes in that area remains steady.
Some influences on condominium appreciation include:
Location

Building amenities and maintenance

Walkability and community amenities

High demand and population growth
Con: Resale challenges
All real estate is an illiquid investment that must be sold in order to realize a profit, whether in the short or long term. Reselling a condo is not without its challenges, as condos appeal to a specific type of buyer, which can be a limited pool, compared to the buying pool for single-family homes. Families with kids are often looking for more square footage and outdoor space, while other buyers may not like the idea of community living.
Monthly HOA fees or special assessments may push some buyers out of the pool if their budget is unable to absorb that financial commitment.
Note that the actions of your fellow condo owners can also affect how resalable your condo unit is. If other homeowners have been delinquent in their HOA payments, or if there are foreclosed or empty units in your building, your own efforts to sell can be impacted.
It's always a good idea to work with an experienced real estate professional to help navigate the challenges of buying or selling property.
3. Rental possibilities
Pro: Potential income
If you're planning to use your second home on a limited basis — only a few weeks out of the year, for example — and your unit will sit empty the rest of the time, you might consider renting out your condo when you're not using it.
You might aim to cover your mortgage, insurance, and taxes by renting out your second place, or possibly generate a more significant monthly income, particularly if the property is located in a desirable location like a beach or mountain town.
You'll need to check your condo association's bylaws to ensure rentals and sublets are permissible in your building and familiarize yourself with any rules, regulations or restrictions.
Con: Willingness to manage a rental property
On the other side of the rental coin is your willingness to become a landlord and undertake the tasks associated with managing a rental property. Finding and vetting renters, ensuring you're compliant with local laws and regulations regarding short-term rentals, dealing with maintenance and repair issues, cleaning and upkeep can be a hassle, particularly if you're not located close to your property.
You can hire a property management company to oversee those tasks for you, but be sure to budget for that expense and know it will cut into your overall profit.
Financially, you'll need to be prepared to lose rental income and cover your costs for the inevitable dry spells when you're without renters. Do you have the financial reserves to see you through if your property needs to undergo a major repair, if there's a natural disaster in your community, or if the rental market is soft?
4. Financial implications
Pro: Tax advantages
Whether you rent your second property to generate income or keep it for personal use will determine the type of tax deductions you're entitled to.
If your second home is limited to personal use, similar to your tax deductions for your primary residence, you can usually deduct mortgage interest on loans up to $750,000, and up to $10,000 in state and local property taxes (SALT) from your gross income. You can rent the second property for 14 days per year or less and still be considered a personal property.
A home that is rented 15 days or more annually is considered a business and eligible for different tax advantages. According to the IRS, you may deduct certain costs for a rental home such as repairs, utilities, advertising, taxes, insurance, and maintenance.
It's worth consulting with an experienced local tax professional, as the intricacies of the tax code can be dense, and vary widely from state to state.
Con: Higher initial costs
Many mortgage lenders view a second property as a riskier loan and therefore often require a higher down payment. Expect to provide approximately 10% upfront for a conventional mortgage, and as much as 20% for a jumbo loan.
You may find that condos in popular vacation spots and other in-demand locations come with a higher price tag. Buyers often forget secondary costs like furnishing their second home, which can average about 25% to 35% of the purchase price.
5. Location
Pro: Convenience
The ability to pick up and head to your favorite vacation spot whenever you feel like it, without having to pack anything makes the freedom of having a second home worth every penny to some people. Using an extra home to store your vacation items is also easy and convenient. And as condos are often found in high-density, popular locations, anyone who wants to live in the heart of a city and within walking distance of amenities like restaurants, entertainment, shops, and transportation should consider a condo as a second home.
Likewise, a second home may make sense if you travel to the same spot frequently for work and would prefer to stay in a familiar space rather than a sterile hotel.
Some families with college-aged children are discovering that investing in a second home in their child's college town not only saves on room and board fees during their child's tenure, but they can often sell after graduation at a profit.
Con: Time spent traveling
Take into account how much you're willing to travel. If your second home is located more than a two-hour drive from your primary residence, or requires a plane flight or two to get there, how much time will you realistically be able to spend there?
6. Comfort
Pro: Amenities
There's no question that the all-in-one amenities that come with many condos are a big part of their appeal. Many buildings have amenities that include indoor/outdoor pools, fitness centers, theater rooms, entertainment spaces, coffee shops, rooftop decks, in-unit laundry, shared green spaces, and on-site security. A parking space included with each unit is a big perk, especially in large cities where parking may be at a premium. Vacation condos may be part of a complex that offers tennis, golf, or marina access.
Con: Lack of Space
On the other hand, condos have a smaller footprint, and storage space is often at a premium. Closet space may be minimal, and although your unit may have access to an individual storage unit, its capacity is usually small.
The lack of a private yard may be too much of a hurdle to overcome for families with kids or grandkids, where sharing limited green space is not ideal.
Access to parking is a nice feature, especially in an urban location where parking can be limited, but often, a deeded garage spot comes with its own price tag and is considered a separate transaction.
Ultimately, if your vision of a second home includes hosting large family reunions or other gatherings, a condo may not be the right fit.
7. Practicality
Pro: Home away from home
A home away from home is ideal for weekend getaways, extended vacations, and time to explore a new community and everything the location has to offer. You're able to customize your space to your tastes and preferences, unlike a hotel, resort, or vacation rental home. When you step into the familiar space, it's exactly the way you left it.
If you're closer to retirement age and want to explore a favorite area to see if it's a place you might like to retire to, a second property is a great way to test the waters and see if it's truly a good fit. After all, a long vacation in your favorite resort town can be a very different experience than living there year-round.
Con: Rules and regulations
When you're part of a condominium association, you agree to adhere to the rules and regulations proposed by the condo board and voted on by the association owners. Rules, regulations, and bylaws can vary widely, from dictating what color the outside of your building is painted to protocols for how common spaces are used.
Some buildings do not allow pets, for example, which is a deal-breaker for those with four-legged family members. Remember, a condo building is a microcosm unto itself. You may struggle with the transition to community living and find the lack of privacy untenable.
8. Time
Pro: Quality time with family and friends
A second home often becomes a sacrosanct place to spend quality time with family, where you can create memories and lasting family traditions. As children become teens, it's a means of staying close and bonding with friends. Some homeowners plan to eventually pass along a second home to their children or grandchildren. Whatever its use, a second home enhances your lifestyle when viewed as a special gathering space for family and friends.
Con: Inflexibility
If you feel obligated to spend all of your available weekend and vacation time at your second home in order to amortize its use against the money you're paying each month to maintain it, you may end up feeling trapped by your investment.
A second home may not make sense if you and your family like to be footloose and fancy-free when it comes to traveling and exploring different places each year.