San Diego vs Orange County (Vacation Homes For Sale)
Posted by Robert & Joy Aumann on Monday, June 26, 2017 at 8:29 AM
By Robert & Joy Aumann / June 26, 2017
Comment
San Diego vs Orange County
The 6 Most Distinct Differences of Purchasing a Vacation Home in Laguna Beach or Newport Beach vs. La Jolla and Del Mar
If you are looking for a second home, it can be hard to choose between La Jolla and Del Mar in San Diego, or Newport Beach and Laguna Beach in Orange County. Each of these exclusive beachfront communities offers its own unique amenities—from Del Mar's horse racing scene to Newport's unparalleled yachting community. Understanding the lifestyle each area offers and how key communities compare can help you find the community that is ideal for you and your family.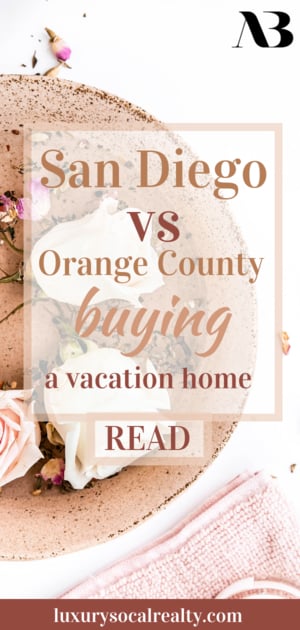 San Diego: La Jolla and Del Mar
Both La Jolla and Del Mar offer upscale options to vacation-home buyers who want to live with quick proximity to Downtown San Diego and enjoy the pleasures of coastal living. Each community offers walkable neighborhoods, world class shopping, and notable dining.
La Jolla "The Jewel City"
Conveniently located 12 miles from downtown San Diego, La Jolla offers both sophisticated urban charms and breathtaking beaches in an upscale community of 47,000 people. Its seven miles of coastline are dotted with striking residences along the sand and bluff. The average price of a home with an ocean view in the most walkable parts of town, La Jolla Shores, La Jolla Village, Bird Rock, and Beach Barber Tract is $3.5 million, while for a condo around $1.5 million.
Among La Jolla's most sought-after neighborhoods are those offering beachfront homes on the bluff and cliffs offering a more diverse ocean view. One is La Jolla Farms, known for its panoramic seaside views and spacious estates on rare half acre to acre+ lots. Homes in the Beach Barber Tract, set against famed Windansea Beach, are also in high demand. It's not uncommon for a Beach Barber Tract property to quietly trade off market through the La Jolla REBA (La Jolla's Real Estate Brokers' Association).
La Jolla Shores, with a one-mile beach known for its gentle surf, flat sandy beach, and grassy park, also offers luxury buyers enticing options. One notable recent sale was a three-bedroom, 2,805-square-foot home on El Paseo Grande, which sold for $10.1 million in April 2017—one of only 22 oceanfront homes in the Shores. Nearby Bird Rock, with its sandstone cliffs, is home to bluff frontage homes just a half mile away from Tourmaline Beach and Windansea Beach. One 3,400-square-foot, four-bedroom oceanfront home on Calumet Ave with a view of Point Loma sold for $6.5M in May 2017. Another brand new construction five-bedroom, 4,359-square-foot residence on Sea Ridge with 104 feet of direct ocean frontage sold for $9.7 million in September 2016.
For those who love outdoor recreation, La Jolla is a popular mecca. Torrey Pines State Natural Reserve, a 2,000-acre coastal state park, lures visitors from around the globe with a variety of scenic trails. For those who love tennis, the La Jolla Beach and Tennis Club, home to a landmark resort, is a popular draw. It serves up a dozen championship tennis courts, a nine-hole golf course, private dining and private beachside service. La Jolla Country Club, meanwhile, has attracted some of golf's legendary players with its scenic 18-hole course.
For arts aficionados, La Jolla's many cultural activities offer year-round entertainment. If you love live theater, you will want to check out the acclaimed La Jolla Playhouse, which stages new musicals and plays on the grounds of the University of California, San Diego. On the fine arts front, the Museum of Contemporary Art San Diego is a major draw. Currently closed for a renovation, it will reopen with a gallery space that is being expanded from 10,000 to 40,000 square feet. Meanwhile, the local organization Murals of La Jolla continues to bring dramatic public art projects to private spaces throughout the community. La Jolla offers a busy calendar of arts events, as well. In October, for instance, the La Jolla Art & Wine Festival, an annual attraction, will feature the work of more than 150 established artists from Southern California and beyond, a family art center, and a wine and beer garden which includes premier wineries and San Diego's top breweries.
Fashionistas never have to leave La Jolla to find the best of luxury retail. The community offers many small boutiques selling everything from designer beachwear to stylish home décor. O'Gara Coach in La Jolla is the authorized dealer of Bentley, Bugatti, Lamborghini and Rolls-Royce. With historic hotels and abundant outdoor cafes, La Jolla is an ideal place for a second home.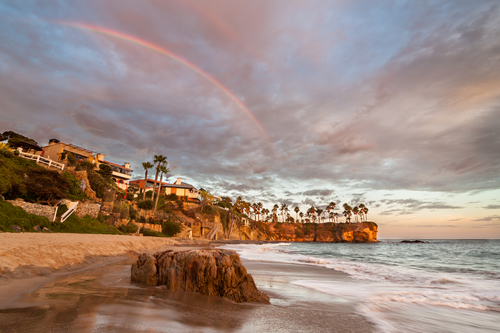 Del Mar "Where The Turf Meets The Surf"
Located about 20 miles north of downtown San Diego, Del Mar is a smaller community than La Jolla, with a population of 4,311. One of its best-known attractions is the Del Mar Racetrack, which each summer hosts the Del Mar Horse Races and often draws Hollywood stars to its Opening Day After-Party. The equestrian lifestyle in both Del Mar and adjacent Rancho Santa Fe involves the San Diego Surf Polo Club, Del Mar National Horse Show, Del Mar Horse Park, Del Mar Thoroughbred Club and all disciplines of riding.
The Del Mar Beach Colony, also known as "The Flats," has the highest price per square foot in all of San Diego. In one notable sale, in December 2016, a four-bedroom beachfront home on Oceanfront sold for $18 million. This calculated out to be $5,142.86 price per square foot for a 2004 built residence. Just north of the Beach Colony in privately gated Sandy Lane, another spectacular, 3,950-square-foot, five-bedroom home traded for $15.2 million in November 2016. For those seeking seclusion and privacy, Olde Del Mar's hilltop homes offer unobstructed ocean views, with larger footprints and larger lots.
As in La Jolla, walkability is a huge benefit to those living in Del Mar north of 10th street and up on the hill behind the Del Mar Plaza. The average price of an ocean view single-family home in the most walkable areas is $4 million, while for a condo it is $2 million.
Like La Jolla, Del Mar offers abundant recreation. It is known for exceptional hiking trails and superb surfing conditions at South Beach. For golf and a relaxing spa day, the nearby Fairmont Grand Del Mar is a popular staycation, with private memberships available. Del Mar also offers many lures for shopping enthusiasts and foodies. With its panoramic ocean views, Del Mar Plaza invites residents to explore three levels of gourmet dining and luxury shopping.
Orange County: Laguna Beach and Newport
With a full 40 miles of coastline to explore, Orange County delivers unsurpassed beauty, with many homes offering spectacular ocean views. Laguna Beach and Newport Beach each offer unique coastal charms. Located both on the sand and bluff, oceanfront homes in Laguna Beach and Newport Beach tend to be priced in the $5 million to $7 million range.
Laguna Beach
Frequently featured in Hollywood films because of its proximity to the movie capital, Laguna Beach is already familiar to many prospective home buyers before they begin their search. Exclusive communities such as privately gated Emerald Bay, where Warren Buffet currently has his home on the market, offer many custom-built homes. From the cliff-top houses in North Laguna to the beachfront properties in South Laguna, discerning buyers can choose from many options with distinctive views.
The average price of a single-family home in Laguna Beach with an expansive ocean view is $6.6 million, while ocean-view condos average $1.7 million, according to actively listed properties. For oceanfronts, homes average $16.4 million, while condos average $2.3 million. One eight-bedroom, 6,800-square-foot beachfront home on St. Anne's Drive sold for $13 million in May 2017.
Many of Laguna Beach's three-dozen beaches are found in privately gated communities such as Emerald Bay, Three Arch Bay, and Irvine Cove. There are also many exciting public attractions. Along with its spectacular coves, Laguna Beach's Crystal Cove State Park, spanning more than 2,000 acres, includes more than three miles of beach. Laguna Coast Wilderness Park offers miles of trails and expansive views from the rocky bluffs. One popular event is the Brooks Street Surfing Classic in Laguna, the world's oldest continuing surf contest, more than a half-century old.
Laguna Beach is well known as an artistic community and is home to a wealth of art galleries. Local events include the Festival of Arts, the annual Sawdust Art Festival, and the long-running Laguna Art-A-Fair. Laguna Beach is also home to one of the West Coast's longest operating theaters, the Laguna Playhouse. The Laguna Beach Music Festival is a popular event that draws both residents and tourists with live music. When it comes to shopping, the historic HIP (Historic & Interesting Places) District offers an eclectic mix of art galleries, eateries and shops.
Newport Beach
Known for its vibrant yachting scene, Newport Beach offers enthusiasts access to dramatic estates with private boat slips along the Newport Beach peninsula. Custom homes, just steps from Balboa Pier, line the beachfront, offering views of Catalina Island.
Prices are similar to Laguna Beach. Among active listings, the average price of an oceanfront home is $6.8 million; for a condo, it is $1.8 million—though there is only one for sale at the moment. Buyers paid nearly $10.9 million for a four-bedroom 5,314-square-foot estate on East Ocean Front in May 2017. A five-bedroom, 6,587-square-foot house built for Robert and Shirlee Guggenheim on Linda Isle, sold for $9.7 million in February 2017.
An important part of the social life in Newport Beach revolves around the yachting community. The Newport Harbor Yacht Club, among the largest recreational boat harbors in the world, hosts yearly international and national regattas. Another popular event is the Newport Boat Show.
Big Canyon Country Club in Newport Beach offers expansive homes, many of which back right up to the stunning 18-hole golf course. The Newport Beach Country Club has idyllic views of the ocean and bay, an 18-hole course with a stunning clubhouse and plentiful social opportunities. The Newport Beach Tennis Club includes 20 lighted courts, fitness, swimming and more.
Newport Beach's cultural scene is equally vibrant, thanks to a community that generously supports the arts. For fine arts enthusiasts, the Orange County Museum of Art, known for its contemporary and modern selections, and the city's many art galleries, are popular attractions. Focused on enriching the culture of the community, the Newport Beach City Arts Commission organizes an annual series of Concerts in the Parks and productions of Shakespeare by the Sea. The Newport Beach Civic Center also hosts many concerts. The Newport Beach Film Festival adds to the mix.
For shopping devotees, Fashion Island offers an enticing stroll among trendy shops in an outdoor oasis wit, while the landmark Balboa Pavilion in Newport Beach provides refreshing dining options.
Whether you choose a second home in the San Diego area or Orange County, it is hard to go wrong. Both areas offer an array of exceptional homes with unforgettable views. They key is to identify a wish list and budget, and get in touch with us so we can begin the journey to finding you the perfect vacation home.
Need More Information as a buyer?
If you're having thoughts of buying or selling, please do not hesitate to contact us with any questions or to begin your househunting process. We look forward to hearing from you and welcome the opportunity to help you find the home that best suits the needs of you and your family.