San Diego vs Los Angeles - Which SoCal City is Best?
Posted by Robert & Joy Aumann on Wednesday, March 11, 2020 at 12:19 PM
By Robert & Joy Aumann / March 11, 2020
1 Comment

San Diego vs Los Angeles
Los Angeles and San Diego are both known to feature beautiful landscapes, great weather, and diverse populations. But what makes both of them different?
Both of their respective lifestyles, cultures, and climates differ in meaningful ways. In this article, we'll be doing a deep dive into the many differences between Los Angeles areas and San Diego neighborhoods. First up: lifestyle.
Lifestyle
While each city offers a plethora of amenities and things to do, Los Angeles and San Diego offer considerably different lifestyles. Those who are looking to live out the most exciting lifestyle possible will gravitate towards Los Angeles, whereas those who are looking to maximize their quality of life will opt for San Diego.
Los Angeles offers the unparalleled opportunity to live in the "Entertainment Capital of the World" that is one of the most happening cities on the planet. Los Angeles is a place where everyone seemingly has a side hustle or is trying to "make it". You will find no shortage of people trying to reinvent themselves or break into the entertainment industry. Put simply: Los Angeles is the quintessential American city for those with rose-tinted glasses.
However, your lifestyle in Los Angeles will be significantly impacted by both income and traffic. Living in an area that is walkable while also being close to your work can be incredibly expensive. As a result, the average Angelino spends 128 hours in traffic a year - that's over three workweeks a year! Angelinos often have to plan their meticulously plan their days in accordance with traffic. It also doesn't help that Los Angles drivers are among the worst in the nation.
On the other hand, San Diego is a much more tight-knit community that offers a lower cost of living, less traffic, and a more relaxed vibe. Despite having a population of over one million, San Diego still retains its small-town ambiance and accessibility. One study even ranked San Diego as the best commuter city in the United States.
There's a fantastic example that illustrates the differences in livability between the two cities. In San Diego, the drive from the beach to Downtown can be accomplished in about 15 minutes. In Los Angeles, that same drive could take well over an hour.
While many can be exhausted by the frenzy of LA life, San Diego is a low-key alternative that feels considerably more suburban. The people are generally considered to be much friendlier as well, with some surveys ranking San Diego as the friendliest city in America. In comparison, a common complaint that some Los Angeles residents can be self-absorbed.
If you're looking to live in an extremely diverse, cosmopolitan, and bustling big city, you are likely going to prefer Los Angeles. If you prefer a more laid-back lifestyle that prioritizes a high quality of life, you'll probably prefer San Diego.
Real Estate
Compared to the average American city, housing is rather expensive in both San Diego and Los Angeles. For example, San Diego homes are, on average, around twice as expensive as some similarized sized cities on the east coast like Atlanta. However, these prices aren't too surprising considering that both cities offer ample job opportunities, picturesque landscapes, a Meditteranean climate, and world-class amenities.
San Diego real estate is less expensive than Los Angeles. In 2019, the median price for a San Diego home was $609,000 whereas Los Angeles clocked in around $870,000. However, this gap has been narrowing in recent years, with San Diego real estate appreciating more precipitously than Los Angeles.
San Diego offers a greater number of beachfront homes for sale compared to Los Angeles, and this is especially true with beach condos.
Looking at the luxury market in San Diego County, inventory tends to hold fairly proportionate with Los Angeles County up until the $3 million price point. Past that price point, Los Angeles features a disproportionate number of multi-million dollar homes. This is due to the greater demand for multi-million dollar luxury properties in Los Angeles, partially fueled by foreign investors.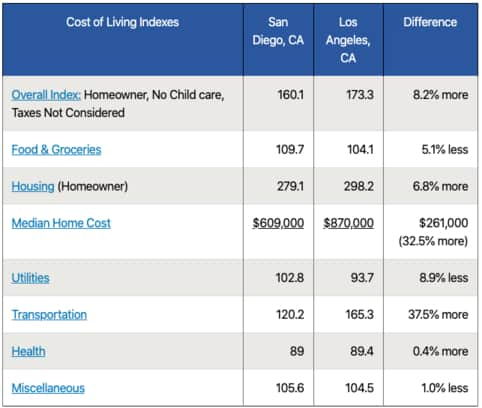 Cost of Living
The above chart references some of the aggregated differences in the cost of living between San Diego and Los Angeles. Keep in mind that the national average for each category is "100". Housing costs are nearly triple the average housing costs in the United States, which heavily skews the overall cost of living index for each city. Generally, the two main expenses you should be worried about are housing and transportation.
Transportation costs run higher than average for both cities because both of them are rather car-centric. This means you'll have to budget more money for gas, car repairs, or Uber. It also doesn't help that California is one of the most expensive states for car insurance.
Amenities
Beaches: San Diego definitely has the edge here. This is not to say that Los Angeles beaches are undesirable, but they are generally more crowded, less clean, and offer fewer opportunities for parking. "Dr. Beach" Dr. Stephen Leatherman ranked Coronado Island as 8th best in the country for 2021.
Professional sports: San Diego features only one major professional sports team: the San Diego Padres. However, their stadium (Petco Park) was named the best Major League ballpark by USA Today. Los Angeles features eleven major teams, including the Dodgers, Lakers, and Clippers.
Food: Let's be clear: both cities have excellent culinary options that will satisfy even the most discerning foodie. Given that San Diego shares a border with Mexico, you'll find Mexican food and microbreweries that Los Angeles can't beat. However, Los Angeles offers a wider breadth of cuisines due to its larger immigrant population. You'll also find a variety of neighborhoods within Los Angeles that exclusively offer certain ethnic cuisines, such as Koreatown, Chinatown, and Little Ethiopia.
Public Transit: While San Diego has been improving its public transportation, Los Angeles has a clear advantage. This is mainly because Los Angeles features higher-density dwellings with less sprawl. Additionally, The City of Los Angeles has been spending many billions of dollars to expand its Metro Rail system.
Nightlife: Both San Diego and Los Angeles feature abundant opportunities for nightlife. However, Los Angeles is considered more of a "party city" due to the entertainment industry's presence in the area.
High-end shopping: Los Angeles has the advantage in terms of upscale shopping. From the ultra-luxury stores on Rodeo Drive to the eclectic boutiques on Abbot Kinney in Venice, the Los Angeles area is internationally known for its upscale shopping.
Airport: While the San Diego Airport is much easier to navigate than Los Angeles International Airport, it offers far fewer direct flights.
Air quality: San Diego's air quality is much better than in Los Angeles. According to the American Lung Association, Los Angeles features more ozone pollution than any other city in America.
Outdoor recreation: This largely comes down to personal preference, since both cities have a virtually endless number of opportunities for hiking, biking, sailing, and surfing.
Culture
It's difficult to definitively pin down the exact culture of Los Angeles because of its sheer diversity. The city features a patchwork of neighborhoods that each have distinct subcultures that may be completely different from a neighborhood just a few miles away. One individual's experience or view of Los Angeles can be wildly different from someone else. Just about every ethnic group hosts a sizeable presence in Los Angeles, including Hispanics, Africans, Armenians, Chinese, Koreans, Japanese, and Filipinos.
One common trait found in Angelinos is their work ethic. After all, the rent isn't cheap! Many people move to Los Angeles for the explicit purpose of achieving excellence within their field, whether it be entertainment, law, medicine, or technology. It's a city with some of the most ambitious and talented people on earth.
The Los Angeles area also features many world-famous cultural landmarks, such as The Getty Center, The Chinese Theatre, Griffith Observatory, and Santa Monica Pier. You also cannot also forget the innumerable number of television shows and movies that were filmed in the Los Angeles area.
Politically, both cities lean to the left, but Los Angeles is more liberal than San Diego. Los Angeles features around 4.4 Democrats for every Republican, whereas San Diego features 2 Democrats per Republican.
As mentioned previously, San Diego's culture is laid back and relaxed. For example, people who move from hectic cities like Los Angeles or New York may feel frustrated when people chit chat in the grocery line. But with enough time in San Diego, they'll find themselves doing the same! While people in Los Angeles may work hard to achieve stardom, San Diegans work hard so they can enjoy another soothing day at the beach!
There are also a couple of distinct subcultures in San Diego that are worth mentioning: craft beer and military service. Brewing has quickly become one of the fastest-growing industries in San Diego, and the county is home to 155 breweries. The city is largely considered the "Craft Beer Capital of the World" and has been a pioneer within the IPA and Double IPA beer styles. Carlsbad San Diego has 9 incredible breweries!
San Diego is also the birthplace of naval innovation and is the home of Naval Base San Diego, which currently houses over 24,000 active military personnel. The area also hosts the largest naval fleet in the world. San Diego has been considered a military town for over 100 years, and this is reflected in annual events like Fleet Week and the Miramar Air Show.
Lastly, San Diego is influenced by Mexican culture due to its proximity to Tijuana. Many local artists and art curators take cues from Tijuana's culture for inspiration and creativity. For example, The Museum of Contemporary Art in La Jolla San Diego promotes art from both sides of the border. This cross-border culture exchange has created a very unique and distinct impact on the culture of San Diego.
Industries
Both economies are buoyed by strong tourism industries and booming demand for high skilled workers.
In Los Angeles, you'll find industries like aerospace, entertainment, fashion, and technology. The City of Los Angeles has been trying to attract more technology companies by promoting the "Silicon Beach" region as an alternative to the Bay Area. This appears to be working as more technology companies like Facebook, Apple, Amazon, Netflix, and Google scramble to gobble up more office space.
There are many high-paying jobs in San Diego within STEM fields. This is especially true in the biotech, engineering, and information technology industries. As you may imagine, there are also many jobs available in the defense contracting industry because of the military's significant presence. San Diego was also rated by a Forbes columnist as the best place to launch a startup.
Climate
Check out the following chart for a broad comparison of the differences in climate: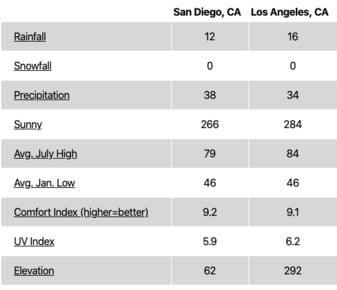 San Diego and Los Angeles both feature a Meditteranean climate with warm summers and mild winters. San Diego runs a bit cooler than Los Angeles despite being located 120 miles south of LA. This is because more of the city is closer to the Pacific Ocean; the city comprises of a lower percentage of inland land when compared to Los Angeles. Therefore, the above chart can be slightly misleading depending on where you live in Los Angeles.
Furthermore, there can be an extreme temperature variation within the Los Angeles area. In the summer, temperatures in the San Fernando Valley can be up to 20 degrees warmer than Venice Beach despite being located just 15 miles away. Nonetheless, year-round San Diego weather is most comparable to Santa Monica, CA.
Crime
San Diego features a much lower violent crime rate when compared to Los Angeles. In fact, in 2018, the city boasted the lowest violent crime rate of the 30 biggest American cities. Los Angeles features about twice the amount of violent crime on a per capita basis.
In terms of property crime, Los Angeles and San Diego both rank among the lowest rates of property crime on a per capita basis.
Conclusion
As we've shown, there are some pretty significant differences between the two most populous cities in Southern California. The best choice for you will likely depend on your desired lifestyle and goals in life. Also, it's hard to go wrong when your two choices are among the most desired cities in the United States!
Are you considering a move to San Diego? If so, I'd love to help you with your home purchase! I'm a local real estate agent with intimate market knowledge of the area. Let's connect today!