My 2022 Sierra Interactive Review
Posted by Robert & Joy Aumann on Monday, May 30, 2022 at 1:26 AM
By Robert & Joy Aumann / May 30, 2022
Comment
2022 Sierra Interactive Reviews
LUXURYSOCALREALTY TOP 10 for the Best Property Detail pages Website Rankings by Realtrends in 2021!
I have over 15 years of experience in google search marketing and online lead gen. There are many lead resellers out there: zillow, realtor.com, and more. You can build an amazing business in many markets paying RE lead resellers. Having said that, I believe in owning and investing in your own lead infrastructure. Having ownership over your own website allows you the control to invest in something you own while building equity in your business.
I built my first website back in 2006 as a mortgage lender in the Twin Cities. The website was instrumental in becoming the #1 MN Housing first-time home buyer lender in the state of Minnesota for 2010 and 2011. I was able to sell my mortgage website in 2012 for it's Google page one rankings.
I now run one of the most successful luxury real estate websites for any team, agent, or brokerage in San Diego using the same principles. luxurysocalrealty.com Google organic traffic per day is around 500+. We consistently close around $250k a year from our self gen leads off of our site.
Through my journey with websites and digital marketing, it's definitely been an up and down journey through trial and error. There's a tremendous amount of metrics and functionality that go into smart decision-making when it comes to selecting a website provider. Fundamentals such as the code, site speed, security, call to action, colors, & navigation, and more determine a website's success. Understanding what website you have can be best compared to buying a car without understanding what's under the hood.
It's important to note that free websites like Wix, Weebly, Squarespace or sub domains from your team leader or brokerage are not a good idea. You will not find these types of sites ranking on page one of google in a competitive industry.
Thank you FitSmallBusiness for featuring luxurysocalrealty.com as one of the 32 Best Real Estate Agent Websites for 2019!
Sierra Interactive Review and Analysis

There were 26 objectives involved in my decision when I selected Sierra Interactive as a platform to migrate luxurysocalrealty.com to. The goal was to have a website that is highly professional, usable, and sticky while attractive to site visitors and search engines alike.
It took me 60 days to migrate all of my content which was around 200 pages and posts from my prior web developer to Sierra. During this time I also consolidated under performing content.
What follows is an indepth advanced user review and analysis of Sierra Interactive after migration on March 19, 2019 - May 2022.
If you're considering Sierra Interactive, reach out any time (760) 212-2717. I'm happy to share my experiences and answer any questions.
Sierra Interactive Pricing
After only twelve months and investing $75,000 with my prior web developer, I received an email that said it was time to upgrade. "Your website will become obsolete in 24 months and your custom work will no longer be supported. If anything "breaks" you'll have to pay for a custom work order."
I believe Sierra Interactive is the least expensive all-in-one option that works well with PPC and organic search results.
Sierra is always adding new functions and upgrades that are automatically transferred over to both "pro site" and "premier site" users at no additional cost. Sierra has rolled out eleven upgrades/updates by June 1st of 2019, and an enormous one today June 3rd. See below under Property Search Experience for these updates.
Leading Edge Innovation
The number one and most important commitment I was looking for in a web provider was continuous innovation and technological advances without charging thousands of dollars or making the infrastructure obsolete after 2-3 years.
Mobile Responsive Design
74.96% of the visitors to luxurysocalrealty.com are on a phone (63.49%) or a tablet (11.47%), therefore our site must be developed to be a fully mobile based solution (not merely a responsive desktop solution). It needs to function equally well on mobile phones and tablets as on laptop and desktop computers.
Branding
The number one reason agents want a website is for branding purposes and credibility. It's important to have an online presence when potential clients google you to learn more.
If your real estate business is catered to an affluent clientele the design aesthetic of your website will be more important to you than if you cater to first time home buyers. Most importantly all website designs should be uncluttered, responsive, and have fast loading times with great usability. After taking a close look at multiple Sierra Interactive real estate agent sites, it was apparent their templates are modern, smooth, easy to-read, with a minimalist, uncluttered design.
Site Speed
One of the first things I always do is take a handful of websites in the developer's portfolio and run them through GTMetrix site speed test. My objective with Sierra was to have a platform with great speed metrics and page load time without having to pay thousands for a custom work order. I had to spend thousands of dollars multiple times each year with my prior web developer for speed optimization.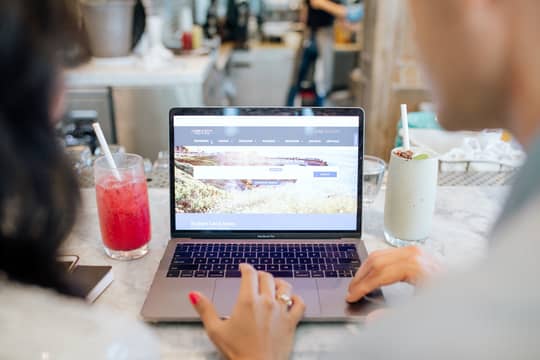 Lead Generation
A large percentage of real estate agents want a website for lead generation. Merely owning a website does not guarantee you'll ever earn $1 with it. You could spend upwards of $10,000+ for a site with high monthly fees and never get one closed deal if the site isn't optimized for lead capture and you don't have a lead gen plan in place.
Some website companies package lead generation using facebook ads and google ppc into the monthly memberships. These websites tend to miss some of the fundamentals necessary to perform well in the search engine results pages (SERPS), and I want my website to be optimized for organic search traffic.
To optimize lead generation on a real estate website there has to be an incredible search experience with fast loading times, and various call to actions throughout the listing detail pages.
Sierra has custom lead registration settings built in with different options for organic traffic versus google/bing ppc traffic.
Social Lead Registration
The lead capture process where a prospect can save a property or create a property tracker account is made easier with both Facebook and Google "click to register" options. This is especially important on mobile where typing out an entire email address is cumbersome.
Lead Source Identification
Sierra will tag your leads so you know if they are coming from social, Google or Bing ppc, or google/bing/yahoo organic results. It's always best practice to be able to calculate ROI from all sources.
Lead Management
The Sierra backend system allows us to view and administer all visitors who create a free Property Tracker account and review any listings they have viewed or saved. The platform also tracks what listings and searches were saved, including statistical data, number of and dates for logins, and the leads contact information.
April 2019 Sierra added email alerts about price changes for our leads "Favorite Properties"
This is how the email alert reads (below) and it's a tremendous addition to our lead conversion efforts.
Hi Todd,
Just a quick note to let you know that one of your favorite listings, MLS #190000000 at XYZ Dr La Jolla, CA 92037, just had a price drop. The price dropped from $3,699,999 to $3,299,900. If you want to see the full listing, just click here.
Would you like to get some more info on this one or maybe go see it in person?
Thanks!
Market Updates
Along with property listing updates you can also create a market update that can be sent with pending and solds data. This is a great agent differentiator assuming your leads are also signed up on some of your competitors websites.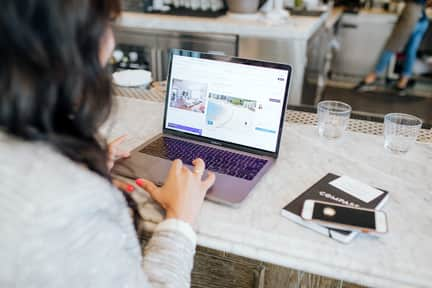 Sierra Interactive CRM
Along with property listing updates you can also create a market update that can be sent with pending and solds data. This is a great agent differentiator assuming your leads are also signed up on some of your competitors websites.
Integration With FollowUpBoss
I have used Followupboss for five years, and highly recommend this CRM to all agents bringing in leads from multiple sources. Early 2019, Sierra published a major update to Sierra's Follow Up Boss integration. Lead communication items now automatically sync from Sierra to Follow Up Boss. You can also queue Follow Up Boss leads (that come from other sources realtor.com, Zillow, Facebook ads, ect) to automatically import into Sierra's backend. One thing to note this does NOT work if your agents and lenders are not present in both systems.
Property Search Experience
Even if your goal isn't to drive traffic to a website for leads, it's best practice to start sending open house prospects and other warm network contacts who are actively searching for real estate your daily listing updates.
If you don't have an incredible search experience your prospects will search real estate elsewhere and your competition will now be marketing to your prospects. Sierra sites provide our prospects an easy-to-use site for finding homes within a fully branded experience.
* New today* June 3rd 2019 Sierra updated the property search experience with a streamlined mobile search experience, more prominent CTAs on property listing detail pages, a better photo view experience on mobile, and dynamically updated advanced search criteria.
There are three call to action spots on desktop above the fold.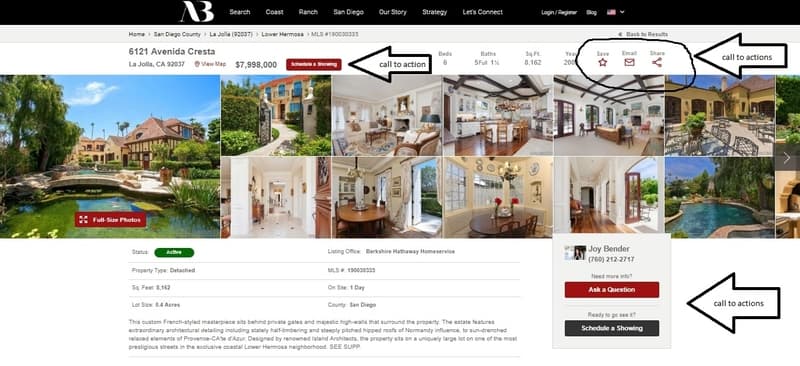 You'll notice in the screenshot below that the save a property, email a property, and share a property remain above the fold at all times as you scroll. There are three map view options aerial, street view, and traditional map.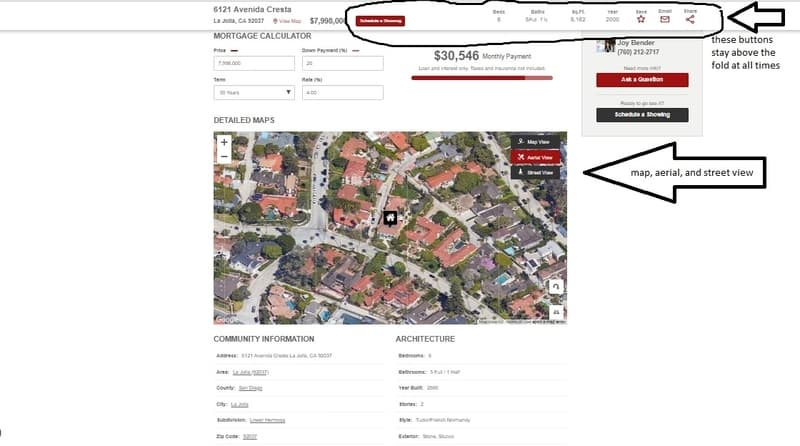 On desktop the ask a question and schedule a showing box remains stagnant as you scroll below the fold. Great Schools and Walkscore populates.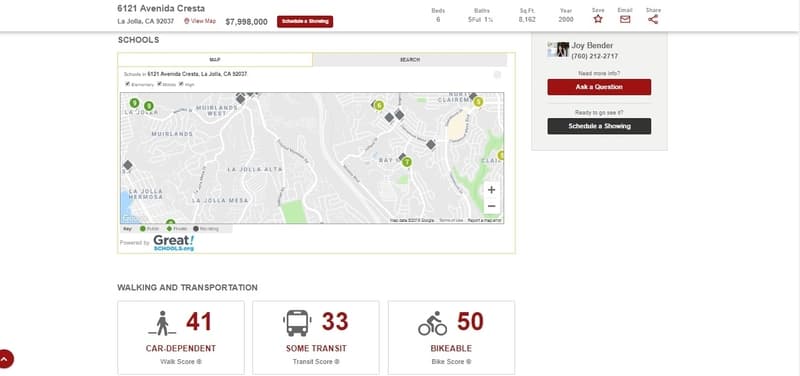 Towards the end of the property detail page there is a second schedule a showing prompt and similiar nearby properties.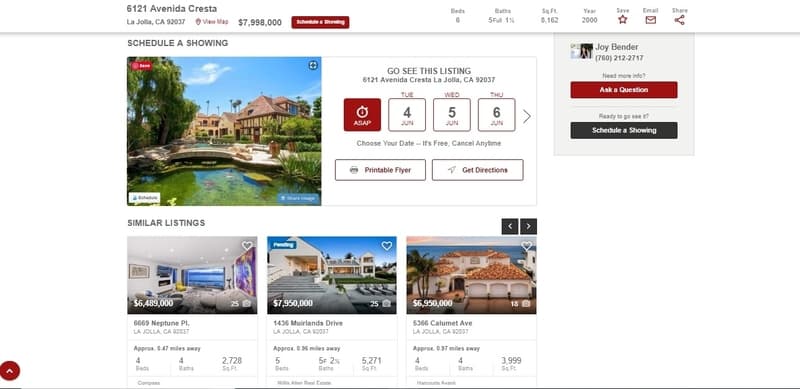 The listing detail pages end with similiar recently sold properties.

Search Functions
Sierra search allows a user to search by area, neighborhood, and a handrawn polygon map, whereupon they can further refine their search with numerous criteria like gated, pool, single story, views, ect. All non-search pages have a quick search tool where visitors can search by MLS number, street number and name, city, subdivision, zip code, and or price. The interactive map search dynamically plots listing information on a Google maps interface where users can drag the map around the viewport to search different regions, view satellite imagery of different regions and even zoom all the way in for a bird's eye view of the property from the air. When available each listing will show Google Street View and Microsoft Bird's Eye View.
Real Estate Blog
I get over 10,000 visitors a month to my blog. It's important that the blog layout is easy to read especially on mobile. The Sierra blog functionality is fully integrated with the site with recent entries appearing as snippets in sidebars on pages outside the blog. SEO functionality includes easily read and optimizable permalinks for each blog entry and each blog entry detail view is optimized for Google, with the blog title keywords included in the URL, the meta-title, and the page's H1 tag.
Social Sharing
Sierra has built in social share and like buttons which are essential to making your content viral. This is imperative becuase even though social share tools like shareaholic, addthis, and sharethis have big juicy attractive share buttons, they create an excessive load on page download, killing your speed metrics.
How Does Sierra Interactive Have Organic Traffic?

SEO Friendly
Other real estate website platforms have extraneous code, for example references to fonts that the website isn't using, and poorly architected page structure. A website with inflated code will adversely affect your crawl budget negatively holding back your SEO efforts. Google can read how a website is coded, hosted, and presented which will affect your rankings.
It was important to me that the HTML construction of the site complies with 2019 standards for search engine compatibility with all page flows, header tags, URLs, images, and other design elements formatted correctly.
One of my primary goals was to increase organic search traffic to property listing detail pages. In order for this to be a reality all listings would need the property address in the URL, meta-title tag, and the page's H1 tag so that all listings will be index-able by Google and bookmark-able by site visitors. I had to pay $12,000 to my prior web site vendor to restructure the HTML of my listing detail pages to logically make them spider-able. I had the Sierra programmers do one custom order to remove from the URL structure /property-search/detail/68/, unnecessary elements to the structure of the property listing detail pages.
Another primary goal was to increase organic search traffic to existing community pages. With Sierra's Content Management Tool we can create neighborhood-specific searches which will include the name of the neighborhood in the URL, meta-title, and H1 tag, which will also include all active listings for the neighborhood included in the HTML of the page. The Sierra platform templates are SEO friendly with clean code and designed to facilitate organic search engine optimization.
Custom Sitemaps
Sierra allows you to create custom sitemaps. The SDMLS has over six thousand listings at all times. Google can still crawl all pages associated with your website, but I like the ability to help prioritize.
Schema Markup
You want your site to utilize Schema markup (semantic vocabulary) for SEO. Schema microdata is code that you put on your website to help the search engine crawlers with additional information and interpret the content of your pages more effectively.
Schema microdata can also be used to define and display your website's content as rich cards or other forms of rich snippets in the search results. Google search console tracks these as "rich results". By looking at the increase in impressions and clicks it's evident that my prior web developer did not have the structured data coded correctly within my page markup.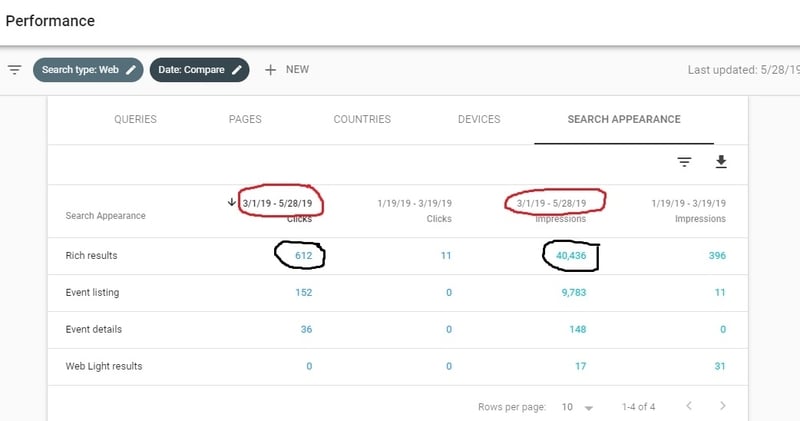 Custom IDX Solution
IDX that is served up as a third party plugin for wordpress sites is not condusive for property listing pages to rank in google becuase the data is coming from multiple hosts. A custom IDX solution like Sierra is hosting all of the data on one server.
A highly customizable IDX is imperative especially if you are building out lifestyle content for long tail keyword searches. Examples of customizations referencing the San Diego market include oceanfront, ocean view, horse property, bayfront, ect.
Custom IDX Search Queries
Sierra created multiple custom search queries to get non-standard data from the SDMLS like "historic properties" "penthouse" and "loft" Because this was a special request it took a few days, but there was no charge.
Site Navigation
I previously spent over $10,000 in custom work orders with my prior developer to create a "mega menu" and other site navigation and hierarchy elements. Sierra gives you both a section manager to create breadcrumbs and a sidebar manager to create quick links intended to lower bounce rate and increase page views.
More Sierra Interactive Features
Single Property Websites
Creating engaging single property websites to showcase your listings on behalf of your seller is a great addition to your marketing suite. Having the ability to create single property sites included with a Sierra subscription was a nice bonus. When creating a single property website with Sierra you can include a description, hi-res photos, a video tour (and / or Matterport tour), floor plans, and a google map all within a mobile optimized and fully responsive single page website. The only additional charge is purchasing a unique domain name from godaddy.
Redirect Tool
To ensure a successful move if you are migrating a site it's important that your new web developer has a built in 301 redirect tool. This will ensure your pages are correctly redirected and you don't lose organic traffic. My prior web developer's pages ended in .php and blog posts ended in .html so I had to carefully redirect every single page and post.
Preferred Lender Integration
We co-market with a preferred lender, and I want him listed on our site. With the agent manager our lender also has his own login so that when I assign leads to him he can monitor their online home search activity.
Sierra Interactive Facebook Group
Sierra has a private Facebook group for members to share advanced best practices to generate more leads & close more deals with Sierra.
User Feedback and Requests
The Request a New Feature page for Manager-level users. We each get 3 votes to vote for a feature that's already been requested or we can submit a new feature request.
PPC Management
Included in the Sierra monthly subscription is complete pay-per-click management on the Google Adwords platform. You select the monthly ad budget and their PPC management team will build out your campaigns. I want 100% control of all ad copy, targeting, and bids so an "all in one website solution" is not a good fit for me.
Are There Any Downsides To Sierra Interactive?
My criticisms for Sierra Interactive are limited. I wish they had a mobile app whereupon we could assign leads in a more efficient manner to team members. I also think a more robust real estate statistics and market data module would be useful. Finally support is not immediate and can take 3-5 days to get a response for (non vital requests). They also don't like phone calls and prefer email requests. There is a backend knowledge base but it doesn't always answer every need especially when trying to implement some of the more advanced features.
Sierra Interactive Results
Comparing the first 60 days with Sierra to the prior 60 days with my prior website provider clicks visits were up 68% and impressions on Google were up 69%.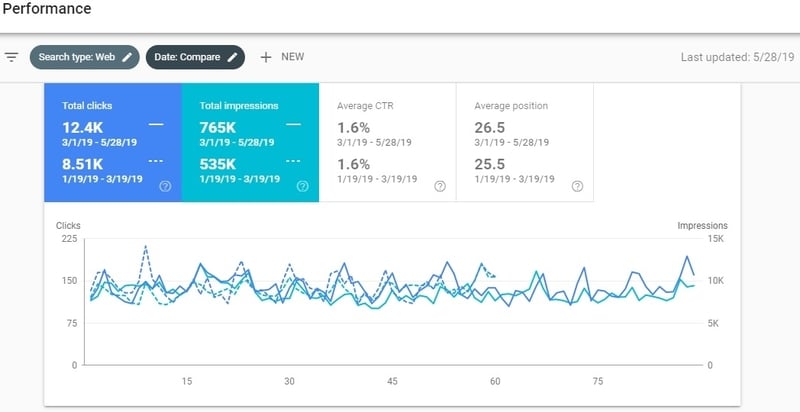 Sierra Interactive Affordable Setup Cost + Monthly
I was pleasantly surprised to find Sierra Interactive relatively affordable versus other comparable options. There were two options a custom "premier" site for $10,000+ that would take months to develop or a fully customizable "pro site." Personally I could see no advantage for the custom site as both sites have the same set of code and would receive the same upgrades/updates as they roll out. For the pro site I was charged $0 setup fee and a monthly committment of $399.95 which includes 1-10 users, subdomain agent sites, up to 25 seller lead sites, up to 100 single property sites, Google ads management, tracking link generators, and the monthly MLS pass through fee.
Sierra Interactive Conclusion
Overall I am very pleased with the experience onboarding and my site's performance after the first two months going live. I will update this page after six months. If you care to follow along, please consider bookmarking this page.
If you have any questions, feel free to email me and I will happily respond. I enjoy collaborating with other agents and this just happens to be one of my favorite topics of discussion. As a real estate agent who spends many hours each week trying to compete in the online real estate space, I am pretty passionate about the different providers and options avaialable.
It's important to note that I have not been paid by any of the above mentioned companies for this review. I wanted to share my experiences in the hopes that it will help some of you save some money by learning the hard way. I've personally used IDX Broker with wordpress, Real Geeks, and real estate webmasters in the past.
Feel free to share any of your personal experiences with real estate websites and IDX below in the comments. Your experience could save another real estate professional some valuable time and money.
Are you considering Sierra Interactive?
If you are a real estate agent (or soon to be) and have questions about Sierra Interactive, let's talk. Just fill out the form below and I'll get in touch.