Real Estate SEO (How To Do SEO For Real Estate Website)
Posted by Joy Bender on Thursday, April 26, 2018 at 8:26 PM
By Joy Bender / April 26, 2018
Comment
Real Estate SEO
SEO for your real estate website will reward you with real estate leads for years to come. If you don't have a seasoned website with a competetive domain authority, the second half of this article will share with you how to start getting leads asap with Google PPC.
I had a new listing: a one hundred year old house with historical designation and Mills Act tax savings in San Diego.
How can I create a content silo for more visibility on a new historic home listing and build a wall of authority around San Diego Historic Homes?
I will share with you my six month experiment to rank on page one of google in position 5.
These real estate SEO hacks can be used for keyword ranking for any lifestyle search.
Join Breaking Into Luxury Real Estate a Real Estate Marketing Facebook Group where I empower REALTORS® to take back their marketing dollars, generate their OWN leads, and learn how to break into the high end of their market!
How To Do SEO For Real Estate Website
Below I will detail 8 steps to do SEO for real estate websites. Keep in mind results will vary based on Domain Authority. Click here to read more on domain authority in 2019 and what it really means.
Real Estate SEO Keywords
1. Keyword Research
The first step with an SEO project is to begin with keyword research. I use Semrush which is $99 a month, but if you are on a budget there are many free options, (just not as precise) Google has two spots with suggested searches.
Here are the suggestions that autopopulate as you begin to type in your keyword:
These are at the bottom of the page with related searches:
This gives you and idea of all related searches your ideal consumer may be querying.
2. Intent Keywords
From this exercise I've discovered two money making keywords as a goal to rank on page one of google. They would be San Diego historic homes for sale and Mills Act homes for sale San Diego. These keywords are considered intent keywords. Intent searches are intended for prospects looking to buy what you sell.
3. Wall of Authority
In order for this to be successful we need to build a wall of authority for San Diego historic homes for sale and Mills Act homes for sale San Diego.
Content pages explaining Mills Act historic tax savings, historical designation guidelines, the design review committee for the city/county/HOA, or historic home tour info based on our keyword research would be ideal.
4. Supportive Keywords
Our next step is to find all supporting topics relating to historic homes that would be applicable to residential real estate. Go back to step one and isolate the keywords you want to include in your post.
I had a page: Mills Act Historic Homes – San Diego CA that was around two years old on the Resource navigation menu for helping buyers understand the intricacies involved with a historically designated property.
I had two blog posts supported my money making keywords: 7 Things You Need To Know About Historic Homes (San Diego) and the San Diego Quieter Home Program.
In the 7 Things You Need to Know Article, I made efforts to build content around all keywords related to the search query San Diego historic homes.
Plan out a group/set of keywords and interlink to the pages that are related, but you must use a unique keyword for each page/post. You don't want multiple pages on your website competing with each other known as content cannibalization.
5. Money Making Page
I created the money making page title San Diego Historic Homes For Sale. You want to make sure that you have IDX reflecting homes for sale with CTA (call to action) for more information or to request a showing.
Six months later, it's now the third listing on page one of Google position 2-3. In critiquing myself I should improve the very last small paragraph of unique content, because the content is "too thin".
When a buyer searches for any type of historic homes in San Diego my client's home for sale in Bankers Hill San Diego would have showed on the feed. This is an extraordinary way to bring unique value to a luxury home seller.
Here is the screen shot where I'm in incognito mode – not signed into google, with a ISP location in Las Vegas, Nevada (outside of my market).
6. SEO Page Title and Page Description
SEOMOFO is my favorite bookmarked free tool to layout both my page titles and my page description.
7. Look For Low Hanging Fruit
You can research your market and get a home run for low hanging fruit. A home run is any placement on the first page of Google. You are looking for a lack of competitors correctly choosing keywords.
I tried this experiment December 16th for San Diego 55+ real estate. Technically this is all real estate under $1M and not really my focus. Having said that I love traffic and if I can win on page one of google I'll do it. This strategy could work for homes with a pool, single story, equestrian, farm, lifestyle searches in the high end.
8. Graphics
You want to spend alot of time creating great graphics for your page/post and long pins for sharing on Pinterest when publishing a new article. Click here to check out: Pinterest Real Estate tips. Name your photos like this: san-diego-historic-homes-for-sale.jpg with a keyword rich file name and correctly describe your photo with a keyword rich alt tag.
SEO Backlink Hack 2018
When you launch a new website you are stuck in the Google Sandbox. Be on your way out with my free white hat backlink hack! Today we are going to get a fast and free DA 97 DO FOLLOW backlink to boost your Google page one rankings!!!!!
You can hire a company that claims they will do SEO for you, sign a year long contract for $500-$3,000 a month that goes where? Commissions, brick and mortar overhead, customer service, and then? If you don't know anything about SEO, one could very easily bamboozle you.
I'm speaking from experience. I wrote checks for SEO the first 3 years on my WordPress site and was very sorry in the end.
Instead empower yourself, learn it and outsource alacarte when need be. This is how I built my real estate website over the past 12 months.
When you launch a new website you are stuck in the Google Sandbox. Check out this Ahrefs blog post to understand what is the Google sandbox?
Obviously you start with the obvious backlinks from social media, Facebook, Linkedin, Twitter, Pinterest, Tumblr, ect.
This backlink is pretty unknown to non professional SEO's.
Click to start: Here
1. scroll down to the footer and click on KDP community
2. To the right of the search bar, and to the right of English, click LOGIN
3. sign in with your current amazon account OR create a new one username
4. click on the down arrow next to your username to display the dropdown menu options My Profile and My Settings
5. click on My Profile
6. drop your website link in the about me with a short bio
7. click save and now you have a DA Authority 97 DO FOLLOW backlink.
BONUS: Domain Authority of 62 FREE DOFOLLOW Backlink
https://www.emoneyspace.com
Create an account
You'll get an email link to activate your account.
Go to page editor and enter some content
I'll put the code below in the comments to make your link work. I tried to put it in my post and Facebook blocked my post as spam!
Here is the code to make the DOFOLLOW backlinks copy paste this into the editor and then copy paste your link twice in between the brackets
[url=yourwebsiteurl]yourwebsiterurl[/url]
If you want to enter more than one link use spaces with an "and" or an "or", otherwise it'll be a run-on and it won't work.
PPC Real Estate
Over the past 30 days, we've been able to reduce our cost per click (CPC) by 60% on both Google and Bing AdWords campaigns. How? We made a single change to our ad group structure, which ultimately increased our ads' quality scores and decreased our ad spend.
For those who aren't familiar, CPC refers to the price you have to pay for each click. So if you're paying to promote your content through Google, for example, the lower the CPC, the better. That means you're getting more bang — or clicks — for your buck.
Maximizing your campaign to achieve the lowest possible CPC is imperative, especially when it comes to real estate. Just take a look at Wordstream's list of the 20 most expensive keywords in Google AdWords.
If you are totally new to Google or Bing AdWords, you'll want to start with this illustrated 15-step guide to setting up a Google AdWords campaign written by Andrew Fortune, the founder of Great Colorado Homes.
On his step No. 14 — entering your keywords into Google — you might want to pause. That's where we deviated. I'm going to show you a different way to structure keywords and ad groups that's proved successful for me.
How to Lower Your Cost Per Click (CPC)
The single best way to lower your CPC is to improve your AdWords Quality Score.
Here's how Google defines AdWords Quality Score: "Quality Score is an estimate of the quality of your ads, keywords, and landing pages. Higher quality ads can lead to lower prices and better ad positions."
The scores range from 1 to 10. Higher Quality Scores typically indicate lower costs and more prime positioning.
So how do you bump your Quality Score up to a 10/10? One way I've discovered is to use single keyword ad groups (SKAGs).
Single Keyword Ad Groups (skags)
A SKAG is defined as one keyword per ad group.
If you take a bunch of keywords and cram them into one ad group, strategizing can become tricky. Sometimes you lose control over which keywords you're bidding on, and keywords may no longer match the search terms you're targeting. When you break down these keywords into an SKAG, you regain control, and you're able to ensure that you're bidding on the keywords that match the search terms.
With SKAGs, you include multiple match types of a single keyword. An example for real estate would be:
+la +jolla +real +estate — Broad Match Modifier
"la jolla real estate" — Phrase
[la jolla real estate] — Exact Match
As a personal preference, I only want to pay for intent searches and exact matches. By changing all of our ad groups to SKAGs at the beginning of last November, we've been able to decrease our cost per click from $10 to $20 to under $6.
You'll want to make your ad copy — headlines, description and masked landing page URL — reflect these specific keyword. You can see in the example below what our exact match keyword is: [Rancho Santa Fe Homes For Sale].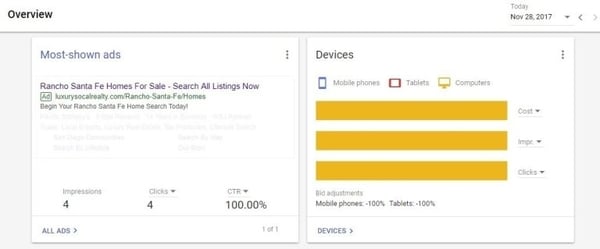 The Argument for DIY: My Experience With PPC Consultants

In the past nine months I hired and fired three pay-per-click (the same as CPC) management solutions.
Two were freelancers I secured through Upwork with good reviews.
I found if you don't actually read the ad copy in every single ad group, you might miss grammar mistakes or spelling errors, which can affect your ranking. For example, one freelancer was outsourcing his work to India and presenting as his own work through Upwork.
Below is an excerpt of an email I sent to the third company in an attempt to get out of my contract:
"I've spent eight hours today on this 68-page report and have grave concerns about your company's expertise regarding U.S. real estate-related PPC. I'm contractually obligated to pay you $1,300, and eight hours later, I truly felt that I've been working on what I paid you guys to do.
"Looking at this work I have no confidence in continuing to pay monthly to analyze when little analysis went into the setup. Attached is all the work I did today where you can see I've spent time addressing these concerns. At this time, I do not feel that we are a good fit to work together:
"1. The ad copy was terrible. I signed up for the subscription to iSpionage today and was able to see instantly what the top advertisers are spending on AdWords and their top performing ad copy: Zillow, Trulia, Redfin and Realtor.com — that takes seconds to figure out who the top US advertisers are for real estate.
"2. Negative keywords. I've seen various tools online, Wordstream, etc. "Rent to own" is definitely missing as are others.
"3. Keywords were entered such as beach house, oceanfront, waterfront, beachfront for Poway, Rancho Bernardo, Carmel Valley, Rancho Santa Fe, etc. that are nowhere near the water. This truly tells me no keyword tool was run for these neighborhoods.
"4. Keywords neighborhoods are missing that attach to all groups. What type of keyword tool for communities was run? The following are La Jolla neighborhood keywords that should have picked up with some research:
La Jolla Shores
La Jolla Muirlands
La Jolla Village
La Jolla Cove
La Jolla Farms
La Jolla Bird Rock
La Jolla Windansea Beach"
My experience with multiple vendors led me to spend significant time mastering PPC myself. Unless you have very deep pockets, contracting out PPC campaign setup will cut into your SEM budget because of the exhaustive hours required doing keyword research and setting up each ad group.
Finally, each day you'll want to monitor the average position from the day prior.
Google explains:
"Average position helps describe how your Ad Rank compares with other ads. For more information on how your Ad Rank compares with other advertisers, check the Auction insights report."
The auction insights report will allow you compare your performance to other advertisers. This will show you what's working and what might need some more of your attention.
Once you switch your ad groups over to SKAGs, you can drastically cut your bid amount and keep watching it day by day. You may be able to get some clicks under $2 for a bid whereas before you had to bid $5 to $7 to get in the first or second position.
Please leave a comment below if you found this article helpful!