Moving to San Diego Advice
Posted by Joy & Robert Aumann on Tuesday, August 11, 2020 at 9:27 AM
By Joy & Robert Aumann / August 11, 2020
Comment
Are you planning on moving to sunny San Diego, California? Are you worried about the process of moving? Wondering what it's like to live in San Diego, and is San Diego a good place to live for families, students, or nature enthusiasts?
Well, there's good news: we're here to answer these questions and more. Let's go through the best advice to keep in mind before moving to San Diego in the near future.
The Best Neighborhoods for Relocation to San Diego
The first thing you need to know when planning a move to San Diego is what neighborhoods you should be looking into for your new home. What neighborhood is best for you depends on what you're looking for in particular—there are a ton of options out there for you!
If your interest in San Diego is based on an upscale lifestyle and beaches, then La Jolla is the neighborhood for you. For being as close to the beach as possible, you really can't do better than La Jolla.
For those who are looking for surfing and other athletic ventures, Pacific Beach might fulfill your needs. If you're looking for bars and shopping, then San Diego's Little Italy might be a little more your speed.
Here are a couple of other San Diego neighborhoods you might want to look into:
Downtown San Diego
Del Mar
Solana Beach
Coronado
Point Loma
Rancho Bernando
Poway
Rancho Santa Fe
The above are just a few of the amazing San Diego neighborhoods a home buyer may want to settle in. There's so much more out there—consult an expert or go explore yourself!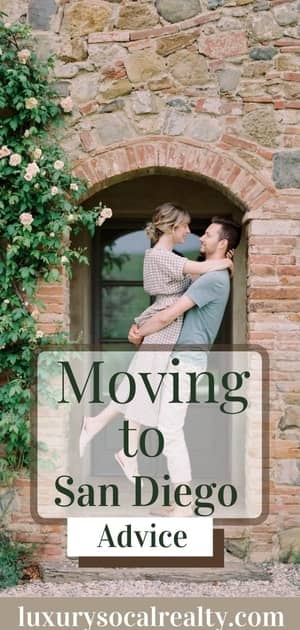 School Systems in San Diego
If you have school-age children, plan to have children soon, or plan to expand your education, then schools will probably be a major aspect of your moving decisions. For elementary, middle, or high school-aged kids, your neighborhood is a very important part of access to public schools. Where you live can be a factor for private, independent, or magnet schools as well—no one wants a long commute.
If you're looking for a public school for your elementary school-aged kids, you'll want to head to the Poway Unified School District, where the best public elementary schools in the city are found. If your kids are middle school-aged, try the San Dieguito Union High School District, Solana Beach High School District, and the Rancho Santa Fe School District.
If your kids are a little bit older and you're looking for a public high school, there are still options for your family. The San Dieguito Union High School District and the Poway Unified School District both offer great public schools.
And, if you're looking for community, independent, or private high schools, there are still options. Canyon Crest Academy is an amazing choice for your kids, but there are others to choose from as well.
Getting Your Transportation in Order
If you're used to riding the subway to work every day, San Diego may be somewhat of a shock to the system. You will really need a car and car insurance in order to navigate your way around the city efficiently.
You'll also need to look into the availability of parking if you're looking to drive in San Diego. That's true not just at your residence, but at your place of work, your children's schools, and anywhere you'd want to visit for recreation. Parking is an important part of driving, so make sure that you are prepared!
As a backup, you can acquire a Compass Card so that you have access to San Diego's transportation system. That way you will never be stranded without a way to get home!
Keep Fitness and Fun in Mind
What is life without recreation, right? Before you move to America's Finest City, you should look for plenty of options to keep your family entertained and healthy near your new home.
Besides the beach, you'll want to look for your proximity to Seaworld, the world-renowned San Diego Zoo, Disneyland, and Balboa Park.
You'll also likely want access to some more adult-friendly activities, like bars, nightclubs, restaurants, bowling, and so much more. You also probably want to be near your gym of choice, community centers, and swimming pools to keep it cool. If you're more of a nature and outdoors person, make sure you're near plenty of hiking trails, farmer's markets, and opportunities for water sports (along with the ocean itself).
If you're a sports fan, there's good news for you too. Between the San Diego Padres, the Seals, the Legion, the Gulls, Strike Force, and San Diego Loyal FC, you won't be hurting for new and exciting sports teams to enjoy during every season of the year!
Before you commit to a house, you need to make sure you're exploring the neighborhood and figuring out what you want your life in San Diego to look like.
Moving to San Diego Is a Breeze
Moving to San Diego is not nearly as difficult of a procedure as you may think at first. San Diego is a wonderful place to live, and as long as you plan accordingly and do your research, you'll be perfectly set up to start a great new life in this beautiful city.
Looking to learn more about real estate in the San Diego area? Check out some of our other blogs or reach out to us for more information!