Everything You Need to Know Before You (Move to San Diego)
Posted by Robert & Joy Aumann on Thursday, September 1, 2022 at 7:59 PM
By Robert & Joy Aumann / September 1, 2022
Comment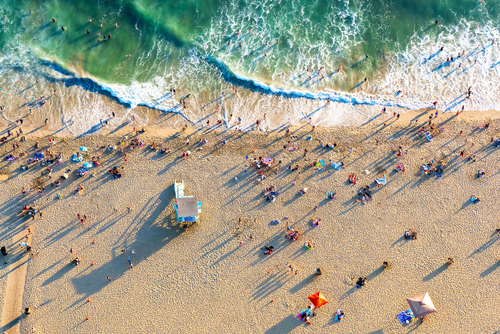 With the pandemic coming to a close and the country starting to get back to normal, you may be looking for a change of scenery. Maybe you've realized you need a new job, or maybe you're sick of staring at the same four walls. Whatever the reason, you should consider a move to sunny San Diego.
San Diego is a lively, thriving city that has a ton to offer. Read on to learn more about this city and prepare for your move to San Diego in 2022.
Welcome to San Diego
San Diego's nickname is "America's Finest City," and once you visit, you'll see why. The city is perched at the far southwest corner of our nation, situated along the gorgeous California coastline. It's just across the border from Mexico, and much of the city's thriving culture is influenced by Mexican heritage.
San Diego is one of the nation's fastest-growing young cities, with the local workforce boasting a median age of just 35. The median household income in San Diego is $80,000, and multiple Fortune 500 companies call the city home. San Diego is also home to a thriving food culture, with almost 7,000 restaurants, nearly 6,500 bars, 115 wineries, and more than 150 breweries.
Fun San Diego Facts
Before we dive into all the nitty-gritty things you need to know before you move to San Diego, let's learn about some of the things that make this city unique. San Diego is the largest avocado producer in the United States, so don't skip out on brunch opportunities. There's even an annual festival celebrating avocados, and Jason Mraz owns an avocado farm in the city!
San Diego residents love their pets, and the city has the largest number of dog-friendly restaurants per capita in the country. The plane that Charles Lindberg flew for the first nonstop flight around the world, The Spirit of St. Louis, was (somewhat ironically) built in San Diego. And famous gunslinger Wyatt Earp, who participated in the famous O.K. Corral shootout with Doc Holiday, called San Diego home for nearly a decade.
San Diego Population Stats
As of 2019, San Diego was home to more than 1.4 million residents, many of whom are young professionals. This city is a great option for young adults looking to launch their careers, meet new people, and create lasting relationships. More than half of the city is single, and there are roughly equal numbers of men and women.
San Diego is a booming city that's growing faster every year; between 2018 and 2019, the population increased by about 8,000. The city is also one of the most culturally diverse in America.

Cost of Living
You may not be surprised to learn that, being on the west coast, San Diego is one of the more expensive cities to live in in the United States. In fact, the cost of living in San Diego is about 42 percent higher than the national average. However, the good news is that the median household income in San Diego is almost $20,000 higher than the national median.
The median home price in San Diego comes in 800, and the median rent is a little more than $2,000 a month. While this is a relatively expensive city compared to places like Philadelphia and Phoenix, it's still manageable. New York, by comparison, has a cost of living that's 141 percent higher than the national average.
Job Market
If you're wondering how you're going to pay for that $800,000 home, don't worry – San Diego has a thriving job market. Before the COVID-19 pandemic struck in March 2020, the city boasted an unemployment rate just over 3.2 percent. During the pandemic, that number soared to 12 percent, but that has dropped back below 7 percent in the intervening months.
The largest job sectors in San Diego are international trade, tourism, military, and manufacturing. The city is home to two Fortune 500 companies, Qualcomm and Sempra Energy. The professional and business services, architecture, engineering, technical services, construction, government, education, health services, and scientific research industries are also all on the rise on San Diego.
Education
If you're moving to San Diego with a family, you may be wondering what sort of education opportunities the city offers. San Diego is home to California's second-largest school district, the San Diego Unified School District. This district includes 117 elementary schools, twenty-two high schools, thirteen alternative schools, and five additional education programs.
While most students are assigned a school based on their home address, you can also apply to get your student into a school that has more program opportunities for them. Various schools have programs in performing arts and foreign languages, as well as STEAM magnet programs. And if you prefer, you can also send your student to one of the 335 private schools located in the city.
Transportation
Getting around San Diego is relatively easy, considering the size of the city. Most people use their cars to commute, and the city has an average commute time of just under half an hour. Although it's less common, you can also use public transportation to get to and from work.
San Diego has a strong public transit system, consisting of buses and trolleys that run throughout the city. There are Amtrak trains and waterfront shuttles that can help you get from place to place, and, of course, there's always Uber and Lyft. You can even rent a bicycle or scooter if you prefer to feel the wind in your hair as you move around the city, though you will need to follow the city's rules for these vehicles.
Weather
One of the biggest draws for people moving to San Diego is the city's incredible weather. San Diego lives in perpetual springtime, with average temperatures staying in the low 70s all year round. The city also has 146 sunny days a year and another 117 days that are partly cloudy, meaning you'll only have to contend with rain for about 100 days a year.
San Diego gets most of its rainy days in the winter and early spring, though the temperatures still stay balmy. In the early summer, you may get clouds rolling in on cool mornings, but these usually burn off by the time you reach the afternoon. You don't have to worry much about severe weather in San Diego, either; the biggest threats you'll likely experience are wildfires and earthquakes.
Sports
When you move to San Diego, you'll discover a whole world of entertainment awaiting you. Sports fans, don't worry – you'll have plenty of teams to cheer for and world-class stadiums to visit.
If baseball is your speed, go out to Petco Park and catch a game with the Padres, the Major League team that calls the city home. If you prefer soccer, the San Diego Sockers are always worth going to see.
Maybe you prefer hockey; San Diego has you covered with the Gulls, who play in the American Hockey League. And if you enjoy horse racing, be sure to get out to Del Mar Racetrack for the thoroughbred races that happen there throughout the summer and fall.
Culture
If you prefer a quiet afternoon at a museum to a crowd of screaming baseball fans, San Diego has you covered. The city is home to dozens of museums, many of which are situated in the world-famous Balboa Park. Balboa Park is also home to the San Diego Zoo, a world-class establishment that covers an astounding 100 acres of the park.
Balboa Park also hosts seventeen other museums, including the Mingei International Museum, the Fleet Science Center, the San Diego Art Institute, the San Diego Air and Space Museum, the San Diego National History Museum, and more. On the theater stage, San Diego has produced more Broadway shows than any other city in the nation. There are also more than fifty music venues scattered around the city, and as the pandemic winds down, we'll see the thriving music scene begin to rebound.
Food
There are few cities in the nation that can offer a better dining experience than San Diego. Because the city is so close to Mexico, it comes as no surprise that tacos are the unofficial city food. You can also find top-notch burritos, ceviche, and other traditional Mexican cooking in San Diego.
If you want to try other cuisines, San Diego has some of the finest French and Italian restaurants around. There are no fewer than five restaurants in the city that have earned a Michelin Star. And the region's abundant farmland has ushered in a new wave of farm-to-table restaurants for those looking for a fresh dining experience.
Travel
If you're a globetrotter, San Diego will be your ultimate destination city. On its own, the city is a sight worth seeing, but it also offers convenient access to a variety of other amazing locales. In particular, the city is just across the border from Mexico, making day trips there a favorite weekend activity.
San Diego is also just down the California coastline from Los Angeles and its star-studded scene. And from the San Diego International Airport, you can reach hundreds of cities all across the globe. But we'll also understand if you prefer to spend your weekends sipping a cocktail on one of San Diego's stunning beaches.
Outdoor Opportunities
While you're exploring your new city, you'll soon find that it offers some of the most beautiful natural views in the country. If you hear the call of the waves, why not try surfing on California's gorgeous Pacific coastline? You can also take kayak tours of the sea caves around La Jolla Cove, and the weather is perfect for hanging out on the beach all year.
If you prefer to spend your days in hiking boots, explore some of San Diego's 166 hiking trails, 520 parks, or miles of gorgeous cliffs and coastline. Get a taste of adventure by going skydiving or hang gliding. Or relax on one of San Diego's ninety-plus golf courses while you enjoy the sunshine.
San Diego Neighborhoods
We are relocation and neighborhood specialists. Our team has an extensive overview of San Diego Neighborhoods. Our team's agents are strategically located throughout San Diego county servicing their niche and expertise.
Prepare for Your Move to San Diego
San Diego has earned its nickname, "America's Finest City." The city has a thriving culture, amazing sports teams, gorgeous natural scenery, and incredible history. The job market is on the rise, schools offer amazing opportunities, and you'll soon find yourself falling in love with the lively, growing atmosphere in San Diego.
If you'd like to start your move to San Diego, check out the rest of our site at Luxury SoCal Realty. We can help you find homes in La Jolla, Mission Beach, Del Mar, and much, much more. Check out our San Diego listings today, and start making your SoCal dreams come true today.