Living In La Jolla
Posted by Robert & Joy Aumann on Monday, September 12, 2022 at 10:22 AM
By Robert & Joy Aumann / September 12, 2022
Comment
La Jolla Is a Great Place to Live - Here's Why!
La Jolla California is a unique gem located on the gorgeous California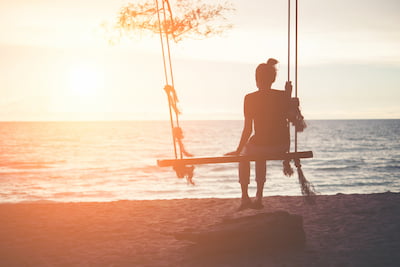 coastline. Coined as a "special community" in San Diego, this beautiful destination is prime for vacationers and residents alike.
Over 45,000 Californians call La Jolla home, with another 35 million visiting the San Diego area each year. The more you know about living in La Jolla, the more you'll understand why it's becoming one of the most popular destinations in the Golden State.
This seaside community boasts perfect weather year-round, luxury real estate options, and so much more. Are you ready to upgrade your lifestyle? Keep reading for a look behind the scenes of living in La Jolla.
About La Jolla: History, Population, Demographics
The name "La Jolla" is rumored to be the alternate spelling for "La Joya" or "the jewel". This must be how the seaside community got its nickname, "Jewel City". Its natural beauty and luxury living have made this nickname all the more fitting.
Once a 19th-century resort town adorned with adorable beach cottages, La Jolla now boasts luxury mansions and hotels. One thing La Jolla hasn't lost is its idyllic beach charm.
The 45,000 plus residents that live in La Jolla year-round are evenly distributed, with about 3,000 residents per square mile. This structure allows for plenty of social interaction and privacy.
While La Jolla is home to many professionals and families, the median age is around 45 years old, making this slice of San Diego an oasis for retirees. Most residents are professional, well-educated individuals enjoying life in this high-income area.
La Jolla is also a safe place to live and raise a family. The crime rate is well below the national average and most communities have a diverse population including a mix of white, Asian, and Hispanic residents.
If it's the clout that you're after, La Jolla has seen its fair share of celebrity homeowners including John McCain and Dr. Suess.
Cost of Living in La Jolla
La Jolla is a high-income community with a mix of luxury and oceanfront homes. Whether you're looking for breathtaking views or beach access, you're sure to find it here.
The average household income in La Jolla is just over $100,000, with the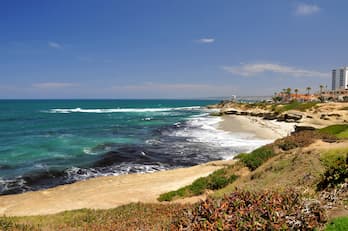 average home price hovering around $1.5 million. La Jolla is one of the most affluent areas in San Diego, with both income and house prices doubling the state average.
The good news is that you don't need to be a millionaire to enjoy the La Jolla lifestyle. In some areas, rent is more reasonable and affordable. The average monthly cost to rent here is about $4,000.
Living in La Jolla also means calculating your housing expenses including utilities, landscaping, and upkeep, which are 136% above the national average. This is one reason why the cost of living in the San Diego area is higher than in most other coastal communities.
If you can afford to live in La Jolla, you're getting more than just a beautiful home. You're getting access to a luxury lifestyle, upscale neighborhoods, world-class shopping, and more. La Jolla's higher-than-average prices help keep this community safe, beautiful, and exclusive.
La Jolla Climate and Weather
The only thing more appealing than the gorgeous homes in La Jolla is the nearly perfect weather. The seaside community boasts a Mediterranean climate with minimal rain and mild temperatures all year long.
The average temperature hovers around 73 degrees from July until October. During the beginning and end of the year, you'll enjoy cooler temperatures in the mid-60s.
With abundant sunshine and little precipitation, residents and vacationers can take full advantage of endless outdoor activities in La Jolla. The coastline community includes 7 miles of beach starting at Pacific Beach and running to the Del Mar border.
Education and Job Opportunities in La Jolla
Work hard, play hard. When you're not surfing or sunning on one of La Jolla's shorelines, you can take advantage of the area's strong economy and high-ranked school systems. These are especially important factors for young professionals and families moving to the area.
Schools and Higher Education
Families moving to La Jolla will have plenty of schooling options. La Jolla is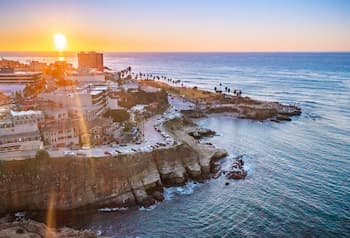 part of the San Diego Unified School District which includes 12 preschools and 6 elementary schools. As children get older, they can attend one of 3 middle schools and 3 high schools. Half of La Jolla's schools are private.
Not only do you have plenty of choices, but all of the area's district schools have a rating of "very high", with some scoring 10 out of 10 on Great Schools. Once your child graduates high school, the higher education options are also vast. La Jolla is home to numerous colleges and universities including the University of California San Diego.
Other notable institutions include San Diego Mesa College, Biocom Institute, and the Scripps Institution of Oceanography.
Employment
Members of the working class will love the diverse and affluent job market of La Jolla. The average income of residents is $80,000 per capita, which is double California's state average. The hourly wage as of this writing is $20.51.
With so many luxury shopping centers and businesses nearby, there's ample opportunity for work. Many residents are also employed as service workers, administrators, and entrepreneurs. The high-ranked local schools and institutions also boast educational job opportunities.
It's no secret that living in La Jolla can be quite expensive, which is one more reason why the area's high-paying jobs are a selling point. A strong economy and high wages help residents maintain a luxury lifestyle.
Best Neighborhoods to Live in La Jolla
La Jolla's 7-mile stretch of beach is surrounded on three sides by ocean bluffs. With views like something out of a postcard, it can be difficult to decide which part of La Jolla to start house shopping in first. Here are some of the area's most popular neighborhoods.
La Jolla Village
If you enjoy shopping and close proximity to stores, restaurants, and entertainment, you should consider living in La Jolla Village. Located next to La Jolla Village Square, most residents are within walking distance of their favorite shops and stores. Buy your groceries at Trader Joe's or Ralph's before catching a movie at the nearby AMC theater.
La Jolla Village is a mix of residential homes and businesses, offering plenty of employment opportunities and entertainment.
La Jolla Shores
For those wanting to live the true California dream, look no further than La Jolla Shores. Whether you love to swim, surf, or hike coastal trails, this beach neighborhood has it all.
This La Jolla neighborhood has its fair share of luxury real estate, condos, and apartments that fit every budget, with most located directly on the beach. Over the last few years, several parks have popped up within this coastal neighborhood, along with a university and aquarium.
La Jolla Farms
La Jolla Farms is the epitome of luxury real estate in La Jolla. Most homes in this neighborhood are priced well into the millions.
La Jolla Farms is known to have some of the most beautiful and luxurious properties in all of San Diego. If you've recently come into money, have a nest egg tucked away, or are simply blessed with good fortune, you can call this upscale neighborhood home.
La Jolla Heights
For those in the market for more moderately priced homes, La Jolla Heights offers a happy medium. Nestled between La Jolla Shores and La Jolla Village, you'll find a healthy mix of affordable luxury homes.
Home designs in this neighborhood are also diverse and appeal to every aesthetic. Some of the original homes were built in the 1960s but have since been remodeled to reflect more modern trends. You can expect to pay as much as $2 million for a home with views of the North Shore or as little as $800,000 for a condominium in the same neighborhood.
Bird Rock
This quirky beach neighborhood of Bird Rock is located along the Pacific Ocean at the southernmost end of La Jolla. Residents have access to nearby Pacific Beach and all it has to offer.
This neighborhood offers a mix of laid-back beach living, ocean views, and a cozy hometown feel.
Things to Do in La Jolla
There's a reason why millions of people flock to the San Diego area every year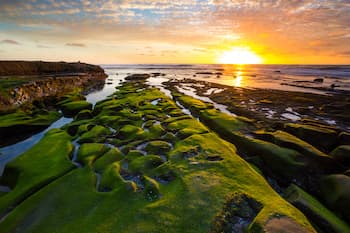 and La Jolla is just one. There are countless things to do in and around this beach town. Once you move to La Jolla, all of these amazing opportunities and amenities will be within arms reach.
Here's what you can look forward to!
Outdoor Enthusiasts
If you moved to La Jolla to experience the great outdoors, you won't be disappointed. The local beaches are perfect for swimming, surfing, and sunning. The scenic hiking trails let you work up a sweat while taking in the breathtaking views.
La Jolla Cove is one of the best places to enjoy a lazy beach day. This gorgeous area is surrounded by La Jolla's iconic sand cliffs and bluffs. Explore the nearby hiking trails, surf, swing, snorkel, or just relax.
Animal Lovers
It's no surprise that La Jolla's close proximity to the ocean also means access to plenty of wildlife. You'll see fish, dolphins, and other aquatic life at every turn. Check out the San Diego-La Jolla Underwater Park for a hands-on, close encounter with local marine life.
Head indoors to the Birch Aquarium for a truly memorable experience for the whole family. The Birch Aquarium at Scripps Institution of Oceanography opened in 1992, welcoming guests of all ages. Situated atop a bluff overlooking the Pacific Ocean, guests also get an unobstructed view of the Oceanography Institute.
If you don't mind driving, you can visit Balboa Park just 20 minutes from La Jolla and home to the famous San Diego Zoo.
Architecture and History
With so much luxury real estate in La Jolla, you may want to learn a thing or two about the local architecture. And what better place than the Salk Institute for Biological Studies?
To most, this institute is considered a prime example of modern architecture. With self-guided tours now available, you can experience this gorgeous structure first-hand. Once you're done inside, head outside to explore the on-site biological research center.
Art enthusiasts can also visit the nearby Museum of Contemporary Art.
Shopping and Dining in La Jolla
There's no shortage of upscale shopping and dining experiences in La Jolla, California. Whether you're in the market for designer clothing or handbags, luxurious jewelry, or a delicious meal, you'll find it here.
La Jolla is known for its trendy boutiques and large-scale shopping malls including Westfield UTC, La Plaza La Jolla, and La Jolla Village Square mentioned earlier.
Shop 'till you drop and then refuel at one of the many delicious eateries nearby. From world-class restaurants to small cafes and lunch spots, you'll never go hungry in La Jolla.
Grab a quick snack on the go at Smallgoods Cheese Shop & Cafe, Cafe Vahik, or The Shack. If you're planning a fine dining experience, you won't want to miss Eddie V's Prime Seafood or the Marine Room.
Living in La Jolla is a Tropical Dream Come True
Millions of people vacation in La Jolla for a reason. From oceanfront views and idyllic beaches to plenty of excursions and experiences, most visitors never want to leave. And you don't have to!
Now that you know what makes living in La Jolla so appealing, it's time to make your move. Research which neighborhood best fits your needs, budget, and lifestyle.
Life in La Jolla is a tropical dream come true. With ample opportunity to work and play, this coastal community is the perfect choice for families, young professionals, and retirees.
Let our team of experienced professionals help guide your buying decision. We pride ourselves on putting people first and helping your luxury real estate dreams come true.
Don't wait! Contact us today so you can start living the luxury lifestyle you deserve.