15 Landscaping Ideas To Sell Your House
Posted by Robert & Joy Aumann on Saturday, May 11, 2019 at 7:52 AM
By Robert & Joy Aumann / May 11, 2019
Comment
You have one chance to make the best first impression to buyers when marketing your home for sale. Your home's curb appeal doesn't only create a certain impression on potential buyers, but also affects the value of your property, up to 10 percent! What's more, the exterior has become as important as the interior since buyers value the enriching alfresco experience that outdoor living areas bring. Thus, you should definitely implement some trendy solutions that will help you elevate your property style and boost its value.
1. A mesmerizing, comfy patio
Whether placed in the front or the back, a patio is one of the most popular forms of outdoor spaces. Regardless of its size, a lovely patio with a sleek, modern look and a comfortable atmosphere can be used as a family area, the place for guest entertainment or a spot for some quiet contemplation. You should aim for a modern patio design with understated appeal, plenty of chic geometric details and a functional layout.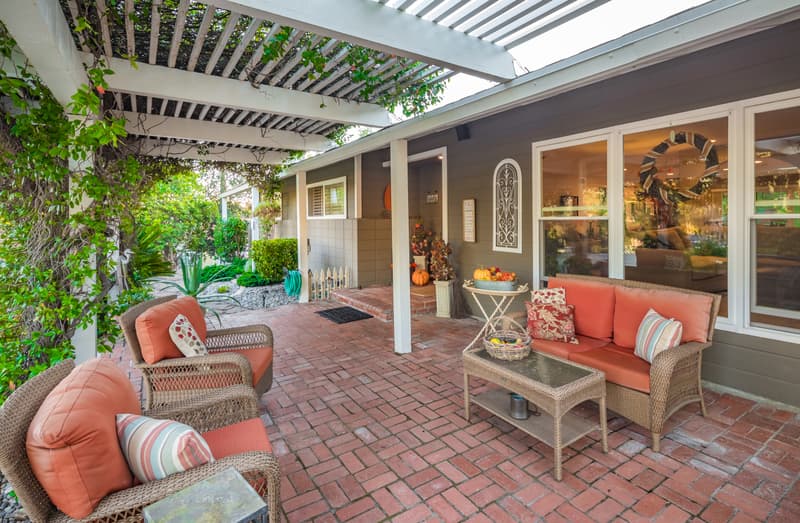 2. An enjoyable wooden deck
An increasing number of homeowners are investing in building beautiful wooden desks since they offer a great return on investment. Not only are they profitable home improvements, but they also bring a variety of design options that are bound to elevate your home's curb appeal. Whether you go with an open, semi-enclosed or an enclosed deck, make sure that its trendy design fits into the general style of your home and neighbourhood.
3. A cohesive exterior look
The exterior of your home should have a balanced, harmonious look. It's important that you implement solutions that will complement the design of your house. When introducing different design and landscaping solutions, it's advisable that you use the colour of your home's façade as the main source of inspiration. Flowers, garden elements and other details should accentuate the colour and appeal of your house. For instance, if you have a tranquil blue house, you can enrich its lovely hue by pairing it with pink, purple, yellow and white embellishments. Furthermore, make sure that every element you introduce fits into the general style of your house.
4. Xeriscaping
Xeriscaping is a popular landscaping method that can help you reduce your water consumption while enabling you to still have a lush garden. This method is based on using native and drought-resistant plants instead of exotic species. These plants are more suitable for a certain region because they are accustomed to the weather, which means that they require less water and are easy to maintain. Thus, when choosing plants for your lovely garden, make sure to go with local species. You can also implement other principles of xeriscaping that can help you improve your soil and plan your landscaping more efficiently.
5. A beautifully nurtured lawn
Your home's surrounding landscape needs to have a lush, healthy look. In particular, your lawn should be nurtured and well kept. You need to maintain it in excellent condition, which requires you to mow, edge, rake and manicure it. You also need to invest in a sprinkler system to ensure its lavish look. However, if you want to reduce your home's water consumption, you can always pave a portion of your lawn. There are plenty of enticing paver designs that will help you create an authentic look.
6. Spruced-up greenery
Every home needs a lovely garden with plenty of trees, bushes and flowers. Once again, this requires you to maintain a neat, spruced-up look, so make sure to trim them, pull out weeds and water your plants. Prune the trees and bushes regularly because an overgrown landscape can truly overwhelm your garden.
7. A cosy fire pit
As one of the most popular exterior trends, a beautiful fire pit will truly cosy up your outdoor space. A well-designed fire pit can bring you a return on your investment of 78% while also truly enriching your alfresco home experience. Whether you opt for a modern minimalist design or you build one yourself, a fire pit will fill your outdoor space with a feeling of comfort, cosiness and family togetherness. You can add one to your lounge area or include it in your deck design. Afterwards, you just need to place comfy furniture around it and the marshmallow roasting season can begin.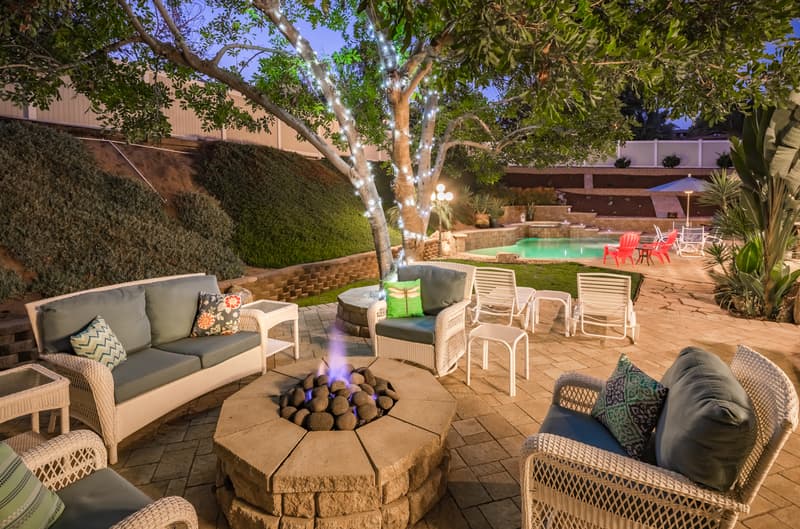 8. An elegant and functional spa
Outdoor pools are appealing, but they simply aren't worth the investment. Building an in-ground pool will cost you a fortune without boosting your property value enough. Introducing a high-quality modern swim spa, on the other hand, is a much more affordable option that brings numerous benefits. It will provide you with the perfect spot for both exercise and relaxation because you'll be able to swim and enjoy soothing hydrotherapy. It's suitable both for adults and children, so your entire family will love it. In addition, an elegant swim spa will give your exterior a retreat-inspired appeal at a budget-friendly price.
9. A lovely outdoor kitchen
Nowadays, the outdoor kitchen has become an integral part of a property's exterior design. Homeowners enjoy having delicious feasts under the open sky with their families and friends. An outdoor dining area is also the perfect place for summertime entertainment and gatherings. Most importantly, a well-designed outdoor kitchen can help you boost both the appeal and value of your home significantly. Therefore, you should definitely consider introducing this beautiful addition to your home. You can set up a simple outdoor cooking area with a few elements, such as a functional grill and a dining area, or go with a luxe design and a fully equipped kitchen.
10. Magical landscape lighting
Exterior lighting is crucial for creating a dreamy outdoor atmosphere and illuminating your property's beautiful features. In combination with other design elements, outdoor lighting fixtures can truly elevate your property's style, especially if you place them strategically around your home. You should use lovely lighting to accentuate certain outdoor elements, such as the front door, a beautiful garden pathway, garden sculptures, etc. You should also use lighting to create a play of light and shadow, which will fill your outdoor space with a whimsical atmosphere. You can use solar lights throughout your garden, place twinkle lights in the trees and around a pergola and beautify your porch and entrance with elegant lanterns.
11. A dreamy, meandering garden path
Designing a garden path is quite simple and affordable, yet it can truly give your outdoor area a lovely flair. You can use stepping stones, gravel, bricks or some other materials to create a pathway that will lead from your back entrance to your lush garden or outdoor lounge area. Make sure to line it with dreamy lights and mesmerising flowers, which will further accentuate it.
12. Japanese-inspired touches
If you want a garden that exudes serenity and tranquillity, you should definitely introduce Japanese-inspired details. Japanese design encourages unity with nature, which makes outdoor spaces an essential part of home design. Creating a true Zen garden can be quite simple since Japanese-inspired style focuses on minimalism, moderation and subtlety. Some of the distinctive features of a Japanese-style garden include gravel, sand, natural stone and bamboo as the dominant materials, natural textures, lovely benches for meditation and contemplation, water features such as ponds with bridges and an overall tranquil atmosphere. If you cannot transform your entire backyard into a Zen sanctuary, you can add Japanese touches to a portion of it. This will help you fill your outdoor area with a feeling of peacefulness that can inspire you to embrace a more mindful lifestyle.
13. A stylish garage door
The garage door can affect the curb appeal and value of your property, so don't neglect its style. If your garage door is in good condition, but slightly worn out, you should simply freshen it up with a coat of paint or some other restyling ideas. However, if you need to replace your garage door, don't hesitate to do so. This is one of the most profitable home improvements that brings a great return on investment. You can choose from a variety of design and materials, but make sure to pick one that fits the style of your property.
14. Year-round appeal
If you want your home to look stylish and welcoming at all times, you need to introduce solutions that will give it a mesmerising look all year round. You don't want your home to look cold and bare once all the spring and summer blossoms have disappeared. You should introduce seasonal plants that will embellish your property throughout the year. Aside from introducing evergreen and other seasonal species, you can celebrate every season by decorating your property in its spirit. For instance, autumn-inspired outdoor décor will truly give your home an inviting look.
15. Low-maintenance features
When designing your backyard, garden and other parts of your home's exterior, you should focus on low-maintenance features. If you ever decide to sell your property, buyers will prefer a house that's easy to maintain. Therefore, you should introduce lightweight patio furniture that can be easily stored away, plants that require little maintenance, adjustable solutions that can be moved around when needed, etc.
The exterior of your property deserves as much attention as its interior. Implementing these creative ideas, taking care of your landscape and maintaining a cohesive style will boost your property's curb appeal substantially.
If you are preparing your San Diego property for market let us help you unlock your home's hidden potential to increase it's market value with no out of pocket expense. We have a suite of services designed to prepare your home for the market such as staging, pest, landscaping, deep cleaning, organizing, cosmetic renovations, painting, and more. By partnering with us to list your home, you'll see that by investing in your property's full potential it will provide a swifter and more profitable sale. Our Private Client Team can help you in 31 markets nationwide.
Chloe is a graduated journalist from Adelaide and a regular contributor to Smooth Decorator. She loves everything related to decor, aesthetic and lifestyle topics. She is also passionate about photography. Her biggest dream is to travel the whole world and take some stunning photographs of beautiful places. Beside all this, she enjoys drinking coffee and reading a beautiful book from time to time.