Important Questions to Ask Before Buying a Condo
Posted by Robert & Joy Aumann on Monday, September 11, 2023 at 5:05:43 PM
By Robert & Joy Aumann / September 11, 2023
Comment
When you look beyond a conventional single-family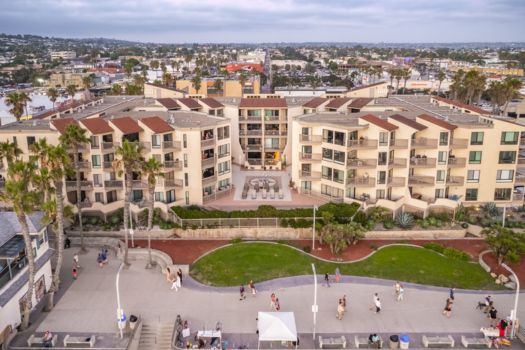 home on a 30-year mortgage, there are a lot of diverse paths to homeownership — everything from a rent-to-own home to buying a condo. And all of these unique situations have unique advantages. You might not have a driveway and a yard when you live in a condo, but you do have a built-in community of neighbors, a private gym just down the hall, and a refreshing absence of maintenance. (If you hate cleaning gutters and mowing the lawn, condo life is definitely for you.)
But living in a condo isn't for everyone. You'll have condo fees on top of your mortgage (if you can get one — lenders are more reluctant to approve mortgages on condos), a long list of rules about what you can and can't do with your condo, and possibly even four- or five-figure bills for "special assessments" that you can't anticipate or negotiate.
So before you put in that offer and call up the moving company, here are some questions to ask yourself before you decide to buy a condo.
1. Are you a condo person?
Condos come with a lot of advantages: little to no maintenance, close neighbors, and access to amenities that are closed to the public. On the other hand, there are some drawbacks, too: ongoing fees that can be raised unilaterally (plus special "assessments" if the building needs major work), no yard, and close neighbors.
If you're used to living in a single-family home, it could be a stressful transition to move to a place where you only own the interior space and share walls and a ceiling with neighbors. And living in a condo building can be a relatively low-privacy situation, so make sure you understand and want that for yourself before you sign that purchase agreement.
2. Do you have the right agent?
A condo selling specialist will make your purchase much easier and more efficient. They'll be able to tell you if the units you're looking at are reasonably priced, what kind of resale values different buildings might offer, and whether specific buildings have had issues with the board or community.
They'll also be able to give you valuable counsel on things like the condo association bylaws and documents, by flagging sections that are out of the ordinary or even illegal.
That said, don't depend on your agent for everything. Once you've narrowed your choices down to the leading candidates, visit the buildings yourself, and talk to tenants about how they like living there.
3. Is financing a problem?
Getting a loan for a condo can be a lot more complicated than getting a loan for a conventional home. On top of the usual scraping together of the down payment, and getting your credit cleaned up, lenders often have a lot of condo-specific requirements that have to be met before they'll offer you a mortgage; for example, a cap on how many units in the building can be owned by a single owner, a required occupancy rate, and a certain percentage of units that have to be sold before they'll approve a mortgage. They may also require a higher loan-to-value ratio.
While there are Federal Housing Administration (FHA)-backed mortgages for condos that are very similar to a conventional home mortgage, they also come with a lot of requirements that have to be met. Bottom line: if you're not sitting on a pile of cash after selling your home without a realtor, getting a loan for a condo could be a long, challenging process.
4. What are the HOA fees?
Find out the exact amount of condo fees you'll be responsible for each month. Also, clarify what these fees do and don't cover — in some cases, condo residents have to pay secondary fees for additional services. Finally, ask how much these fees can be increased each year; many condo associations have a cap on annual fee increases written into their bylaws.
5. What's the building's history of special assessments?
When the condo association doesn't have enough money in its reserve fund to cover a needed repair, they have to charge a special assessment. This charge can be pretty sizable if it's for something like a roof or pool repair.
Special assessments are rare if a condo association maintains an adequate reserve fund. A history of frequent special assessments may suggest that that association isn't being overseen properly.
Ask for the past three to five years of financial reports to get a sense of the typical charges you might face as a resident. When you're looking at the building's reserve fund, keep in mind that older buildings require more maintenance, so they should keep more money on hand.
6. What do the residents think of the condo board?
Try to talk to residents about the condo board, and how they feel about the board's administration. If residents have a lot of complaints and misgivings about the board, you could be walking into a frustrating situation. Try to attend a HOA meeting to check out the general dynamic, and ask for minutes of past meetings. How the board conducts its business will have a huge impact on your quality of life.
7. Can you live with the condo association's rules and by-laws?
Condo associations typically have rules governing everything from pets, to noise and parties, to days when moving is allowed, to reserving and using communal space. These rules are binding, and can only be changed by petitioning the condo board and other residents. So make sure you're okay with the building's rules before you buy the place — because once you move in, you face fines and other penalties if you don't comply.
8. What amenities do you want or need?
The amenities question has two parts. First — what amenities do you need and what amenities do you want? Knowing the amenities that you absolutely can't live without will make your condo search faster and more efficient since you can quickly rule out any places that don't meet your non-negotiable requirements.
In that same vein, knowing what amenities you'd like to have can help you sort the "maybes" from the "yeses."
Once you've established your preferences, start asking about the amenities of the properties you're looking at. Do they have a gym, a pool, an outdoor green space, a shared entertainment space, and charging stations for electric vehicles? When are they accessible? Are they available to guests, or residents only? Check out the amenities to see if they're in good condition, or if maintenance seems lacking.
Also keep in mind that, in general, more amenities equals higher condo fees, and a larger reserve fund to cover ongoing maintenance. So there's a cost-benefit relationship to consider. Is it worth paying more fees for a pool that you may only use two or three times a year? On the other hand, some amenities — like a pool, for example — will make your building more appealing, and make it easier to resell down the line.
9. What's the parking situation?
Don't overlook the importance of the parking issue. Even if you don't own a car, having a unit with a designated parking spot will make it easier to rent or resell.
Never assume that a unit comes with a parking space. Many buildings have a "first come, first serve" policy when it comes to parking, so if the building's already full when you buy in, you may be out of luck. This means you'll either need to rent a space nearby (if there's one available) or fall back on street parking.
10. Is there a rental cap?
A rental cap is a limit set by the condo board on the number or percentage of units in the building that can be rented out. This is an extremely important piece of information if you're buying a condo and intend to rent it out.
A common figure for a rental cap is 20%, meaning that 20% of the units in the building can be rented out, while the rest must be owner-occupied. If the building you're looking at has already hit its rental cap, you won't be able to rent out your unit. You can likely be put on a waiting list, but it could be months or years before you're allowed to rent out your unit.
Rental caps can be important even if you have no intention of renting out your unit. Not all condo buildings have a rental cap, and buildings with no cap have no limitations on how many units can be rented out. Buyers who intend to live full-time in their unit may not appreciate the more anonymous, high-turnover "apartment building" vibe of a building with no rental cap.
11. If you're going to rent your unit out, will you use a property management company?
If you're buying your condo unit as an investment rental, you should think about how you're going to handle maintenance and property management. If the tenant's toilet clogs at 4 AM, are you going to get out of bed and go handle it, or are you planning on contracting with a property management company to tackle these situations?
Property managers typically work for a percentage of the rents collected, plus expenses, so you should figure that into your projections. And if you're planning on handling everything yourself, consider how far each condo is from your home, and how that might impact your ability to solve tenant problems in a timely fashion.
12. Is there any ongoing litigation?
Ongoing litigation involving the building's construction is a red flag that the building (and your potential unit) could be shoddily built.
It's relatively common for condo associations to sue builders over structural defects or shortcomings. Typically, the first features of a building to reveal low-quality work are the exterior elements that are exposed to the weather — the roof, the siding, and the windows. If these features deteriorate soon after construction, and the builder doesn't fix them under terms of the building warranty, the condo association will often sue.
This kind of lawsuit is often the precursor to the emergence of more serious problems with the building since substandard exterior construction is often accompanied by substandard work on more fundamental building elements. Don't forget to ask about past litigation, too, and how it was resolved. And keep in mind that if litigation against a builder fails, repairs will have to be paid for by the condo owners.
13. Has there been a recent reserve study?
The condo association is responsible for all repairs and maintenance for the building, and that requires quite a bit of money. The building's reserve fund, which is funded by the residents' monthly HOA fees, has to pay for all those repairs and updates. The condo association should be ordering regular reserve studies, which survey what repairs will be required, and estimate how much money will be needed for them.
The reserve fund should have enough money to cover those projected repairs. A good target is 25% of gross annual income. If they don't have enough to cover needed repairs, they may have to raise the monthly fees or levy special assessments. The absence of a reserve study means it's more likely you could get hit with big fee increases or unexpected assessments.
14. Can you live with the pet policy?
Many condo buildings have rules governing the number, type, and even size of pets allowed. In some cases, individual pets have to be approved by the condo board before they're allowed to move in. If you have a pet, you should consider submitting a pet application before submitting an offer on a condo, or you might be forced into a tough choice down the line.
Another potential issue is that, if your building has shared outdoor space, you may not be allowed to walk your dog or other pet there. Make sure you get clarification on this issue, and if the space is off-limits for your pet, look into nearby parks or other accessible green spaces.
15. How do area vacancy and rental rates look?
If you intend to rent out your condo, and you've already covered the rental cap issue, and the question of property management, it's now time to survey the vacancy and rental rates in the neighborhood.
The rental rates for similar units in the area will tell you a lot about the viability of your investment. If rental rates are low, dig into why— solid underlying fundamentals could point to a future uptick, while poor fundamentals are a warning.
Check on the vacancy rate in the condo development. If there are a lot of unoccupied units, try to find out why by talking to residents and condo board members. A high vacancy rate in an ostensibly desirable building is often a red flag.
16. Have you seen the property tax assessments?
One of the few things that aren't covered by condo fees is property taxes. That means you'll be responsible for an annual property tax bill above and beyond any condo fees and special assessments you pay. Ask to see recent property tax assessments to get a sense of how much you'll have to pay, and to make sure the assessment is reasonably close to the condo's value.
17. Have you reviewed the resale certificate?
The resale certificate is a definitive packet of documents containing a lot of the info we've covered above, from the rules and regulations of the building, to financial statements and reserve fund studies, to minutes of previous HOA meetings. Go over these documents in detail before putting in an offer, and consider having a lawyer or accountant take a look at them, just to be safe.