47 Luxury Home Decorating Ideas On A Budget For 2023
Posted by Robert & Joy Aumann on Tuesday, September 26, 2023 at 10:14 AM
By Robert & Joy Aumann / September 26, 2023
10 Comments
How To Make Your Home Look More Expensive
Not only are high-end properties more valuable on the real estate market, but they are also infinitely elegant and stylish. However, a great number of individuals believe that they need a sizable budget to add a touch of glamour and luxury to their homes. Yet, all you need is little creativity and an eye for aesthetics and you'll design a home that exudes sophistication and opulence. Read on for 47 home decorating ideas on a budget in 2023.
Please note that this article contains affiliate links. Please see my full disclosure at the bottom of the page.
How do you see luxury?
The first step is deciding what luxury means to you. Don't be misled into thinking that luxury homes are those where all the furniture and accessories come with a hefty price tag.
You need to find your own sense of style and express it through your home décor while also implementing certain elements that will turn your place into a dream home.
You can start by finding inspiration in design magazines and collecting inspiration on Pinterest. This will also give you a deeper insight into interior design and help you decorate your home like a pro.
1. Use Lighting Luxuriously
Whether you're a design newbie or an experienced enthusiast, you probably know how lighting can affect the general mood in your home. By installing appropriate fixtures, you'll be able to create an ambiance of luxury in your home effortlessly.
A simple, yet effective solution is to install dimmers for a more comfortable and lavish feel. They will enable you to control and adjust your lighting depending on your needs and change the overall atmosphere in your home.
Dramatic lighting can also help you introduce a sense of luxury to your home. A beautiful chandelier above your bed or bathtub can be used as a luxe décor statement that will also bring some drama to your space. This doesn't have to be expensive either because you can find glamourous fixtures in second-hand stores and at estate sales. Finally, you can also DIY and use metallic spray paint to give your old fixtures more glamorous appeal. I used this drum crystal chandelier pictured below to stage my most recent listing.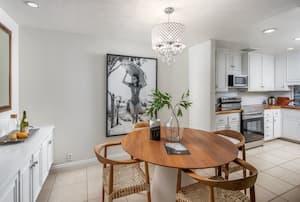 2. Upcycle Lamp Shades
Keep the base and swap out your lamp shades for something more current and modern. Or try spray painting the inside of a white drum shade with gold paint, and paint the outside with your choice of fabric paint.
3. Fragrant Notes
Luxury home fragrances are the easiest inexpensive way to add an upscale aurora.
The diffusers last longer and linger whereas the sprays dissipate rather quickly unless sprayed onto linens. They come in three sizes 100ml for small spaces (lifespan of 1-2 months), 250ml for medium size spaces (and the diffuser lasts 2-3 months), and 500ml for larger spaces and entryways + it lasts for 4-6 months.
The white rattan reeds are sourced from Indonesia to enhance the fragrances. Lemon, Verbena and Cedar are perfect for the kitchen and Prosecco or Santorini for the living room, Orange Blossom, Lilac & Jasmine for the bathroom, and Vanilla, Bourbon and Mandarin for the office.
If you're looking to impress your guests check out their hand soap and lotion set for in the powder bath or kitchen with a decorative tray.
4. Rearrange the Furniture
Rearranging your furniture into a new layout creates a fresh look for free! This also includes swapping furniture from room to room. Perhaps move your living room chaise lounge into the office and move the two leather armchairs into the living room!
5. Backsplash With New Tile
An excellent way to refresh your kitchen is with a new tile backsplash. Take a look at Tilebar.com for the most current timeless inspirations. Be careful of selecting the raised basketweave type look. They can be more difficult to wipe down after splashes in the kitchen. Don't forget to consider a new Farmhouse apron front sink. This sink design would work for all styles modern, spanish, traditional, bungalow, and contemporary kitchens.
6. Peel and Stick Tile (and Paint Samples)
FloorPops Peel & Stick Floor Tiles are made of vinyl and are the perfect home decor on a budget for flooring in a bathroom, pantry, or laundry room. You can also use them on a fireplace surround. You don't need any grout, just a utility knife to trim. Make sure you line up all of the tiles first before you start laying. It is recommended to add spray glue to the adhesive that comes with it.
Peel and Stick Paint Samples
click the photo below to FEDEX paint samples now!


Peel and stick paint samples replace the traditional messy paint brushes and mini sample cans. These small, adhesive-backed swatches make the process of selecting the perfect hue easier than ever. They allow you to experiment with various colors without committing to a full paint job. Simply peel off the backing and stick them on your walls. This hassle-free method eliminates messy paint samples and provides a true-to-life representation of how a color will look in different lighting conditions. It's an eco-friendly option too, as it reduces waste associated with traditional paint sampling. Peel and stick paint samples are a game-changer for anyone looking to transform their space with confidence and convenience.

7. Family Photos
Personalizing a space with family memories is a lovely way to decorate your home. But, throwing up mix matched frames, themes, and aesthetics is not the best idea. Instead, start with a theme in each area you are decorating. For example hang a gallery of photos from your Disney Cruise in the kid's play area, wedding photos in the primary bedroom, and children through the year vertically up the staircase. Hide photography imperfections with a black and white aesthetic.
Pin Me Now -> I am a viral pin with over 5M impressions every month since 2017!!!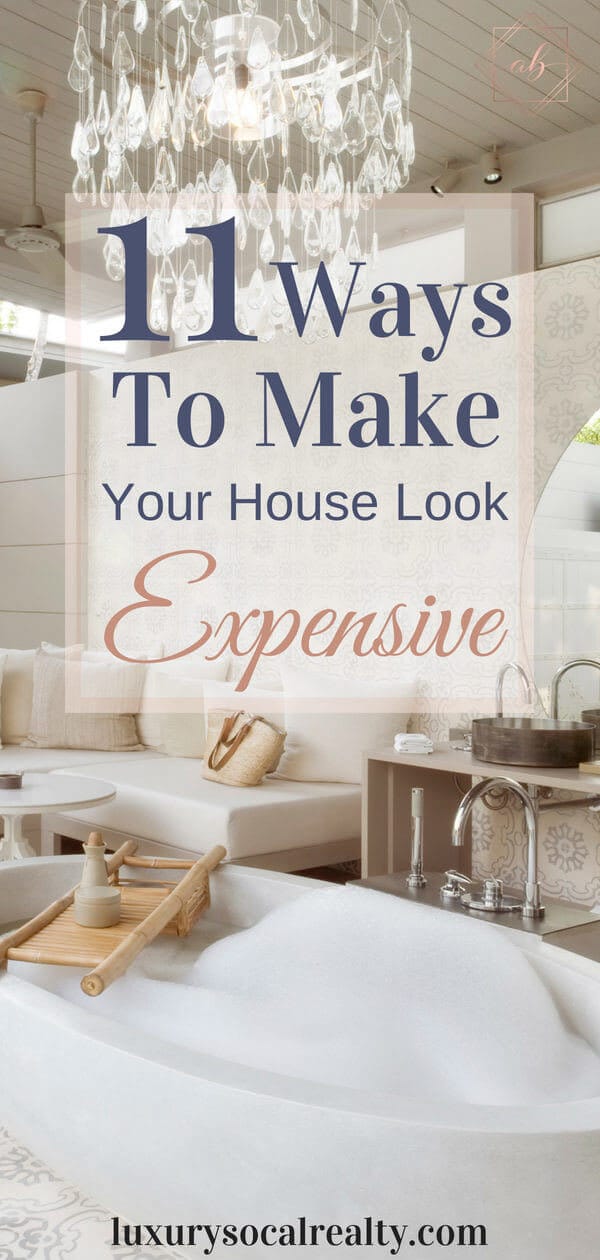 8. Cords & Cables
Cords and cables around the house can cause unsightly wires. You can find cord concealers on Amazon for under $20. Hiding unsightly cords and wires will help your space look polished, cleaned, and organized.
9. Decorative Storage Baskets
Doubling as both decorative and for storage, baskets are a nice textural neutral addition to a space. Baskets can be used for storing toys and games, a catchall on the office desk, and to store towels in a bathroom.
10. Add A Statement Piece
One of our go to closing gifts for clients is this Anna New York crystal and silver cake stand. It's a beautiful piece for entertaining, but also can be left out to display small artwork or other treasures. TRUE STORY: one of our clients collects bugs...and the stand was the perfect display for a couple of her bug collection.
11. Painted Floors
Flooring paint is one of the least expensive ways to refresh your flooring at a fraction of the cost. Make sure you buy flooring paint that has an epoxy-base or polyurethane base, because it's formulated to hold up to heavy foot traffic. Especially in older historic homes flooring can start to get so thin that refinishing it doesn't hide the scratches and wear. Creating a sense of height and expansiveness, a white-painted floor could be a good option for a small front entry.
12. Kitchen Organization & Food Storage
Flour, sugar, pasta, cereal in labeled containers on the counter or in the pantry feel so organized and stylish. I love the snap lids on these airtight food storage containers on Amazon. They come with 24 labels to organize everything from ground coffee, to marshmallows, to beans.
13. Stylish Kitchen Appliances
The right kitchen appliances can dress up your kitchen and the pleasing aesthetic will provide maximum visual impact. This Frigidaire Retro Bar Fridge would be the perfect accent for a home office, dorm, bedroom, or entertainment room bar.
14. Decorate Your Walls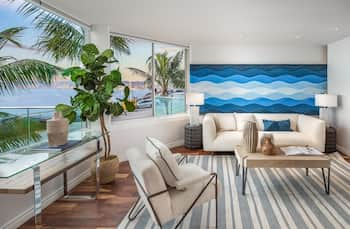 Beautiful wall accessories are always a great way to add character to a space. Artwork will not only elevate your home décor, but it will also give a unique personality to your home, allowing you to express your own creativity and style. You can choose different paintings, inspirational quotes or posters, but, for truly luxurious appeal and a wow effect, you should go with oversized wall hangings. This is our beachfront condo remodel where the wall art pictured are these decorative textured wall panels from Amazon.
15. White Paint
White paint makes an interior light and bright and is one of the first things we recommend to sellers when getting a home ready for market. We recommend walls, ceilings, and baseboards are refreshed with Swiss Coffee by Benjamin Moore at 75% strength.
16. Velvet In Jewel Tones
Teal, cerise, and smoky charcoal grey lounges or chairs add a statement piece to dress up any room. Velvet-like materials are also available when decorating on a budget. This low profile, emerald green lounge on Amazon would be the perfect accent piece for a home office.
17. Paint Your Cabinets
Repainting your kitchen and bathroom cabinets is an excellent way to improve the look of your home on a budget. You'll need to first strip the finish down to the bare wood. If this step is skipped, you could have a problem with the new paint adhesion. If you want to create a modern luxury look, you'll want to use a high gloss clear acrylic over your final coat.
18. Layer Mix Textures
Layering in different textile textures like linen, bouclé, velvet, cotton, wool, leather, and silk add interest and depth to your interiors. Your wall finishes, accessories, artwork, furniture, and lighting can incorporate different textures and add scale and interest.
19. Install Wall Sconces
Wall sconces provide ambient lighting and help make a room appear larger. If there is a chandelier, wall sconces can help balance the light by filling in light around the sides of the room. Take a look at these wall sconces on Amazon. If you can snag them for under $30, you've got a bargain!
20. New Decorative Throw Pillow Covers
Updating and refreshing your pillow cushions is easy and inexpensive. You can find replacement pillow cushions at shops like Crate & Barrel, Pottery Barn, Zara, H&M, IKEA and of course Amazon. Make sure your pillow doesn't have any fringe or tassels and select a cover 2 inches larger in diameter.
21. Go With Tasteful Furniture
Furniture typically dominates a room, standing out as a focal point and creating a specific atmosphere. For a luxurious look, you should go with a simple, yet sophisticated furniture design that will make an impactful, but not overbearing effect. For instance, modern elegant lounges with clean lines and upholstered edges are a perfect option for a cozy living room. Such a simple design will help you bring a feeling of luxurious and elegant comfort to your home without creating a kitschy look. Don't hesitate to invest in your furniture because it should provide your home with long-lasting appeal and comfort. Check out this white modern contemporary faux fur long bench ottoman with gold metal legs.
22. Mixed Metals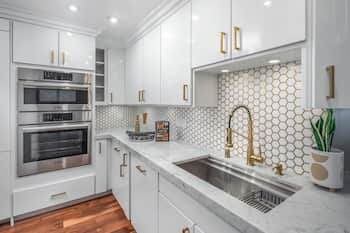 Welcoming varied metallic finishes to your home is another simple and affordable way to give your space a touch of luxury. You can simply change your locks, knobs, faucets and general hardware, or use spray paint to give them an uplift. For a more glamorous flair, you should go with glossy finishes that will also make your home brighter by reflecting light.
Gold is always a great choice for an opulent ambiance in your home, but you can also go with other equally stylish options, including rose gold, silver, brass and others. What's even better is the fact that you can find stunning, elegant and unique hardware pieces in antique shops, hardware stores and at flea markets. You can easily replace them on your own and introduce glitz and glamour to your home.
23. Ceiling Hanging Home Decor
From art work, to luminaires, to plants, ceiling hangings are a creative way to decorate. I've even seen sculptures hanging from the ceiling which is very impressive.
24. Countertops
Did you know you can refinish your countertops without replacing them? You can use tiles as you'll see subway style countertops in kitchens and baths built in the late 1990's early 2000's. You can layer paint to create a faux stone look or use chalkboard paint. Of course nothing beats replacement. The most economical in style countertops are quartz. Quartz countertops come in all depths (the thicker the more expensive) and three grades of stone quality.
25. Choose A Rich Palette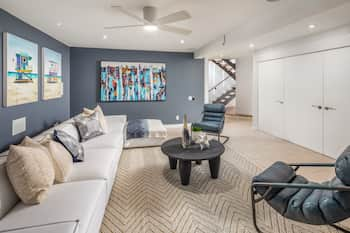 Colors offer so much inspiration when it comes to interior design while coming at a low price. With the right hues, you can create a rich, layered vibe in your home and a welcoming atmosphere. Subtle, neutral or muted tones will help you create a sense of simple, minimalist elegance while deep blues, purples and reds will give it royal appeal. However, you should keep in mind that colors can affect your state of mind, so you should pick hues that will meet the function of a particular room.
For instance, when it comes to bedroom colors, you can go with a soothing, yet elegant palette of layered blues, beiges and soft greys. Neutral shades are a classic choice that will give your home a timeless flair, but make sure to layer them for a richer, warmer and less monotonous look.
Going with an understated backdrop will allow you to introduce pops of darker, more dramatic colours. For instance, navy cushions, throws or drapes can stand perfectly against a subtle base. On the other hand, if you decide to go with a bold and dramatic palette, make sure to create a balance using contrasting elements.
26. Outlet Covers and Registers
A super inexpensive way to elevate your space is to invest in new electrical outlet switch covers around the house and heating and air exchange registers. These outlet switch covers at Amazon can add that "mixed metal" look to your design.
27. Contrasting Door Colors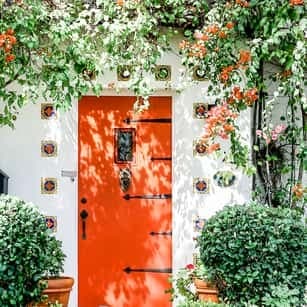 Paint colors that give a contrasting look are a great inexpensive way to upgrade the look. You can paint both exterior and interior doors. Try Iron Ore by Sherwin Williams for grey blue undertones. Orange, yellow, pink, blues, and greens are a great way to make the front door pop with authority. Exterior potted plants and accessories can compliment the look, and don't forget to upgrade the hardware.
28. Create A Clutter-Free Look
Simplicity and minimalism are another key feature of luxurious home design. By removing clutter from your home, you'll let all those beautiful features stand out and contribute to the general appeal.
This is a completely cost-free way to open up your home and transform it into an elegant sanctuary where tasteful details and lush fabrics can come into focus. Make sure that every item in your home has a clear purpose and its own place because this will enable you to control clutter and maintain a pristine, open and airy ambiance.
29. Invite Nature Inside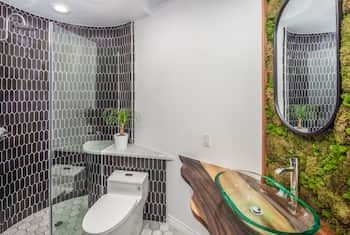 Natural embellishments are an essential component of interior design, introducing a sense of freshness and natural energy to your home. In a luxurious home, fresh or faux flowers can be perfect accent details, decorating your side tables, coffee tables and countertops. Fresh flowers will fill your home with a lovely aroma while also creating an atmosphere of sophistication and comfort. Check out this assorted collection of succulents for terrariums.
Greenery will also make your home much more appealing and comfortable by creating an airy vibe and positive atmosphere. In addition, splashes of green are a great way to break up the monotony of neutrality in a complementary manner. Above is an example of a living wall in the powder bath of one of our remodels prior to selling. We've also noticed that it creates a wow piece when buyers are touring. Succulents are such a great option because they are super low maintenance. Did you know that succulents help get rid of dangerous chemicals and even increase the humidity?
30. Retrofit Windows and Doors
When we are working with a client to get their home ready for sale we always help them with retrofitting the windows and doors. Retrofitting is when you just replace the glass and you're able to deep clean the frames and tracks. In a retrofit replacement, you save money because the window hardware including casings, jamb extensions, and brickmoulds get replaced.
31. Wallpaper Your Walls
Another stunning way to dress up your walls is to use wallpaper. Whether you decide to go with a single accent wall or wallpaper the entire room, make sure that the wallpaper style complements the general design of your home.
Here is an example of Peel and Stick Shiplap Wood Wallpaper.
Wallpaper with a textured design, metallic finishes and elegant patterns is a sophisticated and affordable choice for a luxurious home.
32. Large Area Rugs
Using oversized rugs creates the illusion of a larger space and helps your space look more prominent. You'll want to measure so you can be defined 12 inches from every wall and the next transition space if it's an open floor plan. Rugs are also useful for anchoring furniture from sliding around and absorbing sound in large open areas.
33. Luscious Landscaping
Consider adding a small water feature and firepit to the front or backyard. After a summer or two of rain and sun, mulch starts to fade, so a refresh is in order. This 32 inch fire pit table would be perfect for sunset smores.
Build your own planter box for your patios and decks. Don't forget to trim trees. If you're in Southern California you have to hire the guys to come out and climb the palm trees to give the beards a good trim.
34. Paint Your Cabinets
Repainting your kitchen and bathroom cabinets is an excellent way to improve the look of your home on a budget. You'll need to first strip the finish down to the bare wood. If this step is skipped, you could have a problem with the new paint adhesion. If you want to create a modern luxury look, you'll want to use a high gloss clear acrylic over your final coat.
35. DIY Projects
If you're a design enthusiast with plenty of DIY skills, you can find a range of elegant projects that will help you give your home an extravagant flair. This will give you all the design freedom you need while also helping you discover the rules and characteristics of interior design on your own.
36. Implement Luxe Materials
Certain materials, such as wood and marble, are emblems of luxury in home design. Therefore, it's not surprising that they come with a price tag that may exceed your budget. However, you can still introduce them without breaking the bank. For instance, you can use tile that imitates the look of wood or use these opulent materials on a smaller scale.
You can use marble for just a few impactful details, such as a marble bar cart or tile backdrop. Don't forget the Mixology & Craft Bartender Kit!
Finally, you can also find stunning marble alternatives that will create a lavish look in your home at a much more affordable price.
37. White Linens
Upgrading your linens is one of the most inexpensive wow things you can do. Check out these Luxury White Oversized Bath Sheets and these white hotel luxury deep pocket extra soft cooling bed sheets.
38. Hardware Refresh
New hardware for door hinges, door knobs,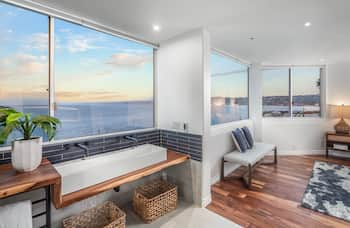 dresser pulls, and of course kitchen and bath - knobs and pulls will add a dramatic difference to your home. Updated hardware can create a big wow, especially in small spaces. Try some mixed metals, vintage and antique, or glass with pops of color. Black hardware is very on trend now too as well as marble and lucite. For great buys try overstock.com, wayfair, build.com, and for splurge luxe looks try Anthropologie.
39. Embellish Your Windows
Dressing up your windows will help you create an extravagant look in your home. Not only is this a simple trick, but it's also highly effective and budget-friendly. The key to creating a luxurious vibe lies in opting for rich, heavy and long drapes that will slightly puddle on your floors. Such window treatments exude elegance and sophistication and are typical of luxurious, formal designs. Sheers are a great inexpensive window treatment choice. Furthermore, their rich, soft texture will add to the comfort of your home while their colour and design can create a striking contrast against a subtle backdrop or add another layer of elegant neutrality to your space.
40. Oversized Mirrors
Want to make a small space feel larger and brighter? Using an oversized mirror to reflect light opposite a window can do the trick. These mirrors on Amazon come in various colors, grey, black, gold, and white for bedrooms or living rooms.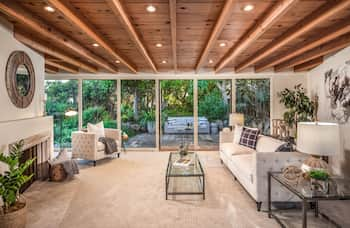 41. Natural Neutrals
When staging homes for sale we love to opt for neutrals for the furniture. Neutrals let other statement pieces shine like art work or the ocean views!
42. Architectural Elements
Along with adding neutrals to create an upscale look, neutrals also help enhance architectural details like wood beam ceilings.
43. Upgrade Your Trim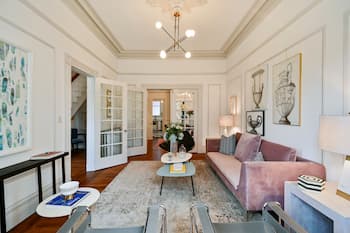 Moldings are a decorative cap that draws the eye upwards, while transitioning from wall to ceiling. There are two types of moldings, crown molding and cove molding.
Crown molding has angled edges that lay flat against the wall and are placed along the top "crown" of the room, adding a formality and ornateness.
Cove molding have a simple design, less profile variation and smoothly transitions for less traditional homes and soft contemporary homes.
Minimal flat baseboards add a more updated and elegant look and are at least 6 inches in height. A spin on flat baseboards, rectangular baseboards either stepped or grooved are less austere and offer a modern upgraded look to transitional spaces.
44. Rule For Artwork 57 Inches
The center of your art pieces should be 57 inches from the ground which then aligns at eye level. The number one wrong thing people do when hanging art, is hanging it too high.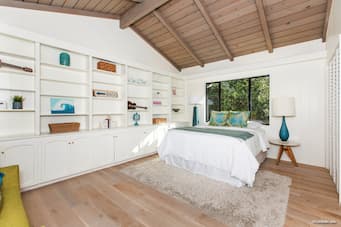 45. DIY Custom Built-Ins
DIY cabinetry to create built in book shelves, closets, desks, window seats, alcoves, art nooks, and cabinets are a great way to create a "custom upscale look." Pottery Barn, Ikea, West Elm, and Wayfair have pieces you can use to create a "built in" look. A wall of bookshelves creates an upscale look and provides fun areas to accessorize and plenty of bottom storage.
Interested in DIY shelving, cabinetry, window seats, closets, moldings, or baseboards tutorials?
Check out → Ted's Woodworking. Ted McGrath is a member of the "Architectural Woodwork Institute", has forty years of experience in woodworking, and is a professional carpenter.
46. Wainscoting Walls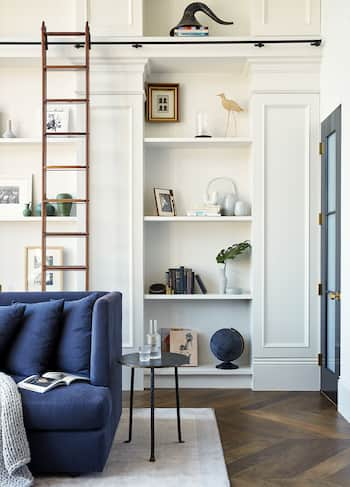 Wainscot paneling is a timeless decorative installation to add richness and texture to hallways, bedrooms, dens, and dining rooms. The tongue and groove beadboard is typically installed 1/3 the way up the wall. Picture frame-style and raised panel wainscotting look beautiful installed floor to ceiling in an office or formal living room.
47. Let Your Hardwood Floors Shine
If you've been blessed with gorgeous hardwood floors, there's no need to hide them behind wall-to-wall carpets. Instead, you should remove your carpeting and let your floors come into focus.
Creating a luxurious home can be quite simple and affordable, especially if you have a knack for designing. With enough inspiration, creative DIY projects and glamorous elements, you can design a space that exudes opulence and style.
Written in collaboration with Chloe, a graduated journalist from Adelaide and a regular contributor to Smooth Decorator. She loves everything related to decor, aesthetic and lifestyle topics.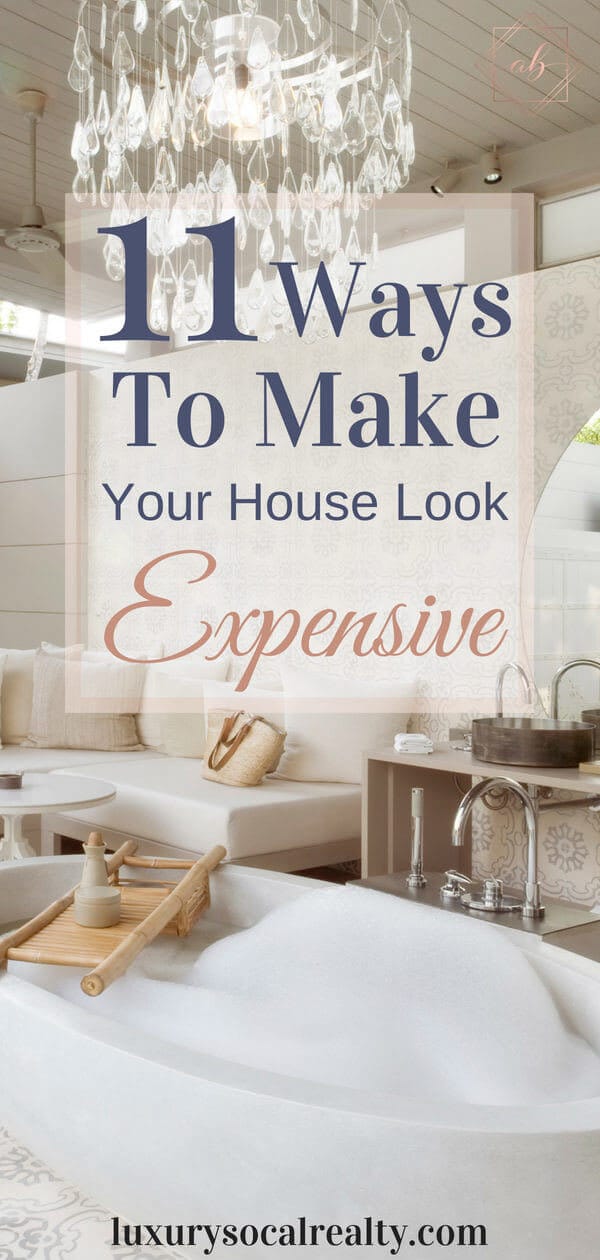 Please note that some of this site's links are affiliate links, and LUXURYSOCALREALTY.com is a participant in the Amazon Services LLC Associates Program, an affiliate advertising program designed to provide a means for us to earn fees by linking to Amazon.com and affiliated sites. At NO ADDITIONAL COST TO YOU, we will earn a small commission, if you purchase them. Please note that these are products we either know or use and recommend to our customers. We recommend them because they are good products.