31 Things To Know About Clubhouse (For Real Estate Agents)
Posted by Robert & Joy Aumann on Monday, April 19, 2021 at 11:57 AM
By Robert & Joy Aumann / April 19, 2021
Comment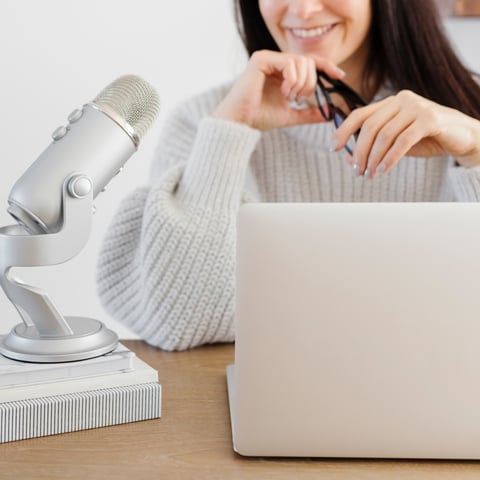 It's hard to imagine there's still a concept out there that hasn't been transformed into a business enterprise or an app. Yet, the Clubhouse app managed to do just that - create a new concept, market it brilliantly, and give real estate agents a new opportunity to grow their omnipresence.
Clubhouse is audio only, unscripted, and unedited conversation. It's a cross between podcasts, TED talks, and webinars. No content lives on the platform beyond the moment. There are no videos, stories, or photos. The only branding is your profile photo and your bio.
Since the end of December it has swelled from thousands of users to millions with astonishing speed.
Let's dive into this virtual space and explore new networking opportunities for real estate agents and exponential chances for new growth.
What Is Clubhouse?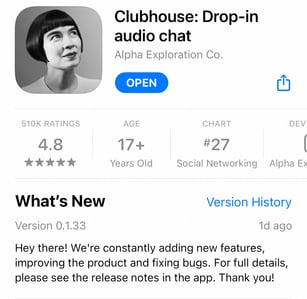 Clubhouse is a social media app that is just like real-life interactions and hosts thousands of virtual rooms at any given time where thought leaders, social media influencers, marketing gurus, coaches, and realtors are hosting different talks on pretty much every topic conceivable. Because the conversations are live, if you aren't in the room you miss out! There is not a way to upload files, share links, or direct message on the app.
Why Do Real Estate Agents Want To Join?
Aside from the elusiveness of the app, creating a digital "house" where realtors can congregate and take some of the edge off of a world stuck in a pandemic.
Connecting globally, you don't have to worry about your appearance to speak or attend any of these live events. There's something enticing about this "live and in-person" approach.
Here you have the opportunity to learn more on any topic, from life experiences to starting or running a real estate business, and network in a way that the "real world" doesn't always provide.
Famous influencers, celebrities, authors, and prominent business leaders like Elon Musk, Barbara Corcoran, Daymond John, Gary Vaynerchuk, Oprah, and Grant Cardone have been known to hold talks.
How to Get a Clubhouse App Invite?
Why is the clubhouse app invite only? Well, it's kind of like running stock for a "limited time only," or creating a "special edition" product. The hype that surrounds such a limitation creates FOMO (fear of missing out.) It's only run on iOS (rumor is May 1st it'll be available on android.)
And where there's fear (even the seemingly harmless fear of missing out), there's fire. Anything that creates what appears to be an elite community turns heads.
Ask a Friend
Ask a friend that you know is already on the app. When people join, they're only given two invites however the more someone uses the app to speak and/or moderate, the more invites they're granted.
Get Waived Through
You can, of course, create a username and go on the waitlist. This is actually a smart move because, once you create a username, some of your contacts already in will be alerted. They can then wave you through (even without an invite).
Clubhouse Tips For Realtors
Here are a few tips to amplify your presence on the app and set you up for success.
Setting Up Your Profile
After entering your invite code or being waived in you'll select your key interests under categories faith, life, identity, sports, tech, wellness, entertainment, arts, languages, knowledge, hustle, places, world affairs, and hanging out. These interests will correspond to the types of talks that you'll most enjoy.
Pro Tip: Your name should be your name but you can be creative with your handle @. Use your market area or niche in your handle. Mine is @sandiegoluxury one of the reasons I'm number 1 when you search people in San Diego.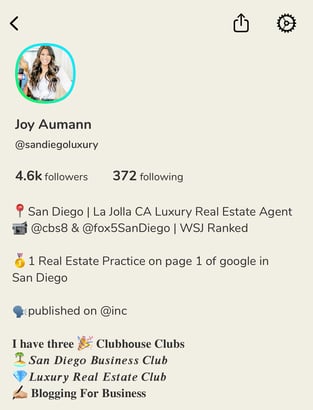 Your Profile Photo
Your profile photo is the only photo on the app. You want it to stand out when you're speaking on stage or down in the audience so users will click through to your bio and connect with you on Instagram. Make sure it is light and bright and a close-up of your face. Full body shots aren't ideal. Users have removed the background on their photo using canva or photoshop and replaced the background with a super bright color that pops. Others like myself have put a colorful ring around our photos. While using the app you'll also click through to your photo to update your bio, check on your follower count, and manage your settings.
Your Bio
Clubhouse gives you a lot of real estate for your bio. Make sure the first 3 lines tell who you are, what you do, and why someone should care. The first two lines are the first thing a user sees. If it's compelling they'll click through to see the rest of your bio. Use the pin emoji and your city because it will help you rank as one of the top profiles for your city. As an example search San Diego people and you'll see my profile right away.
Make sure to use emojis in your bio and break up the text with line breaks. This can be done on a text editor, or even write it out in a text to someone, then copy/paste. Also be sure to connect your Instagram and Twitter because those are the only two ways someone can direct message you from the app.
As a real estate agent you want to define your niche, who you serve, what market you specialize in, any notable achievements, and how you can serve.
Settings
On the upper right hand corner of your profile, the gear takes you to the app settings. Here you can turn off notifications, adjust the frequency of notifications, select your key interests, and disconnect your Instagram or Twitter. You can also contact customer service and review the community guidelines.
Hallway
The hallway is the feed of rooms available for you to join that is algorithmically available for you based on the people and clubs that you follow! That's why it's so important to make sure you are following the right people so that the right rooms are available to you. In the hallway you can join any active talk. Keep in mind your followers can see which rooms you are in, and every room is public.
There are five icons at the top of the hallway feed. You can find accounts and clubs to follow, manage your invites, look at upcoming events, schedule events, monitor your notifications, and access your profile.
Your Invites
The mailbox emoji is where you'll find your invites. When you first start out Clubhouse gives you two invites. Before sending out an invite to a friend makes sure they have an iphone and really want to hop on Clubhouse. If not their invite will be forever pending in your queue and you can't take it back or delete the pending invite.
You also want to make sure you don't mind being eternally connected to that person on Clubhouse. When you invite a user or waive them in, your profile is seen at the bottom of the person's bio.
Magnifying Glass Explore
In the upper left hand corner the magnifying glass is the search and explore feature. Here you can search the member directory by people in locations or areas of interest. This is where making sure the right keywords are in your bio pay off. You can also search by clubs that are tagged by interest or location.
Which People and Clubs To Follow
When you first sign on to the app it will prompt you to follow a bunch of random popular accounts. It's recommended to skip this and go right to the explore magnifying glass and search people and clubs in locations with interests important to you. You can follow experts in real estate, marketing, social media, or clubs that hold talks on these topics.
Once you hit follow you can "ring that bell" and select how often you want to be notified when your friend speaks. The default is sometimes, but you can select Always, Sometimes, or never ever.
Calendar
The calendar is a curation of upcoming talks suggested for you in the same manner that your hallway is curated. It's based on the users you follow and the clubs that you are a member of, or following. You can add scheduled talks from the calendar to your google or apple calendar because remember talks are live and once underway gone forever.
Notifications
Notifications are alerts that tell you when someone follows you, when a user or club you follow starts or schedules a room, when someone you follow is on stage speaking in a room, a ping to join a live talk, and if you are an admin of a club when people join the club and you have club members awaiting approval.
Rooms
Once you find a room title of interest and join an active room, you will be a listener in the audience with no mic. You can also room hop, see who's on stage, what they are talking about and the tone of the room.
On the bottom left hand corner you'll see the "peace out" leave quietly. The plus button allows you to ping in and notify any followers that you want to tell "this is a great room you don't want to miss out". The hand icon in the right hand corner is where you raise your hand to come up on stage to ask a question or contribute.
This is where having a light and bright attractive profile photo comes into play. Users look around and click on profiles that catch their eye both on stage and in the audience.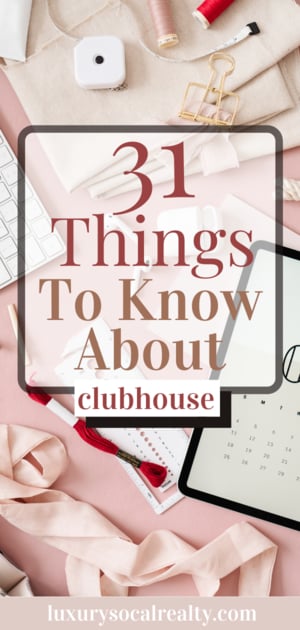 Starting A Room
You can start a room instantly with the push of the green "start a room button." You may start noticing rooms in the hallway with no event title! Those are fun because you may recognize the names in the room from the hallway but have no idea what they are talking about. Mix it up and see what works. Some days and times are better than others. You also have to keep time zones in mind.
Scheduling A Room
I recommend scheduling your talk in advance on the calendar with a compelling headline and a summary of your future talk. The calendar with plus icon is in the upper right hand corner where you can create a compelling event name, add co-hosts, attach it to a host club, and add a summary description of your talk. By adding co-hosts it will help your room populate in more hallways and grow your reach.
Private Rooms
Swipe right to left in the hallway to start a locked private talk with any of your followers. You can't try to start a private chat with people that you follow but that don't follow you back. In this section you can also see live talks held by the clubs that you are a member of or follow.
Structure Of Rooms
Rooms are structured in a few formats. Some rooms are structured with only 1-3 moderators and they turn off hand raising so no one else can come on stage. This is typically only the style of famous people. Another structure is where there are as many as 6-8 moderators where the audience can come on stage, interact and ask questions more like a cocktail party. Then there are mega rooms with 30-50 up on stage and 20-30 or more moderators (influencers on clubhouse) Some of these marathons can run for DAYS, yes days not hours. You can sit on stage for 5-6 hours before it's your turn to speak.
Raising Your Hand To Come Up On Stage
If you've hit the hand icon in the right hand corner of your screen, the moderators will be notified that you want to speak. They can bring you up right away, or they may be holding the stage and invite speakers up later on in the talk. If you're brought up on stage you have to immediately mute yourself because your mic will be hot.
Stage Etiquette
As mentioned before you want to immediately mute yourself. Begin by saying your name or mentioning something about your profile photo for followers to quickly seek you out.
You'll need wait your turn for the moderators to call on you whereupon you'll ask a question. You can see how many people are in front of you based on who is speaking. Moderators typically go right down the line, left to right. Make sure your question is intelligent, on point, and keep it to 90 seconds.
If you have something to add to the conversation before it's your turn, do not interrupt wait for a pause, and always ask permission first. "May I speak I have something to add on that point." Depending on the room you also may want to thank the mods for holding the room and at the end of your question or comment state "your name and I'm done speaking."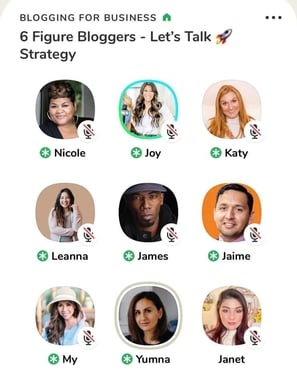 Moderators
Users on Clubhouse are already swapping 'influencer' for 'moderator'! Mods on stage have a green bean underneath their name. They are in control of the room with the power to bring users up on stage, or put them back down in the audience. Mods control the tone of the room, keep the talks flowing, and truly moderate when necessary.
A great room requires the moderators to bring the people on stage into the conversation and keep the talk flowing. Even though you don't have to get dressed up to be live on stage, mods need to be feeling good with high energy, not distracted, and have good WIFI or phone service.
There have been some very sensitive and volatile talks on clubhouse, and those are the most challenging to moderate. Sometimes it involves cutting people off, muting them, and removing them from the stage.
When you're moderating on stage you want to be sure to reset the room every 15-20 minutes for the new listeners. Welcome everyone give them a 90 second overview of what you're talking about and tell everyone to PTR. PTR means pull down to refresh and will realign the stage in the right order.
Clubs
Bringing users together with similar interests, identities, and activities, Clubhouse clubs are similar to Facebook Groups.
They consistently hold talks under an umbrella of topics. For example our Luxury Real Estate Club holds talks on social media, prospecting, team building, negotiating, and marketing as it relates to luxury real estate.
You can start a club once you've become active on the platform with a handful of followers. To start a club, on the bottom of your profile you'll find a + sign. Right now clubs are a land grab. If you have an idea for a club grab the name and worry about growing it and running it later.
The Clubs you admin or are a member of are all publicly viewed at the bottom of your profile.
Cardinal Rules
If you want to blitz Clubhouse to pitch your services, recruit, and sell it isn't the right platform for you. Clubhouse unspoken rules: come from the perspective of contribution, offer value, and help others. Do not pitch unless you are co-hosting and they've offered to let you pitch live or in advance. Users can also see through the indirect pitch, example take a look at my instagram on my bio or read my bio for the link to xyz. Pitching, acting slimy, or being rude will garner you a reputation around the app fast and you'll find limited opportunities for business.
How Realtors Can Leverage Clubhouse
So if you can't pitch or self-promote, how can a real estate agent grow their business on Clubhouse?
Learning
There are so many strategies and tips that you can garner from other mega successful agents.
There are always talks on social media marketing, shorts, reels, what works. Influencers are sharing growth strategies, how to get clients on these platforms, and the newest algorithm changes. Top producing agents hold talks on role playing and scripting, prospecting, and lead generation.

Niches like marketing to expireds, sports and entertainment, and luxury are frequent. In fact there are so many talks with such great tips and information it's easy to get lost for hours in the conversation.
Followers
Once you're done being a spectator in the audience it's time to grow your influence and followers. The number one way to gain followers on Clubhouse is by speaking and moderating rooms. Often times the primary mod will tell the audience multiple times during the talk to follow all of the mods, and they do!
Growing your followers on Clubhouse is just like any other social media platform. The more followers you have the more clout you have when you are interacting on the platform.
Another strategy to gain followers is to admin for other clubs. Then your profile will be listed as the top 3-10 members of a club that could have thousands of members. I'm an admin on Entrepreneur Club with 14,000+ members and followers, Crushing It In Real Estate with 2,300+, Zillowkiller with 5,600, Real Estate Agent On Fire, Sports/Entertainment, and of course my own 3 clubs San Diego Business Club, Luxury Real Estate Club, and Blogging For Business.
Finally if you have a strong following on TikTok, Youtube, Instagram, ect you can use that channel to drive your followers as new followers to Clubhouse.
Collaborating
Real estate agents in other non-competing markets are often eager to share their tricks of the trade. Collaboration off line has been a huge benefit to my time on Clubhouse.
I've made three smart hires in the past 90 days thanks to a tip to use wizehire.com. An agent I frequently co-moderate with shared her legal team contract with me and I was able to add loopholes that I missed to update mine with.
When I first started the Luxury Real Estate room series I reached out to two real estate influencers on Instagram. One of them has over 100k followers. We collectively promoted our room through posts and stories driving users on to the platform. This collaboration ensured our first rooms had over 100 people in the audience and our most successful room had 250.
Grow Your Instagram and Twitter Following
You can freely pitch and self-promote on your other social media platforms. When you are on stage speaking users will click through to your profile and then click through to your Instagram. There are testimonials of people with very small Instagram followings and thanks to Clubhouse they've grown their presence exponentially.
Networking
I found the best way to network is to moderate rooms with other industry thought leaders. Off the platform introduce yourself to others that you want to moderate with in the future.
Once you get your follower count up so many people will be inviting you to co-host their rooms with them. From networking I've gotten three referrals including a professional athlete and facilitated two referrals between two agents in other markets.
Start running rooms or create a club in a niche not necessarily real estate. Blogging and online search engine marketing is a passion for me. I've got a club Blogging For Business for six and seven figure bloggers where I've held the stage with influencers in food and parenthood.
Thought Leader
Position yourself as a thought leader and industry expert in your niche and market. What has made you successful in your real estate career? What is your niche or specialty? What is your primary prospecting avenue? These are all ideas to build a club around and start rooms on.
Join Us On Clubhouse Today
Download and get started on the Clubhouse app today. It's a new opportunity to grow your real estate business.
Don't forget to follow me @SanDiegoLuxury
If you have any questions or insight on the app go ahead and comment below!