Why Should You Consider Buying a Beach House This Summer?
Posted by Robert & Joy Aumann on Friday, June 12, 2020 at 8:42 AM
By Robert & Joy Aumann / June 12, 2020
Comment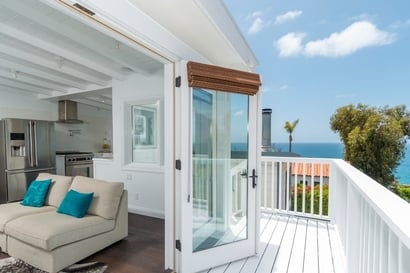 With summer upon us, nothing beats a home away from home right on the beach. If you want a great location to spend the hottest days in summer, here's why you should consider buying a beach house.
What if you stopped dreaming about buying a beach house, and actually gave in to the desire?
Crashing waves, sandy beaches, and paradisiacal views are very enticing on their own. Yet there are multiple other advantages to buying your own bungalow, condo, or vacation retreat on the shore, especially in the Southern California area where the weather is nearly perfect.
How's The Market?
We have market data for every community in San Diego
Read on to discover why!
The Advantages of Buying a Beach House in Southern California
This slice of the West coast covers offers miles upon miles of beachfront options. Whether you purchase real estate in La Jolla, Del Mar, Coronado, or Solana Beach, you'll reap every one of these benefits.
You Get Convenient Beach Access without the Fees
When you buy a beach house, you get VIP access to the shores that drew you there. No more long walks to the ocean, dodging traffic, or paying parking fees.
What's more, many beach homes, condos, and apartments are situated on private stretches of beach reserved for those who live there. Once you make your purchase, you can say goodbye to the days where you fought to claim a few square feet of towel space before diving into a crowded ocean.
Instead, you can stretch out and enjoy paradise in peace. Embrace the scenery alone or with close friends and family.
There is a level of convenience in having the beach as your backyard, too. If you need to head back inside for a drink, bathroom break, or sunscreen, it's no problem. The close proximity will allow you to come and go as you please.
The Beach Offers a Therapeutic Environment
Sit back on your balcony or patio and enjoy the sights, sounds, and smells that permeate this glorious setting located in your own backyard. Not only is it a pleasure, but it's also quite good for you.
Studies have shown there are several health benefits to spending time out on the beach, including:
A fresh dose of Vitamin D from the sun
Natural skin exfoliation from the sand
Exposure to ocean minerals that can help reduce the symptoms of rheumatoid arthritis
Exposure to sunlight to help decrease symptoms of depression and promote happiness
Stronger skin elasticity promoted by the ocean's many minerals
Less stress due to the beach's calming atmosphere
Individuals who purchase a beach house can breathe easier knowing their investment is not only fun but also can make them feel better. Combined, these benefits are like a prescription for good health and glowing skin. It's a win-win!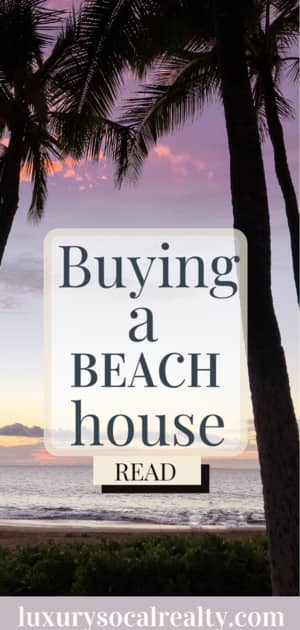 You'll Never Miss a Glorious Sunset or Sunrise
Speaking of stress release, there is nothing quite like watching the sun rise and set. Like the beach itself, there are actually several cool benefits to experiencing this part of nature's routine.
The awe inspired by witnessing a sunset can make you feel like time is more abundant
It gives you an excuse to spend time outside in the fresh air
It promotes mindfulness by reducing stress and improving your cognitive performance
It helps you detach from technology and reconnect with nature
Those who experience sunsets or sunrises often feel inspired
From the comfort of your beach house in Southern California, you can watch the sun rise above the horizon into the sky and set into the ocean. With the state's natural beauty, you won't mind getting up a little early or lingering on the beach until nightfall.
A Vacation Retreat Can Become Your Retirement Home
If you're the type of individual who likes to plan ahead, a beach house might be something to check off your to-do list now. Many retirees seek out homes, apartments, condos, and bungalows near the beach where they can enjoy their golden years.
But why wait until you're in your 60's to start planning for that future?
The earlier you invest in a beach house, the longer you have to pay off the mortgage prior to your own retirement. This increases the quality of your retirement by removing a mortgage from your monthly bills and expanding your budget for the activities you enjoy most.
Plus, with this investment, you don't have to wait until you say goodbye to your career in order to enjoy it! Plan vacations, holidays, and weekend getaways whenever you want. After all, you own it!
You Can Rent Out Your Beach House for Additional Monthly Income
Did you review your budget only to find you don't have the leeway to pay two mortgages at once? Then don't! Instead, make your beach house earn its keep by renting it out on a monthly--or even weekly--basis.
Beach houses are always in high demand. The dreamscape setting holds a timeless popularity that guarantees a good demand so long as you market the rental listing properly.
The advantage of a weekly or monthly rental is that it also allows you to reserve the location for your own use during the weeks or months of your choosing. That means you can enjoy the space when you want and make money on it while you're away.
When priced well, many individuals find that they not only pay off the mortgage through this approach, but they also gain a profit. You can use that money to either invest in your retirement or expand your assets by buying more properties to rent out.
If You Buy Smart, You Can Make a Profit
Beach houses never go out of style. There will always be a demand for them, and you can sell yours later for a profit if you buy wisely. Some things to look for:
Try to find a deal for below the real estate's actual value
Consider the area you purchase in and evaluate whether or not the demographics, economic influence, and potential for growth will add or support its value long-term
Consider budgeting renovations that will increase its resale value
Buying under the home's true value makes a quick turnaround sale easier, if necessary. However, make sure you look at its long-term potential, especially if you are considering holding onto the residence for years to come.
Also, if you are looking to remain on a smaller budget than your existing home, then consider buying to meet your needs.
Most vacation or retirement homes aren't as grand as your primary residence. They simply provide you a space to live, relax, and enjoy the beachfront property is located on.
You Can Build Memories for Years to Come
Tradition is sacred to many families. If you're looking to build memories with your loved ones, a beach house can serve as a central hub for bonding. From summer vacations to holiday festivities, owners of these coveted properties often use them as a space to bring the immediate and extended family together.
And why not? The beach is a romantic and family-friendly retreat.
You can pass the beach house down through the generations or simply let the whole family utilize it upon their whim. This can make the purchase more worthwhile since it ensures the property will be used more than once or twice a year.
Buying a Beach House Can Lead to Tax Deductions
Do you like to save money on your annual taxes? As it turns out, a secondary residence real estate purchase is a great financial investment.
Here's how it works: in the United States, the interest you pay on your mortgage is tax deductible on any property that is classified as a personal residence. You receive deductions of up to one million every single year for all of your homes combined.
All you have to do to qualify your residence is to ensure you use it for a minimum of two weeks a year.
That's the length of a typical annual vacation trip!
You Can Drop Everything and Escape Without Planning a Vacation
Speaking of vacations, they're a lot easier to take when you can retreat to your beach home at your leisure. The only work involved is packing your bags and getting there.
Unlike a hotel rental, there are no additional costs for staying the night. It's your condo or home to access whenever you please.
Many secondary homeowners discover that they take more time off when this happens. It's liberating for the mind and healthy for the soul. How?
Frequent getaways--even short, weekend-long ones--help reduce the stress brought on by the daily demands of our life's routine. As a result, beach house owners tend to relax and enjoy their life more.
Choosing Between a Beach House and a Beach Condo
Beach homes come in all shapes, sizes, and forms. With so much to choose from in Southern California's surrounding areas, it's almost impossible not to find something that suits your lifestyle.
But how do you know which to shop for: is a beach house or a beach condo the right fit?
While each neighborhood is different, with its own unique style and set of rules, you can usually expect them to fall under these generalized differences:
Compare the Price Differences
Price differences can vary dramatically between condos and houses. Typically, houses are more expensive because they offer more square footage and personal space.
However, many beach condos can sometimes be found equivalent to the prices of many home costs. It just depends on where it falls on the luxury and amenities scale.
As you're shopping, you'll want to consider not only the upfront costs and mortgage payments but also your monthly expenses.
Typically, monthly condo water and energy bills are lower than a home's monthly bills. The insurance policies are also cheaper.
Overall, condos are often the more affordable and conservative option.
Compare the Maintenance Needs
Another factor to consider as you shop around is the level of maintenance your secondary residence will require. Many beach house buyers who are looking to establish a vacation home like low maintenance investments because they won't be there as often.
Condos typically come with several amenities that make maintenance easier, such as HOA fees to cover external maintenance and amenities. This may include lawn care, trash disposal, clubhouse access and maintenance, pools and hot tubs, gym facilities, and other perks.
Homes, on the other hand, require more maintenance, much of which comes out of your own time and pocket. Even if your house has an HOA, it doesn't typically cover the maintenance of your home or property.
Lawn care is often an out of pocket expense and typically is needed for a much larger area since your home resides on its own lot. Plus, your energy, water, taxes, and other related recurring costs are going to be much higher.
With more square footage to maintain and some services you have to pay for yourself, it may be easier to simply buy a unit.
However, homes will give you a sense of privacy and spaciousness you can't achieve via a condo, apartment, or townhome.
Compare the Spaciousness
Are you a single buyer?
A married pair?
A large family?
Are you looking to entertain many guests or do you prefer solitude?
All of these question factor into how much space you will need. How you intend to use the space will determine a lot. If you need several rooms or a high square footage to house and entertain guests, a home may be your ideal choice.
Condos are typically more conservative. Although this means less real estate to clean and maintain, you may feel a bit cramped in a one, two, or three bedroom unit.
You also may have to contend with the presence of neighbors in the units attached to your own. While some units may feel large on the inside, you may step out onto the balcony only to realize a loss sense of privacy as you see your neighbor on their own balcony a few feet away.
Ultimately, the choice boils down to your personal preferences and needs. If you aren't sure after weighing the pros and cons, ask your real estate agent for their input. He or she can show you various options and help you ask the right questions to determine which choice suits your desires best.
We Make Beach House Dreams Come True
If you're looking at buying a beach house in the Southern California area, talk to us. With a diverse selection of properties across San Diego, we can match you with the perfect vacation home, retirement home, or weekend getaway.