13 Beach House Decorating Ideas From Real Estate Pros
Posted by Robert & Joy Aumann on Monday, May 28, 2018 at 10:29 AM
By Robert & Joy Aumann / May 28, 2018
2 Comments
Top Beach House Decorating Ideas
Is your beach house looking dated? Or maybe you're planning to buy one, and you'd like to remodel it? Whatever your beach house decorating needs are, let the pros help. Here are 13 beach house decorating ideas that are as fresh as a summer breeze.
A beach house can be a delight to own and live in. They make great second homes and investment properties for the family to enjoy and rent out weekly during high season.
The only frustration you might have is the decorating. Maybe your beach house is looking dated, or perhaps you're planning to buy one and are looking to redecorate it.
Whatever the reason, creative beach house decorating ideas can be hard to think up. Luckily, our experience in San Diego real estate has exposed us to some of the most creative and amazing decorating ideas you could imagine.
With that in mind, we've put together this article sharing some of the best beach house decorating ideas we've come across.
There are some amazing choices of beach homes everywhere from San Diego to Orange Country.
To help you make the right home decor decisions, here are our 13 top beach house decorating ideas to turn your coastal retreat into a modern-day paradise.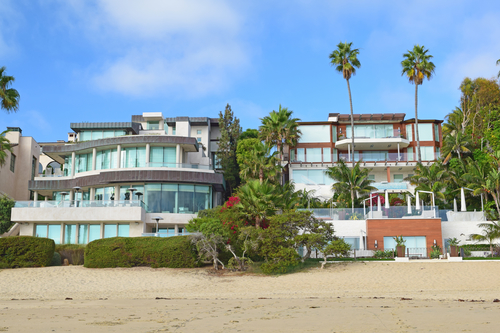 1. Ditch the Theme
Your beach house should be a modern or classical display of splendor, not an ornate showing of HomeGood's finest. Instead of going for a shell theme throughout your beach house, think outside of the box.
What you can do instead is give your home an overarching style choice. Sticking to the shells style, don't go for a shower curtain covered in shells.
Instead, think about subtle hints you can do that nod towards the style, rather than being too in your face. Skip a vase full of tiny shells for one large statement shell on the sideboard.
2. Upcycle Old Furniture
One of the greatest gifts humanity gave to home decor in the last 20 years was the upcycling of old furniture. Homeowners can hit the local thrift shop and find some of the most old-fashioned, outdated pieces of furniture and completely change the look of it.
From painting wood to changing handles to turning iron chains into a coffee table design, upcycling old furniture and objects can give your home a creative touch.
With 34% of 30 to 59 year old's upcycling to create something by themselves and 27% doing it for fun, upcycling has become a popular new trend in the last few years.
If you lack creativity, you can find some incredible upcycled furniture on Etsy ready made. There are also a lot of companies who will design and make furniture to specification if you have a creative idea.
3. Wood Panelled Walls
Nothing feels more at home in a coastal home than reclaimed wood. More specifically, reclaimed wood walls.
Incorporating reclaimed wood into a wall cladding finish can give your home a warmth that a regular wallpaper or wall paint can never do.
Try to incorporate an element in your wall cladding that ties into another area of your beach house interior. We've seen wood paneled walls created as feature walls which is the same finish of wood as the chairs in a separate room.
Tieing these small details together can be an interesting collaboration that will have your guest wondering which interior designer you brought in to complete the task.
4. Sailor Style
You'll find that a lot of coastal homes will feature faded furniture in its design choices. This is a key element to creating that sailor styled home.
Sunbleached surfaces tie in nicely with the well-worn feel of the coast. A bedroom is a perfect place to incorporate this look.
Use light fabrics with nautical inspired styles to spice up your bedding. You can even mix up your pillow choices which adds a more interesting style choice while still feeling relaxed.
Soothing wall art can be a welcome addition to your space especially with soothing watercolor paintings of nautically inspired scenery.
5. Breezy Window Options
There's something particularly delightful about a beach home, with the sand in the view and a light breeze rolling in. For those warm days when you want the windows open wide, consider some decorative window options.
Nothing says coastal more than soft natural linen curtains blowing in from the breeze. This material will help to frame your delightful view lightly in style without overpowering.
The lightness of the material makes it easy to sweep out of the way too. You can even consider laying some lightweight bedding, blankets or cushions alongside your window.
Having a seating area alongside your window makes a perfect resting place for reading or simply taking in your surroundings.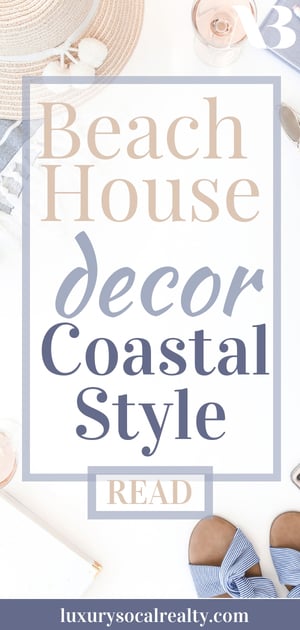 6. Copper Ahoy
Copper is one of the best elements to use to spice up your beach house decorating. You can use this charming metal in decorative ornaments, hanging lights and even in a charming bathtub.
You can imagine a deep copper bathtub in a ship captain's quarter, and that's what gives such a fine addition to your bathroom it's charm.
An old-fashioned tub can give your bathroom an almost regal feel and will certainly impress any guests who want a dip in the tub. You can pair a copper tubs styling with accent features like hanging baskets for toiletries in shiny copper.
You can also pair the bright orange of the copper with some light blue hues and cool pale colors throughout the rest of the bathroom.
7. Anchors Up
A nautical theme might feel a little cliche in your study -- unless you go for a full wall nautical map, that can be pretty epic -- but for children, it's a perfect choice.
Nautical themes are practical in color choices, making it an easy long-term choice for a kids bedroom. You can easily mix up the theme with new linen and updated decor as they grow up.
You'll also find the bright colors associated with nautical themes can brighten up a room as well as keeping your kids happy with your choices.
8. Coastal Cladding
Something is charming about the faded wood finish that you find in many coastal home designs. Your kitchen is the perfect place to incorporate this style.
From shabby chic dining tables, to end of room hutches on a chest of drawers, you can create an amazing white wood design. These are perfect for a beach home and design.
One of our favorite design ideas we've seen is using the coastal faded wood design but as a wooden wall cladding. White-washed cladding helps to give your kitchen an instant beach-hut style feel.
You can even paint your cabinets in a contrasting dark, chalky grey tone to give them a look that is fantastically chic. Country details work well with this setup like an old-fashioned plate rack, hanging mugs, and even a white range cooker.
9. Soothing Color Options
One of the biggest things we hear about coastal designs and beach houses, is they make people feel relaxed. It's something about the fact your thousands away or just a few feet away from the waves.
Stepping into a beach home should make you feel like your stepping into a vacation. You can help yourself to achieve this goal by using some little color psychology tricks.
You always want to start with a neutral base of colors. Don't use monochromatic color tones for a harsh contrast, instead focus on muted tones. Off-whites, sandy colors and softer greys can create an environment that feels both inviting and soothing.
You'll often see suggestions of bold colors in contrast to soft muted tones, but in a beach home, it's sometimes nice even to keep your accent colors muted.
Pastel hues can be a nice focus, especially with colors like coral having such a beachy influence.
10. Simple Layouts Are Best
You'll find that layouts in modern coastal homes are the key difference to the traditional styles you may have seen in the past. Old fashioned coastal homes focused on heavily filled floor plans.
Instead, enjoying a more minimalist room setting with the same style layouts can seem really different to more traditional designs.
To mix up this minimalist style, you should focus on the room's function being the highlight. For a dining room, that means making the dining table the feature. For a living room make the sofa the highlight.
For an outside area, your firepit should be your focal point. Make sure to focus on leaving negative space around it so your guests can move comfortably around the room.
Bear in mind that when incorporating these design changes, the furniture you use will be especially important. With fewer accessories cluttering up your room, if your furniture doesn't stand out, it may leave you with a drab and lifeless feel to the room.
Instead, choose furniture which is in tune with the style choices of your coastal home. You want them to be able to stand out on their own and be the real focus of the room.
11. Rock Some Textures
With beach house decor, one of the most important elements to consider is how your rooms elements look like they feel -- also known as visual weight.
One of the biggest things you'll notice about the beach is the feel of it. It's tactile.
From the sand between your toes to the rocks in your hands, so with your beach home, you want to do your best to recreate those feelings.
You can do this by layering textures together, things like woven rugs, smooth clay pottery, and jagged wooden ornaments all play a part in telling a texture based story.
You want textures which don't just feel obvious; you want them to be visually obvious.
Bear in mind; it's still your home, so you don't want everything to be sharp edges and jagged surfaces. Mix up those textures with soft components like blankets, plush cushions and throw pillows.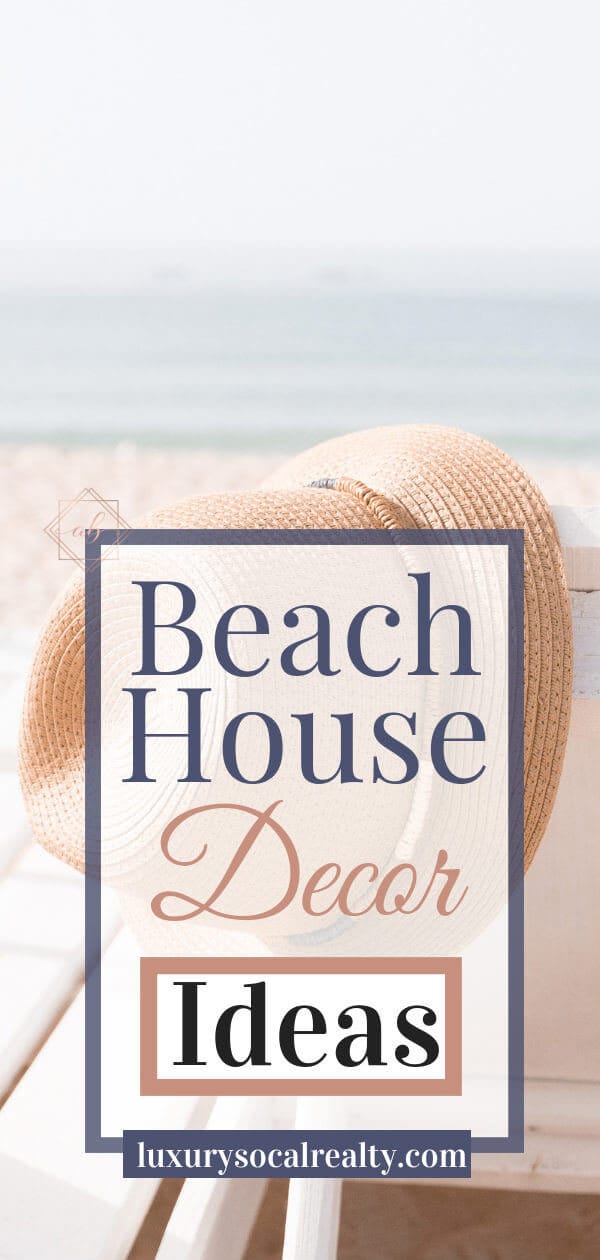 12. Mix Up Modern and Traditional
Your finishing touches to your beach house interior should be the accessories. Modern-day beach house decorating ideas will stick to just a few accent pieces that you would find in a typical beach house.
There's nothing wrong with mixing things up though and incorporating a few modern elements like trendy statement pieces of furniture or lighting. This mixture of modern and traditional can give your home a quirky twist.
Make sure to keep the focus on the beach. You can use traditional features like beach signs or driftwood and modern pieces working in contrast like chevron pattern pillows or wallpaper and even fancy lighting fixtures.
13. Don't Get Nautical Fever
One of the final takeaways is to not get too wrapped up in the beach house classical cliches. We've seen many a home in need of a decor makeover from getting nautical fever.
From anchor themed wallpaper, paired with seashell rugs and rubber rings clad in starfish, there's nothing cute or appealing about those styles.
If you want to add a touch of coastal elegance, stick to the small details. Don't cover your room in fish netting, use it in a small feature like a small amount of netting used as a curtain tie-back.
What Beach House Idea Fits Your Home?
With such a wide array of amazing and beautiful beach house decorating ideas, you might want to incorporate every option in the list. Remember though that less is often more.
Pick a design tip that suits your style choices and enjoy modernizing your beach house with some classic coastal momentoes and modern design choices.
For more resources on purchasing a beach house Bill Gassett has a great article: Questions to Ask When Buying a Waterfront Home.
If you are considering purchasing a beach house in San Diego or one of San Diego's oceanfront homes for you and your family, get in touch today.