52 Coastal Decor Ideas for a Beach House
Posted by Robert & Joy Aumann on Tuesday, November 1, 2022 at 10:29 AM
By Robert & Joy Aumann / November 1, 2022
2 Comments
Coastal Beach House Decor Ideas
An elegant, beautifully-designed beach house can offer a taste of the tropics from anywhere. Whether you're curling up in the middle of the suburbs or you're truly just steps away from the ocean, there's nothing like coming home to peaceful reminders of sea salt, gentle waves, and the sun setting over the water.
Beach houses have a naturally laidback feel but that doesn't mean they can't also feel refined and elevated. With the right touches, you can transform any space into a coastal paradise that evokes the serenity of the sea while decorating on a budget.
Today, we're sharing 43 decorating ideas for a beach house to inspire you to create a tranquil haven of your own.
Please note that this article contains affiliate links. Please see my full disclosure at the bottom of the page.
Bring the Beach to Your Kitchen
Let's start in the heart of the home. The kitchen is the place where everyone gathers, whether you're creating a delicious meal, monitoring homework time, or catching up with friends.
Here are 10 easy ways to create a beachy feel in this space without overpowering it.
1. Start With Linens
Take a look at your kitchen linens. This includes your tea towels, pot holders, and dish rags. If they're neutral or solid-colored, go ahead and swap them out for a few fun beach prints or simple neutrals! Check out Kay Dee Design's super cute Salty Lobster & Crab kitchen towel set.
This is an economical way to make a dramatic impression without overhauling the entire look of the room.
2. Add an Accent Color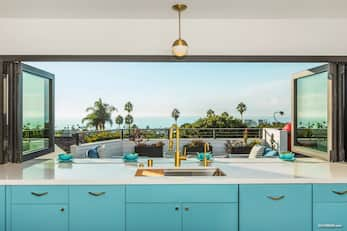 You don't have to paint an underwater mural in your kitchen. However, you can bring insome sunshine by devoting an accent wall to your favorite beach-themed color.
While the standard navy or baby blue is always classic, don't be afraid to venture a little outside of the go-to shades. Seafoam green, teal, and even pale yellow are calming alternatives that are equally sea-worthy.
Comment below on what you think of this aqua blue and gold kitchen!
3. Incorporate a Beach-Themed Centerpiece
You don't have to shell out a ton of money on a beachy centerpiece. In fact, the most special ones are the creations you make yourself, using mementos and souvenirs from your trips to the shore!
The next time you're at the beach, gather a few small shells. You can also pick up sand dollars, starfish, and shark teeth!
When you get home, clean up your best finds and put them in a large glass jar or bottle. Then, proudly display it on the center of your island where everyone can enjoy it and reminisce.
Pro Tip:
When you step inside the lobby of a 5 star hotel you'll be hit with fragrant notes of cardamom, bergamot, patchouli, wood, mint, mandarin, and oud. One of my favorite brands, Antica Farmacista is a women-owned company with cruelty-free products. Their luxury fragrances are displayed in grand resorts such as The Beverly Hill Hotel, The Four Seasons, and Hotel Bel-Air.

Try

Prosecco

or

Santorini

for a beachy fragrance.
4. Change Up Your Wall Decor
It's easy to find beach-inspired canvas paintings or framed prints at your local hobby store. Or, you can enlarge and print some of your favorite pictures from vacation! These can look stunning in a kitchen, especially displayed in a set over a breakfast nook or dining area.
Want to simply embellish prints you already have? If you're crafty, you can glue small shells around your current frames for an instant refresh. This is also a simple way to dress up a plain mirror!
5. Bring in Natural Elements
For a minimalistic, scaled-back look, you don't have to incorporate any kitchen decor that is decidedly beachy. Instead, you can stimulate a nautical feel simply by incorporating natural elements such as weathered driftwood, woven ropes, and pearlescent sea glass.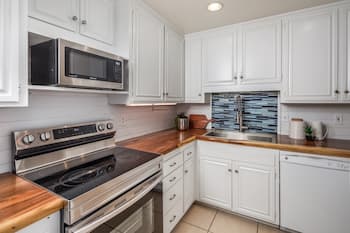 Look for light fixtures that contain any of these elements, such as pendants hanging from ropes or lamps with wooden bases. On your backsplash, glass tiles can reflect the light beautifully while adding just the right amount of shimmer.
6. Make an Impression in the Front Entry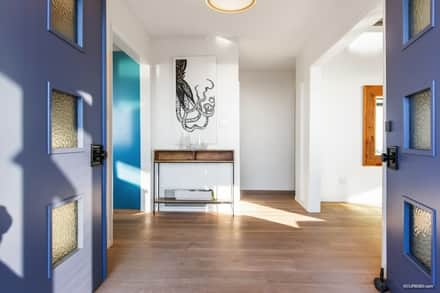 Your entryway is the first area your guests will see when they enter your home. With the right touches, you can make a grand impression that sweetly showcases your love of the ocean. Here are five ways to liven up this space.
7. Upholster Your Entry Bench
The entry bench pulls triple, sometimes quadruple duty. It's a natural landing spot, a place to slip on shoes, and even a seating area. While a natural wooden bench can look weather-worn and beachy on its own, you can also upholster a cushion in a nautical pattern.
Simple blue and white stripes are always on-trend, as are small anchors, wavy lines, and chevrons.
8. Bring the Outdoors In
An entry table can look bare and uninviting without anything on it. If you're stumped on how to decorate yours, take inspiration from the plants that grow naturally in your favorite spot! Reeds and beach grasses are not only gorgeously neutral, but their great height also makes a dramatic impression.
Instead of bringing some home after your next trip, head to your hobby store and get a few artificial sprigs. They'll last forever, you never have to water them, and they'll always look great.
9. Add Grand-Scale Art
It can be difficult to know where to put that oversized, stretched canvas of the beach sunrise you captured last summer. While it makes a grand statement in the living room, it can also be a fantastic introduction to the rest of your home.
If space allows, hang it front and center so everyone can notice it as soon as they walk in the door. Large entry art looks beautiful on a wall of its own or hanging above a lower console table.
10. Use a Fun Door Mat
Coastal-inspired door mats don't have to be cheesy. There are lots of tasteful, classy options devoid of cheeky sayings or overused quotes.
Instead of words at all, look for ones that incorporate the tones and textures of the beach. There are even mats with colorful, artistic images of sea life, such as turtles or coral reefs. Add one right by your front door so everyone will know where your heart lies as soon as they arrive.
11. Hang a Rope Mirror
The entry is an ideal place to hang a large mirror, allowing you to check your appearance before you head out into the world. Rope mirrors are subtly nautical and look right at home in a house that embraces coastal style.
Hang one right by the inside of the front door, above your console table, or near your landing station.
12. Decorate Your Living Room in Coastal Classics
The kitchen might be the heart of the home, but the living room is where all the cozy memories are made. This is a perfect spot to put some of your most cherished beach memories on display, alongside intentional store-bought accessories that bring out the coastal charm.
Here are five ways to transform the family's favorite spot into a coastal retreat.
13. Create Unconventional Built-Ins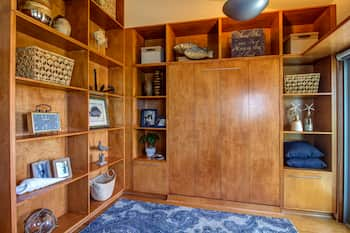 Adding built-ins beside the television unit is a great way to add storage. It also gives you a great spot to display some of your favorite trinkets and decorations.
While standard shelves are both beautiful and practical, true beach lovers can opt for a more unconventional approach. Instead of typical built-ins, why not flank the television with two oversized boat-shaped bookcases?
Interested in DIY shelving, cabinetry, window seats, closets, moldings, or baseboards tutorials?
Check out → Ted's Woodworking. Ted McGrath is a member of the "Architectural Woodwork Institute", has forty years of experience in woodworking, and is a professional carpenter.
You can find pre-built models online and in your local home store, or you can follow a guide to make a pair of your own!

14. Opt for a Neutral Color Palette
Coastal living rooms tend to have muted, toned-down color palettes. Keep it simple and timeless with sandy tans, crisp whites, and ivory neutrals. For a pop of color, you can also incorporate soothing shades of blues and greens in small doses.
This color scheme applies to your walls, as well as your decor. You can add brighter colors through the throw pillows, blankets, and display pieces you incorporate throughout the room.
One great place to focus on is your fireplace mantle. This is a fun spot to switch out with the seasons. With the right changes, you can keep yours looking great all year long.
In the summer, add some real-life keepsakes from your time at the beach, such as shells, sea grasses, and special stones. Candles are also romantically beachy, as are stacks of old books and model boats. When the weather turns cold, you can leave those items up for warm weather inspiration, or swap them for heartier fare such as lanterns, antique mirrors, and metal timepieces.
15. Hang a Family Beach Collage
Chances are, you have hundreds or even thousands of pictures of your family frolicking along the shoreline. Instead of saving all of those images on your phone or tucked away into albums, why not display a few of your favorites?
A gallery wall is an easy way to showcase your memories throughout the years. To keep the look sleek, use the same, matching frames in various different sizes. You can keep the images full-color or swap everything to black-and-white for a crisp, modern twist.
16. Lay a Natural Rug
Tan-colored jute and sisal rugs look gorgeous in a beachy family room, but you might worry if they'll be comfortable underfoot. Years ago, the answer might not have been what you wanted to hear. Now, however, designers are creating natural fiber rugs that are remarkably soft, allowing you to embrace this trend in your own home.
While an oversized jute rug can fill up a large living area and stand on its own, you can also create a more eclectic look by layering a smaller rug on top of a larger, more colorfully patterned one. This gives personality to the room and offers even more cushion while you lounge.
17. Bring in Beachy Wallpaper
Wallpaper is back in a big way. If you're getting hives just thinking about those versions from the nineties, take heart. Today's options are much more stylish and universally appealing. They're also easier to apply and remove, with many manufacturers offering peel-and-stick designs that offer the ultimate convenience.
If your living room is on the smaller side, you can bring a ton of coastal drama by outfitting the entire space in a tasteful beach-inspired wallpaper. If it's more spacious, choose one or two accent walls to highlight.
Look for colors and patterns that bring out the other shades in the space. Palm fronds, wavy lines, and oversized florals are top trending picks that never go out of style.
The wallpaper should ultimately complement the living room, not distract from it. Choose a design that you will love looking at every day, and opt for a removable style if you want the ability to change your mind or switch up the look down the road.
18. Cast the Sea in a Starring Role: Ideas for the Home Theater
If your home includes a theater room, don't neglect this special space when planning your at-home maritime getaway! There are lots of ways to inject a little magic into the room, whether you're incorporating small-scale changes or making grandiose design decisions. Here are five of our favorite ways to start.
19. Coat the Room in a Soothing, Seaside Hue
Even if your theater room is small, you can't go wrong with choosing a deep, moody hue for this area. Not only will it make the space feel cozier, but it can even enlarge it! For the ultimate drama, choose a gray/blue blend or a mossy green to evoke the coastal forest.
Want to enhance the under-the-sea vibes a little more? You can even paint the ceiling to cocoon the room in warmth!
20. Have Fun With Acoustic Panels
Most home theaters are equipped with some type of acoustic panels. Usually made out of wool or foam, these sound-absorbing panels enhance the audio in the space, essentially locking the sound into the room so your whole house doesn't shake during a particularly loud scene.
While most are available in neutral brown, white, or ivory hues, you can also find bright-colored alternatives. Create a sequence of blue and white ones to conjure up the feel of the ocean, or simply cover yours in your favorite nautical-inspired fabric for an instant facelift.
21. Add a Coastal Wallpaper
Much like the wallpaper on your mobile phone or your desktop computer at work, most home theater displays give users the option to set an image or scene as their background when they're away.
As you browse the available options, head straight to the ocean-themed collections. Here, you can usually find images and clips of wildlife swimming under the sea, as well as snippets of tropical island scenes. You may even be able to upload your own images, so select a few of your favorite snapshots to highlight!
By leaving this image up all the time, you're essentially installing an extra-large work of art in your theater room! It's a cost-effective way to make a major impression and send a clear message about your interests!
22. Layer in Soft Beachy Neutrals
Nothing says family movie night like a ton of pillows and super soft blankets. Whether you choose to proudly display yours around the clock or you stash everything in an ottoman until it's time to use it, choose pieces that speak to your beach-loving heart.
For maximum comfort, look for accent pillows made in plush material, such as chenille or velvet. Color-wise, you're always safe with beachy pastels like robin's egg blue or sage green. You can choose throw blankets that either complement or beautifully contrast this color scheme.
Blankets are also a great way to subtly bring in a pattern, such as a nautical anchor print. Draped sweetly over the back of a sofa, they're an inviting sign to come, sit, and stay a while.
23. Hang a Wooden Sign
From vintage marquees to antique cinema posters, the movie room is a great place to display unique art. This includes any pieces that symbolize the beach. If you have any specially formatted pieces, such as ones printed on driftwood or wooden pallets, they'll look great on the wall or hanging near the screen.
In fact, wall art is a great place to start when you aren't sure which colors to incorporate into your coastal rooms. Go ahead and install that piece first, and look for complementary hues that you can pick up on and use throughout the space to tie everything together.
24. Create a Maritime Primary Bedroom
The primary bedroom is meant to be your own personal oasis. It's where you go to ease off the day and fully relax. Apart from sitting on the beach with your toes in the sand and a great book on your lap, it's your happy place.
Thus, it only makes sense to outfit it in peaceful, restful accents that help you mentally shift gears the moment you step across the threshold. Let's discuss five ways to bring the beach into the bedroom, one piece at a time.
25. Add Special Curtains
Curtains and window treatments are a great way to add color to a space without committing to paint. Done correctly, they can add plenty of charm and character, and also serve a practical function.
While you can find plenty of patterned curtains with beach-inspired details, it's easier to install solid white or off-white, floor-length ones to get that serene look you love. White curtains are always classic and go with any type of decor, no matter what your personal design style might be. They're also breezy, lightweight, and bound to envelop the entire room in a hushed, romantic style.
26. Incorporate Nautical Lamps
Bedside lamps are the perfect way to accent your bed, whether you opt for tabletop models or wall sconces. Look for nautical ones to add a splash of seaside whimsy. You can find ones with coral-shaped bases, as well as bases shaped like shells, reefs, fish, or even mermaids.
In lieu of specially designed lamps, you can even find clear vessel lamps and fill them with seashells or other oceanside treasures of your own! Stick with materials like clear glass, wood, and wicker to keep the look light.
27. Swap Your Table for a Garden Stool
A bedside table is an ideal place to stash all your nighttime essentials, from your reading glasses to your skincare staples. Instead of going the traditional route, why not swap it for a substantial garden stool instead?
Especially paired with beachy decor, it's a sleek way to pay homage to the outdoors without losing any of the functionality you've come to expect from your nightstand.
28. Opt for Beach-Inspired Textures
Textures at the beach are naturally a little softer and time-worn. When translating this into home decor, think about fabrics that draw you in and invite you to stay a while. From ruffled pillowcases and thatched rugs to delicate throws and sackcloth-covered accent chairs, today's nautical bedroom is all about the way the space feels.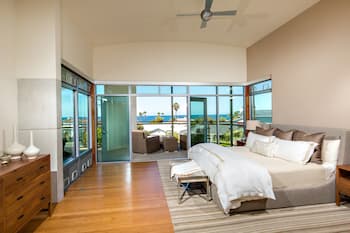 If you're draping everything in cotton, it's time to add a sense of touch. Feel fabrics before you buy them, and think about how they'd look in your room. You can even swap the conventional blanket at the foot of your bed for an oversized, soft beach blanket, pom-pom fringe optional.
29. Incorporate Some Greenery
Part of the beach's appeal is the opportunity to unplug, unwind and connect with nature. While you might not be able to slip away into that type of paradise every single day, you can feel that serene when you slip under the sheets.
A great way to bring the outdoors in is to add a few houseplants around your bedroom! If you don't have the greenest thumb, don't worry. You don't have to go overboard to make a grand statement.
In fact, something as simple as a single palm leaf might be all that you need. If you don't live in a climate where these thrive naturally, a realistic artificial version is the next best thing.
30. Create a Playful, Beachy Kids Bedroom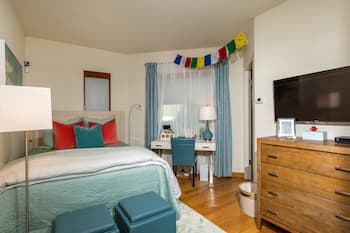 While your primary bedroom might be all about scaled-back elegance, you can get a little more creative in the kids' bedrooms. Here, don't be afraid to play with bright, bold colors that show off their sweet personalities. If they're beach lovers like the rest of the family, try these five design ideas to help them hang out in style.
31. Add Original Artwork
If you're like most parents, your house is swimming with homemade artwork! Little artists love to express themselves through this medium, whether they're using markers, paints, or oil pastels. This time, give them a simple assignment before they head to the craft drawer.
Ask them to recreate their favorite beach scene or family memory. Then, mat and frame their pint-sized Picassos and proudly hang them in their bedrooms, where they can see them all the time! Not only is this a quick and easy way to dress up their walls, but it will also give them a sense of pride to see their work so prominently displayed.
32. Hang Surfboard Decor
Even if your little ones are nowhere near old enough to hang ten, there's nothing like a collection of surfboards to evoke a sense of beachy cool! If you have your own family collection, use their wall or ceiling to display it! Otherwise, you can often find used surfboards on online marketplaces, estate sales, and other secondhand shops.
These fill up the wall, add lots of colors, and simply look cool. You can accessorize with other types of nautical wall pieces, such as rope mirrors, buoys, and more.
33. Incorporate Hammock Swings
Ready to be labeled the best parents ever? Instead of filling your child's bedroom with accent chairs, hang a wicker hammock swing from the ceiling instead! This decor instantly gives off laidback island vibes and is destined to become their go-to hangout spot.
Outfitted with a white or cream-colored cushion, it's as practical as it is attractive and an easy way to add a bit of whimsy to any space. If your children share a room, measure to see if you have enough space to hang two! The chairs should be close enough to look like a set, but far enough apart that there's no risk of a collision when everyone's in full swing.
34. Use Beachy Bedding
Does your child love to ride the waves at the beach? What about building sandcastles, watching the seagulls, or catching the sunset? Think about their favorite part of each vacation, and look for bedding that incorporates those themes.
If you want to keep the rest of their bed linens solid and neutral, you're free to go a little bolder with the sheet set. They're mostly hidden when the bed is made up, and it's a small touch that can bring a ton of joy. If you decide to transform the comforter too, look for one that can grow with your children, such as a nautical striped set or a sweet chevron print.
35. Use Wall Decals
Few things instantly change a space like a set of wall decals. Even less of a commitment than peel-and-stick wallpaper, these stickers are available in just about any type of design, theme, or pattern you prefer. Simply search online for the ones you're looking for!
Most of the time, these come in large sets of at least 100 or more stickers. You can also purchase sample sizes from most manufacturers to make sure the color, finish, and size of the stickers will fit your space.
While that sounds like a lot, plan ahead as you space them around the room. You might find that you need more than one set if you're planning to cover all four walls. From sea wizards and mermaids to sandcastles and starfish, there's no limit to what you can find.
36. Work From Home in Style: Your Home Office Oasis
Whether you're self-employed, work from home full-time, or your office follows a hybrid remote schedule, there's nothing like having your own space to work in. The right home office decor can motivate you, inspire productivity, and help you stay on-task.
Here are five ways to bring the beach right to your workplace!
37. Cover the Back of Your Bookshelves
Do you have a little beachy wallpaper left over from the living room or your bedroom? Measure out some to line the back of your bookshelves! This trick is a designer favorite, instantly adding elegance and polish to your office setup.
To keep the look clean, stick with minimal embellishments on the bookcases. Alongside your books and office essentials, try mixing metals, such as simple pieces made from antique gold and silver, for a perfectly curated design. Give the wallpaper plenty of space to show through and make a statement.
38. Bring in Woven Textures
From the stool at your feet to the sisal wallpaper behind you, look for ways to incorporate rugged, woven textures in your home office. You can even find desk chair cushions, accent pillows, and lined curtains that mimic this sea-worn effect.
For an especially eye-catching statement piece, look for woven wall art or macrame specialty pieces. These handmade treasures look right at home in a maritime office, especially when featured in neutral shades of tan and white.
39. Add a Pendant Lamp
You might not think of your home office as the first place to hang a statement lamp, but this is one of the best spots to showcase a little personal style.
Without intentional design choices, these rooms can tend to look too sterile or institutional in nature. To bring in some personality, find a rattan pendant lamp and hang it in the middle of the space. This is another woven texture that plays well with the sleek wood of your desk and shelves.
40. Paint Your Built-Ins
If your home office features a pair of built-ins on either side of the computer space, they're likely painted the same color as the rest of the walls and ceiling. You can help them stand out by painting them a soothing shade of blue or green.
Not only do tones evoke the ocean, but they're also scientifically proven to help you fend off stress. In fact, one recent survey found that they were the two most relaxing colors ever! If blue or green isn't your favorite, then opt for a similarly peaceful pastel, such as pale yellow.
While many people associated bold colors like burgundy with power and confidence, they can quickly overwhelm a space like your office. The color red is also thought to catalyze feelings of strong emotion, including anger, so stick to shades that will keep you calm instead.
41. Add a Statement Photo
Too many prints and photos can leave an office feeling cluttered. They can also be distracting during your workday. Instead of doing a gallery wall in this space, opt for one oversized statement photo instead.
This can be a fine art photo you source online from a well-known or up-and-coming artist. Or, it could be an enlargement of a print you took yourself! The more space on the wall you can fill up with this one image, the more impactful it will be.
As you look for a photo to use, think about the general color scheme you've created in your office. Then, find an image that captures and expands on those colors in a complementary way.
42. Styling Your Beach House Bathroom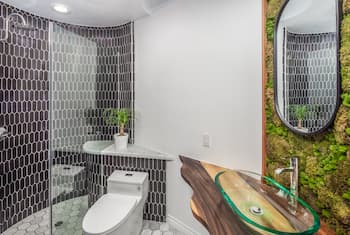 Whether it's your sprawling primary bathroom or a smaller guest bathroom off the hallway, each powder room is an opportunity to impress visitors and showcase your style. The picture of this bath with living wall is a powder bath in a tiny condo listing that we had. Love the beach? Try three five decor tips.
43. Go Bold With Pattern
This is the place to use that beachy wallpaper you were eyeing for the living room. If you didn't already use it, go ahead and install it here. Bathroom wallpapers are trending, and for good reason. Even in a tiny space, a big pattern can make the room feel grandiose and super special.
Think palm leaves, hibiscus flowers, and African violets. Choose a central color and look for a paper that uses it beautifully. Start there, and then tie in your accents around that main hue.
44. Add a Shell-Shaped Soap Dish
This is a simple step, but it's a sweet one. Instead of leaving a pump of hand soap out on the bathroom counter, look for ceramic soap dishes shaped like a seashell.
Not only are these more elegant and refined than a plastic bottle, but they also allow you to try out an array of different fancy soaps! If it's a guest bathroom, leave the soap wrapped up and consider adding sample-sized bottles of other toiletry essentials, including shampoo.
45. Add Natural Elements
In a bathroom, it's the small pieces that make the biggest difference. Thankfully, you don't have to take up a ton of precious counter space to make a statement.
A piece of coral, a functional wooden bowl, or an elegantly-displayed collection of shells is all you need to stand out. Find an unused corner to display your wares, and you've suddenly created a beach theme!
46. Dinner, Nautical Style: Beach-Themed Ideas for the Dining Room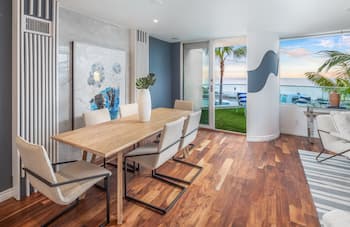 The dining room offers a place for your friends and loved ones to gather. Decorated in your favorite oceanside theme, it's also the ideal place to share your interests. Here are three ways to design this special space.
47. Choose a Statement Light Fixture
Suspended over the long dining room table, your light fixture takes center stage. This is a smart spot to incorporate a nautical look. You can find many different beach-inspired fixtures, from single pendant lights to multi-directional chandeliers.
There are even two-pendant fixtures with middle supports designed to look like anchors! Take the time to choose one that has significance to you, and make it the star of the show.
48. Be Intentional With Upholstery
If your dining room furniture has cushioned seats, look for coastal fabrics that you can use to cover them! Whether you go bold with a botantical theme or keep it simple with black and white palms, this is a subtle way to weave in the look. You can even use the same fabric on your curtains, shades, or other window treatments to tie everything together.
49. Create a Stunning Centerpiece
Your kitchen island might not have enough space to spread out all of your favorite seafaring treasures. If you've amassed quite the collection, use a long, shallow wooden bowl to display the pieces in the center of your dining room table.
This is an especially pretty way to show off your more delicate pieces, such as sand dollars. Add small votive candles and a little greenery and you'll have an all-year display.
50. Amplify Your Beachy, Backyard Landscaping
If you're lucky enough to live in southern California, then you're close to an array of native, tropical plants. Incorporating them into your backyard landscaping can help you feel like you're living in the middle of the tropics, even if you're happily snuggled into a suburban neighborhood!
Here are two ways to punch up your landscaping for a beachy look.
51. Incorporate Native Plants
Start with this easy guide to native tropical plants in SoCal. Here, you'll find the names of some of the top growers, along with places to find them and how to keep them looking their best.
If you prefer florals, look at Birds of Paradise, which can grow taller than five feet! If you need trees, then citrus varieties grow in abundance here. Think about the different heights you want and the overall look you can create. Then, get creative!
52. Add Tropics-Inspired Pavers
Backyard walkways don't always have to be brick. For a special tropical twist, use concrete pavers stamped with beachy shapes, such as starfish or coral. You can find these at many garden stores.
Surround the pavers with small stones or pea gravel to expand the maritime theme and make them easier to mow around.
Decorating Ideas for a Beach House of Any Kind
You might live in a long, sprawling ranch house, a bungalow, or a modern farmhouse. No matter what type of SoCal property you call home, there are ways to make it feel like you might open up your back door to discover the ocean.
There are lots of decorating ideas for a beach house, and we've only scratched the surface. Feel free to explore different colors, textures, and fabrics as you refine your vision and create a space you truly love.
Please note that some of this site's links are affiliate links, and LUXURYSOCALREALTY.com is a participant in the Amazon Services LLC Associates Program, an affiliate advertising program designed to provide a means for us to earn fees by linking to Amazon.com and affiliated sites. At NO ADDITIONAL COST TO YOU, we will earn a small commission, if you purchase them. Please note that these are products we either know or use and recommend to our customers. We recommend them because they are good products.