10 Things to Consider Before Renting Out Your ADU
Posted by Robert & Joy Aumann on Thursday, May 4, 2023 at 1:09:57 PM
By Robert & Joy Aumann / May 4, 2023
Comment
With growing economic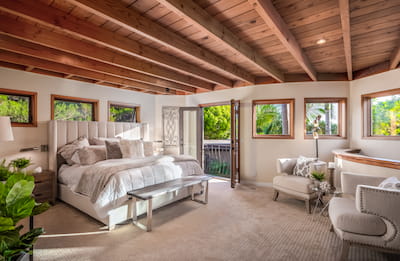 uncertainty, many households are looking for ways to earn extra income. Some fortunate homeowners have accessory dwelling units, or ADUs, sitting empty waiting to generate cash flow. Others are weighing the benefits of building an accessory dwelling unit to be able to rent out.
It sounds easy enough: A tenant gets to live in the space and the homeowner gets the cash. Renting out an ADU, though, is a big decision that requires careful thought and planning before your unit even hits the rental market.
Below, we'll go over some ADU basics, and then look at 10 things to think about before renting out your ADU.
What is an accessory dwelling unit (ADU)?
Accessory Dwelling Units, or "granny apartments," are separate dwelling spaces on a property that owners can live in or rent out. ADUs can be attached to a home, like an English basement, or freestanding, like a converted shed or guest house. Some come with the home at the time of purchase, but entrepreneurial homeowners can flip an unused part of the home, like a basement or a garage, to turn it into a rental unit.
Exact definitions vary from state to state, but some general requirements apply for homeowners to qualify for an ADU. According to Fannie Mae, ADUs must have separate entrances, sleeping, and bathroom facilities from the main dwelling. A basement with a bedroom and its own entrance and exit, for example, wouldn't be considered an ADU if it doesn't have a full kitchen and bathroom. Homes are only allowed to have one ADU at a time. You wouldn't, for example, be allowed to build a duplex home in your backyard, per most zoning rules.
Why rent out your ADU?
An Accessory Dwelling Unit can be a lucrative addition to a property value on its own. Renting it out can provide additional short-term income to help pay a mortgage or contribute to the costs of maintaining a home. ADUs are also known to have a smaller energy footprint and are easy to maintain given their smaller size.
Overall, renting out an ADU is one way to make some extra cash as a homeowner. Still, there are a few important things to consider when evaluating if renting out your ADU is right for you.
1. The current use of your ADU
Once you've made sure your ADU meets the qualifications for rental, think critically about how you use or plan to use the unit. Are you a remote worker who needs the extra space for a private office? Do you use the unit regularly for out-of-town guests? Will a loved one potentially need to move into the unit someday? These are all important lifestyle factors to consider when evaluating if renting out an ADU is right for you.
If you're ready and determined to rent out the space, evaluate what, if anything, about the space needs to change before listing the unit. Consider aspects of renting like privacy and security. Will the space need new locks? Does it connect to the primary residence? How does the ADU work as a full-time living space if the tenant won't have access to the main dwelling? You might need to add kitchen features like a refrigerator or a dishwasher to make it more appealing to potential tenants.
2. Your ideal lease terms
If this is your first time acting as a landlord, think about how you want to structure your lease to bring about the healthiest arrangement for you and your potential tenants. Lease terms set legal boundaries and standards for both parties, including:
Term: Lease timelines can vary from month-to-month, set short-term, or long-term. Consider which style works best for your financial goals and the market.
Policies: Having clear policies on lifestyle choices like pets or smoking will help you maintain the quality of your ADU and find a tenant compatible with your lifestyle. If you choose to allow pets, think about whether you want to include a deposit or pet rent requirement.
Amenities: You might not be a luxury building owner, but you are in control of how your tenant engages with your property. Be sure to include parking and access to common space like a yard or patio in your lease terms.
3. Your HOA board's policies on ADUs
If you're part of a homeowner's association (HOA) or co-op, consult your community regulations and guidelines as you get ready to rent out your ADU. Though some states like California have passed laws that say HOAs can't legally prohibit the building of ADUs, they may still have other requirements for your unit.
Check your HOA policies to make sure your ADU is up to standard before listing it for rent. Some of those standards might include size or aesthetic requirements, rules on attached or detached dwellings, and lease terms.
4. Your local and state laws
Local and state laws vary around ADU rentals and are changing all the time. California recently introduced a law incentivizing the building of ADUs in an effort to expand access to affordable housing. Now, some states are limiting lease terms and short-term or vacation rentals that are exacerbating the housing shortage in some markets.
Some other common state and local laws include ordinances about:
Square footage of your ADU
Property taxes required
Cross-referencing your desired lease terms with your state and local laws will ensure you don't run into legal trouble with your ADU down the line.
5. Your home insurance policy
Once you rent out your ADU, your insurance coverage may have to change. You'll need insurance to rent out your accessory dwelling unit, but the exact type of insurance will depend on how your ADU is used, as well as state and local laws. If your ADU is attached to your home and not used as a full-time dwelling, for example, it's probably covered under your current homeowner's insurance policy.
Some common insurance coverage factors include:
The type of ADU: freestanding or attached
How you plan to use the ADU: vacation rental, short-term, or long-term leases
Who lives in the ADU: family members or non-family residents
If you plan to list your ADU for rent on the open market, landlord insurance will make sure your personal property is covered and will protect you from liability in the event of an injury on the premises. Consider this a necessary expense as you evaluate whether to rent out your ADU.
6. Your potential tenants
Everyone needs housing, and ADUs are some of the most affordable options on the market for renters. Consider how you'll source and vet your prospective tenants as you prepare to list your ADU for rent.
Where to Find Your Tenants
There are a few places you can source tenants from, including:
Your personal network
Online services
Professional brokers
Beginning your tenant search within your personal network is one way to informally vet a potential renter. Having a familiar face occupying an ADU can give a new landlord peace of mind about their property. Still, living in an ADU is not for everyone, and most landlords use some combination of personal networking and professional services to source tenants.
Online platforms like Craigslist and Zillow help landlords reach a wide audience of home-seekers. Be prepared to screen, though. The wide applicant pool means more time spent manually sorting through applications and responding to inquiries before even setting up a tour or open house.
Hiring a professional broker is one way new landlords can find reputable tenants and avoid some of the manual work of managing a Craigslist posting. Brokers often have extensive networks of potential tenants and can facilitate the rental process for a certain percentage of the rent.
What to look for in a tenant
Your ADU tenant will be your closest neighbor. You may share walls and common spaces, depending on your ADU's setup. It's important to consider lifestyle compatibility and safety when evaluating tenants, along with the standard issue income and credit qualifications.
Renting doesn't have the same credit requirements as a mortgage, but good financial standing is important for someone living in a space you own. A real estate broker can also help you run background checks and credit checks on potential tenants.
7. Long-term plans for your residence
Factor in your long-term plans for your property as you get ready to list your ADU. Your long-term plans for your home will impact the terms of your lease and the tenants you bring in.
If you're already in your forever home, a longer lease term may be the best option for stability, income, and maintenance. If you want more flexibility to sell your home in the future, consider a short-term or rent-to-own model for your ADU.
A rent-to-own property arrangement allows you to reap the benefits of renting out your ADU while creating the right conditions for the eventual sale of your property. In this model, a rent-to-own tenant in your ADU will pay rent on the condition that they will, after a fixed amount of time, purchase the property from you. A portion of the rent goes to that tenant's down payment. If you could see yourself eventually selling the whole property, a rent-to-own agreement may be mutually beneficial for you and your potential tenant.
8. How you'll price your ADU
Pricing your ADU is a tricky balance between setting a price high enough to meet your financial goals, but not so high that it'll be out of reach for potential tenants. ADUs for rent in expensive real estate markets like California's may rent at a higher price than they would in other areas.
A fair monthly rent price should factor in:
Square footage and number of bedrooms
Amenity and shared space access
Utilities included
Condition of the unit
Local cost of living
Get an initial sense of what your ADU is worth on the rental market by researching rent prices for similar properties in your area. The comparable properties don't have to be ADUs, but they should be consistent with the square footage of the ADU you're planning to rent out.
A real estate broker can also help you price your rental listing. Realtors often have early access to listings and understand the local market for buyers and renters, ensuring you're able to list at a good price.
If you need a tenant in the door quickly, you can always offer rent concessions, such as a free month or included utilities, in exchange for signing a lease.
9. Your landlord style
Being a landlord is a full-time commitment. Think about whether you're ready to commit the time and energy to manage tenants before you rent out your ADU.
Being a landlord might seem easy when things are running smoothly on the property, but you also need to be prepared for when things go wrong. Renters often rely on landlords to manage everyday maintenance like leaks, clogs, or broken appliances. A landlord also needs to be able to communicate when utility services like water and internet will be interrupted.
Have a plan for how you'll approach your duties as a landlord, including in cases when a tenant violates any of the lease terms. Understanding the boundaries between your rights as a homeowner and your tenant's rights will be critical for maintaining a healthy relationship.
10. Alternatives to renting out your ADU
If the above factors require a little more work than you're willing to take on, there are alternatives to renting out an ADU that you can explore for extra income. As you weigh whether an ADU rental is right for you, you can rent an available room in your home to earn some extra cash and get a feel for your new role as a landlord.
You can also look for ways to free up cash flow by reducing the hidden costs of homeownership, like utility bills and home improvements. You can also consider refinancing your mortgage for a more favorable interest rate, if that's available to you.
Make an informed decision about renting out your ADU
Your accessory dwelling unit can be a financial asset and a reliable source of income. Renting out your ADU, though, requires a lot of due diligence and hard work before that money comes in. Be sure to research your local laws and HOA policies, as well as your insurance policies, before listing your room for rent.
Consult with real estate brokers or local experts when you evaluate your ADU for listing and decide on a fair price. Lastly, consider your own readiness to commit to landlord responsibilities and your long-term plans to ensure an amenable arrangement for you and your potential tenants.