28 Cost-Saving Tips for Accessory Dwelling Unit Maintenance
Posted by Robert & Joy Aumann on Friday, March 3, 2023 at 2:33:46 PM
By Robert & Joy Aumann / March 3, 2023
Comment
28 Cost-Saving Tips for Accessory Dwelling Unit Maintenance
With the rise of the tiny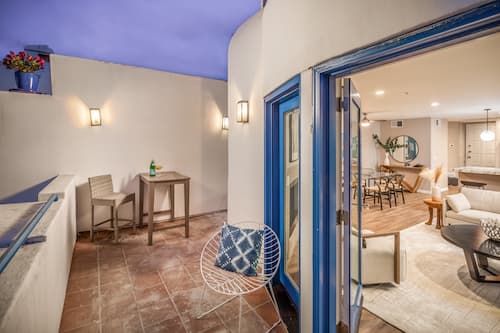 house movement, many homeowners were searching for places to park their wheeled homes and looked to laws concerning accessory dwelling units as a way to share a backyard space legally.
Although few cities allow legal, long-term parking of tiny homes in a backyard, many are warming up to the idea of smaller residences built as a short- or medium-term rental or as a place for extended family to live.
Accessory dwelling units are small homes that are located on the same lot as another larger home. Colloquially, they're also referred to as accessory apartments, secondary suites, or mother-in-law flats.
They can be built as a standalone house, a house connected through a breezeway or shared wall, or a suite that's located inside the original home.
Although adding a new accessory dwelling unit to your property can be a great way to expand your home or make some rental income, planning, building, and maintaining an ADU can get expensive. You can reduce the costs of an ADU by implementing these 28 easy tips.
1. Know the law
Before you even consider constructing a new accessory dwelling unit in your backyard or converting an existing structure to a habitable space, check your local laws. Even if ADUs are legal in your area, they may be governed by specific square footage requirements. You can avoid costly adjustments to your design by knowing what's required in advance.
If you're considering purchasing a home with an ADU, skip the for-sale-by-owner listings. If the ADU was not built legally, you might be inheriting a property that will cause nothing but headaches.
2. Work with a qualified contractor
You might be tempted to DIY a major build or act as your own contractor. If you have experience completing large construction projects, go for it. This can save thousands of dollars in labor costs.
However, if your building experience is restricted to small projects, stick with professionals. They take full responsibility for obtaining the right permits, passing inspections, and making sure the final building is safe and solid.
At the very least, you'll need to hire qualified plumbers and electricians who understand the codes and permitting process in your area. If you skip this step, you may not get a certificate of occupancy without hiring licensed professionals.
3. Use energy-efficient appliances and light fixtures
If you've ever moved a refrigerator, you know it's something you don't want to do often. Why buy cheap, inefficient appliances that cost more to operate and need to be replaced within a few years? Shop around and buy the most energy-efficient appliances and light fixtures you can afford.
4. Take advantage of passive design
Passive design takes advantage of the sun for heating purposes in the winter. If you're building from the ground up, position the most windows on the south-facing side of your house. Add at least 50% of your windows on this wall, and don't forget to consider large trees that block winter sun or provide summer shade.
5. Share an electric meter with the main house
Adding a separate meter for an ADU can add up when it comes to installation and permitting costs. It's easy for an electrician to run a separate meter off the main meter, and it saves money. Of course, this does combine electric bills for the main house and the ADU. If you're considering renting the ADU and charging for utilities, this may not be practical.
6. Don't use natural gas
Running a separate gas line and meter to the ADU is an extra expense that's easy to avoid. Additionally, some states are passing laws that prohibit natural gas in new construction. Electric power is cleaner and cheaper than natural gas, and sticking with electricity saves money.
7. Mind the sewer line
Some jurisdictions allow ADUs to use the main sewer line. If yours does not, keeping it affordable comes down to three words: location, location, location. To keep costs down, avoid running a sewer line through areas that are already covered with concrete, even if they are the shortest distance to the street. Removing and then replacing concrete can add thousands of dollars to your ADU building costs.
8. Install low-flow water features
The cost of water is rising as the supply falls across the U.S. Installing low-flow showerheads and faucets is a great way to use less of this precious commodity while saving money on water bills.
9. Use a rain barrel to collect rainwater
In addition to adding low-flow showerheads, collect rainwater for outdoor watering to keep your garden and landscape affordably gorgeous in the thirsty summer months. A 1,000-square-foot roof can collect an estimated 550 gallons of rainwater for every inch it rains, according to the Plum Creek Conservation District.
To calculate what you can collect for outdoor watering annually:
Divide the square footage of your roof by 1,000.
Multiply that number by 550.
Multiply that number by your area's annual rainfall.
10. Design the ADU with one 'wet wall'
Inside your ADU, design your new build with just one "wet wall." This simplifies plumbing for installation and future repairs. It can also save money on building costs that include the expertise of a skilled plumber.
11. Use a programmable thermostat
If you love coming home to a comfortable temperature but don't need the space heated or cooled all day long, programmable thermostats are a great way to regulate heating and cooling systems and save on energy costs. Some can even be controlled by your smartphone, too.
12. Invest in insulation
Facts are facts, and statistics indicate that many homes are inadequately insulated. If you are one of the 17% of homeowners renovating a home to increase its value, don't neglect to properly insulate the structure. Doing so will improve energy efficiency and reduce heating and cooling costs.
13. Use LED light bulbs
LED lights last longer and consume less energy than traditional incandescent bulbs. The initial expense is more than a regular bulb, but according to the Department of Energy, switching to LEDs saves homeowners an average of $225 a year.
If you're worried about the institutional hue of LEDs, never fear. Today's LEDs are warmer, with the same beautiful light you're used to.
14. Take advantage of natural light
If you've already used the position and design of your accessory dwelling unit to take advantage of the heating and lighting properties of the sun, keep it flowing into your home by regularly cleaning windows and keeping blinds or shades open for heat in the winter. Keep them closed to stay cool in the summer.
15. Use natural cleaning products to save on cleaning supplies
Consider swapping your industrial-strength chemical cleaners for more environmentally friendly options, such as vinegar and baking soda. Using natural or DIY cleaners saves lots of cash and reduces the risk of harmful chemicals in your living space. If you're not feeling like a chemist, many store-bought natural cleaners are concentrated, which means they cost less per use.
16. Use fans or natural ventilation to cool your living space
Rather than rely solely on air conditioning, energy-efficient window and ceiling fans can help move air and reduce cooling costs. Adding windows directly across from each other also provides cross ventilation for cooling.
17. Replace air filters regularly
Don't make your HVAC unit work harder than it has to. To maintain good indoor air quality and avoid costly repairs, change air filters as directed on the package. Some last for three months, while others need to be changed once a month.
18. Use area rugs or carpets
Area rugs and carpets can protect flooring, which can help you avoid expensive repairs or replacements. They also warm a chilly space and can reduce the feeling of drafts in the winter.
19. Install energy-efficient windows and doors
Energy-efficient doors and windows that are properly installed are worth the initial extra expense. Some of these expenses are even tax-deductible. If you're renting to own a home, it's possible for renters to get this credit, too, with proper documentation.
20. Use a compost bin to reduce waste
Composting food scraps and yard waste turns dry, barren ground into rich, fertile soil. This nutrient-dense compost perks up tired plants and helps them grow lush and productive fruits and flowers.
21. Plant native and drought-resistant plants in your landscaping
When you're looking to landscape your new accessory dwelling unit, it can be overwhelming in the garden center. Ensure success by planting native and drought-resistant plants, which will save you time and money. These plants will also reduce water usage and save on maintenance costs.
22. Regularly clean gutters and downspouts
Water damage is the No. 1 reason behind most homeowners insurance claims. It's the leading cause of property loss and the reason why it's critical to waterproof your home. One of the easiest and most affordable ways to prevent water damage and avoid costly repairs is to regularly clean your gutters and downspouts. These direct water away from the walls and foundation of your home and can save you thousands of dollars in repairs.
23. Repair small leaks promptly
If you find evidence of a leak, don't wait. Even the smallest leak can become a catastrophe if left too long. Repair the leak and repair any damage as soon as possible to prevent more damage and limit your costs.
24. Use a pressure washer to clean exterior surfaces
Your ADU needs regular exterior maintenance. Pressure washing not only keeps your home looking tidy, but it also prevents the buildup of mold and mildew. It can also restore discolored siding and walkways that might require costly professional cleaning services.
25. Use a programmable sprinkler system to water your landscaping
If your area doesn't receive enough rainwater to maintain a nice lawn, skip the hand watering and go for a programmable sprinkler system. When properly installed and positioned, this can keep your lawn and flowerbeds in good condition with very minimal effort.
26. Use a DIY approach
When it comes to building projects, the cost of materials may be the smallest number on your final bill. To save money on labor, consider taking on small repairs and maintenance tasks yourself. With a little bit of time and access to the internet, even rookie homeowners can take a DIY approach.
Some cities require licensed contractors to complete work in certain trades, such as electrical and plumbing. You may not be able to legally wire your new ADU on your own, but you can certainly learn how to swap out light fixtures and patch holes in drywall.
27. Use affordable interior finishes
You might be tempted to make your new ADU high end with top-of-the-line finishes. After all, you don't need as much material, so it's worth the expense, right? Not quite. Expensive finishes, such as tile, flooring, bath fittings, and light fixtures, can add up when you consider the cost per square foot. Many of these cost more to install, too.
28. Buy sturdy but inexpensive furnishings
If you're planning to build an ADU to generate income as a rental, focus on affordable furnishings. Secondhand or consignment shops often have high-quality pieces at half the original cost.
If you're temporarily staying in an unfurnished ADU after a move, consider flat-pack furniture that can be easily disassembled to take with you when you leave.