Adding an Accessory Dwelling Unit
Posted by Robert & Joy Aumann on Friday, April 21, 2023 at 7:12:05 PM
By Robert & Joy Aumann / April 21, 2023
Comment
ADUs are hot right now,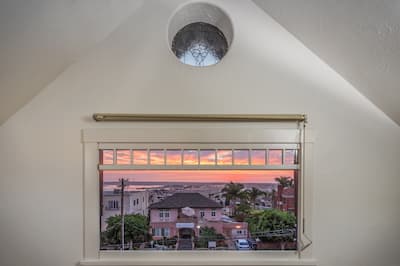 and it'easy to see why. With home prices at a historic high, inventory at a historic low, and rents spiking, the appeal of cheaply installing modern, affordable housing in your literal backyard seems like a perfect solution to the housing crisis.
There are well over 1.5 million ADUs in the United States today, many of them built in the last decade, as municipalities relaxed single-family zoning regulations. Even the founder of Airbnb has launched a chic ADU startup. In states like California, it's increasingly common to hear buyers telling their real estate brokers that they want a home with a backyard ADU.
So what can an ADU do for you? A lot more than you might realize. An ADU can bring in passive income, bump up your property value, provide housing for your "boomerang kid" or aging baby boomer parent, and maybe even help alleviate the climate crisis. Let's look at the six biggest advantages of adding an ADU to your lot.
What is an ADU?
First, some definitions. An ADU (an acronym for "accessory dwelling unit") is a small, secondary home built on the same lot as a larger home. These can be fully detached and freestanding (a guesthouse or carriage house), attached to the home (a "bump out"), or interior (an independent basement apartment).
ADUs are sometimes called "granny flats" or "mother in law suites" because it used to be common for aging parents to live in ADUs on the same lot as their adult children.
In general, an ADU has to have an independent entrance, a full kitchen and bath, and a living area. So what benefits can you get from building your own ADU? Let's touch on some of the biggest advantages.
An increase in property value
Probably the most obvious upside of adding an ADU to your property is that it will increase the property value. The only question is — by how much?
According to a 2021 study of ADUs, adding an ADU to your property in the city will result in a value bump of 35% on average. But the extent of that rise in value is going to depend on where you are and what kind of ADU you build.
The study found that the value of an ADU varies widely from city to city. For example, in cities like Cleveland and Savannah, Georgia, the average listing with an ADU was worth three times as much as the average listing without one. There were also 21 major cities — including Houston, Phoenix, Louisville, Kentucky, Orlando, Florida, and others — where the average listing with an ADU was worth twice as much as homes without an ADU.
That's a dramatic illustration of how much an ADU can be worth to you. But we should also note that the effect wasn't guaranteed.
Interestingly, there were some cities where the average listing with an ADU was worth less than the average ADU-less listing. Some of these cities were no doubt the result of small sample sizes — such as Shreveport, Louisiana, where the average listing with an ADU was worth 67% less than the average ADU-less listing, or Gainesville, Florida, where an ADU docked you an average of 51%.
But there were also major markets like Washington, D.C., and Oakland, California, where having an ADU seemed to result in a lower-than-average list price. If you dig into the data, there are likely some pretty obvious explanations for this — the high end of both of those markets are extremely expensive, and the type of lots that add ADUs are likely toward the lower end of the market. But if you're thinking of building an ADU, make sure you look at what the local price data can tell you about its presumptive value.
How much of a value bump you get is also going to depend on what kind of ADU you decide to build. Here are the four most popular ADU types, ranked from most valuable to least valuable:
Fully detached ADU:
A fully separate structure, such as a cottage, guest house, or "granny flat," is the most valuable type of ADU for obvious reasons: It offers the most privacy and access, and is generally the largest type of ADU allowed under the law — at least in California. If you have the space and can afford the construction, this should be your first choice.
Attached ADU:
Also known as a "bump out," this type of ADU is essentially an addition or new wing built onto your existing property. Even if you build so your attached ADU has independent access, this type of ADU has a little less privacy than a detached ADU, and you may have noise concerns if you plan to rent.
Some states also have stricter size limits on attached ADUs than on detached ones. In California, an attached ADU can't exceed 50% of the existing property's square footage, while a detached one can be up to 1,200 square feet.
Garage-conversion ADU
Converting an unused garage is a fairly common method of building an ADU, especially in California. It can be cost-effective, since all you have to do is repurpose an existing structure, but it also has some unique costs.
Because you're losing your garage, your property value could decrease slightly. Then again, it's likely that the bump you get from the finished ADU will make up for that loss and then some, earning you a net gain in property value. But that loss of valuable space for parking means garage-conversion ADUs come in third on this list.
Basement ADU
Converting your basement into a rentable ADU can be profitable, but how profitable is going to depend on the state of your basement. If you already have a fully finished basement, you'll only get a small increase in property value from an ADU conversion, since you're not adding usable square footage to the home, only upgrading existing space.
If you have an unfinished basement, you could get a larger bump, since you're adding usable square footage to your home. But either way, a basement conversion can be expensive, since you have to install a full kitchen, private entrance, insulation, wiring, and plumbing. Access can be tough — even moving a refrigerator into a basement can prove challenging. There are also regulations regarding "external egress" that will require you to install full-sized windows, as well as a cutaway or "window well" outside, so occupants can escape in case of a fire.
Also, keep in mind that basement ADUs are the least attractive ADU option for renters.
Upping your value — without a big tax increase
Another advantage of adding an ADU to your property is that, while you'll reap a big benefit in increased property value, you probably won't see a huge increase in your property tax bill.
In California, where ADUs are extremely popular, the method that the state uses to assess ADUs has a minimal tax impact. They're assessed as a standalone unit — not as an addition to the primary property. And you won't have to reassess your main property. You'll have what's called a "blended assessment," in which the value of the new ADU is simply added onto the previously assessed value of the primary property, instead of reassessing the whole parcel.
So if you build an ADU in California that has a value of $200,000, you'll simply multiply it by your property tax rate (likely around 1%), and come up with a very manageable $2,000 increase in your annual tax bill.
Passive rental income
ADUs are valuable rental properties, and most ADU owners have very little trouble finding tenants.
Rents for ADU units are pretty healthy. A recent study by UC Berkeley found that the median rental price of a two-bedroom ADU in California was $2,800 — more or less on par with state averages. And one much-discussed two-bedroom ADU rental in San Francisco was on the market for $2,950 a month — in a neighborhood where the average rent was $3,350.
However, you may have to pursue long-term tenants, instead of short-term ones. Many towns from California to New York strictly forbid Airbnb-style short-term rentals of ADUs.
And acting as landlord for your backyard ADU can be a pretty easy gig, especially if you've dipped your toe into the landlording pool already by renting rooms. You only have to walk 20 feet to repair that broken light or unclog the toilet, and you won't have to pay for an expensive property management company. We should also remind you that homes with rentable, up-to-code ADUs on the lot are very attractive to people thinking about buying your home.
Convenient housing for both old and young
All baby boomers are going to be 65 or older by the end of this decade, and this generation is overwhelmingly in favor of "aging in place" instead of moving to a senior facility. Those two facts are going to create tremendous demand for aging-accessible housing, which is broadly defined as small, single-floor housing with specific accessibility features.
ADUs are a ready-made solution for adult children looking to accommodate their aging family members. Housing your aging mother or father in a backyard ADU allows them to maintain independence while keeping them close by, and newly built ADUs can be easily outfitted with accessibility features necessary for older people. ADUs are also modest in size — an important characteristic, as most older people look to downsize their living space as they age.
By the same token, many younger people are living at home longer, or moving back home. One recent study found that well over half of young adults, or 58%, live with their parents. These young adults (and their parents) need space and privacy, and building an ADU in the backyard for your "boomerang child" is the perfect way for them to live at home comfortably, while preparing to take steps toward owning their own home, like working on their credit score or looking for a rent-to-own property.
As multigenerational households become more common in the U.S., ADUs can provide much-needed space and privacy for family members of all ages.
You might be able to claim depreciation
Depreciation is a valuable tax deduction that allows you to deduct a portion of the value of a residential rental property every year for 27.5 years. If you plan on renting out your ADU, you might be able to claim depreciation.
So let's say you build an ADU that's worth $400,000 — toward the high end for the typical ADU, but not unheard of in many California or Oregon cities where ADUs are popular. To calculate your depreciation on that property, you simply divide $400,000 by 27.5 to get $14,545. So you'd get a tax deduction, each year, of almost $15,000. You can start claiming this as soon as your unit goes on the market — even before you have a paying tenant. You can also claim deduction when the unit is vacant, as long as it's available on the rental market.
The only catch here is that, in order to claim deduction, you have to set up a Limited Liability Company (LLC) for your primary property plus the ADU. This is a pretty simple process that only costs a couple hundred dollars and also gets you liability protection. Obviously, this is also an advantage for "buy and hold" investors — rather than short-term investors, such as house flippers.
ADUs are better for the environment
A home's environmental impact is tied closely to its size: Larger homes require more material, and use far more resources for heating, cooling, and electricity than smaller homes. It's just common sense, then, that ADUs, being smaller than even the smallest conventional homes, also come with a much smaller environmental footprint.
This is true even when you compare the average ADU to an average conventional home that's been built to the highest green standards. One study found that a small, ADU-sized home of just under 1,150 square feet was responsible for emitting 150 fewer metric tons of CO2 over its lifespan, compared to a conventional home that had been built with high insulation and optimized material disposal. That's a massive difference — equivalent to the emissions generated by about 30 cars driving for a year.
ADUs have massive upside — if you can build one
It's clear that ADUs come with a lot of financial, logistical, and even environmental advantages. But building an ADU, even in a city or state that ostensibly encourages them, can sometimes be difficult.
For example, California recently passed a state law allowing ADUs throughout the state. However, there have been many reports of local cities illegally denying approval, or deliberately slowing down the permitting process. One California woman even sued when her fully legal ADU was denied approval. Although the court agreed her planned ADU was well within the law, they let the city's application denial stand.
The bottom line? If you're trying to tap into the advantages and benefits of building your own backyard ADU, make sure your local zoning commission is on board with your plans — or you may be in for a long, frustrating slog.